Our world was forever changed in 2020, a year of monumental challenges and heartbreak, but also of breakthroughs, discoveries, and triumphs large and small. As we prepare to ring in 2021 and turn the tide on a global pandemic, take a look back at how Johns Hopkins weathered the 2020 storm.
January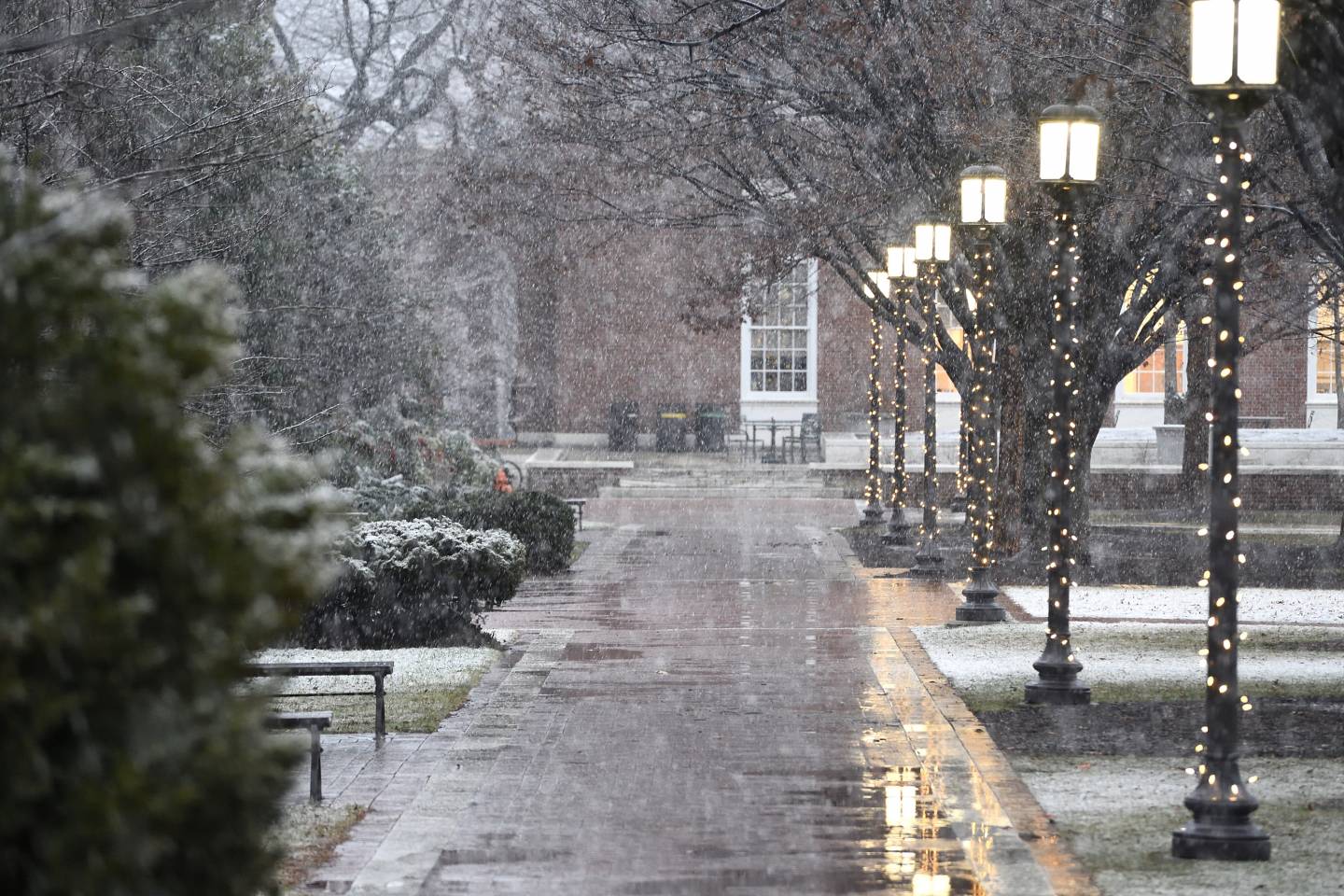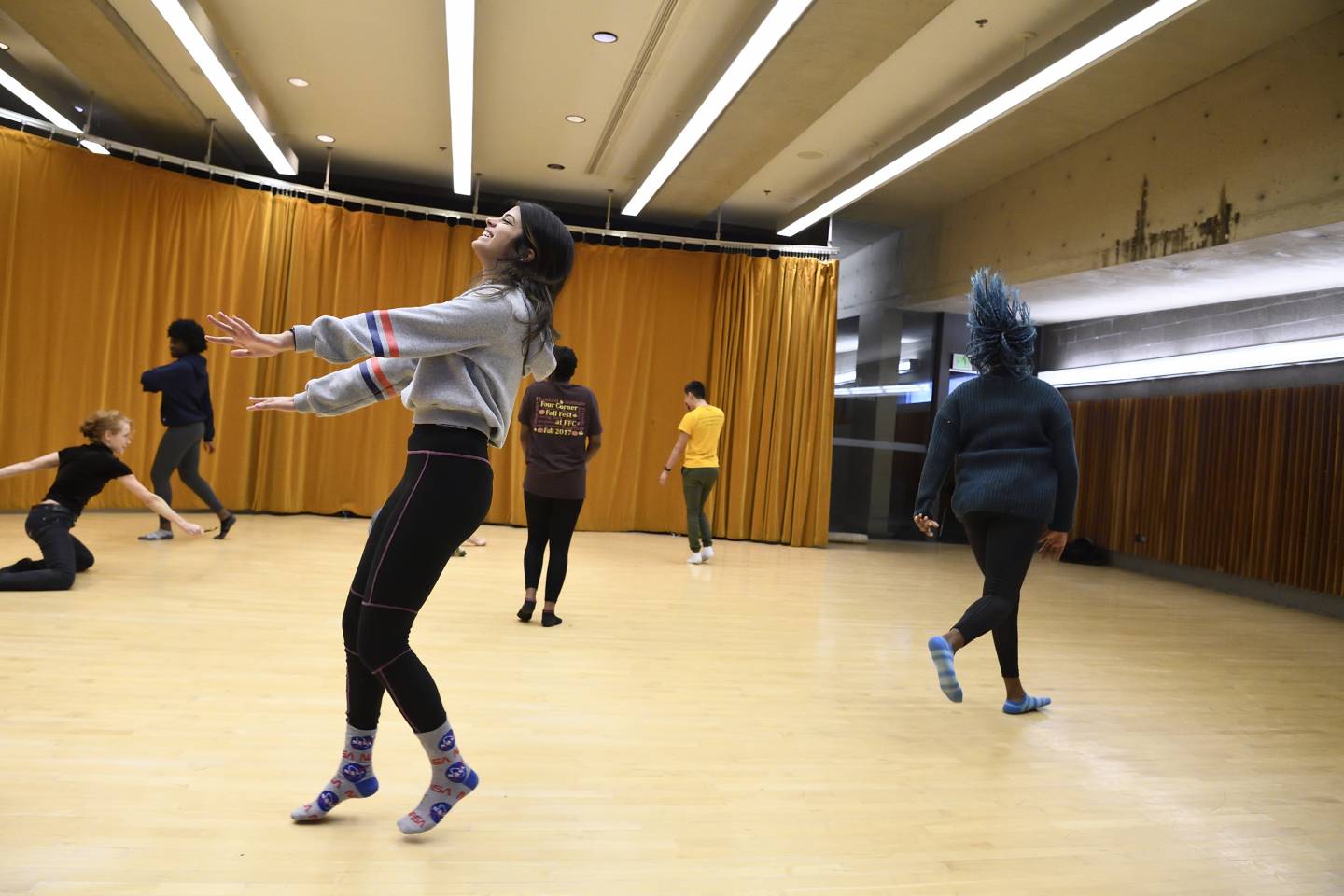 Students shake it out during an Intersession course on dance movement. The minisemester, which is typically held in January, will be held virtually in 2021.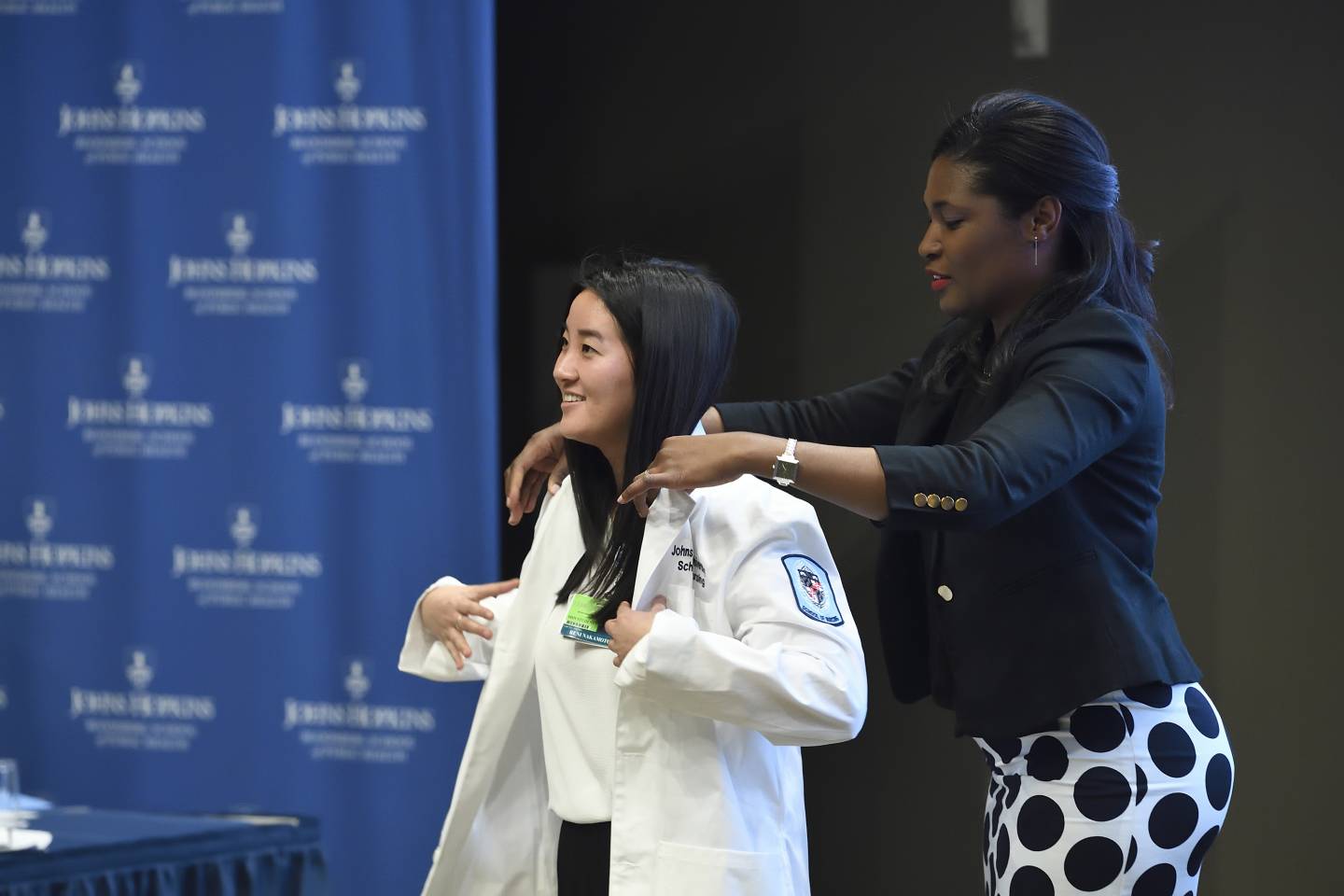 School of Nursing students receive their white coats in a ceremony recognizing their official entry into the health profession.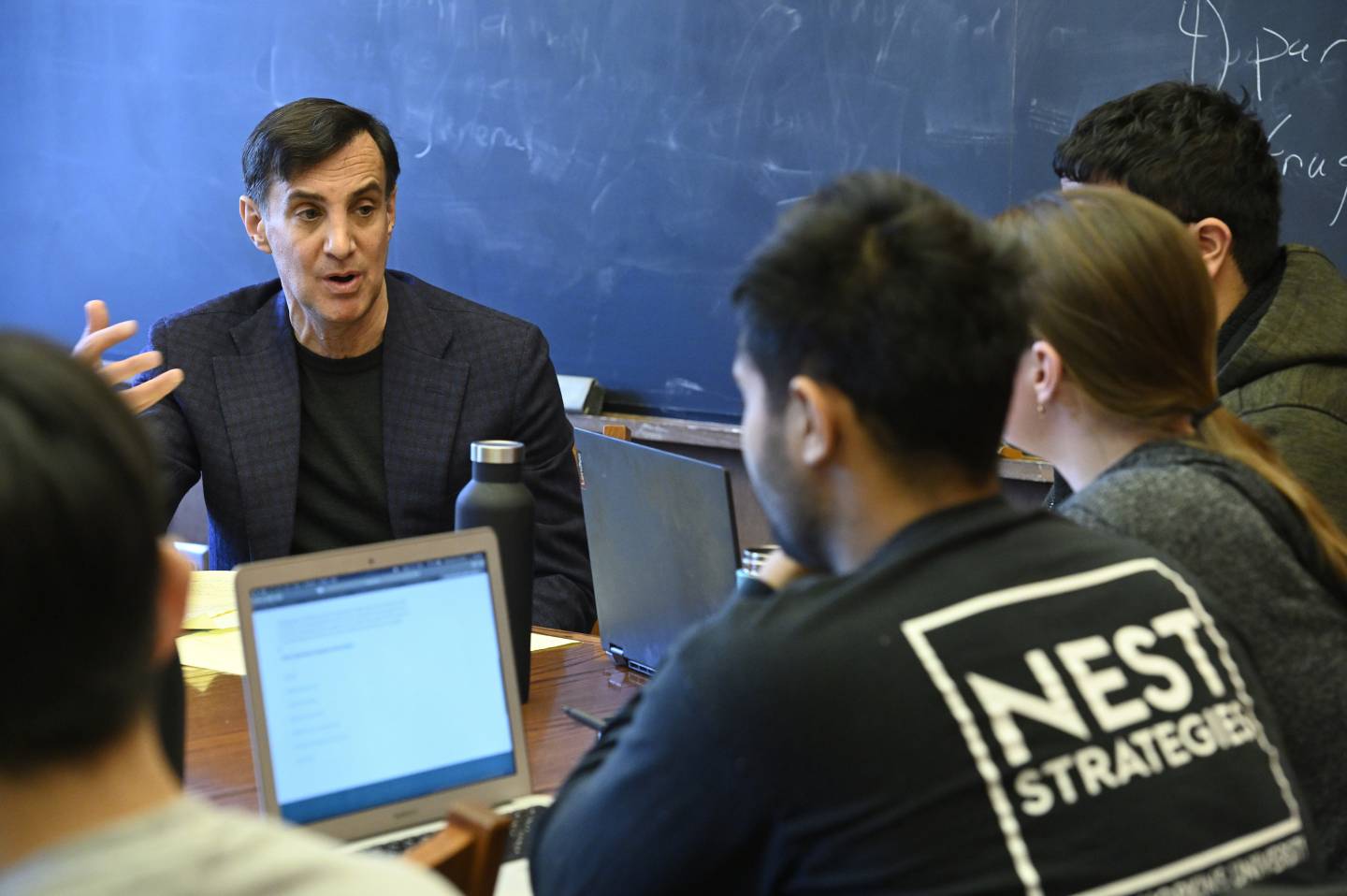 JHU President Ron Daniels leads an Intersession course on the role of universities in preserving democracy.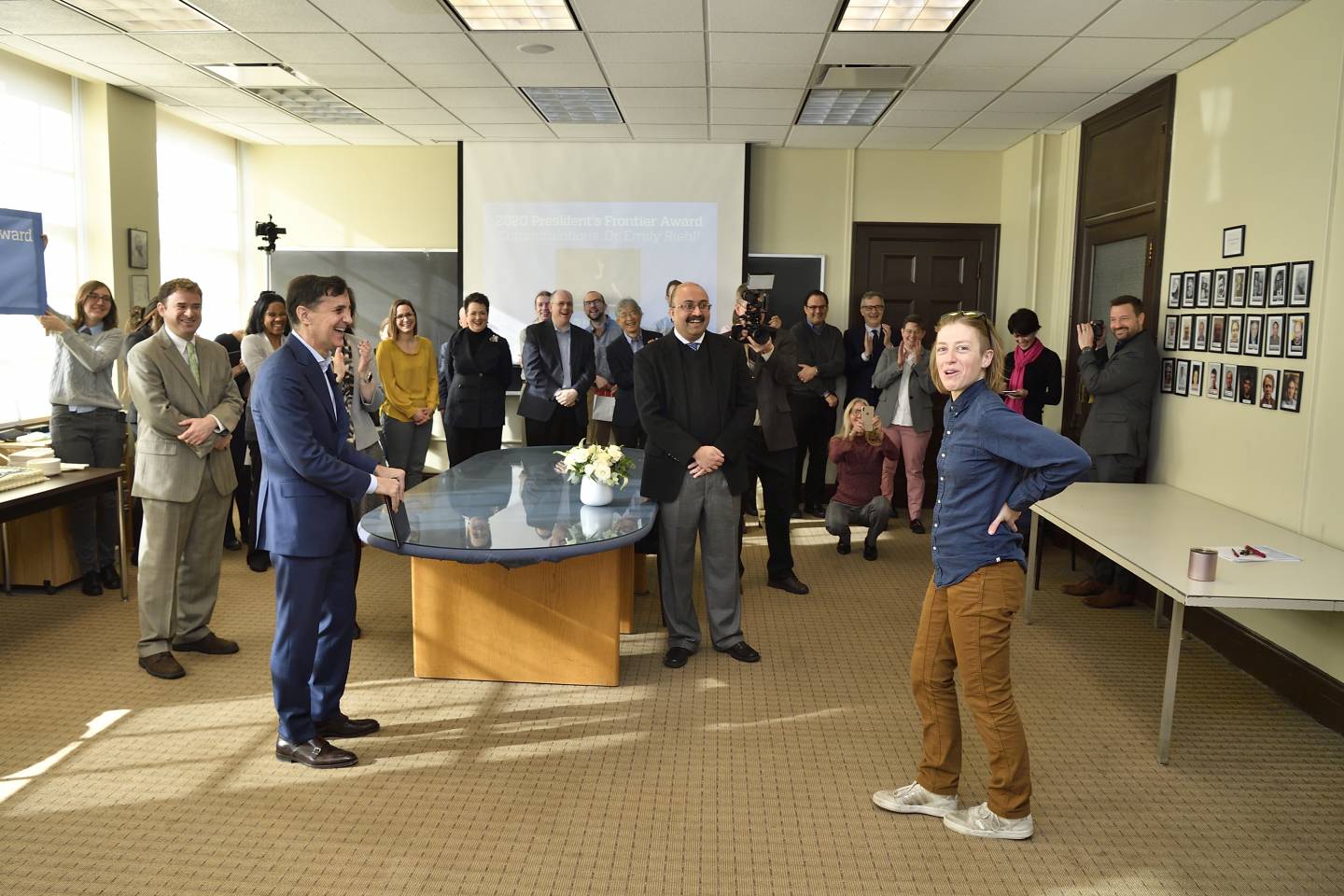 Mathematician Emily Riehl (right) learns she has won the President's Frontier Award, which is accompanied by a $250,000 award.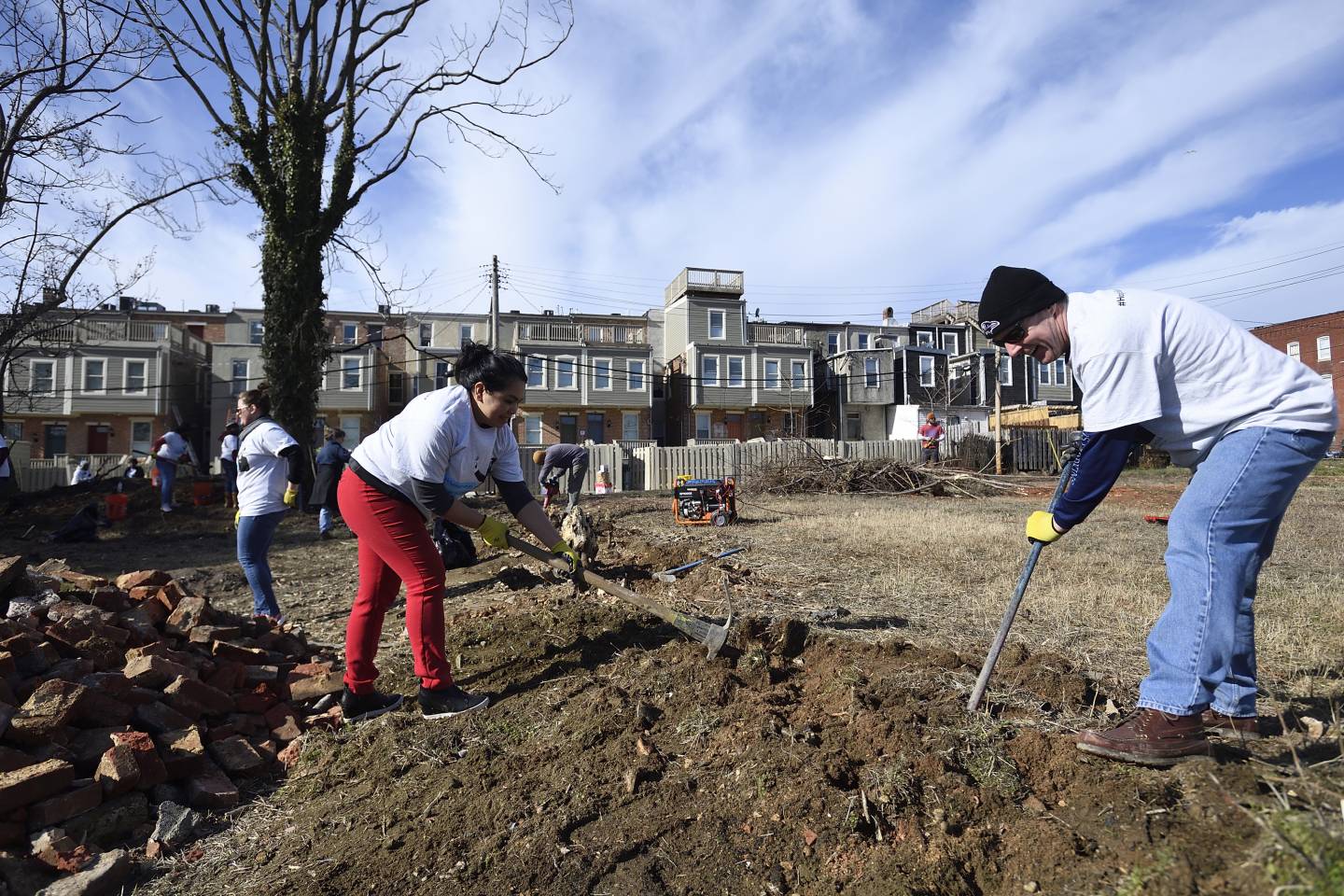 Roughly 600 members of the Johns Hopkins community take part in the Martin Luther King Jr. Day of Service, which supports dozens of community organizations in 21 ZIP codes in Baltimore, Washington, D.C., and Florida.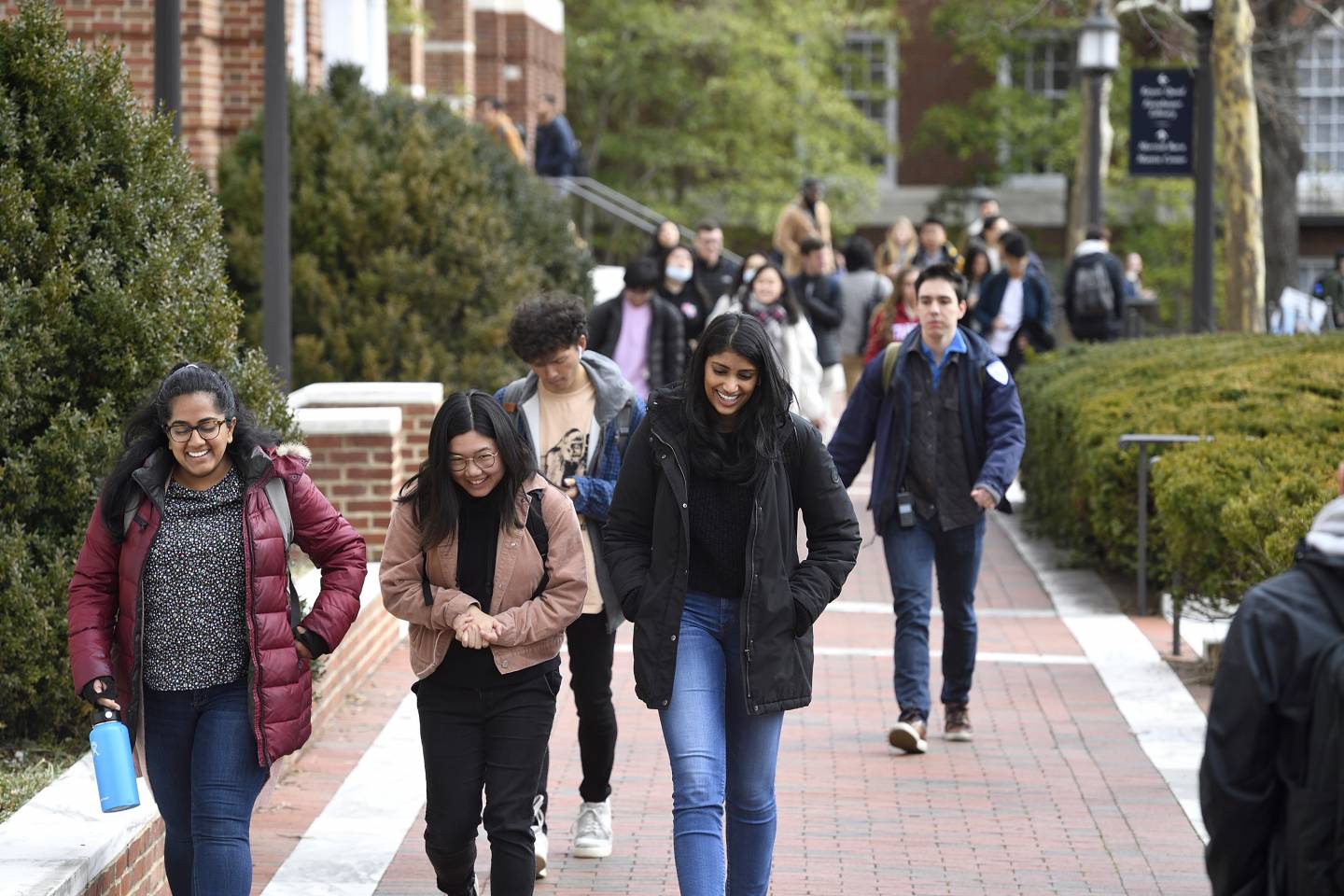 The Homewood campus is abuzz with students on the first day of classes for the spring semester.
February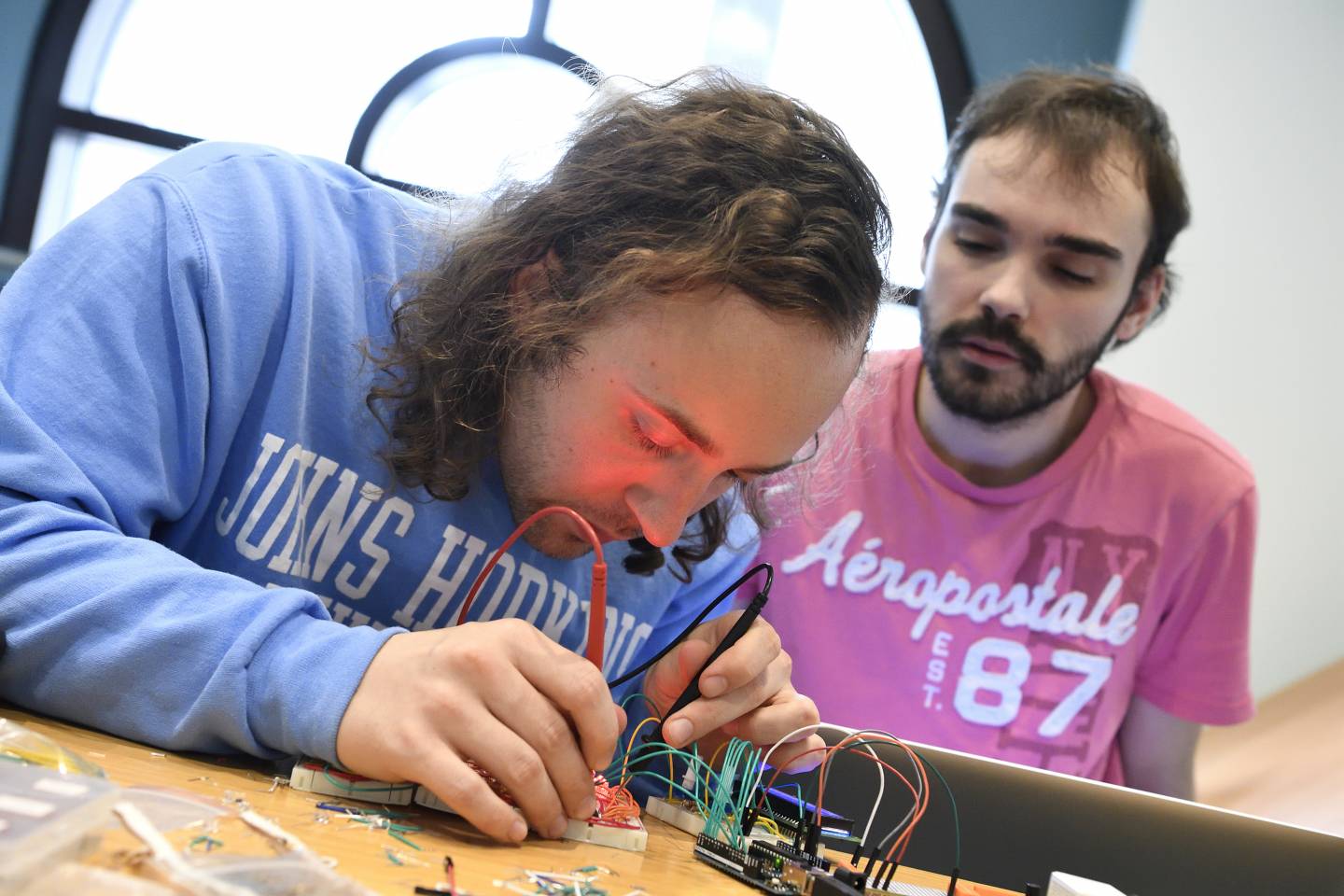 Peabody student Collin Champagne (left) and Jacob Young of the University of Maryland prototype a device that turns keyboard inputs into Braille for visually impaired composers as part of the PeabodyHacks hackathon.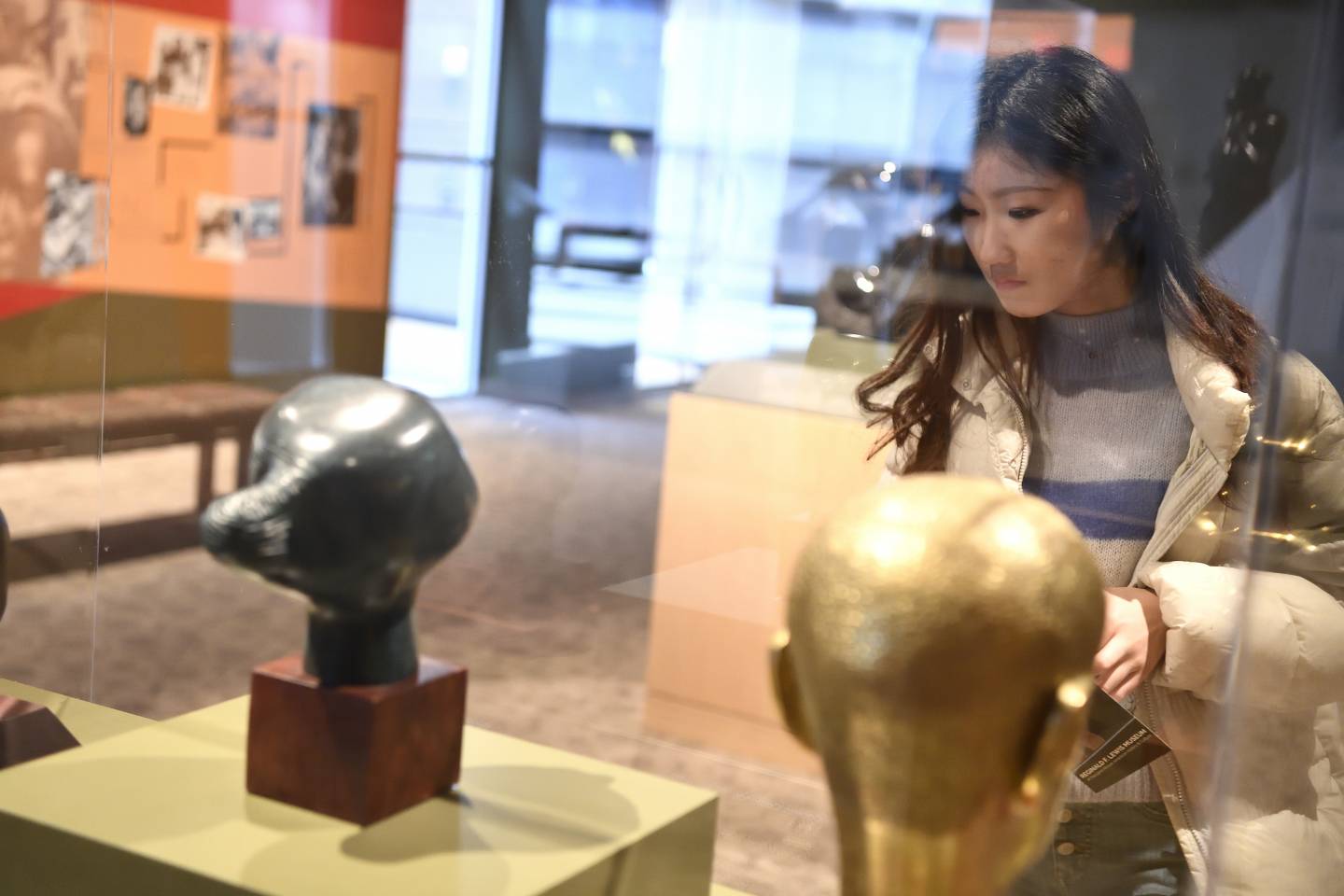 More than 900 members of the Johns Hopkins community visit the Reginald F. Lewis Museum to celebrate Black History Month.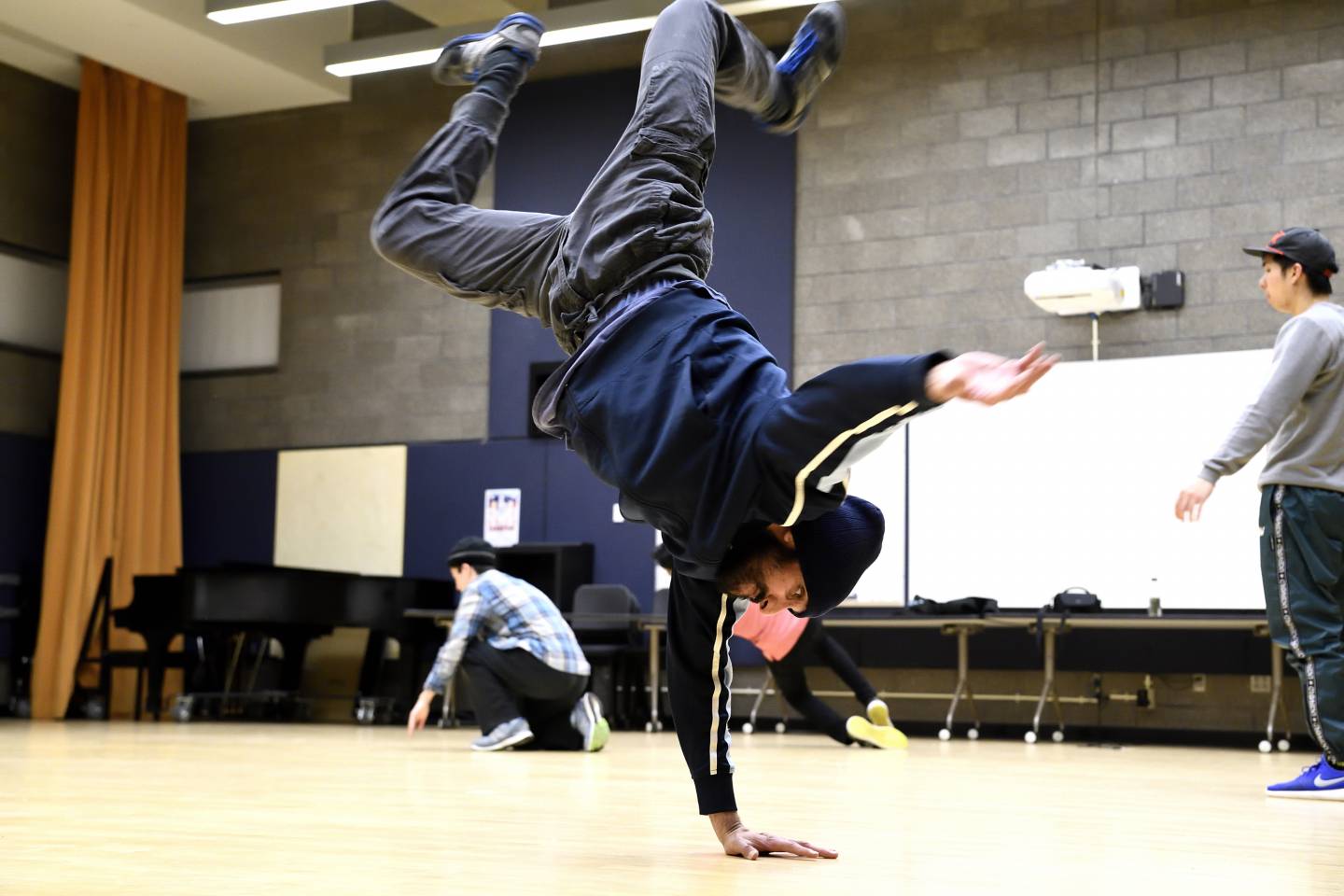 Student performing arts groups practice in Homewood's Mattin Center.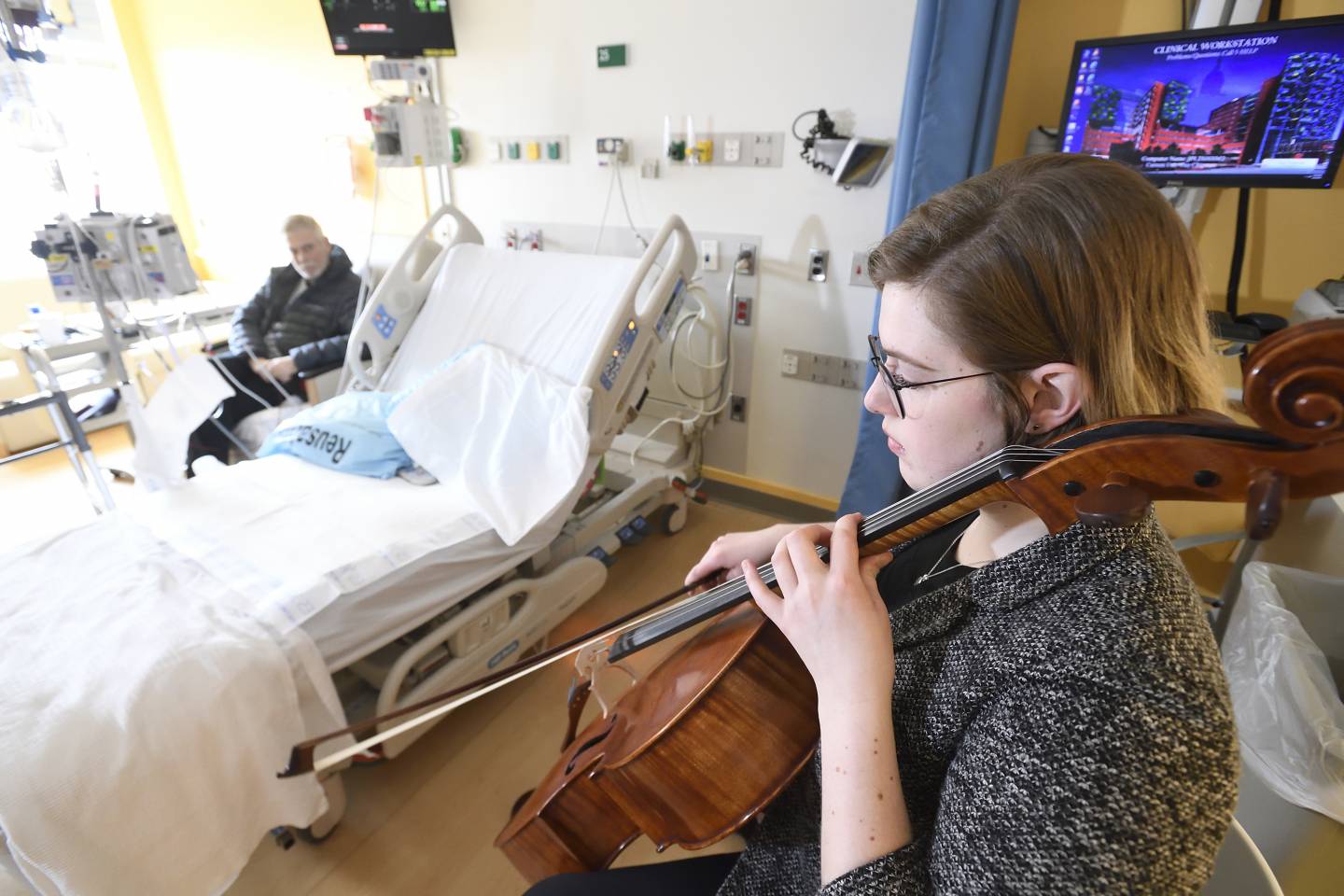 A cellist performs as part of Sound Rounds, a Peabody tradition of performing for patients at hospitals within the Johns Hopkins Health System.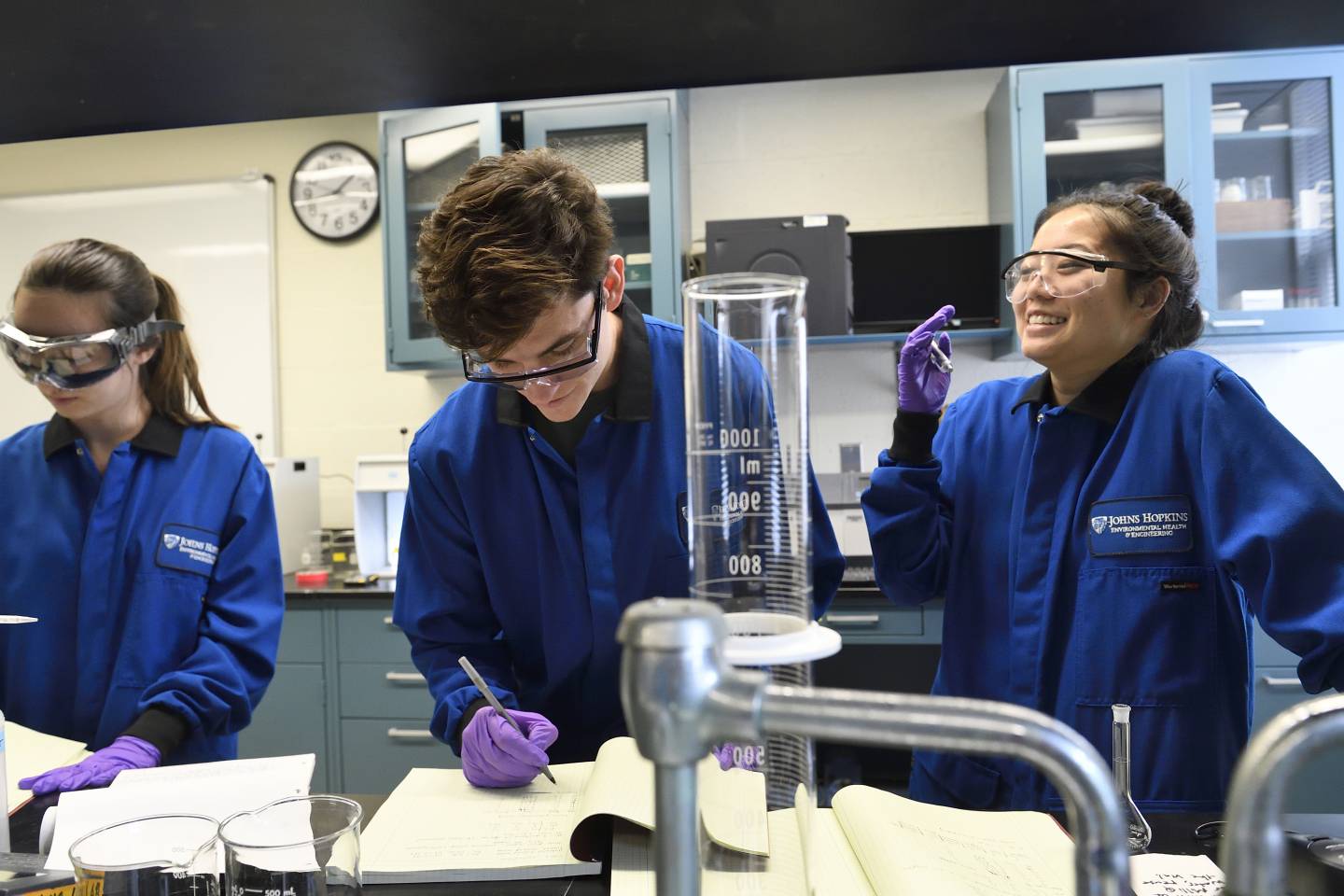 March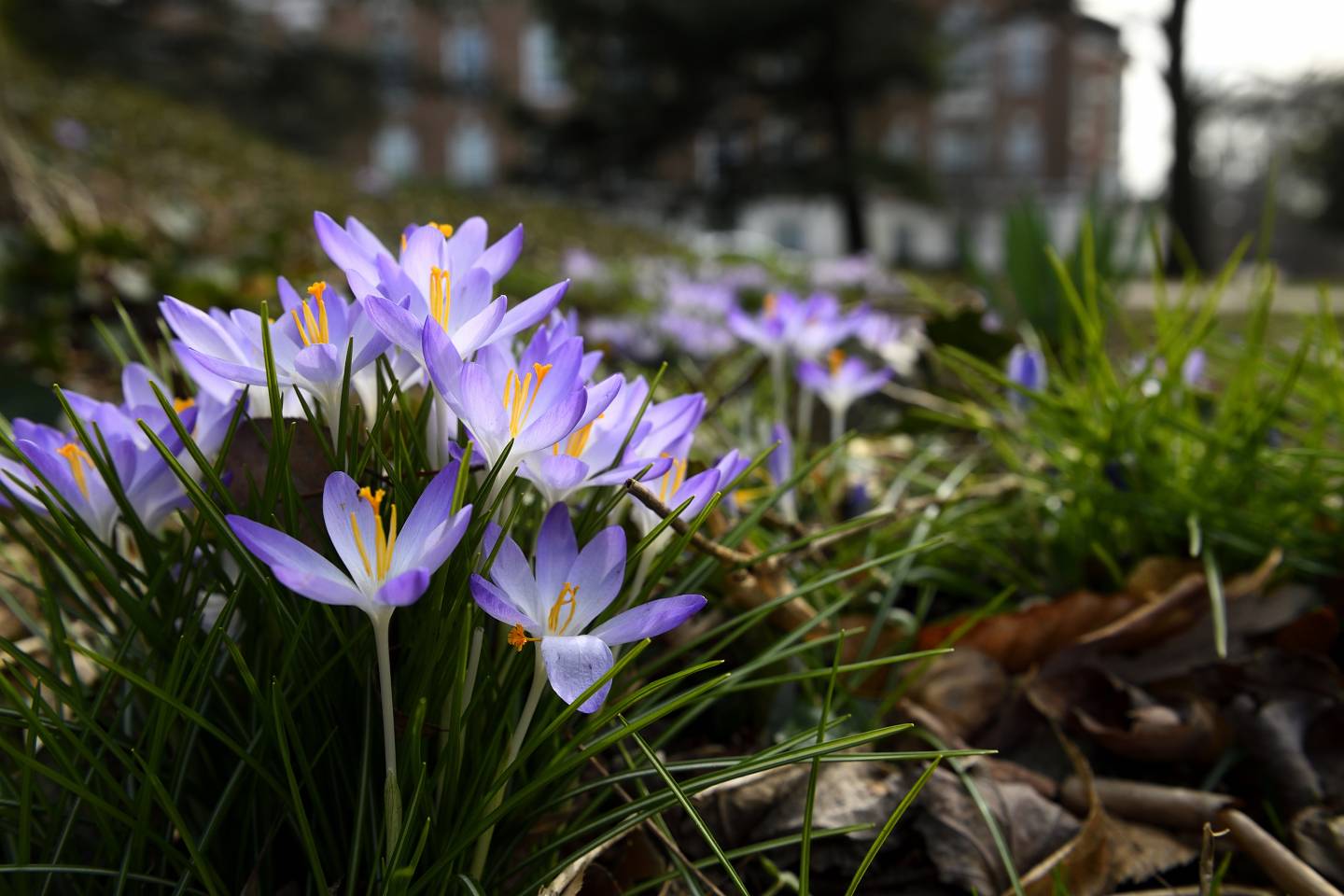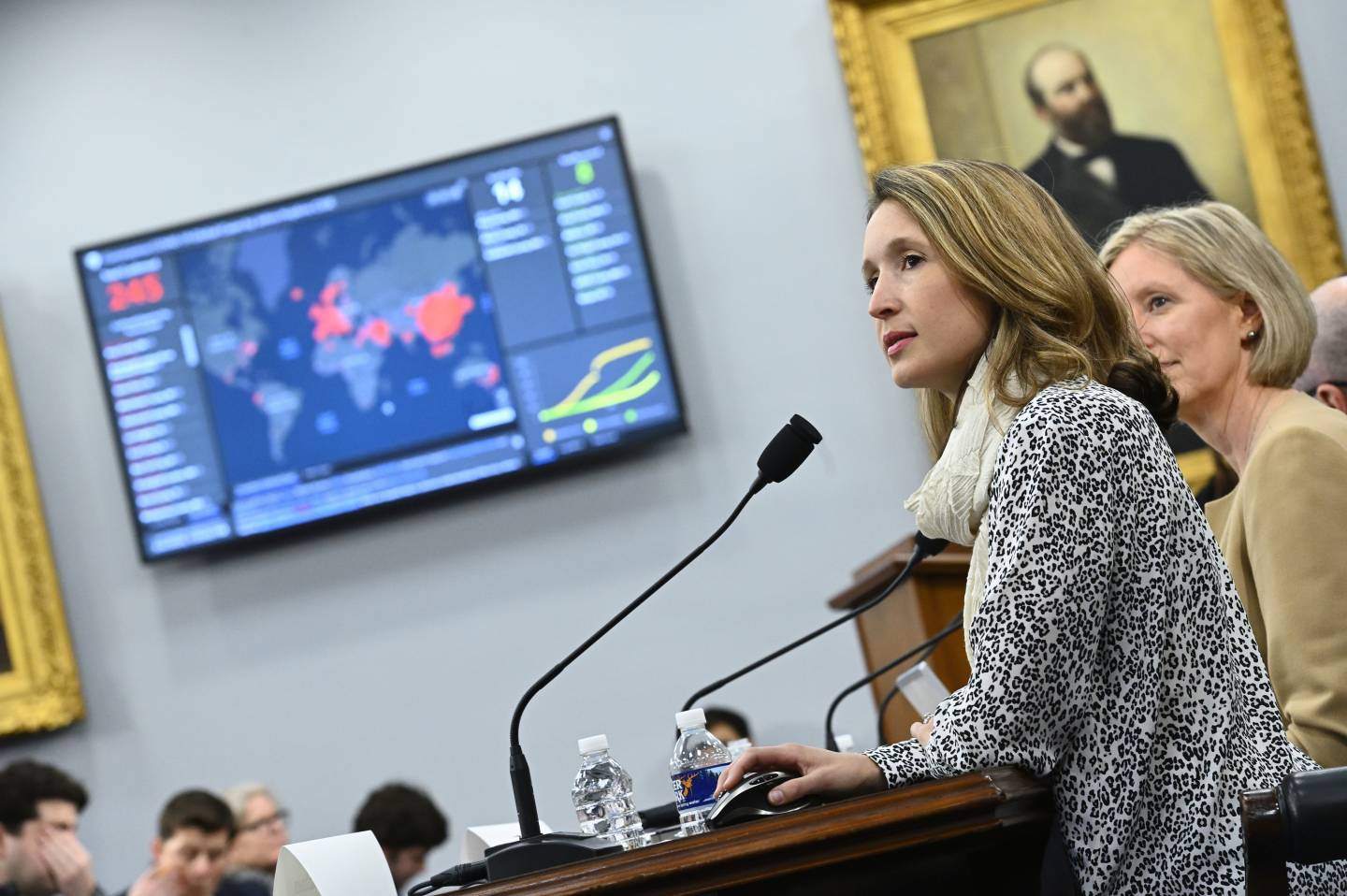 Civil and systems engineer Lauren Gardner is among a cohort of Johns Hopkins experts to present evidence to Congress of the growing threat of the novel coronavirus called COVID-19. Gardner spearheads the Johns Hopkins COVID-19 tracker map that has become the go-to global resource for tracking coronavirus infections and deaths around the world.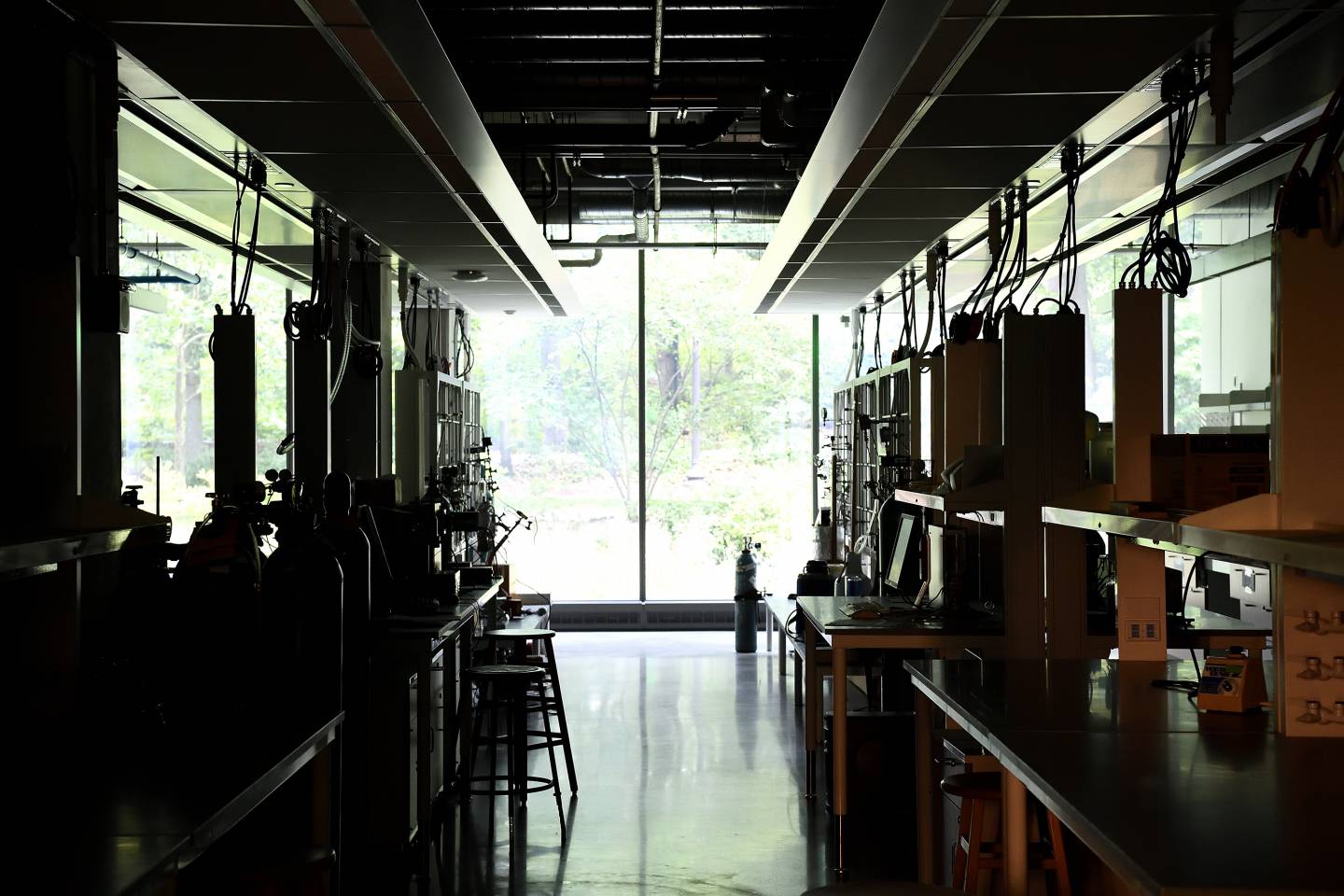 As community transmission of the coronavirus spikes in the United States, university leaders encourage students to remain home following spring break. Experiments are put into deep-freeze storage, equipment is packed away, and all nonessential laboratory work at America's first research university grinds to a halt.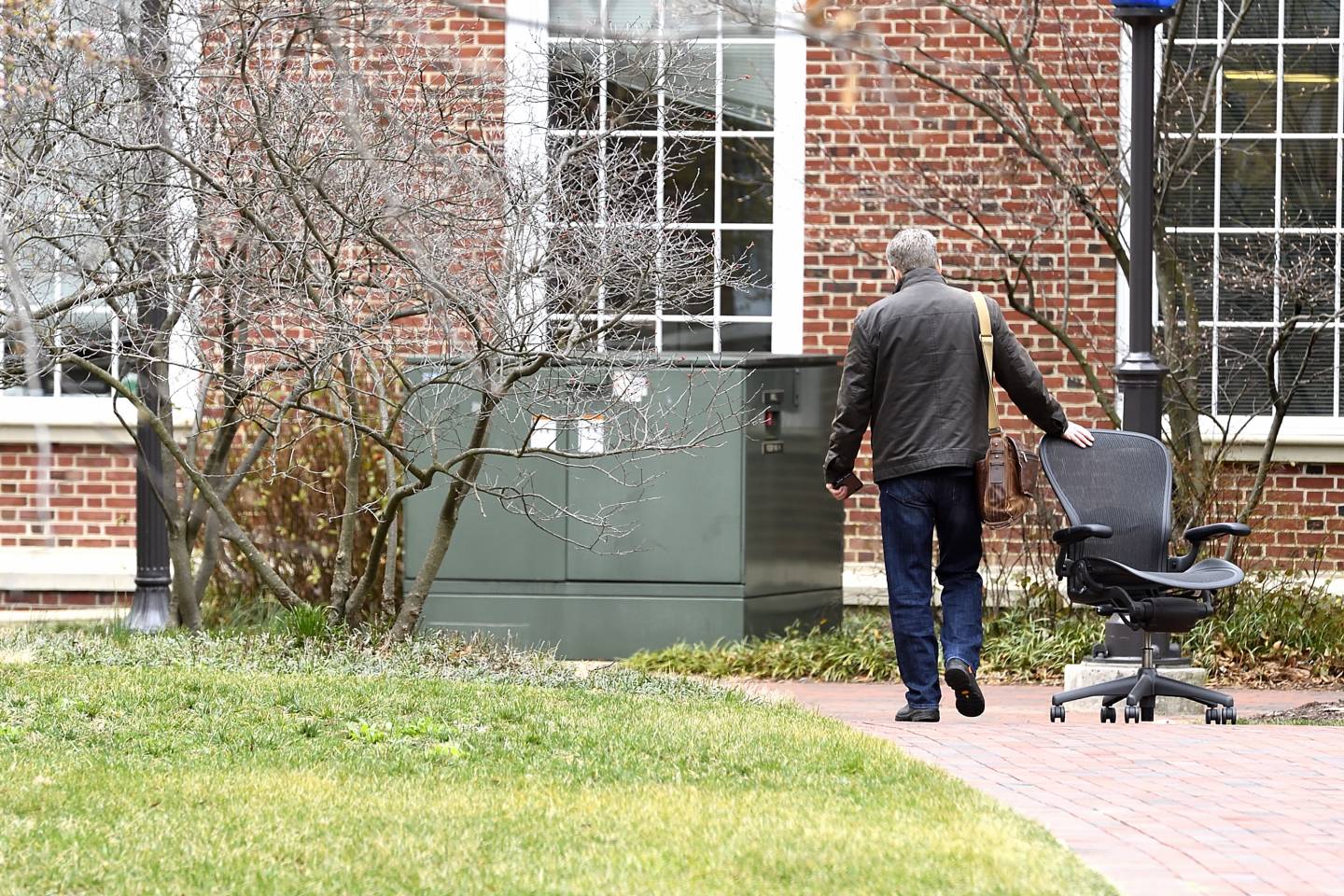 When the university transitions to remote work and instruction, faculty, staff, and furniture head home.
Baltimore distillery Sagamore Spirit manufactures hand sanitizer for use by the Johns Hopkins Health System. Here, a volunteer from Hopkins bottles and packages it for distribution.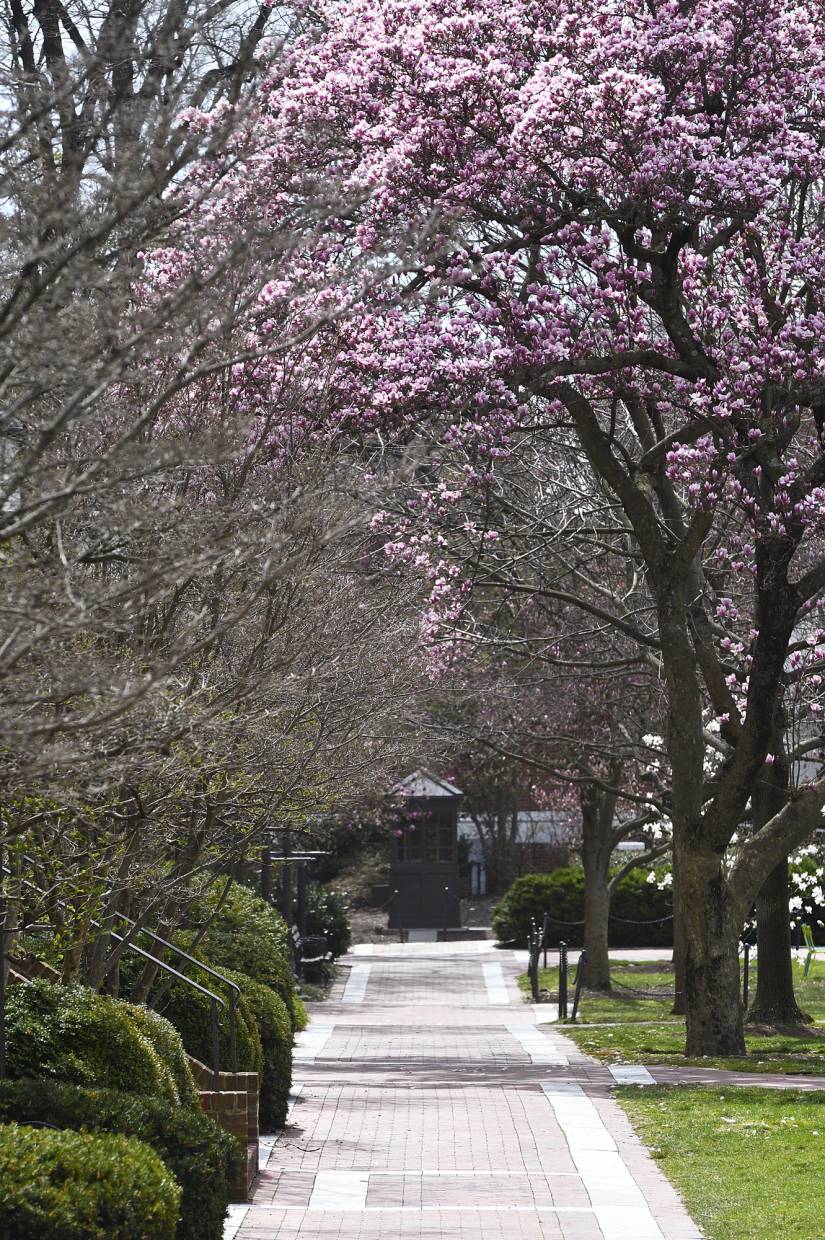 April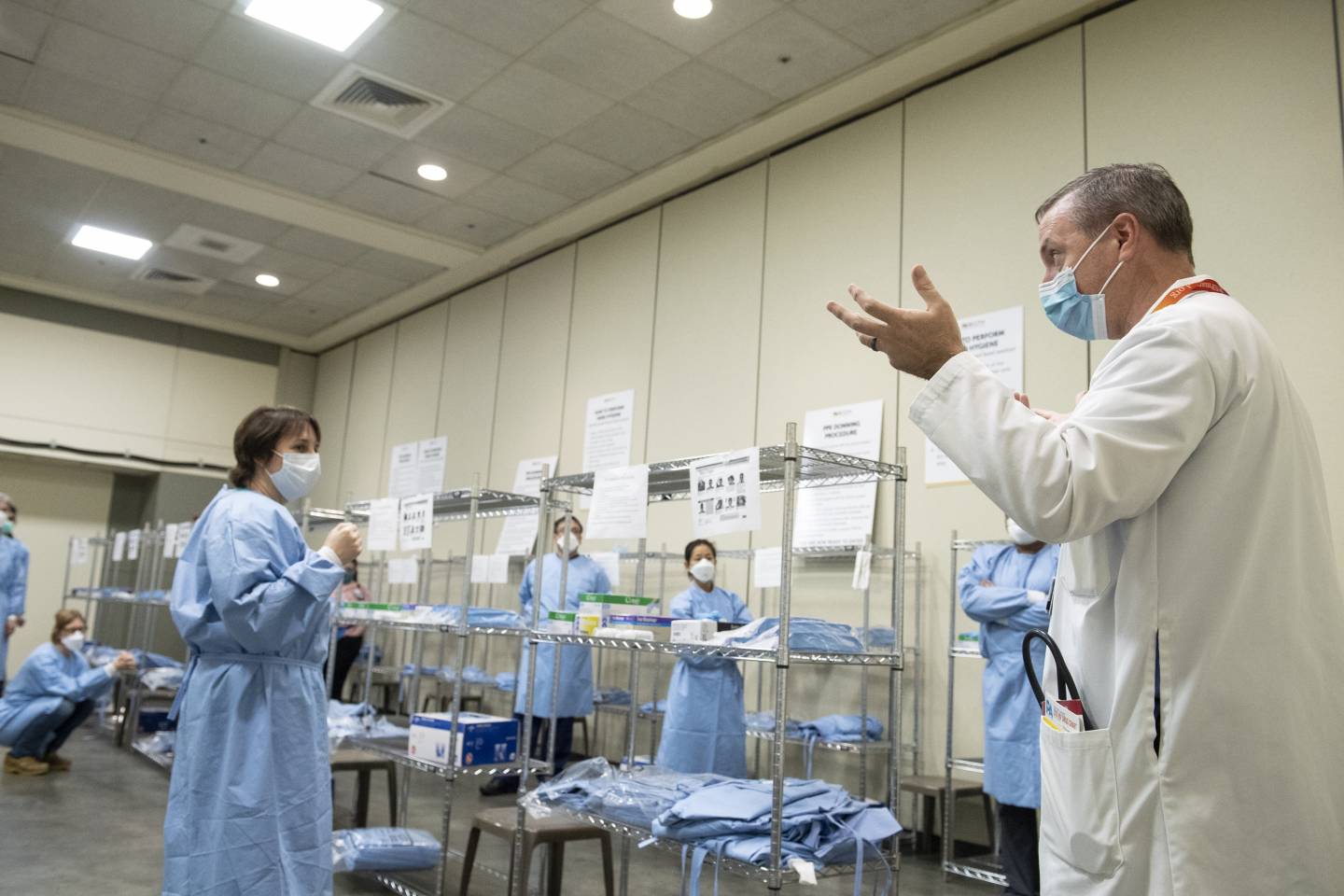 At the Maryland Field Hospital established at the Baltimore Convention Center, School of Nursing Professor Jason Farley instructs a team of nurses on how to properly don and doff personal protective equipment that includes gowns and face masks.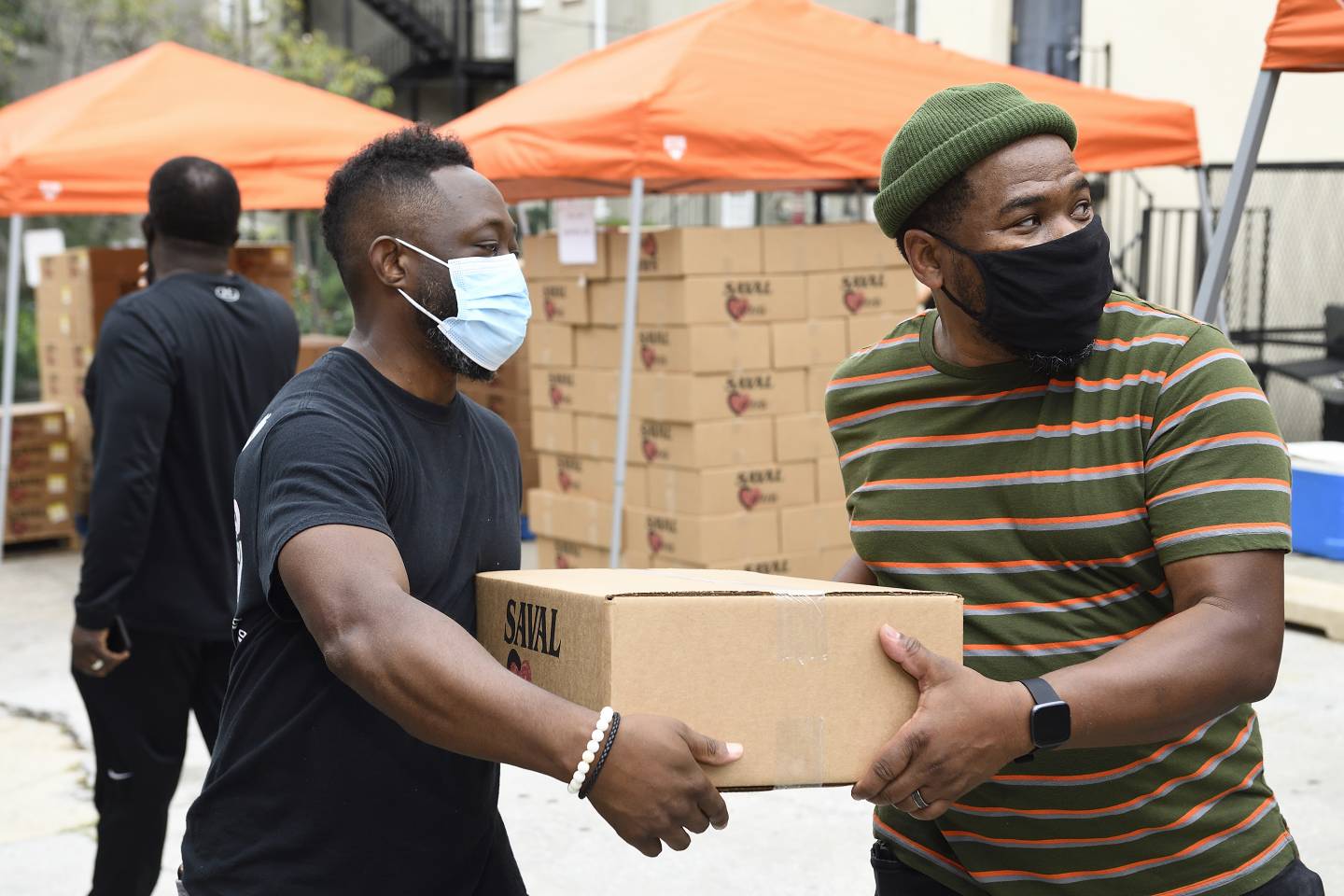 Volunteers distribute boxes of food to faith-based and community organizations as part of the East Baltimore Food Access Initiative. Between April and September, the initiative will distribute more than 2.24 million meals to city residents.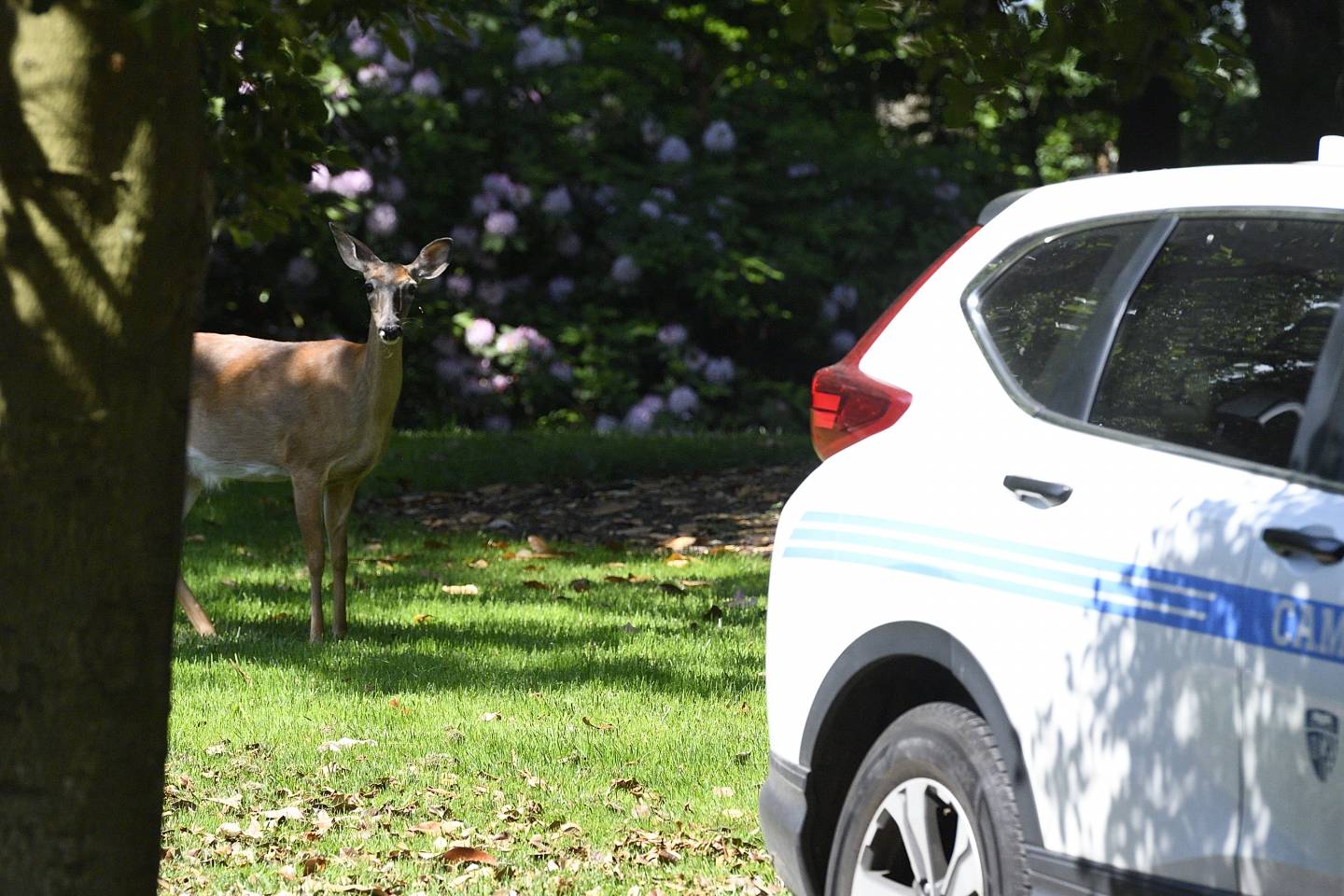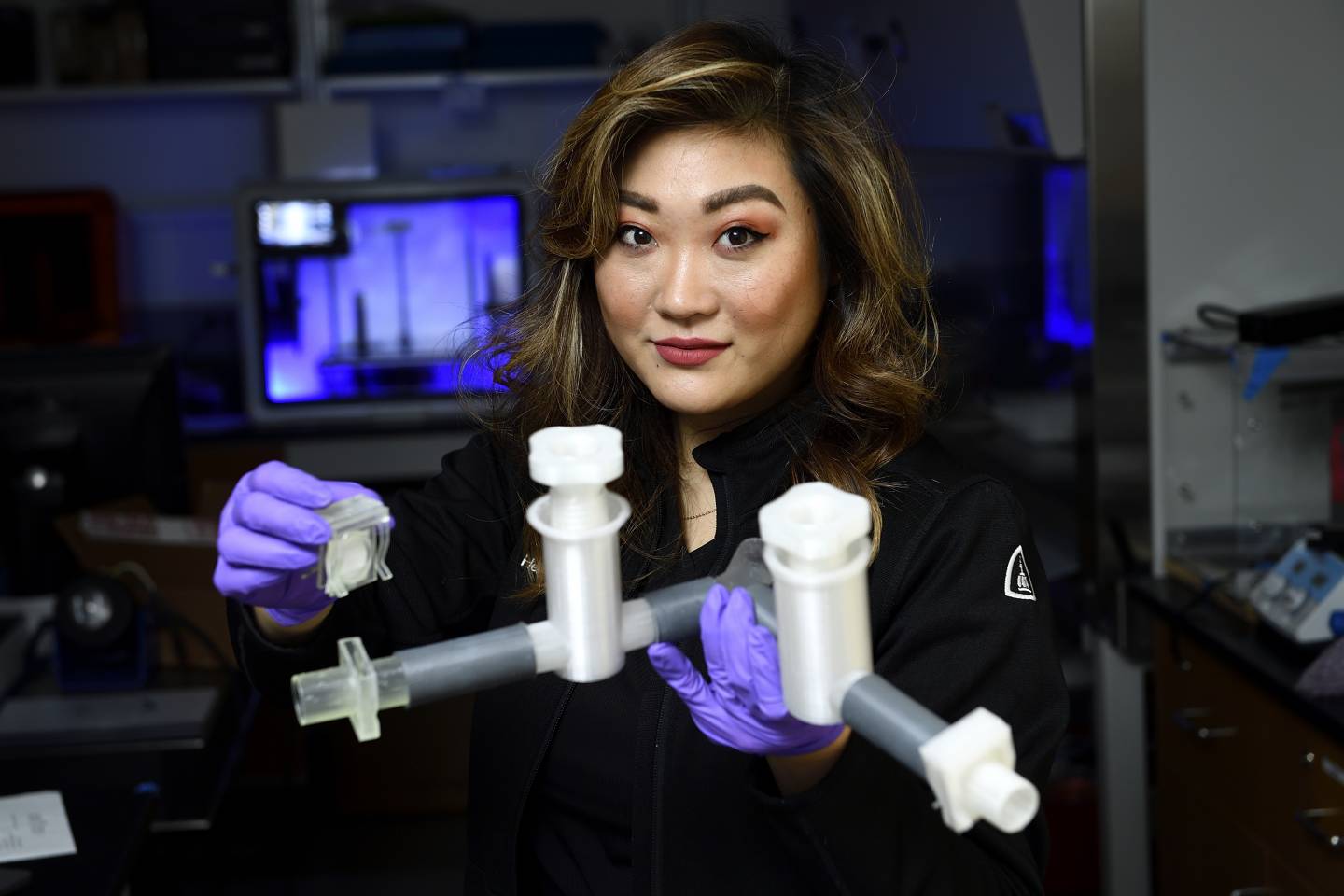 Research teams across Johns Hopkins channel their energy and resources to launch projects designed to support the fight against COVID-19. Here, medical student Helen Xun shows off a 3D-printed ventilator splitter that she and a team of engineers designed.
May
A community-organized parade honors those on the frontlines of health care delivery during the pandemic.
Johns Hopkins hospitals in Baltimore and Washington are along the flight route for a U.S. Air Force Thunderbirds and U.S. Navy Blue Angels flyover tribute to health care workers and first responders.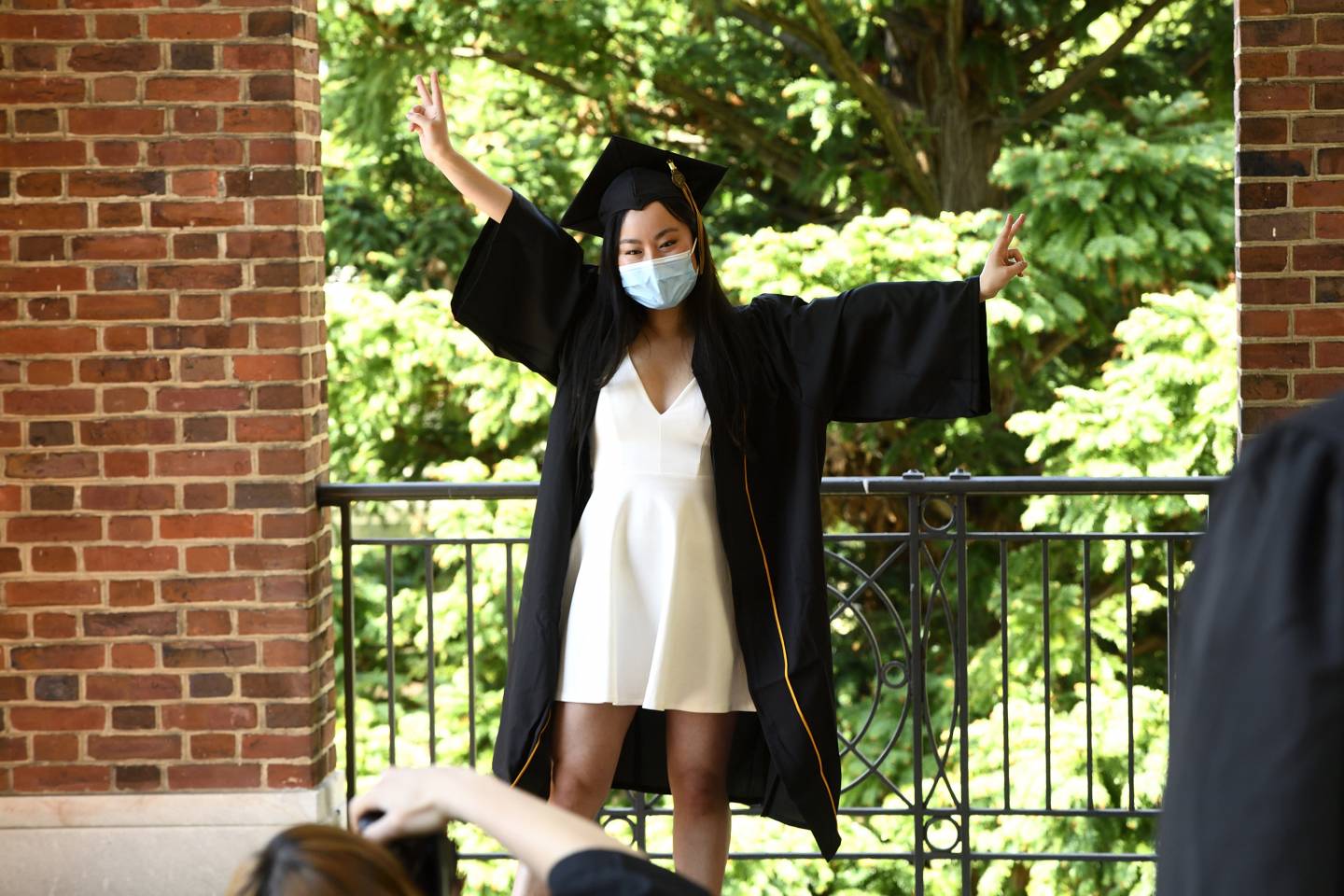 In-person Commencement is replaced by a virtual ceremony, but graduating seniors who live locally still flock to campus for traditional end-of-year photos.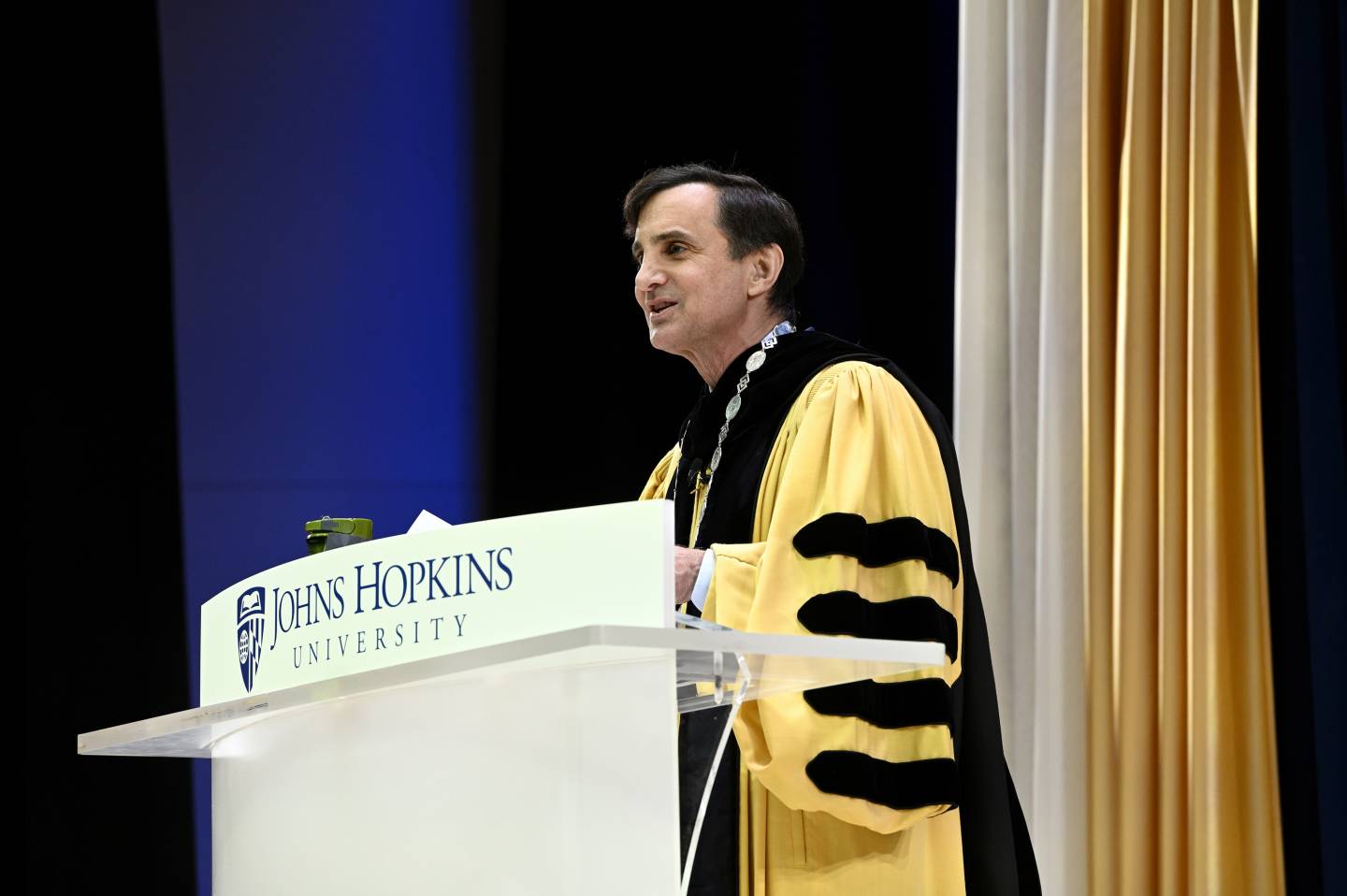 President Daniels delivers his remote Commencement address from the stage in Shriver Hall on the Homewood campus.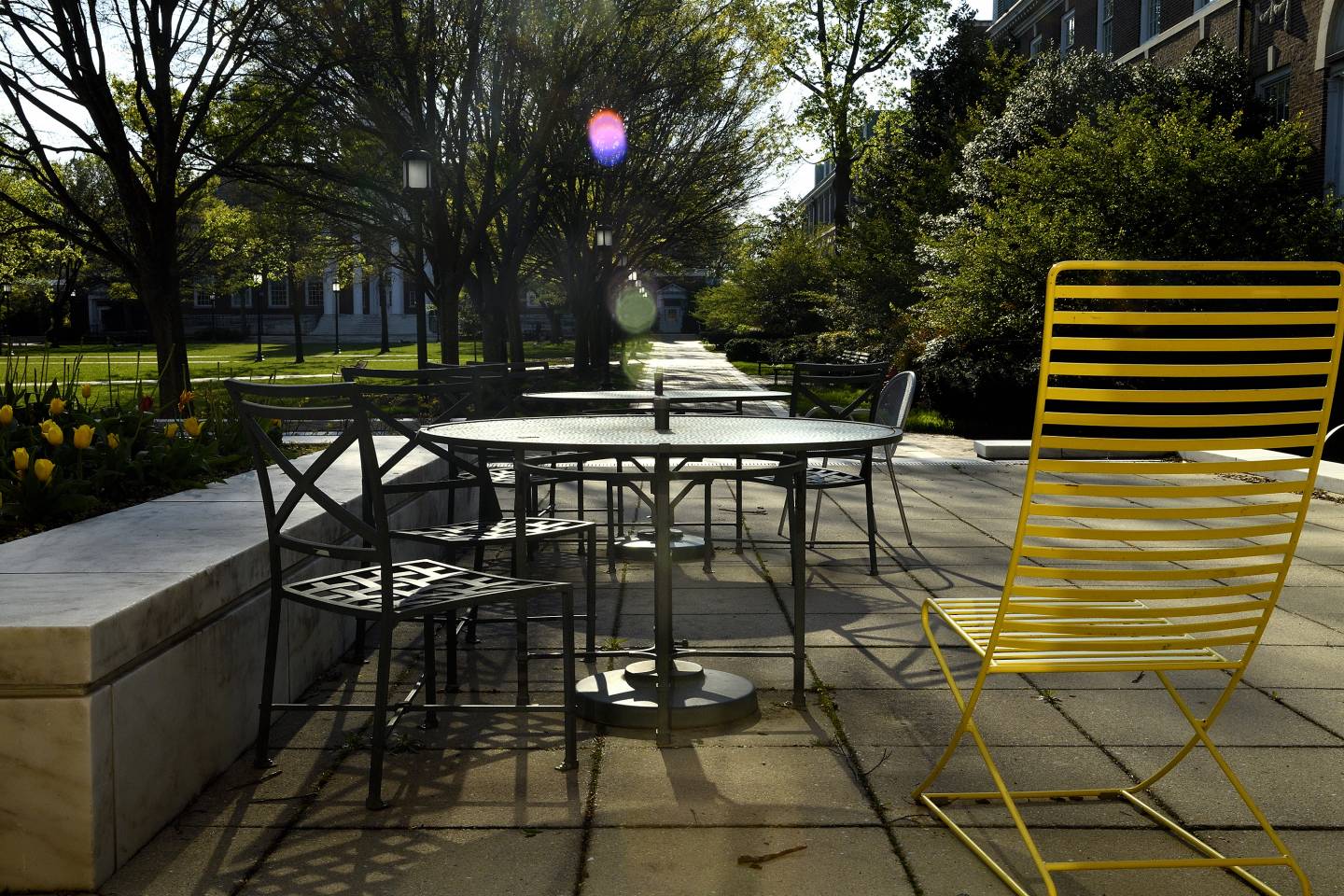 June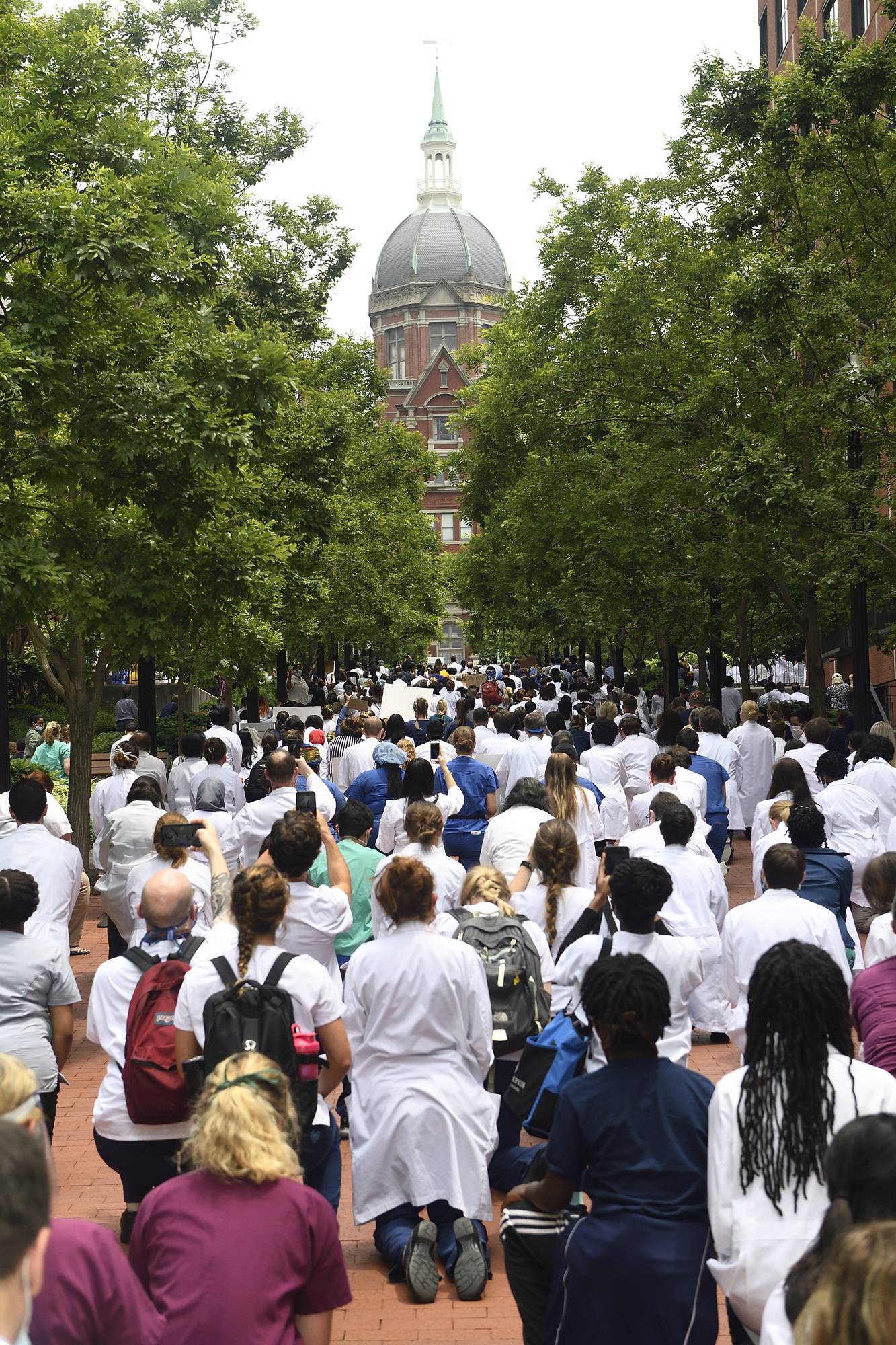 In response to the recent death of George Floyd at the hands of police officers, a White Coats for Black Lives protest is organized on the East Baltimore campus.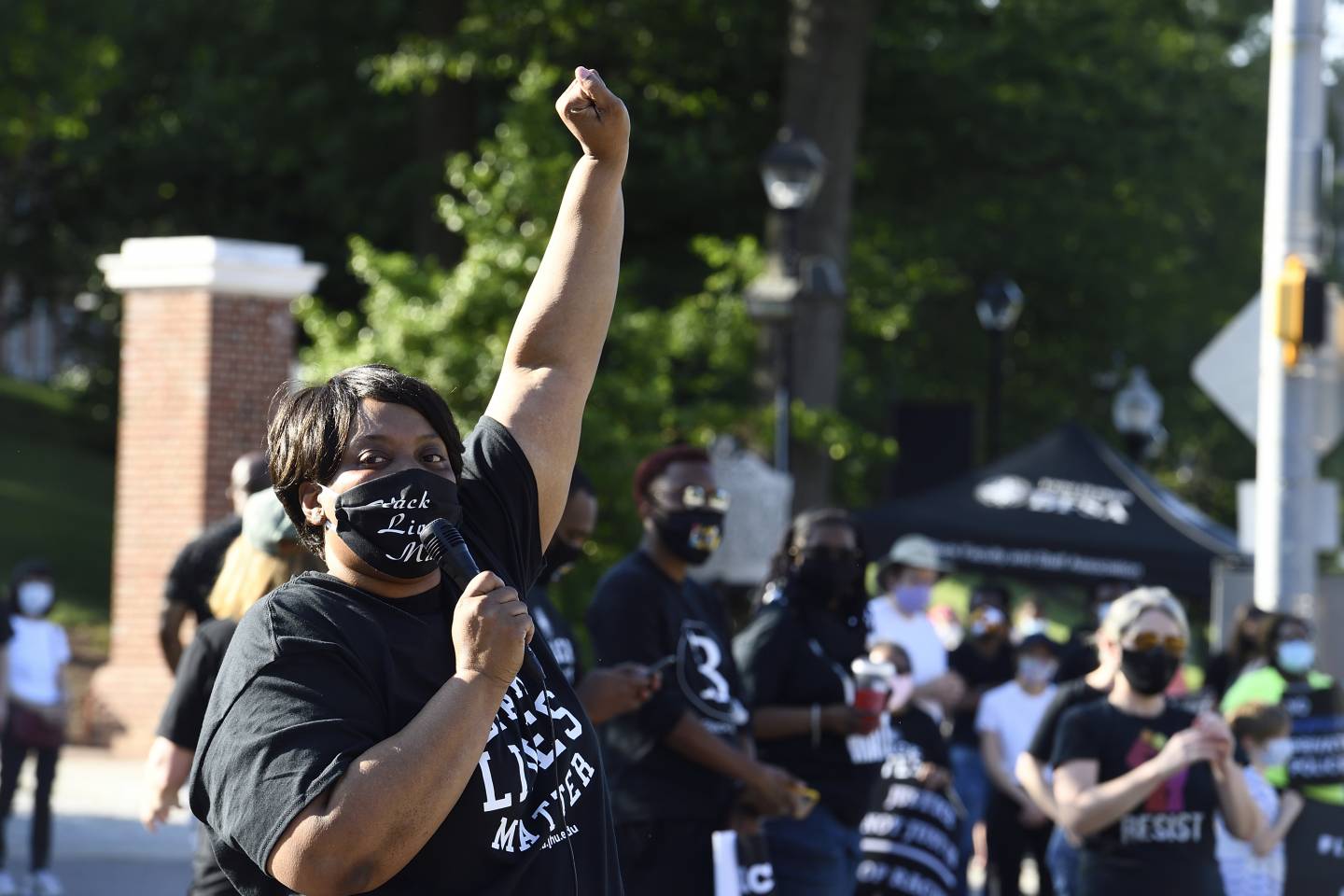 More than 200 join a protest organized by JHU's Black Faculty and Staff Association to stand in solidarity against racism in policing and call for more Black faculty and staff at the university.
New occupancy restrictions to ensure physical distancing are put into effect as nonessential laboratories reopen.
July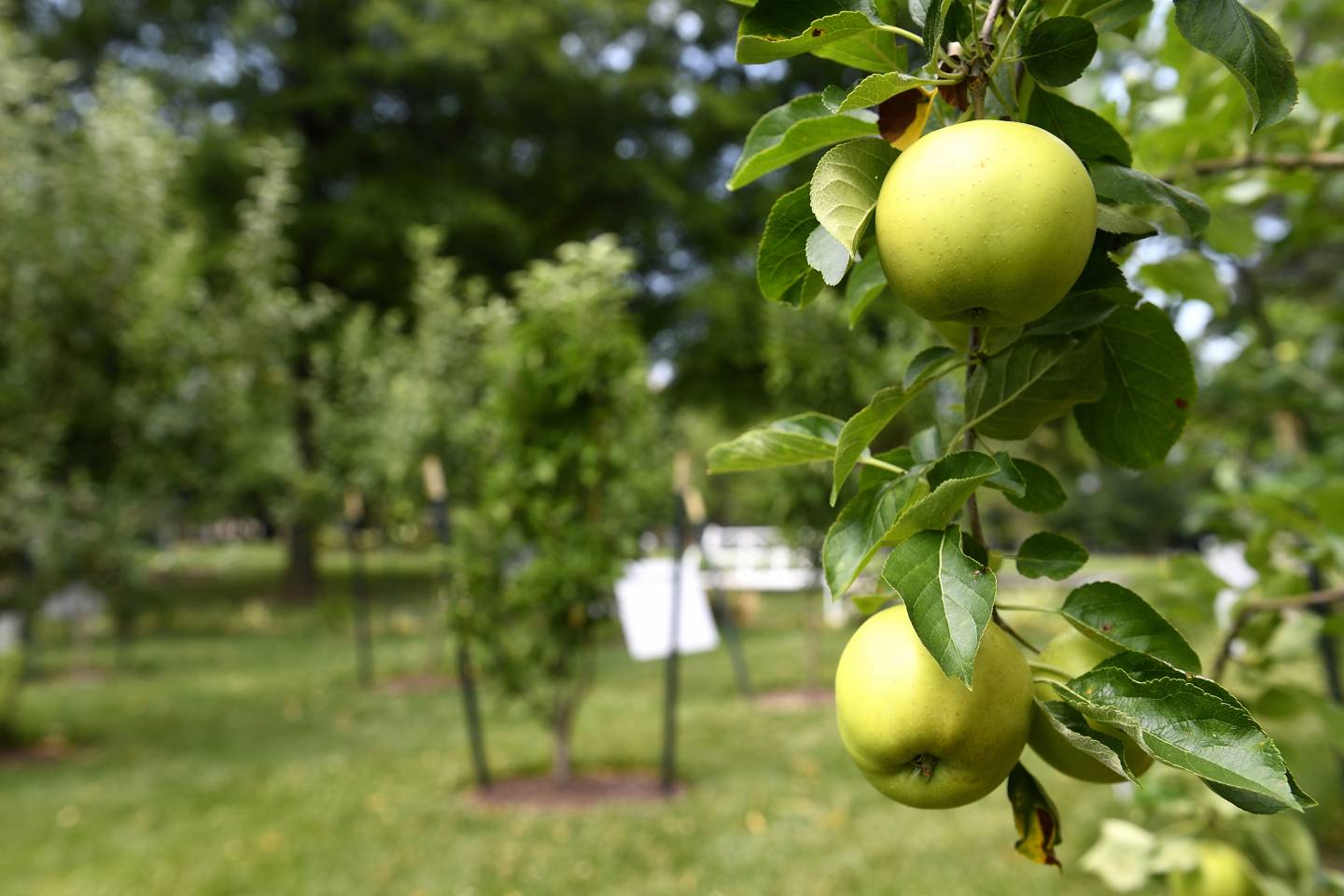 Apples grow in the orchard between Homewood Museum and the residence hall AMR I.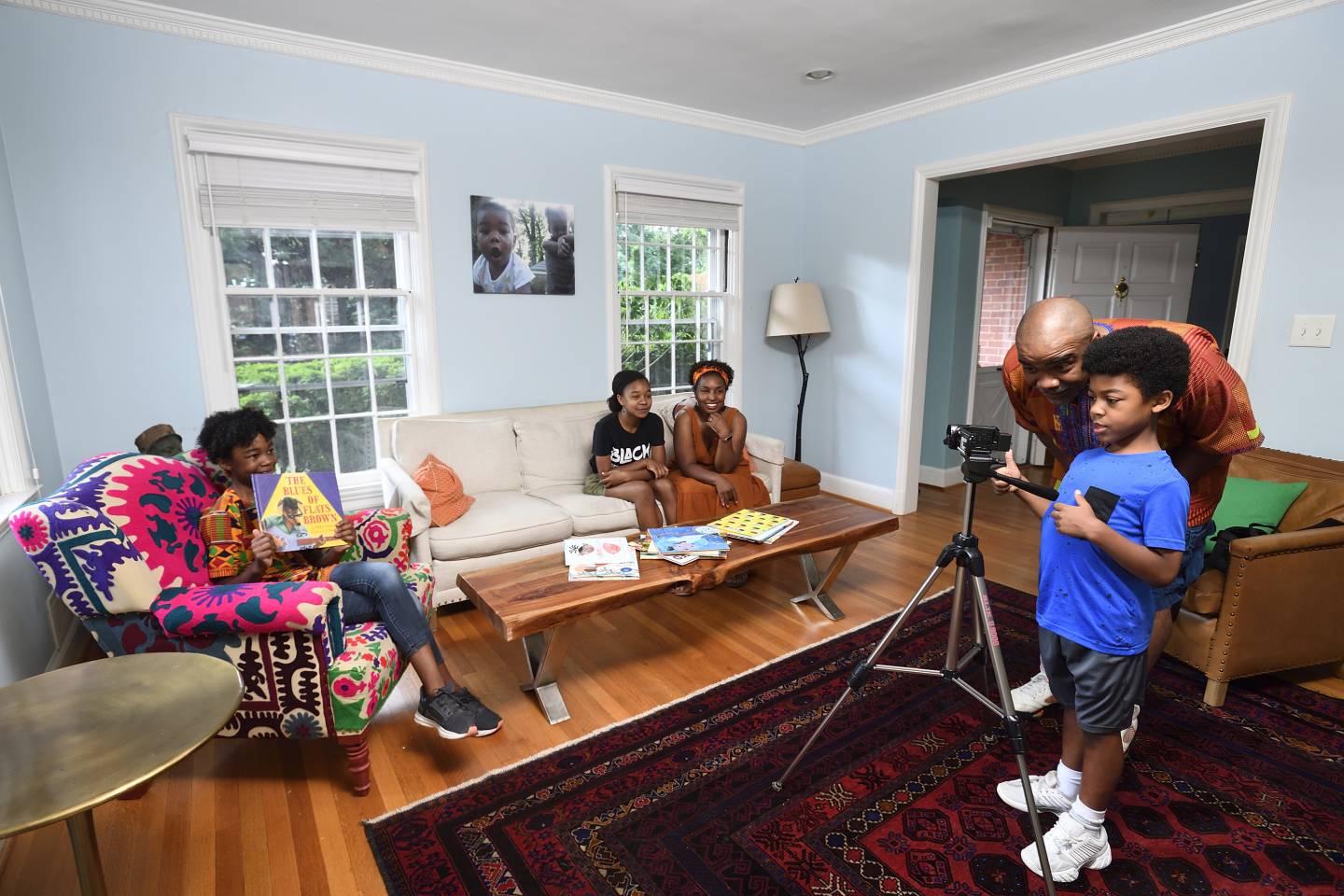 Johns Hopkins faculty members Nathan Connolly and Shani Mott—and their children—film an episode of their YouTube series, Storytime with Dr. Connolly, which shares Africana history with a new generation of readers.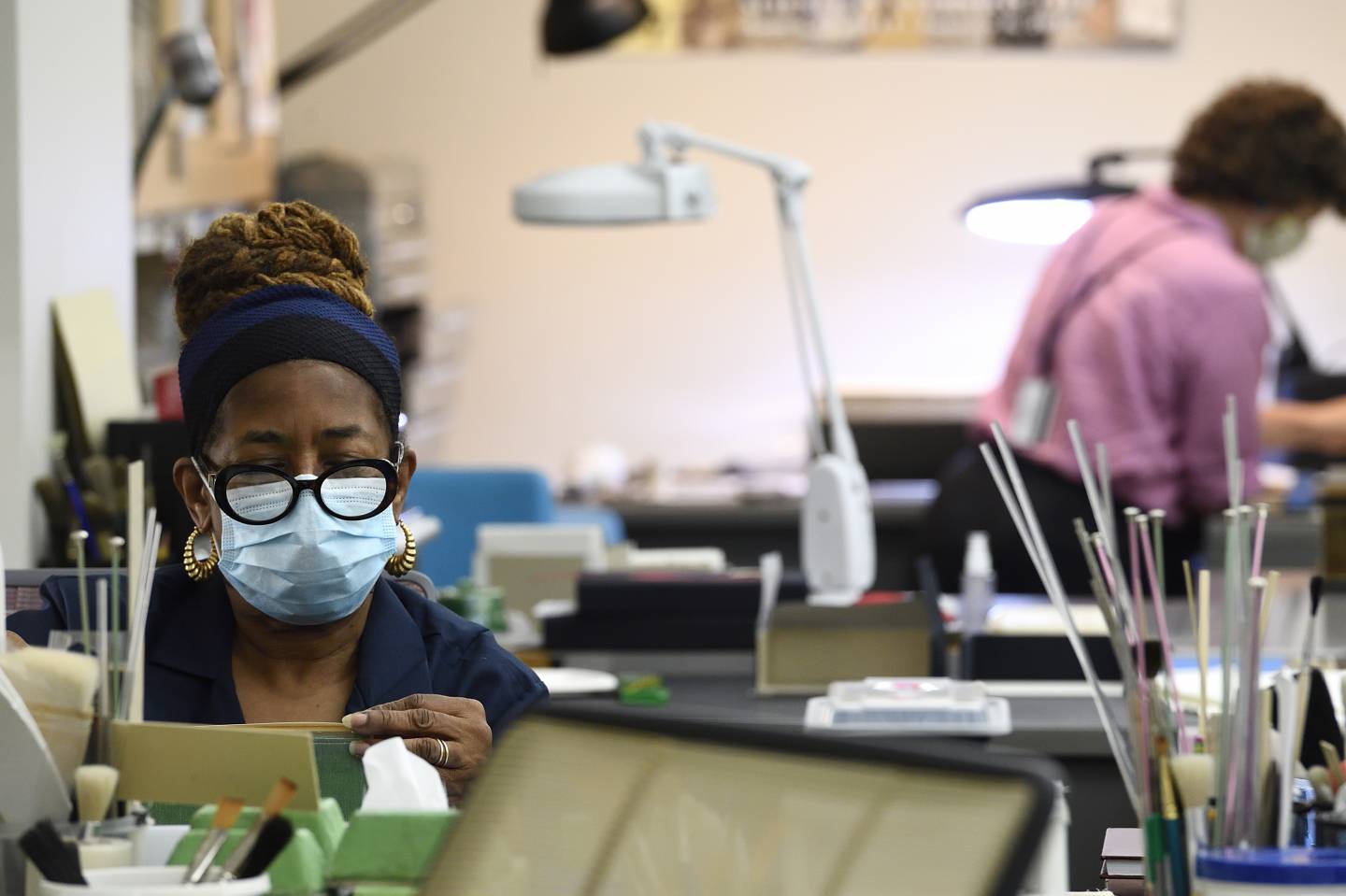 Book conservator Lena Warren resumes in-person work in the Sheridan Libraries' Department of Conservation and Preservation.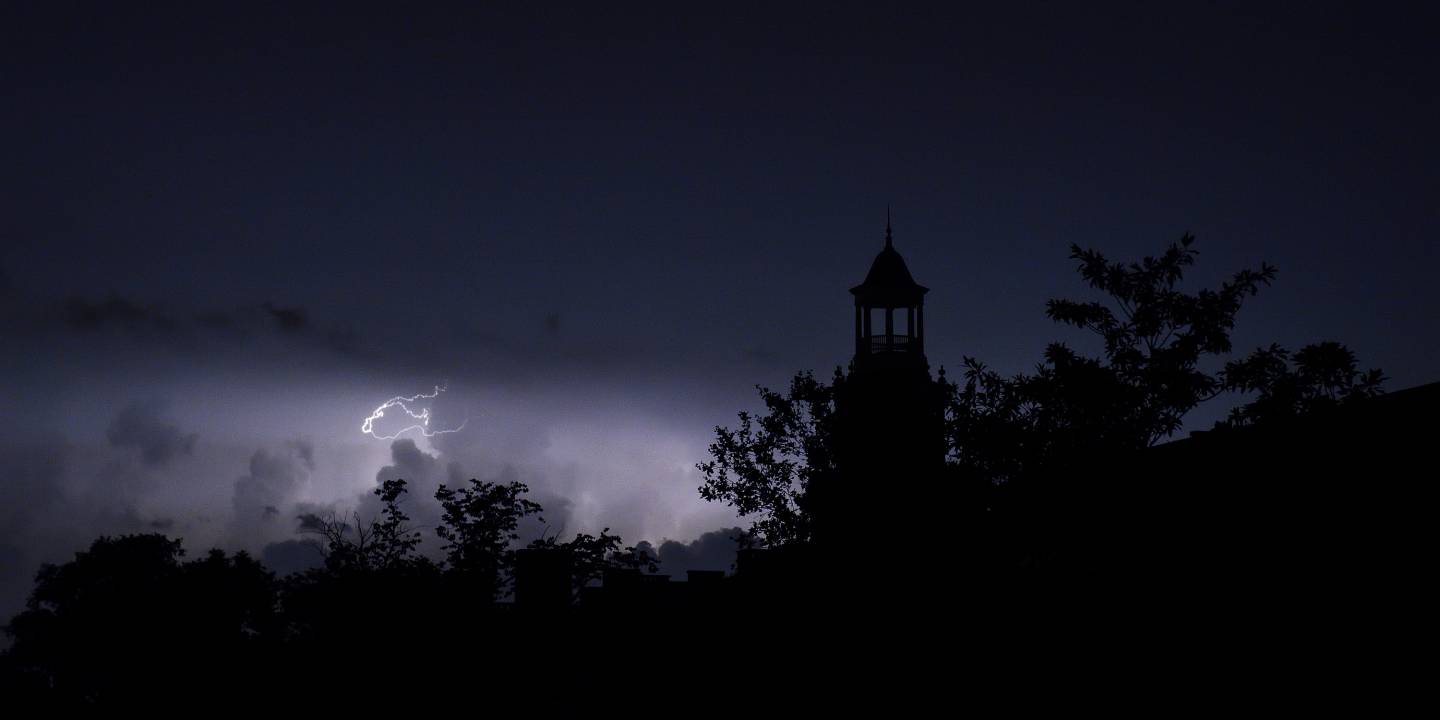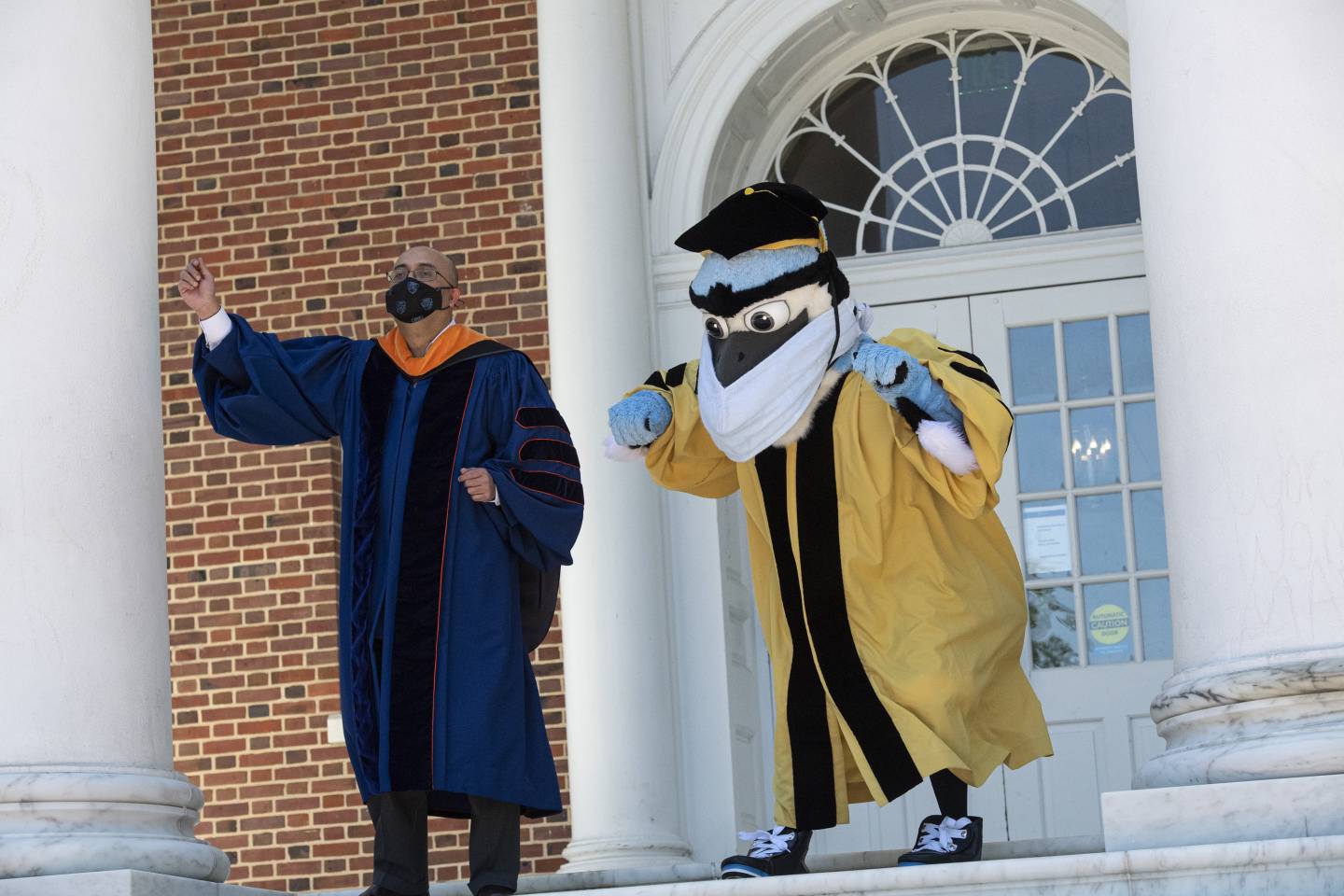 Provost Sunil Kumar and Jay have some fun while filming for the virtual 2020 Convocation ceremony.
August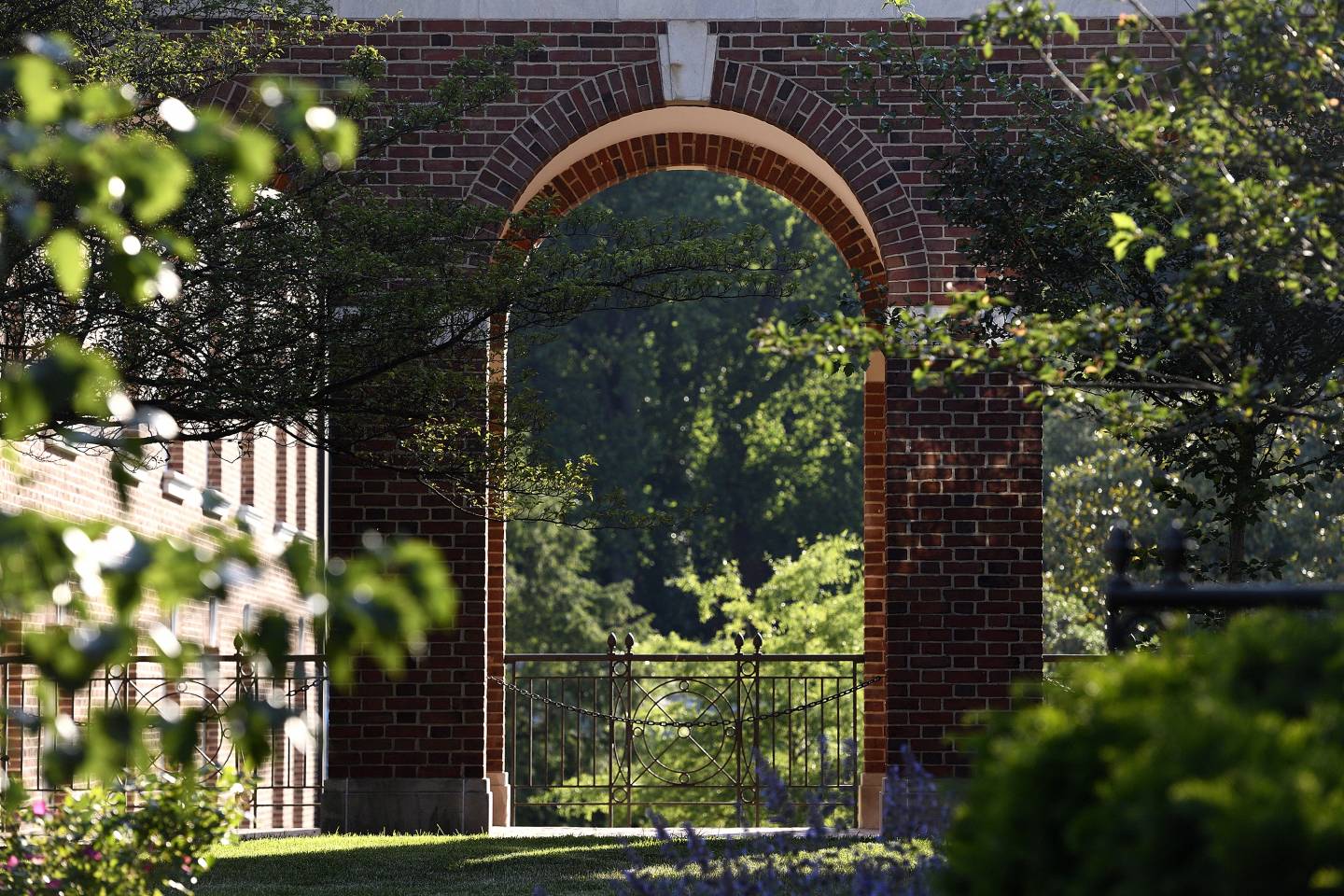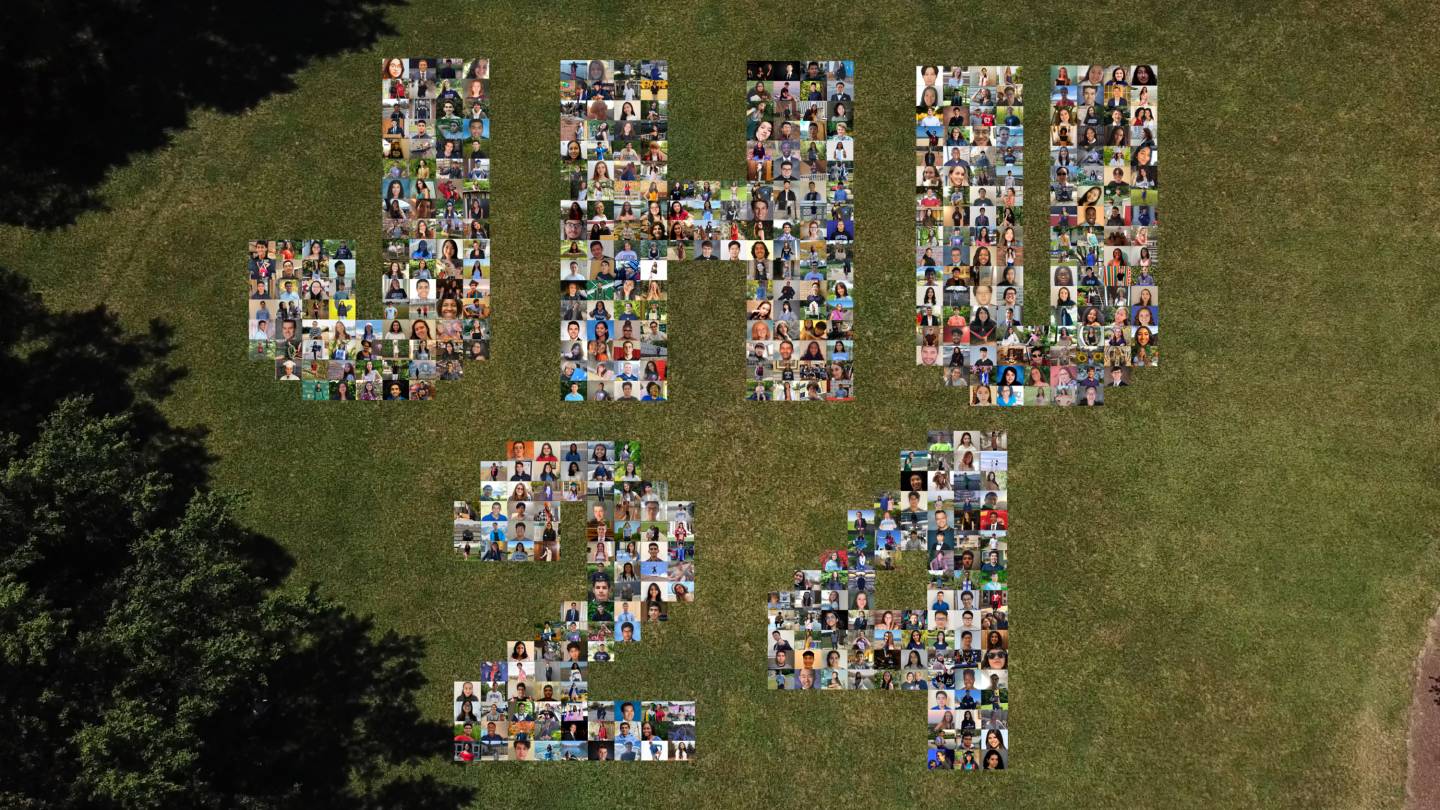 The Class of 2024's group portrait gets a new, virtual twist this year as the fall semester is held remotely. Traditionally, the incoming class gathers to form the image of their graduating year.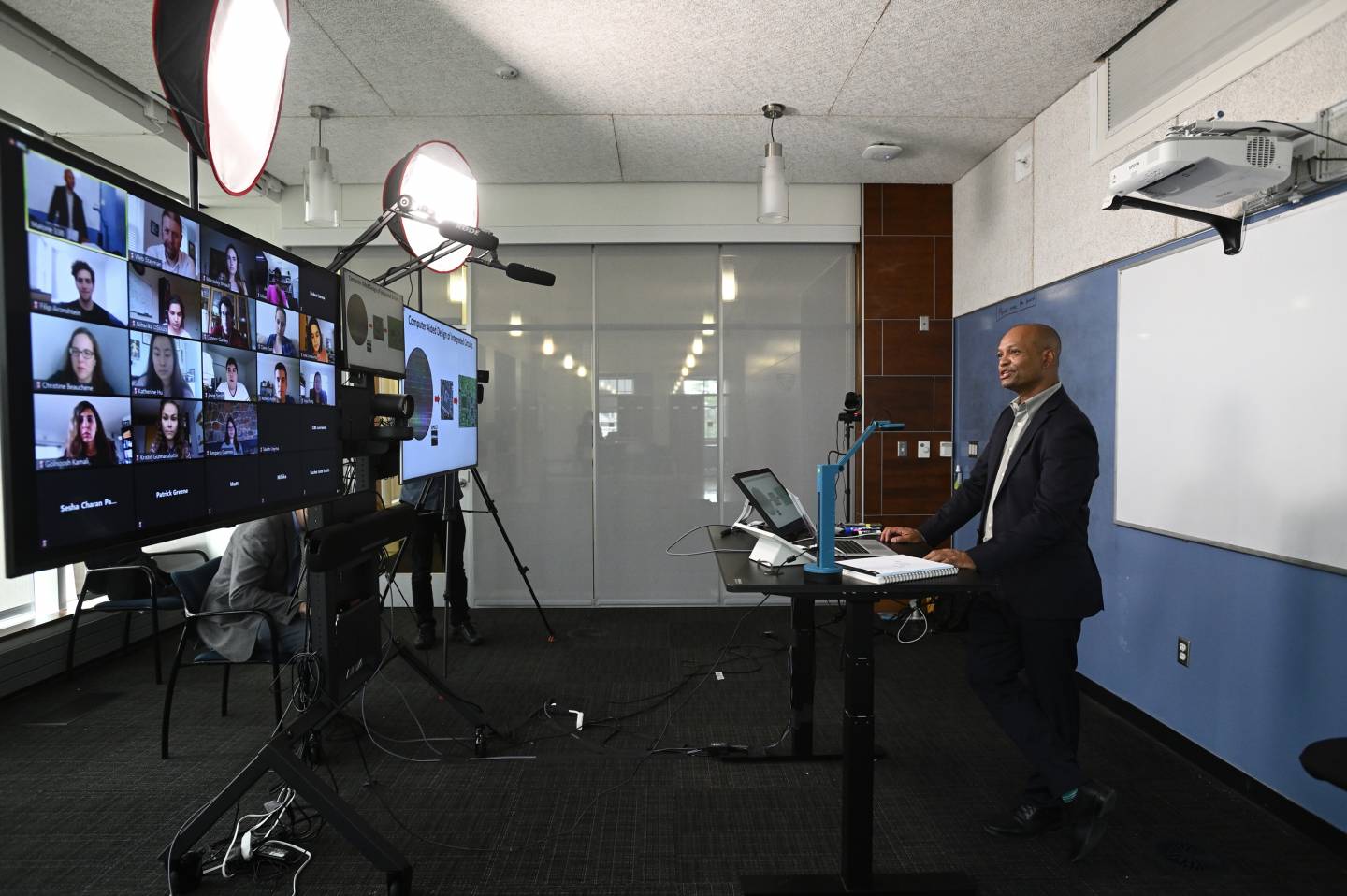 Engineer Ralph Etienne-Cummings leads a remote class meeting from one of the newly created studios built to enhance remote instruction.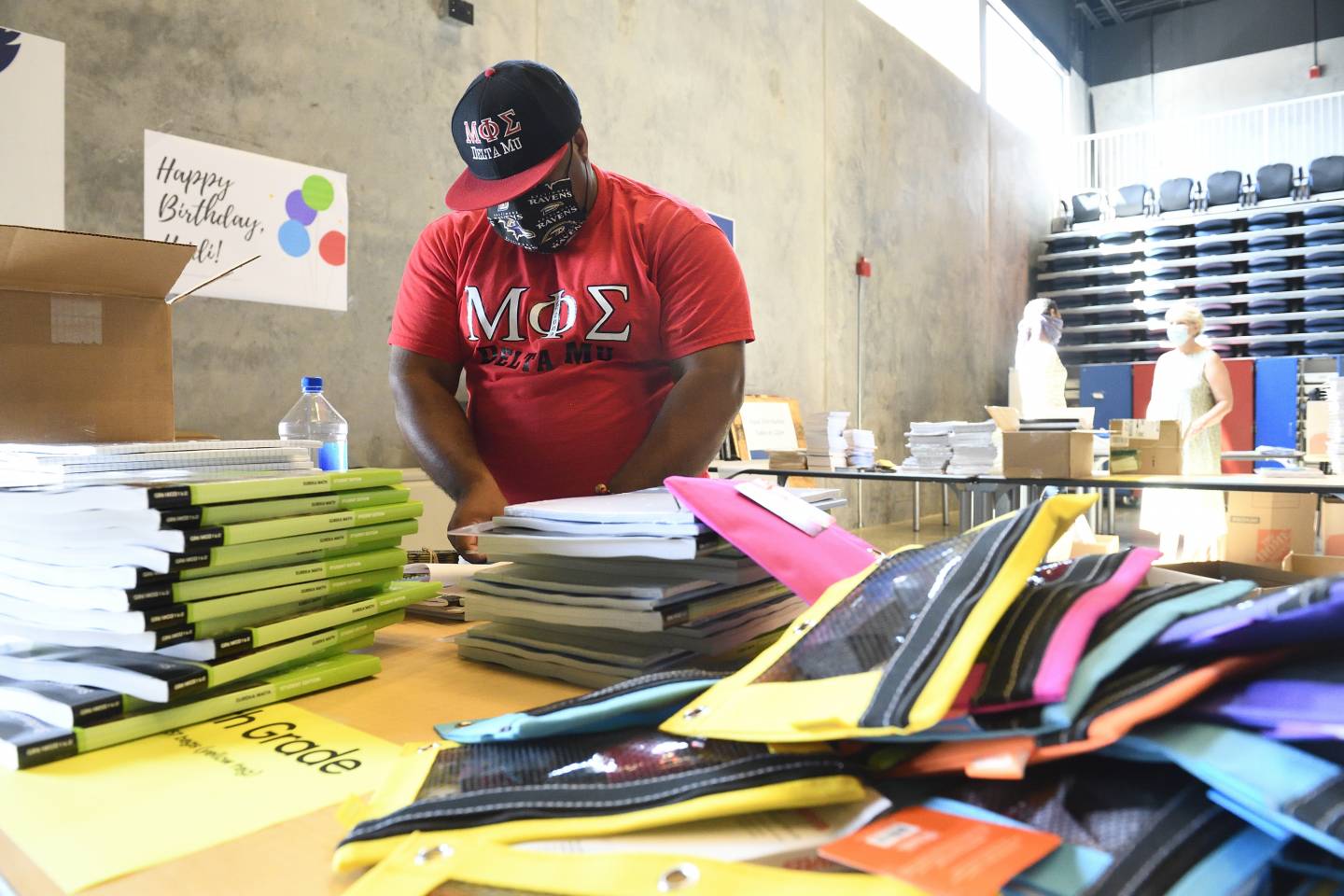 Henderson-Hopkins school in East Baltimore collects school supplies for students.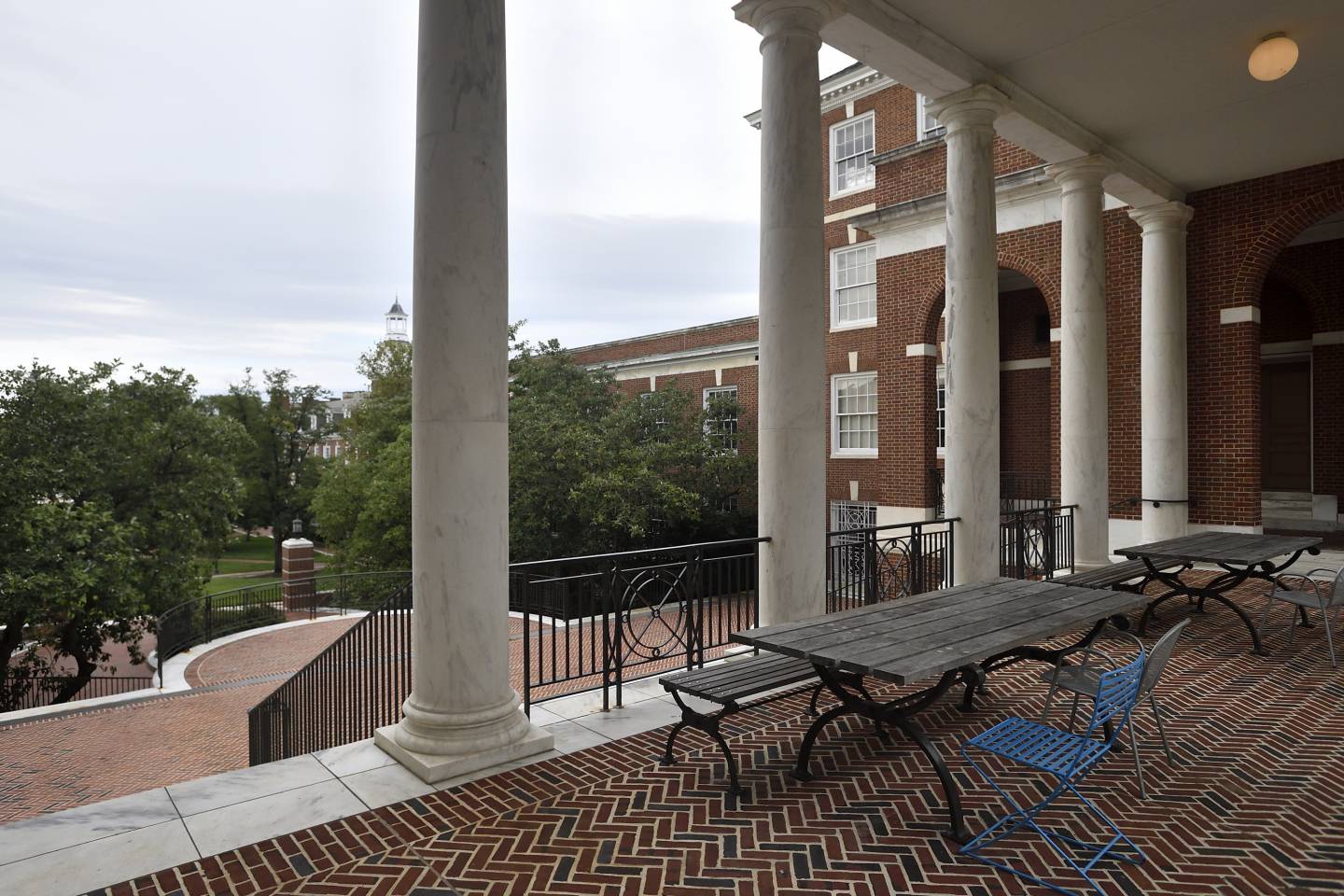 Fall semester begins on the Homewood campus.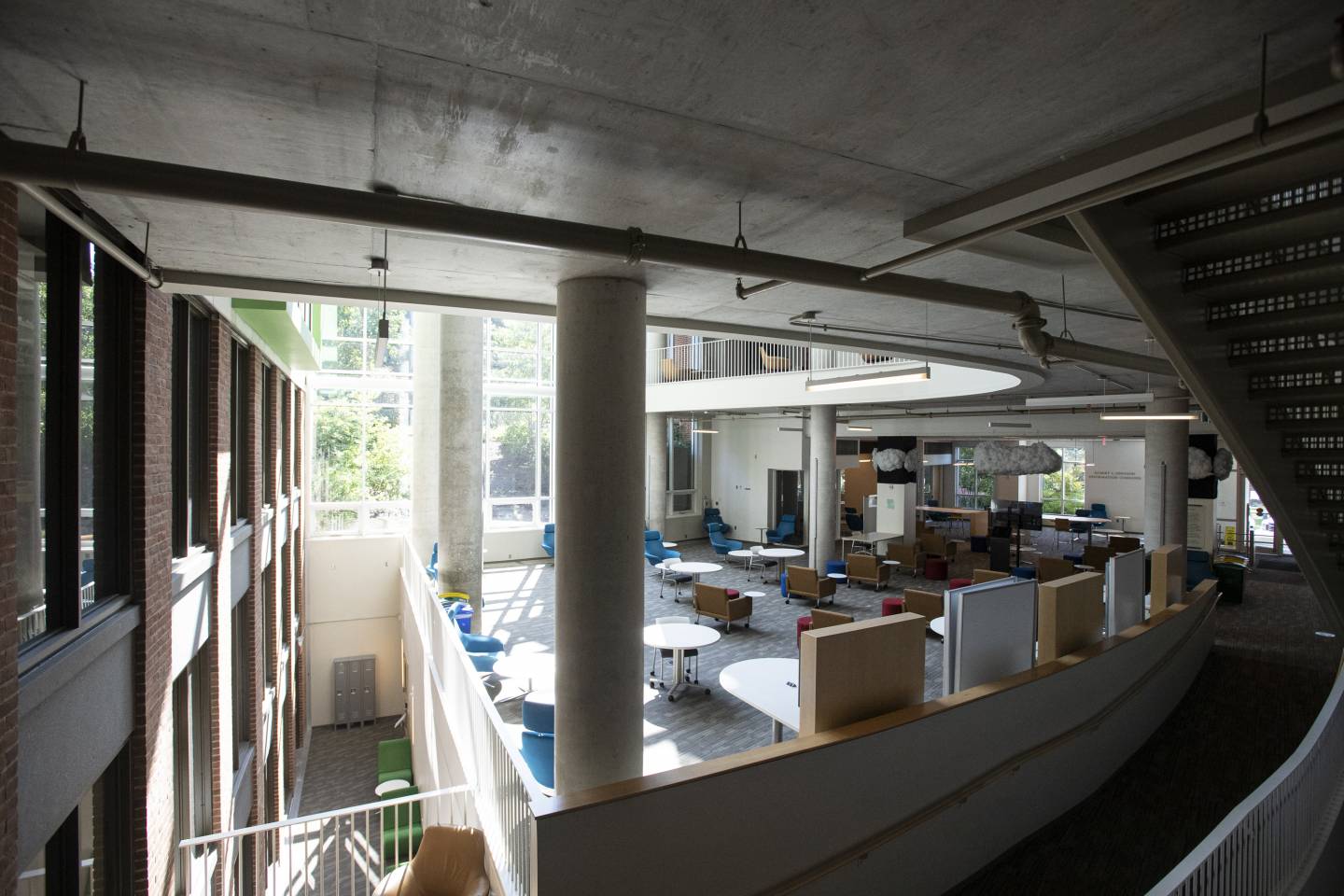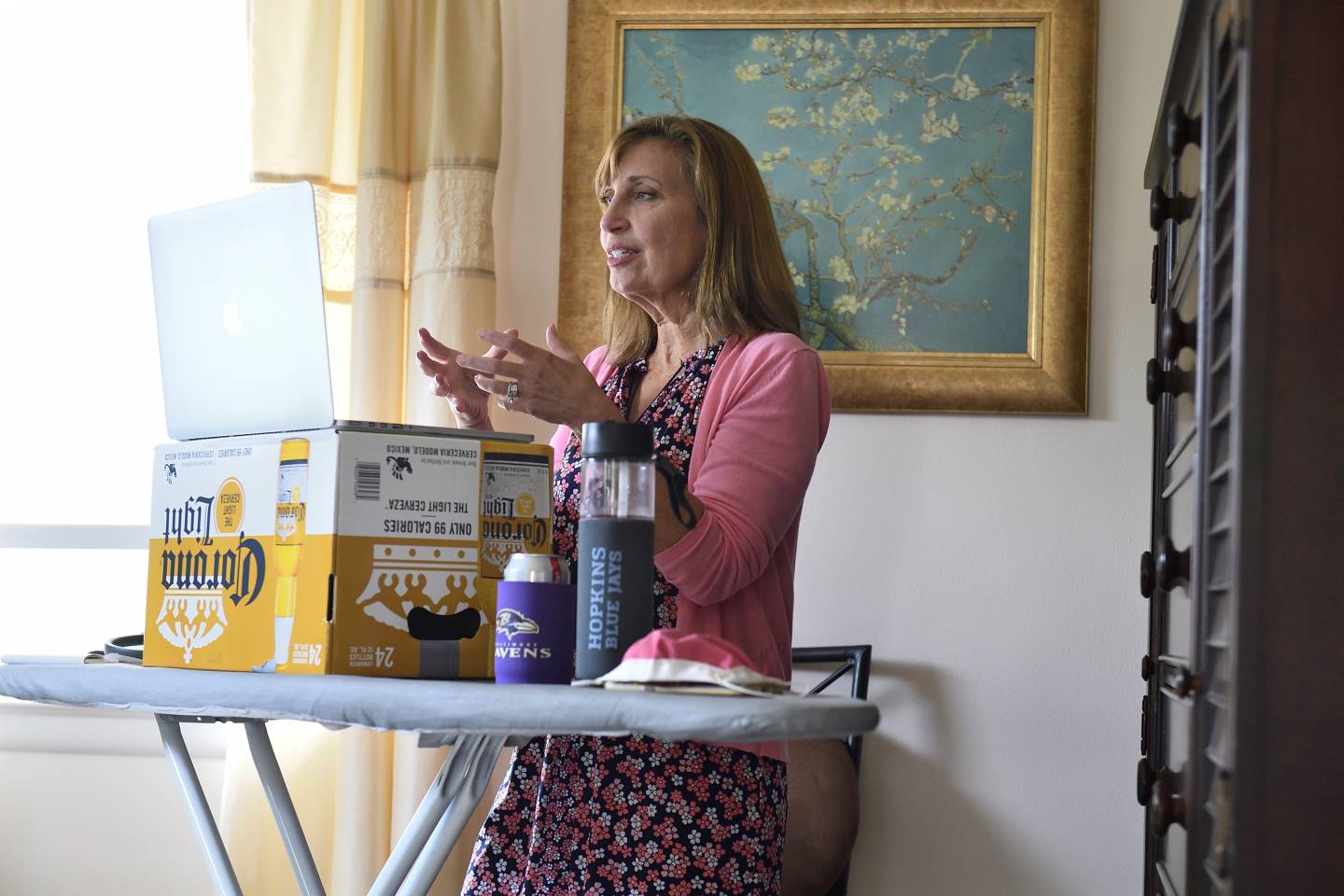 Computer Science Associate Teaching Professor Joanne Selinski finds a creative way to dedicate space for teaching from home.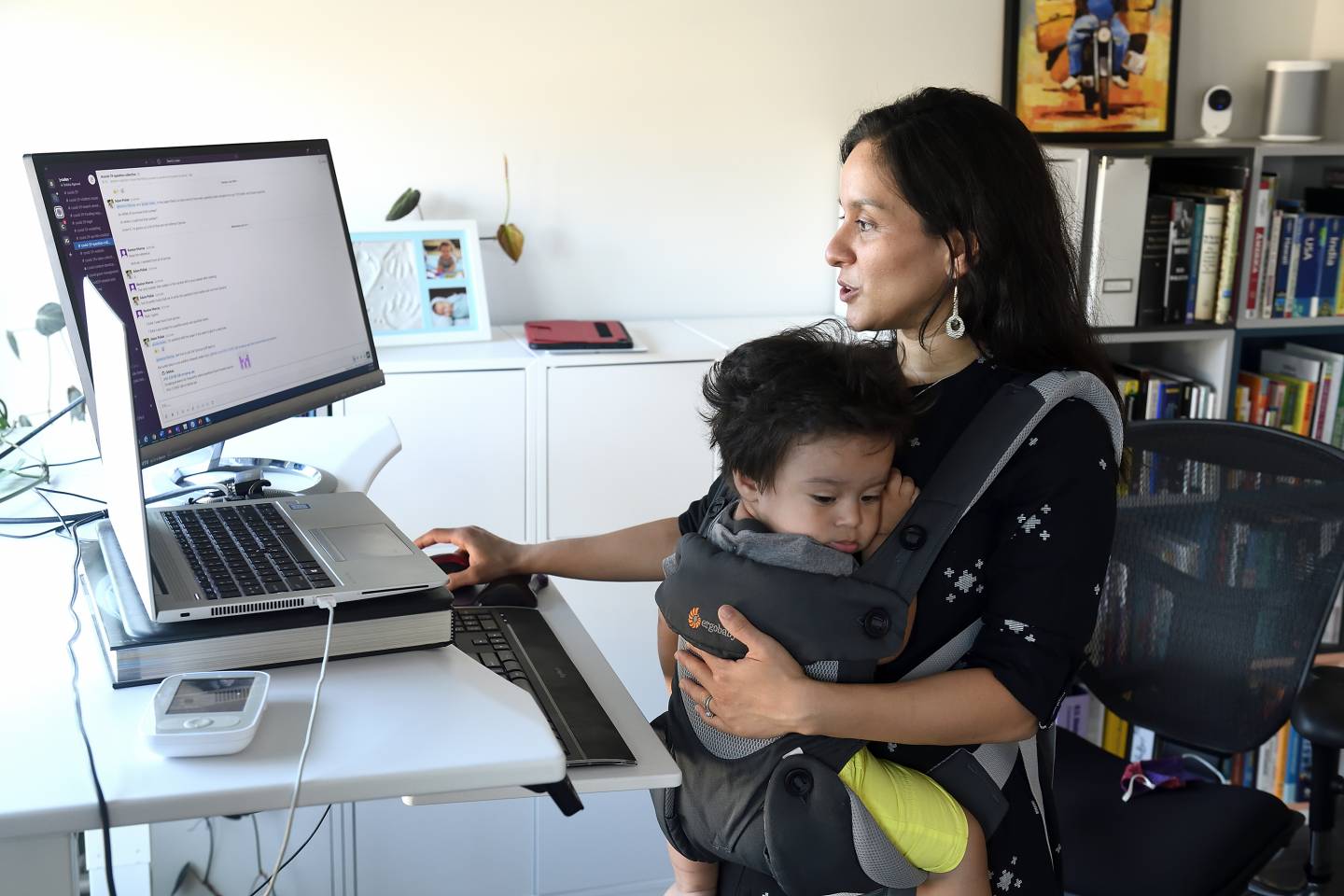 Assistant Professor Smisha Agarwal from the Bloomberg School of Public Health has a tagalong for her work day.
September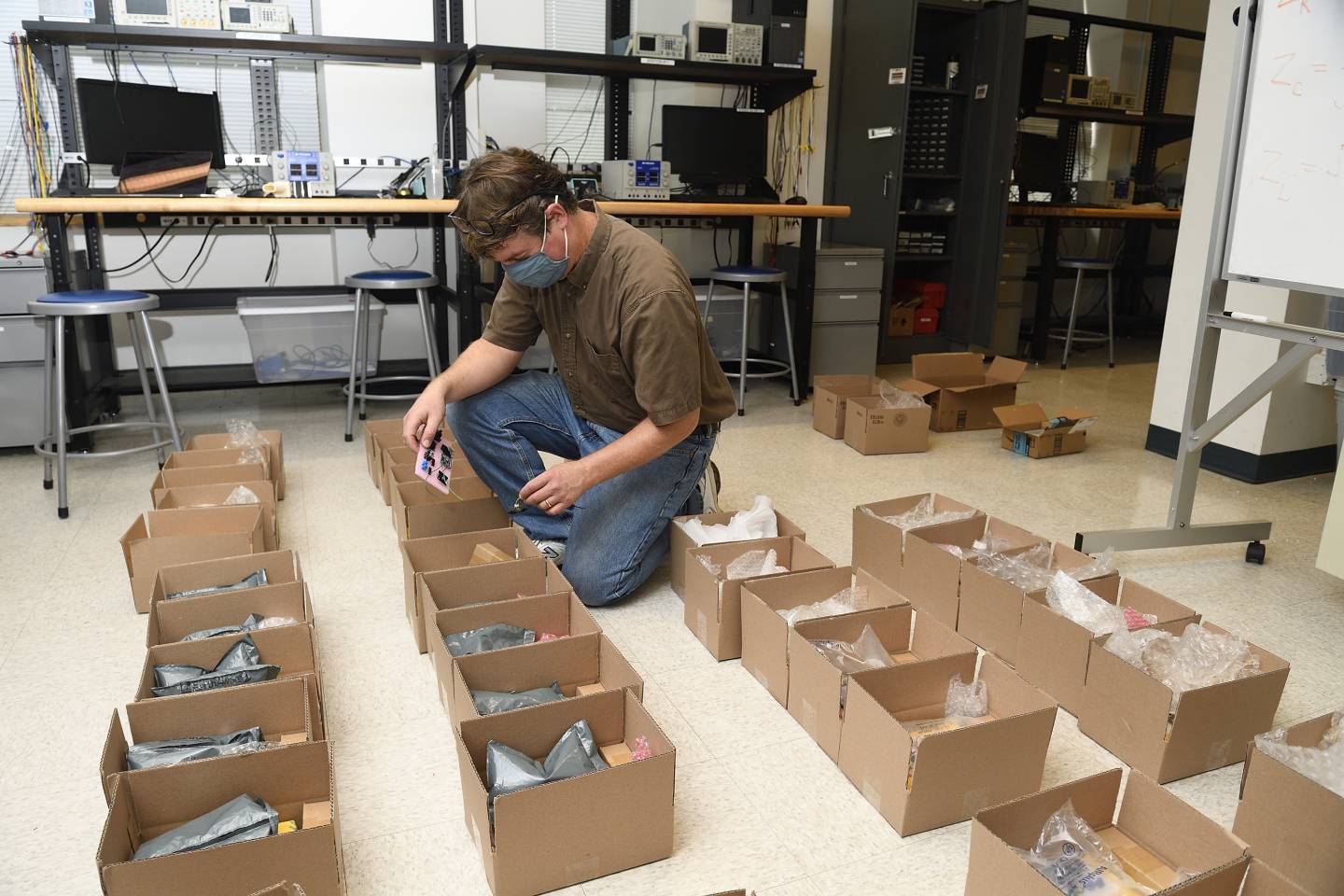 Mechanical engineer David Kraemer packs boxes of circuitry and mechanical parts to ship to students for remote instruction.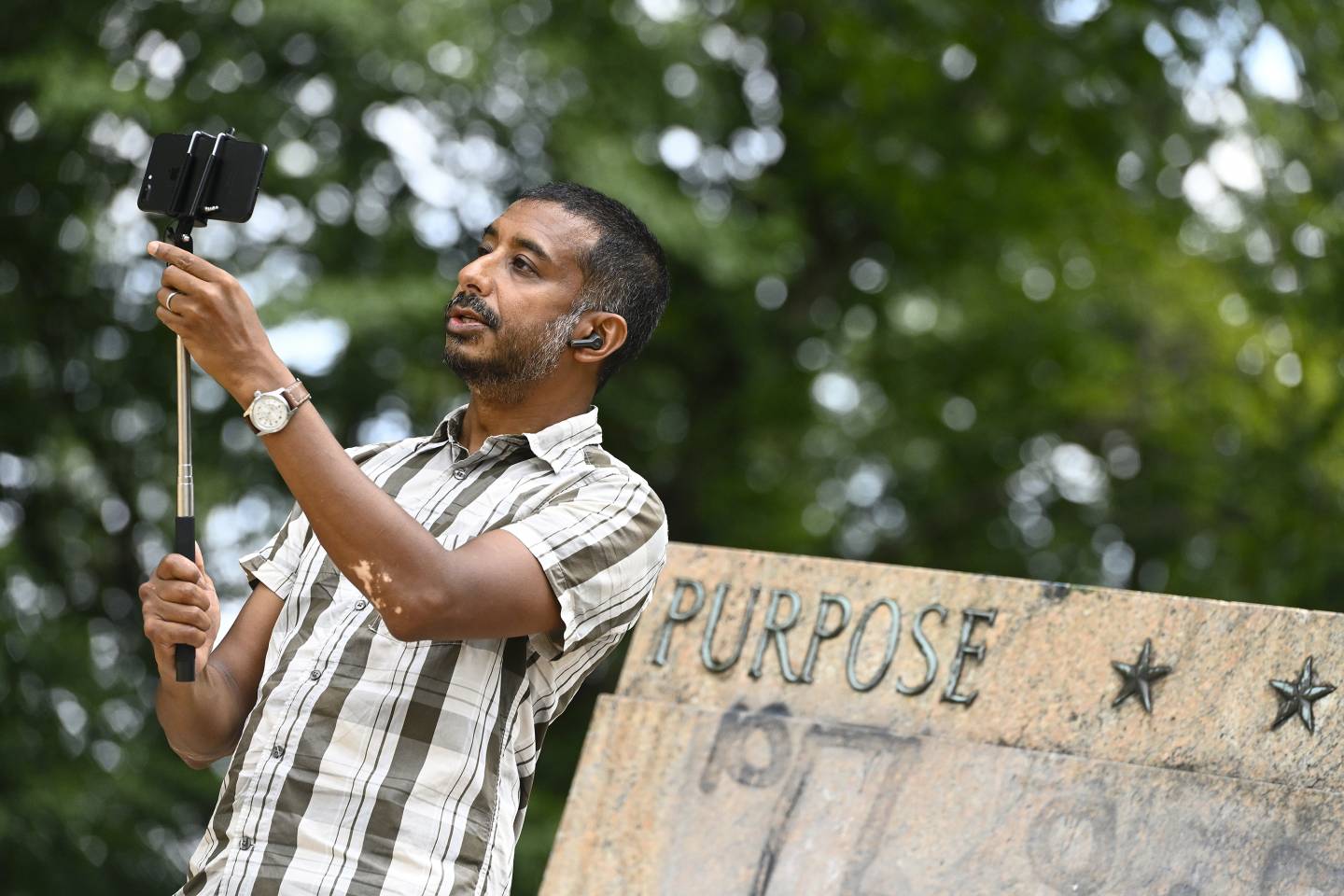 Anand Pandian leads an anthropology class from Harriet Tubman Grove in Wyman Park Dell.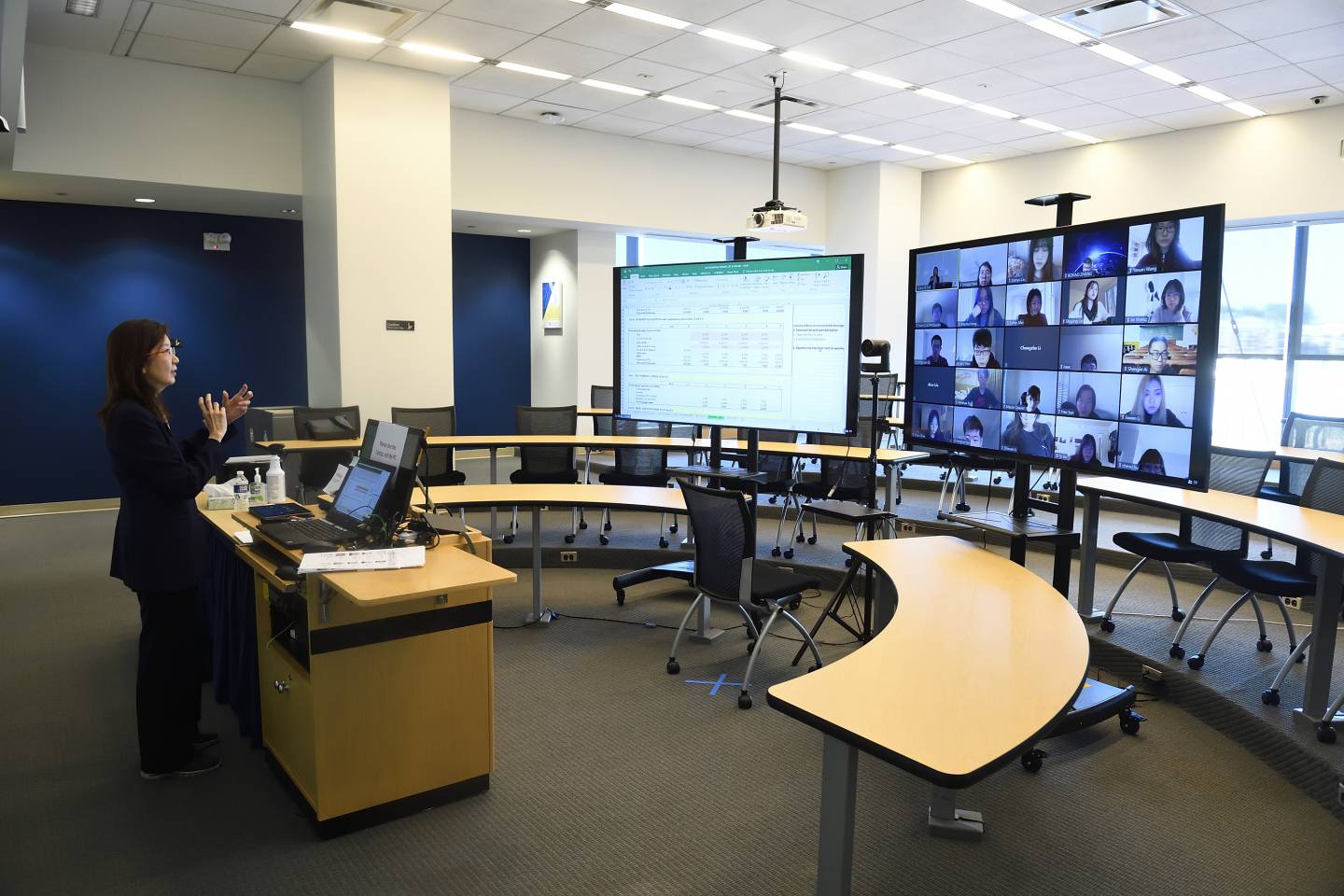 Carey Business School Professor Su Han Chan delivers a remote lecture from a seminar room.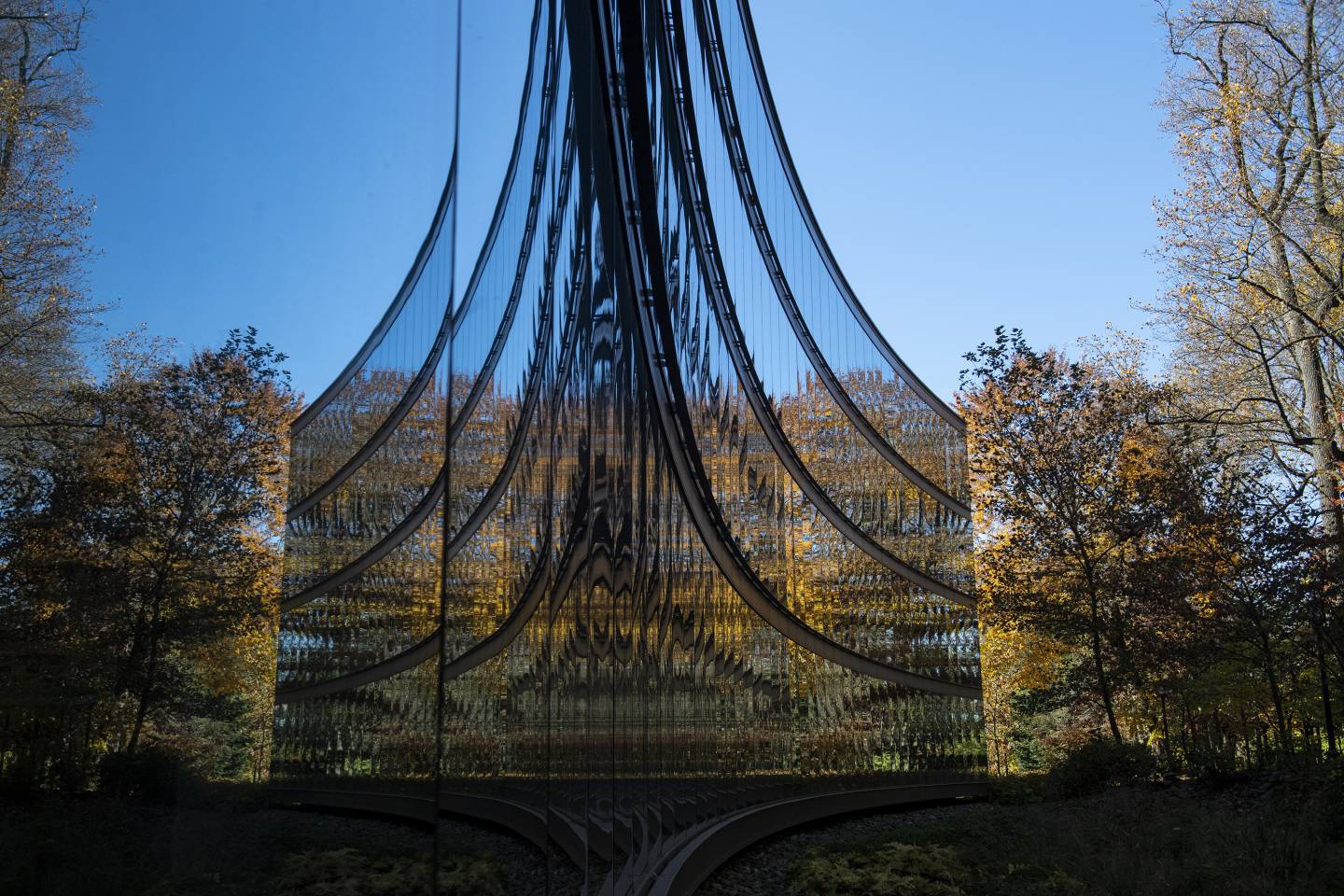 Seeing double at the Undergraduate Teaching Labs.
October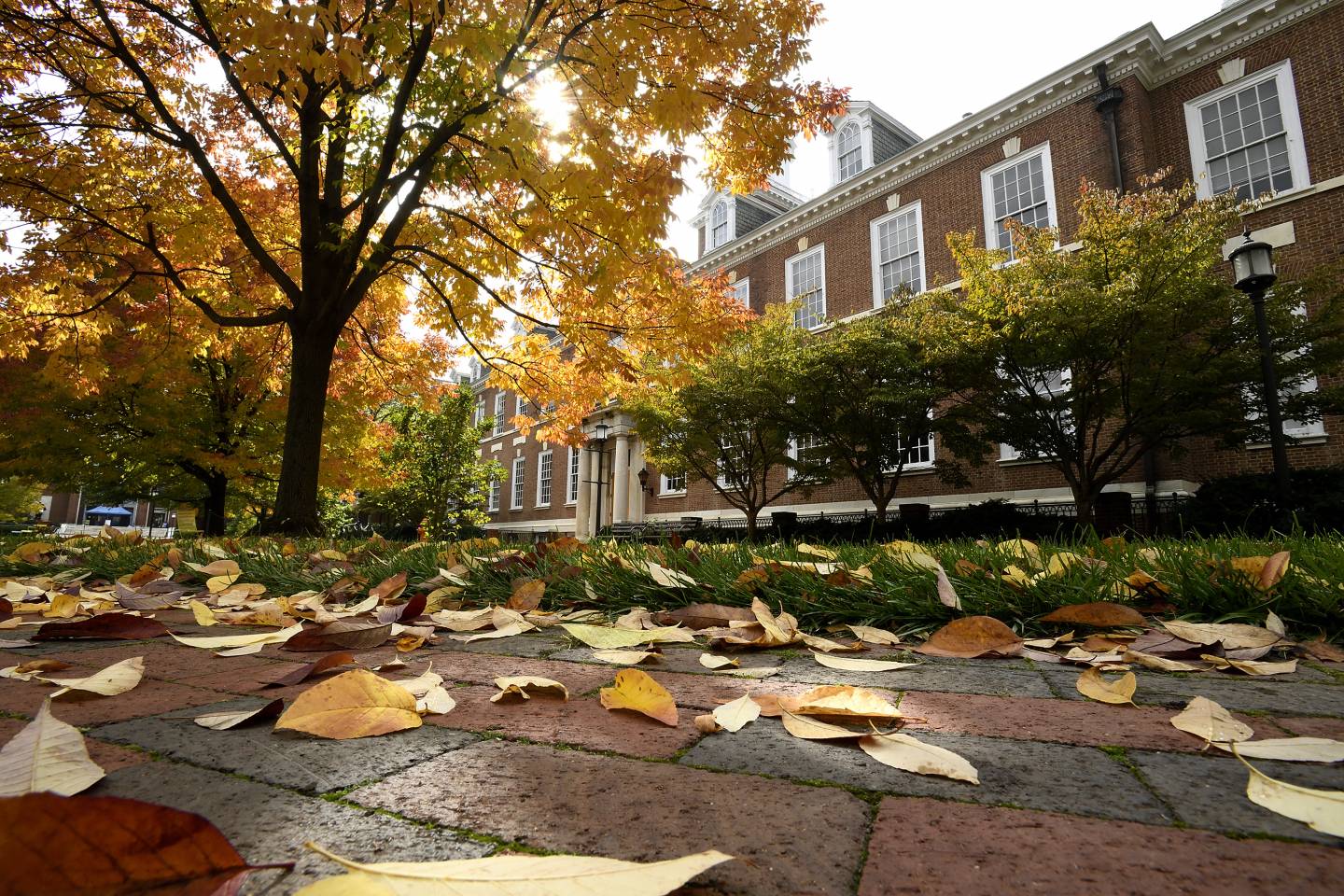 Autumn comes to Homewood campus.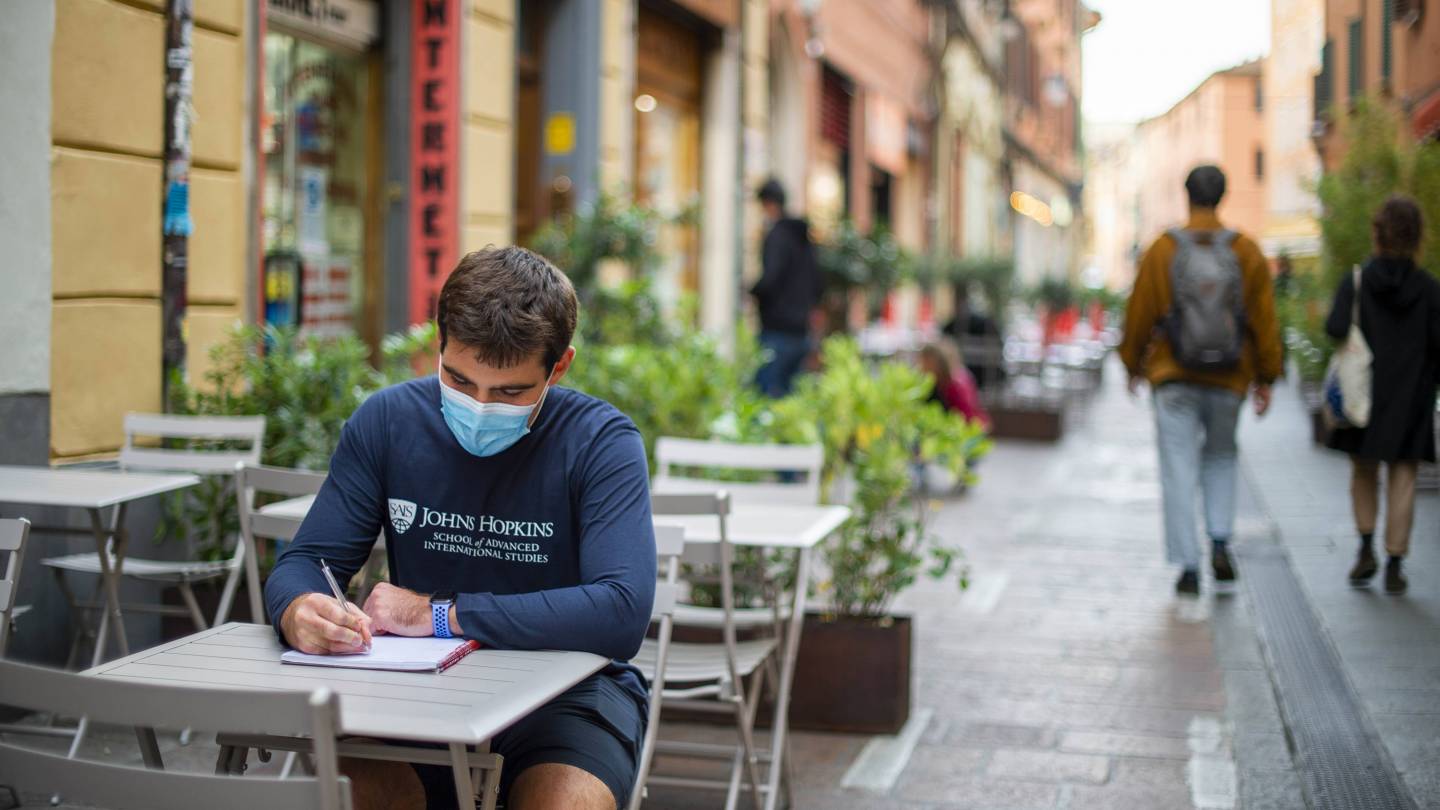 A SAIS student works in a cafe near the school's campus in Bologna, Italy. SAIS Europe hosted students from the school's Washington, D.C., and Nanjing campuses as well.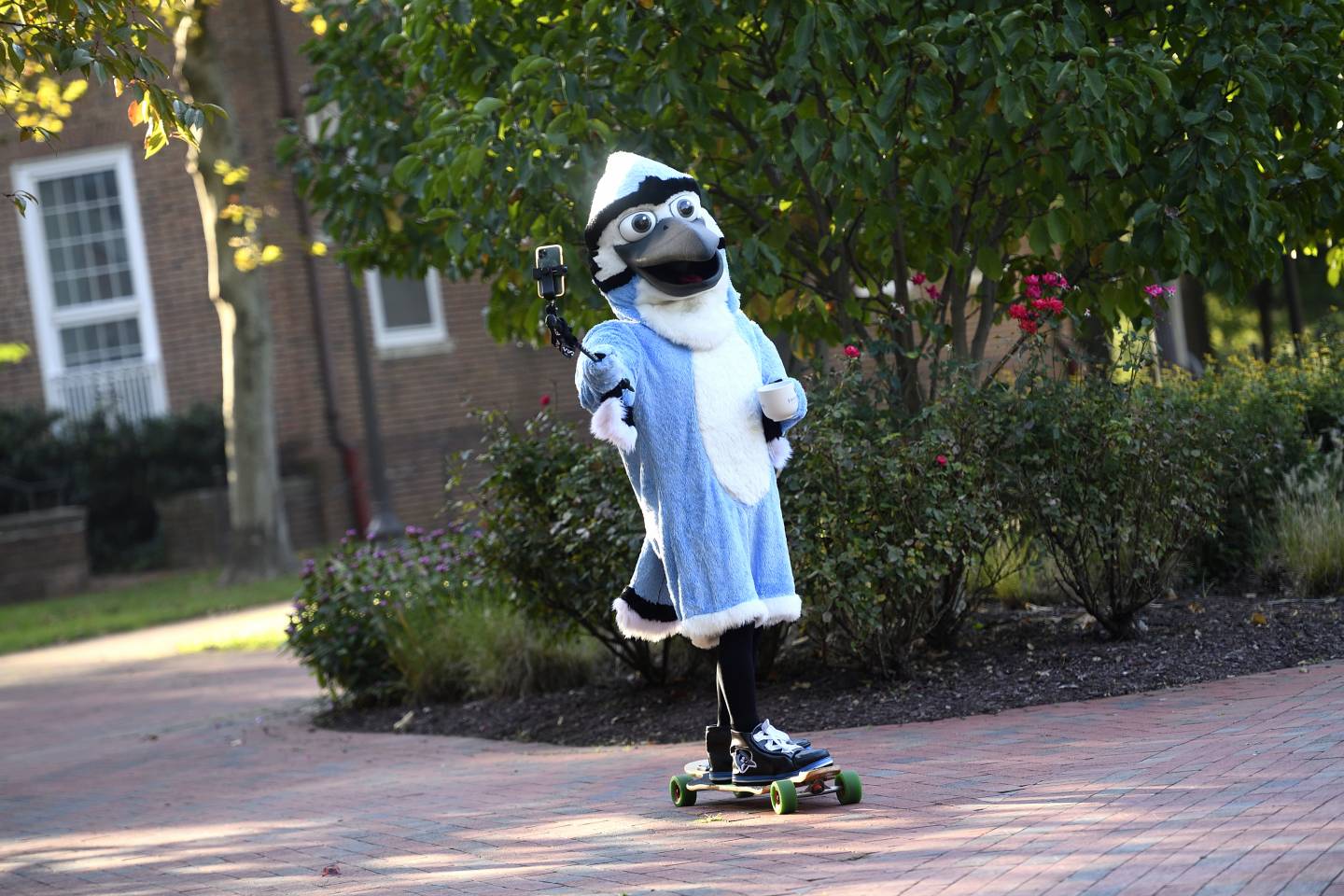 Jay gets in on a viral TikTok trend.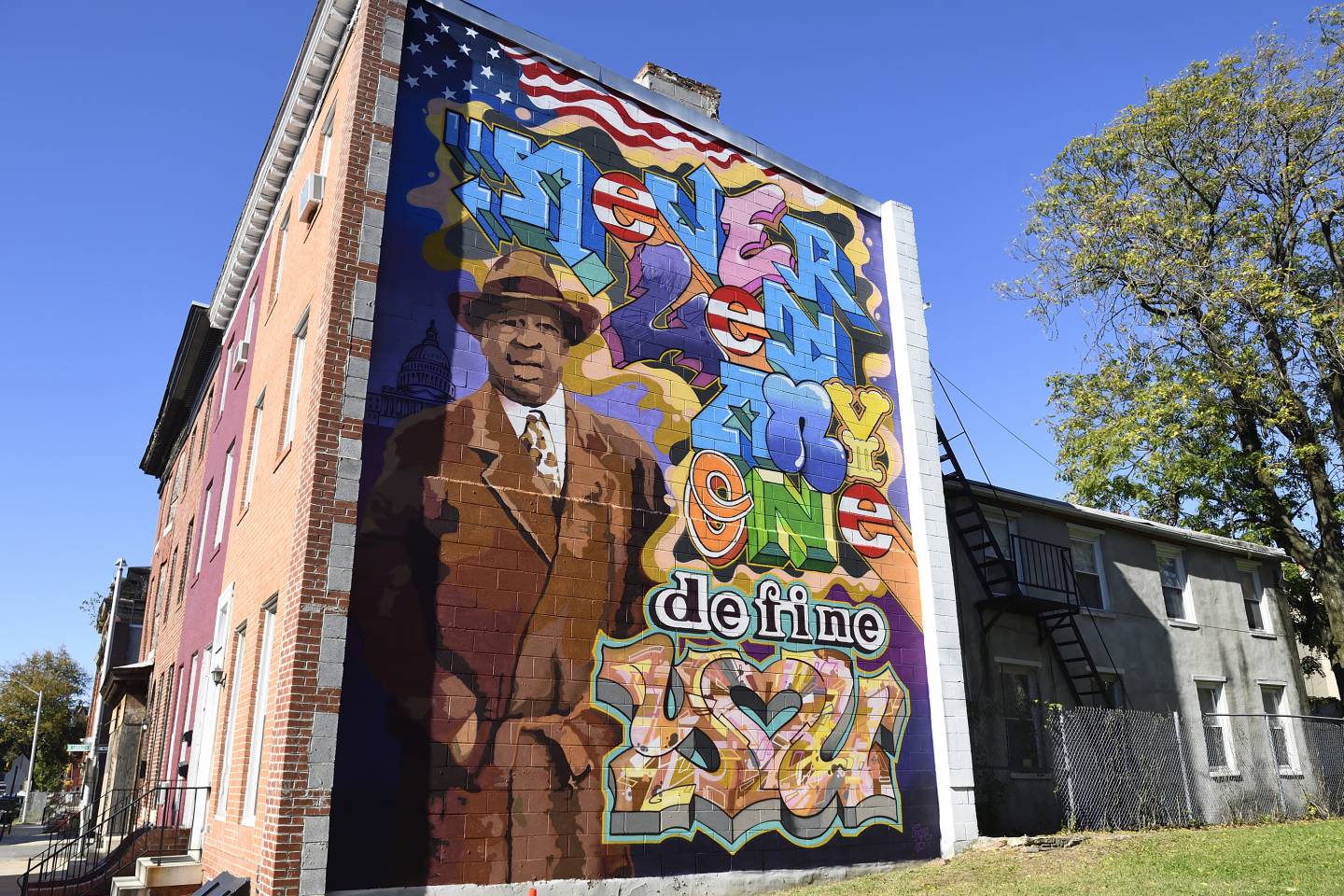 The university's Billie Holiday Project for Liberation Arts unveils a mural celebrating the life of the late Maryland Congressman Elijah E. Cummings.
November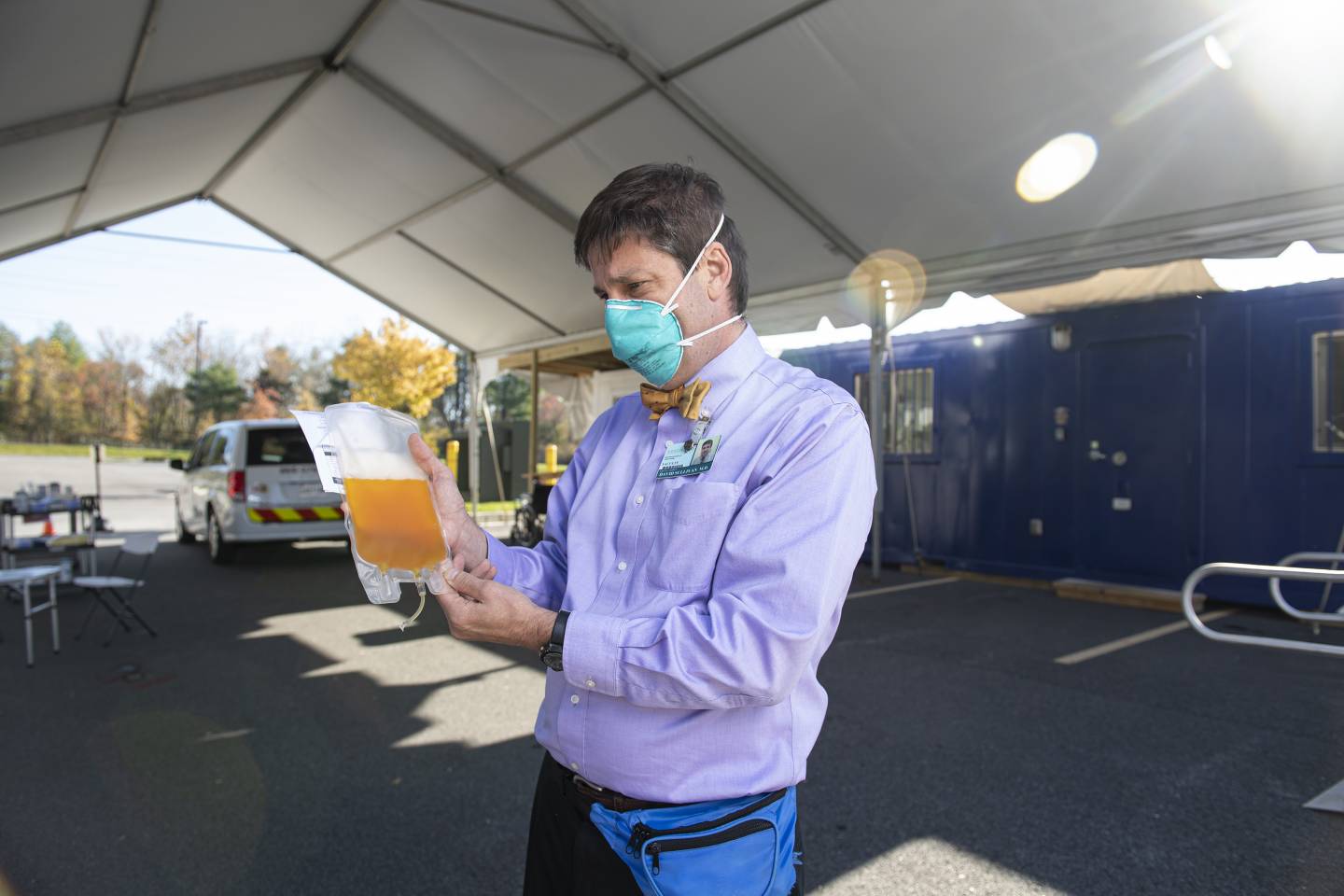 Immunologist and molecular microbiologist David Sullivan holds a bag of blood plasma from a patient who has recovered from COVID-19. He is among a group of researchers examining the uses of convalescent plasma in treating and preventing the spread of COVID-19.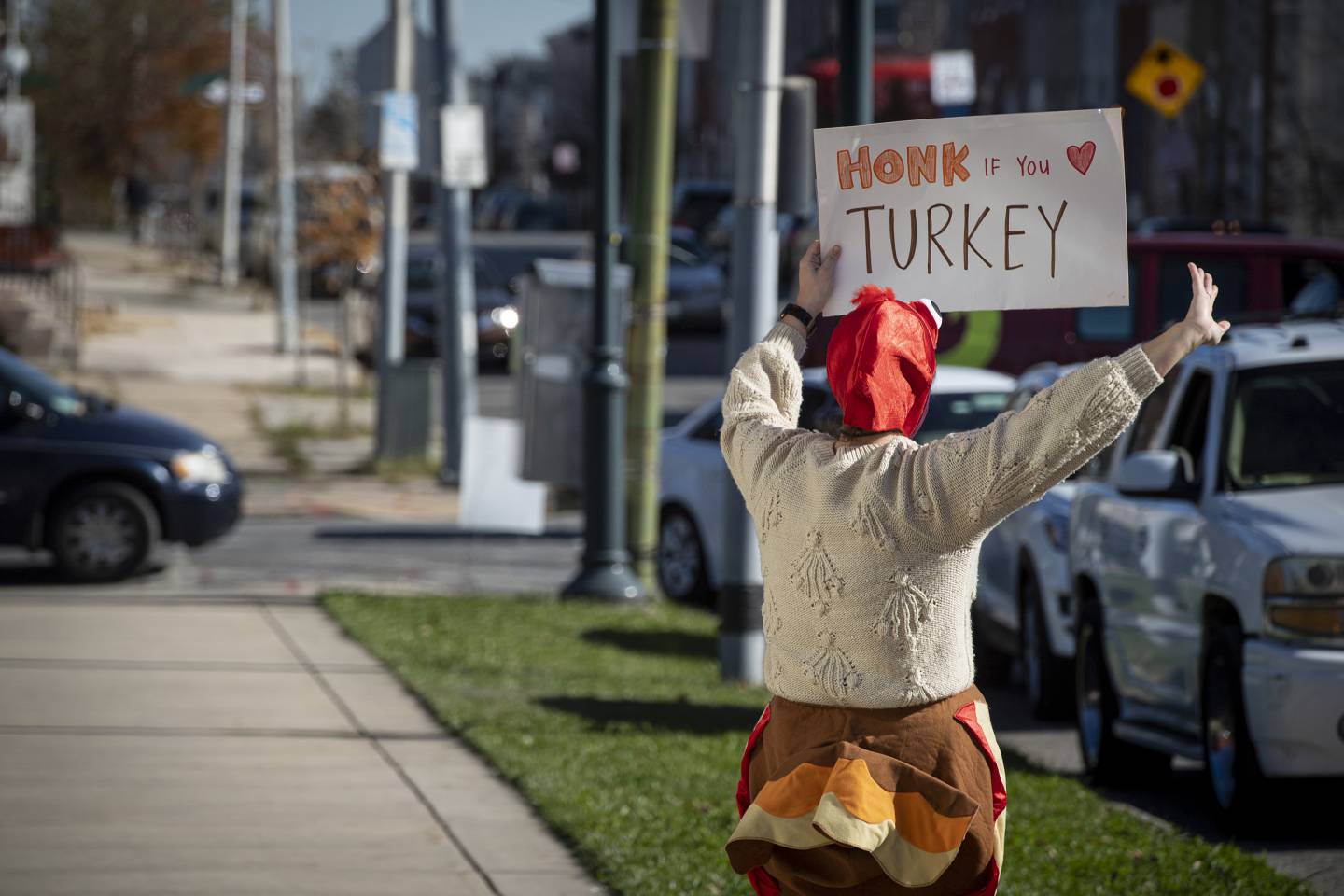 Henderson-Hopkins school holds a Thanksgiving food drive.
December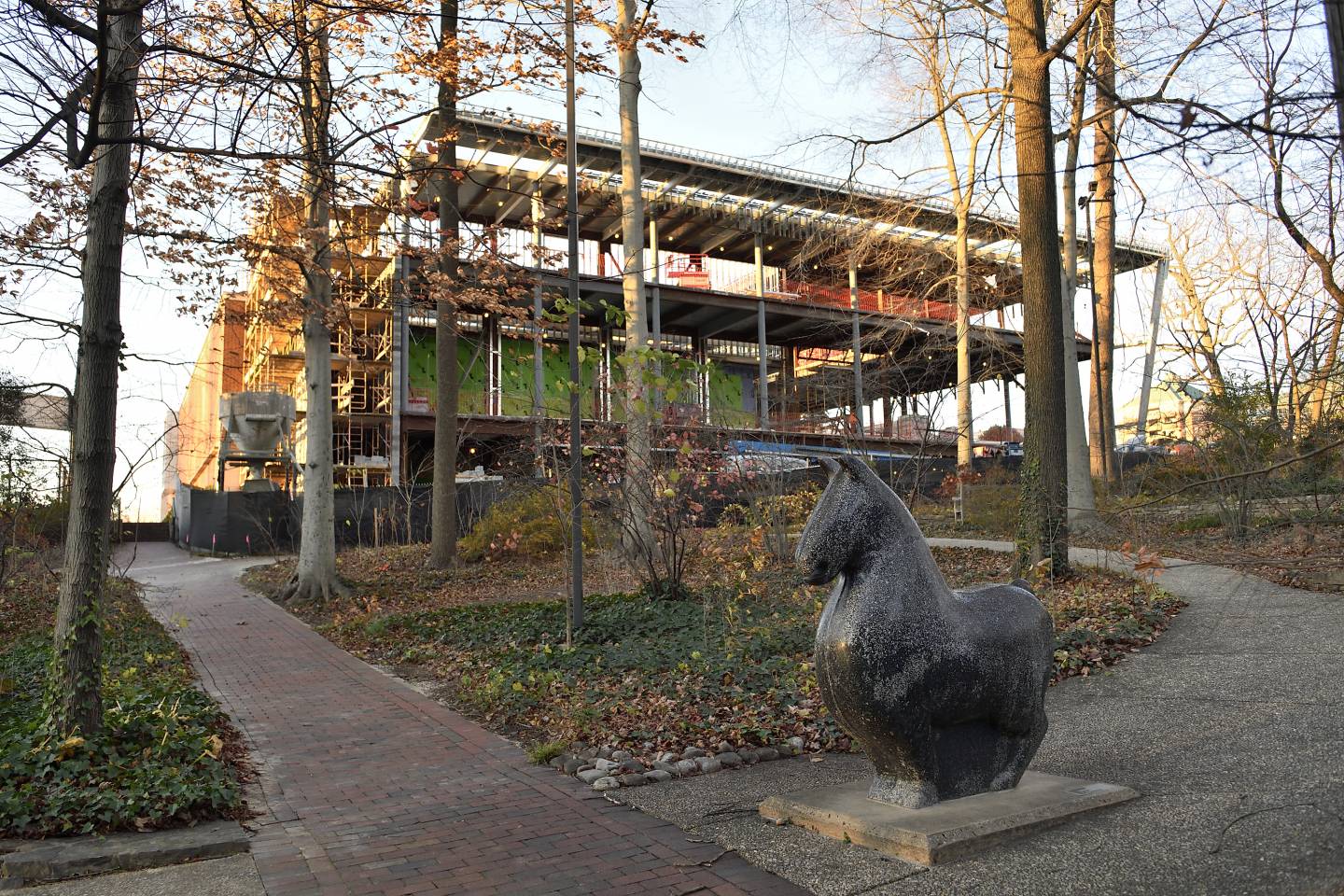 Renovation continues on Homewood's O'Connor Recreation Center, which will have new spaces for strength and cardio workouts, group activities, and student well-being.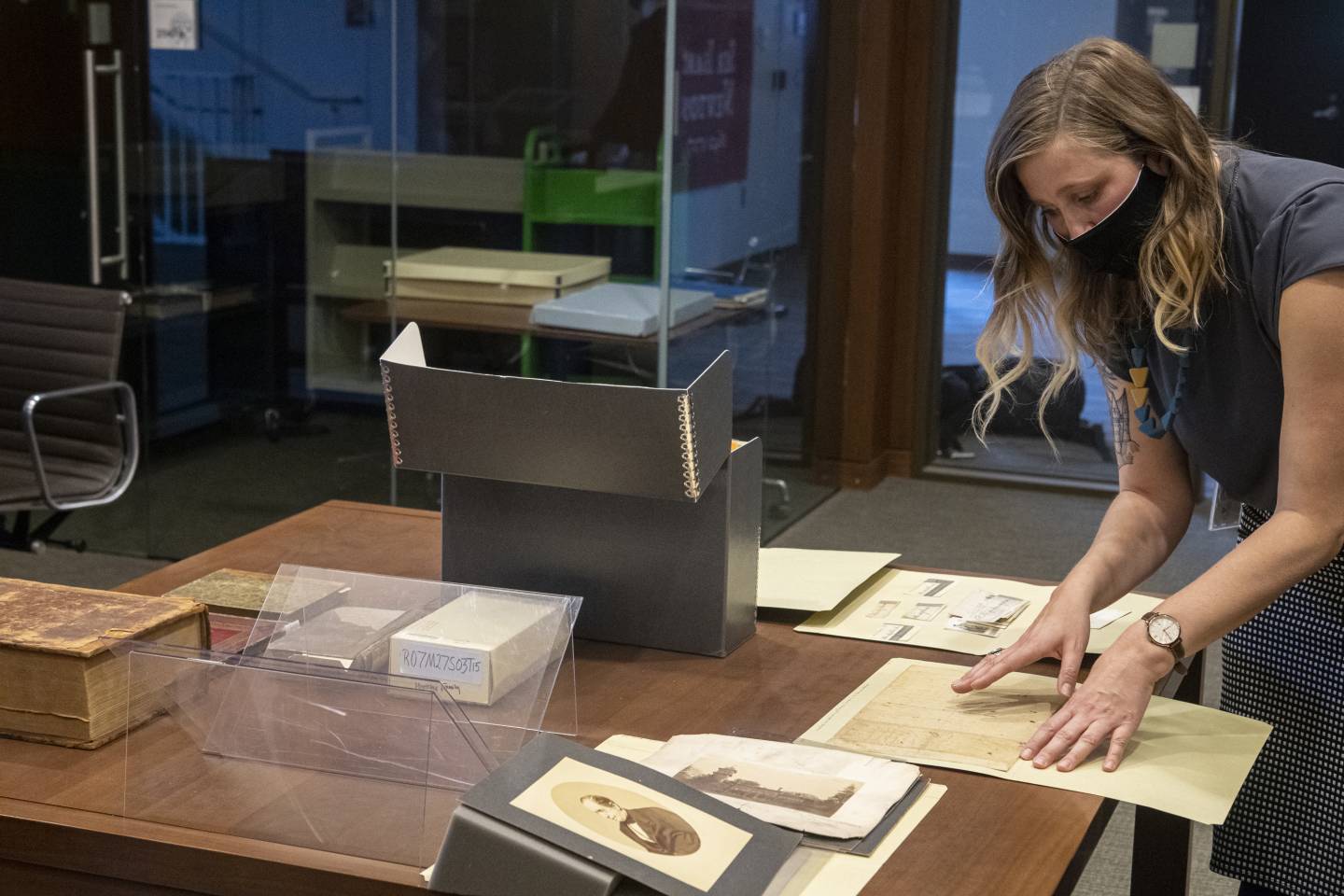 Allison Seyler, program manager of Hopkins Retrospective, pores over newly discovered census records showing that enslaved people were among the individuals in Johns Hopkins' household in 1840 and 1850. The discovery contradicts previous accounts of Mr. Hopkins as an early abolitionist.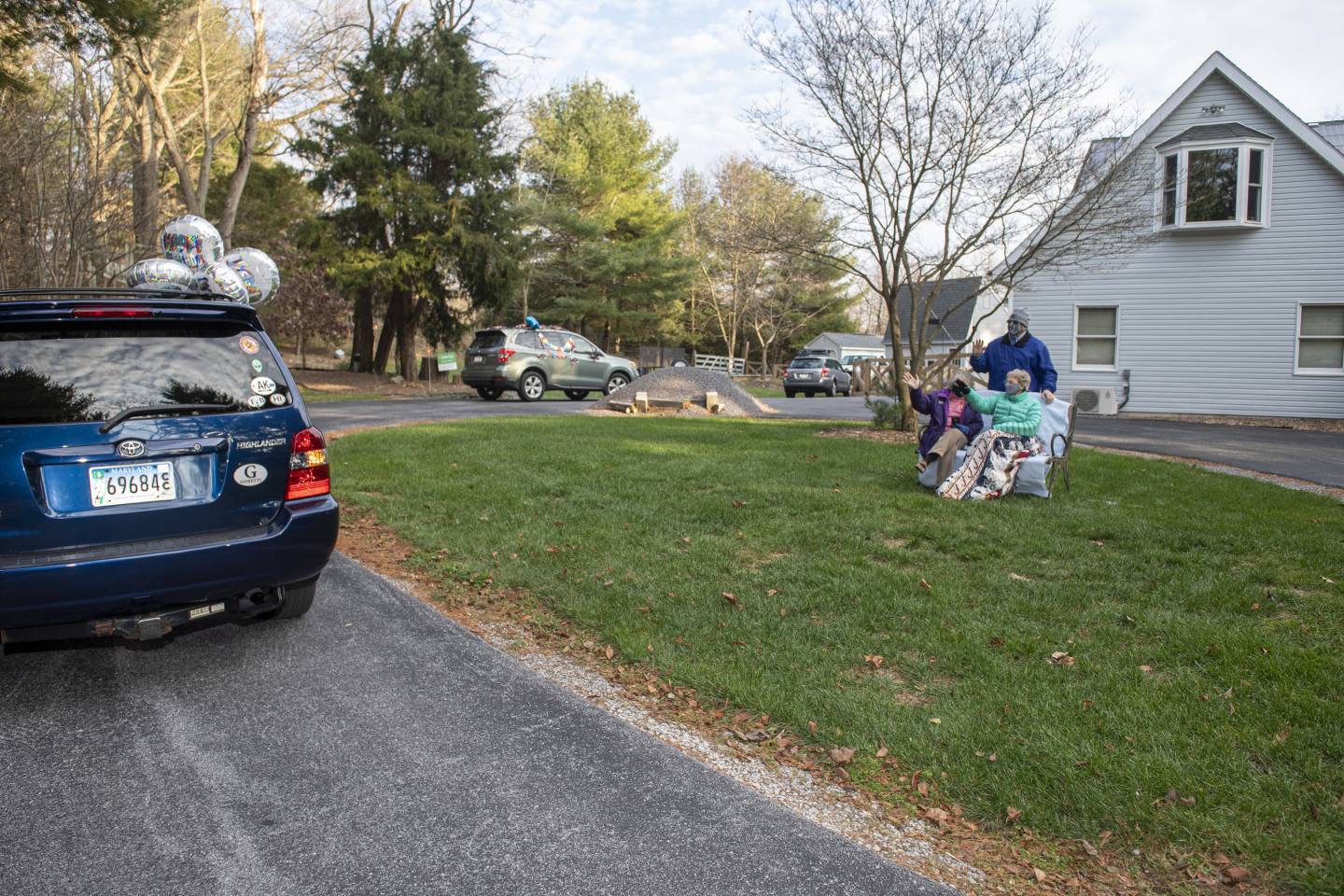 Jane Hixson (seated, in green), the oldest person on the Johns Hopkins University payroll, celebrates her 100th birthday in Hagerstown with a drive-by parade that included friends and co-workers, a fire engine, and a cheering cameo by the Hopkins Blue Jay.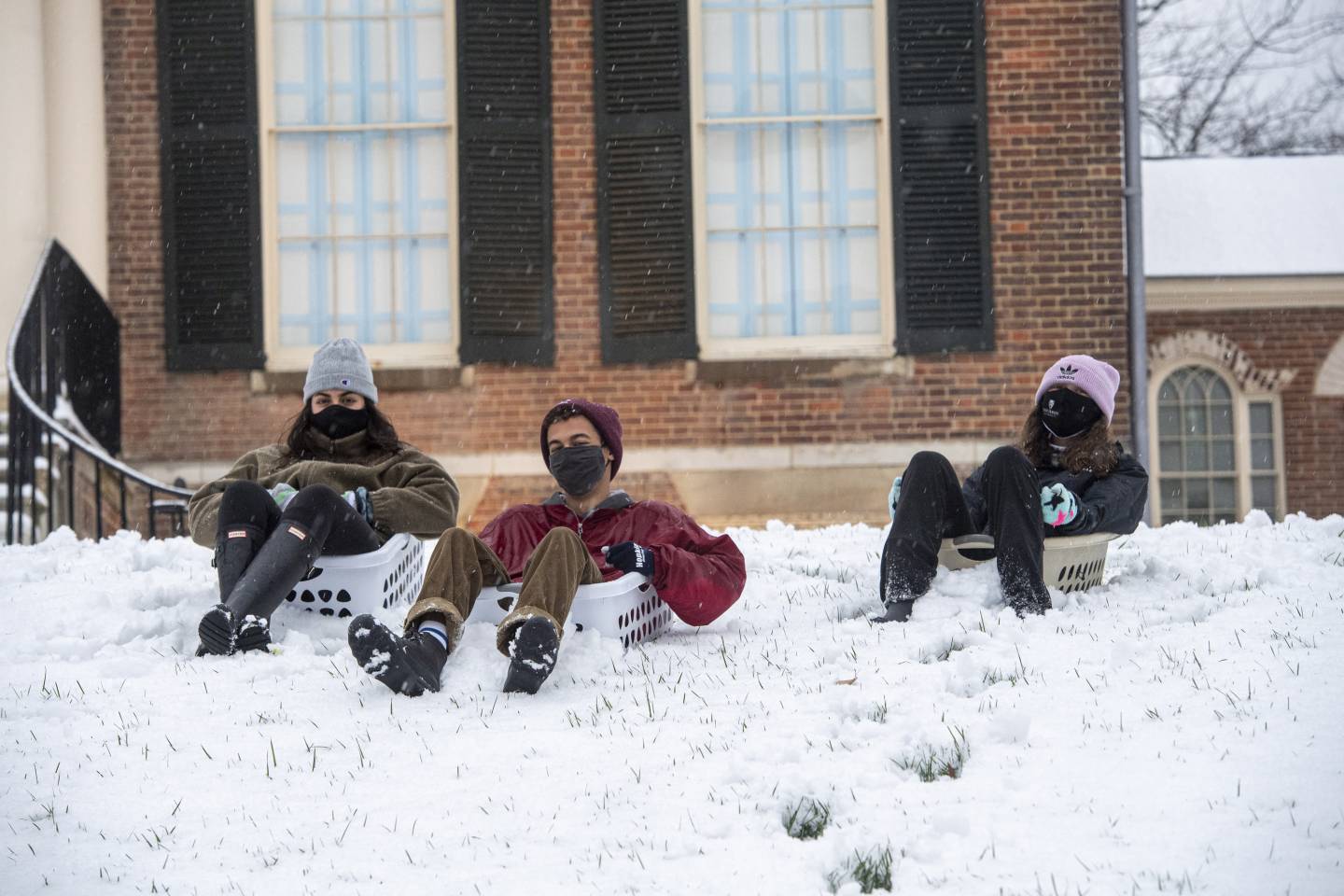 The season's first snow day on Homewood campus.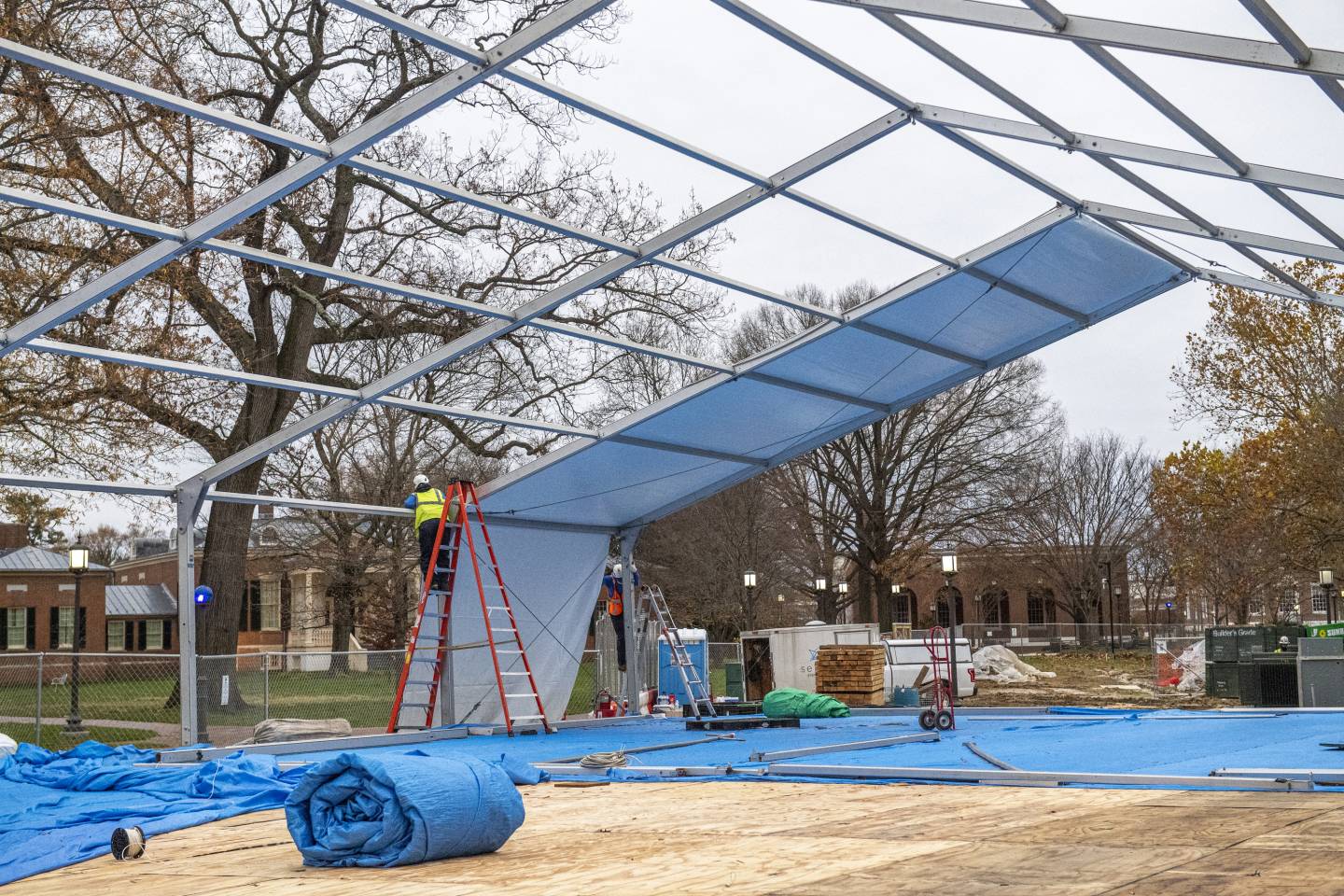 In anticipation of students' return for the spring semester, a temporary structure is being built on the Freshman Quad of the Homewood campus. Its proper air ventilation will allow it to serve as a study and dining space for students.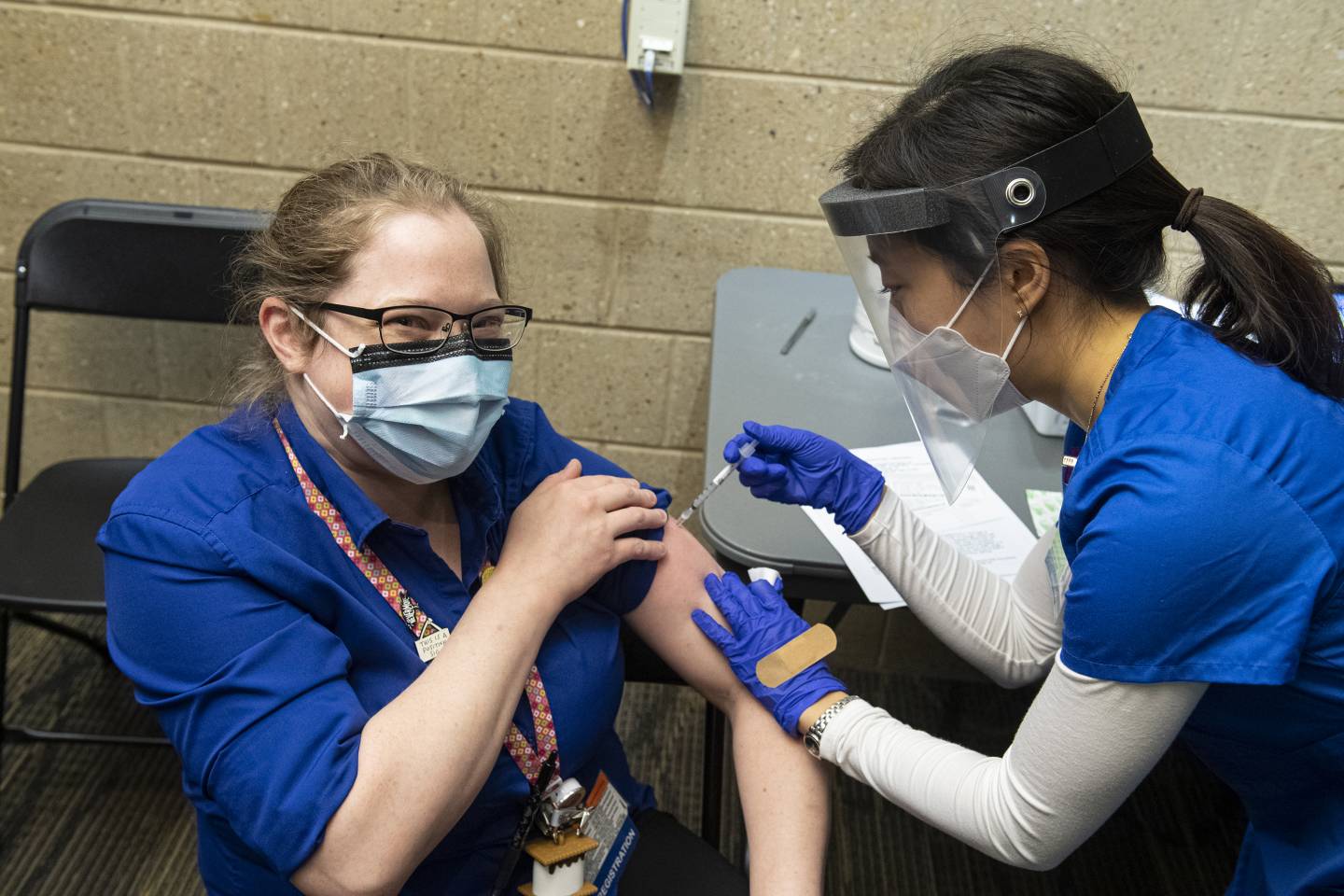 Johns Hopkins Medicine begins vaccinating frontline health care workers after initial shipments of the Pfizer/BioNTech COVID-19 vaccine arrive.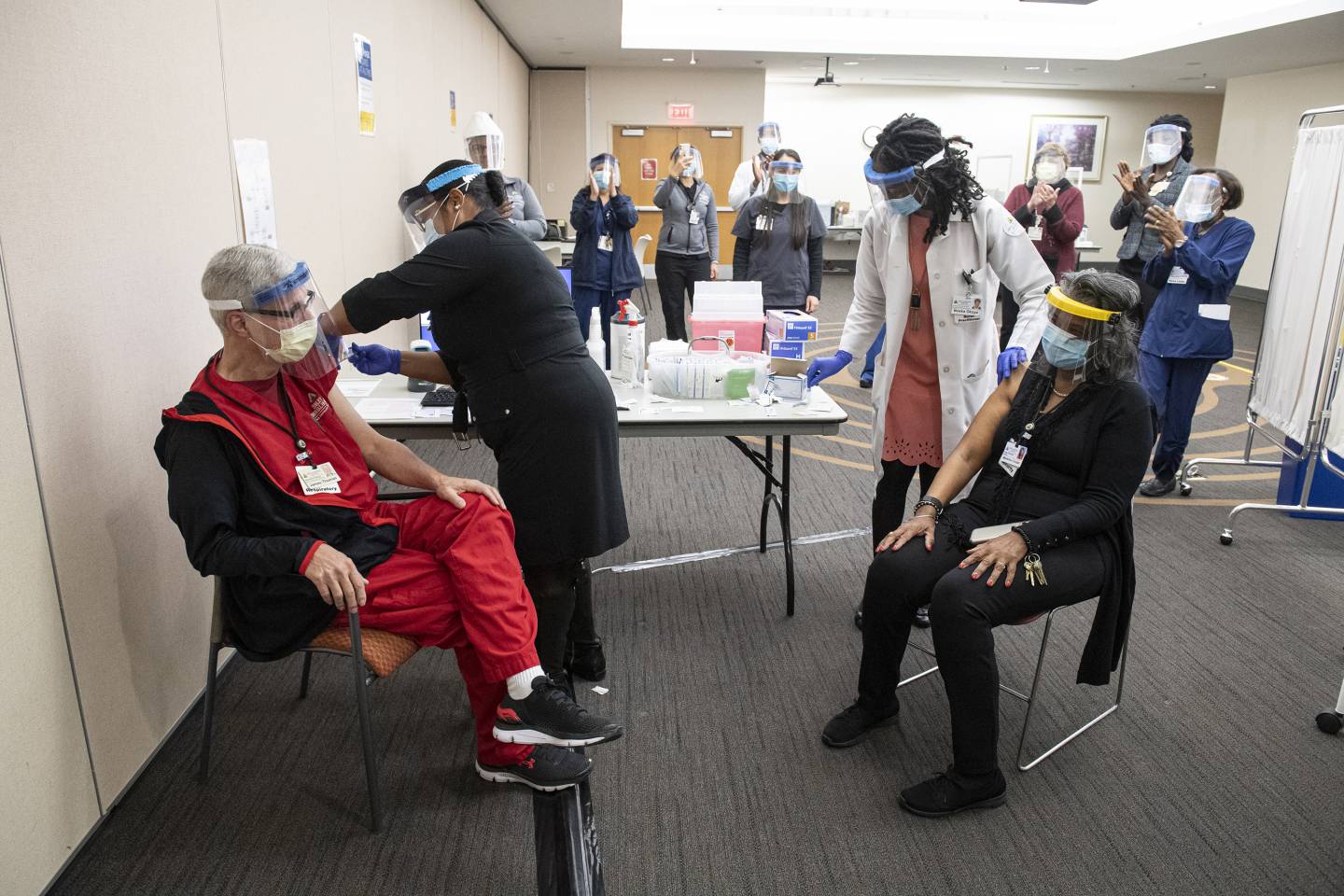 At Sibley Memorial Hospital, part of Johns Hopkins Medicine, staff applaud the first two health care workers to be vaccinated.