More than 200 members of the Johns Hopkins community—faculty, staff, students, alumni, and neighbors of the university's campuses—assembled along Charles Street on Thursday for a peaceful demonstration in solidarity with the protests that have taken place around the country since the death of George Floyd on May 25. The demonstrators also advocated for change within Johns Hopkins itself, calling for more black university leaders and faculty members and for more opportunities for black employees.
Held on the eve of Juneteenth, which commemorates the emancipation of enslaved people in Galveston, Texas, in 1865, the demonstration included a moment of silence lasting 8 minutes and 46 seconds, the length of time that a Minneapolis police officer kneeled on Floyd's neck. Rev. Adriene Breckenridge, a senior academic advisor in the university's Krieger School of Arts and Sciences, led the protesters in a prayer before reciting the names of black men and women who have died from police violence, including Baltimore's Freddie Gray.
"We want members of our community to have an opportunity to address their feelings about what's going on around the country—and around the world—to end systemic injustice and racism," said Lorraine Smith, president of the Johns Hopkins Black Faculty and Staff Association, which organized the event. "These problems are unfortunately embedded in many institutions, including Johns Hopkins, but we're here to show that a change is going to come, and it needs to come from the top down."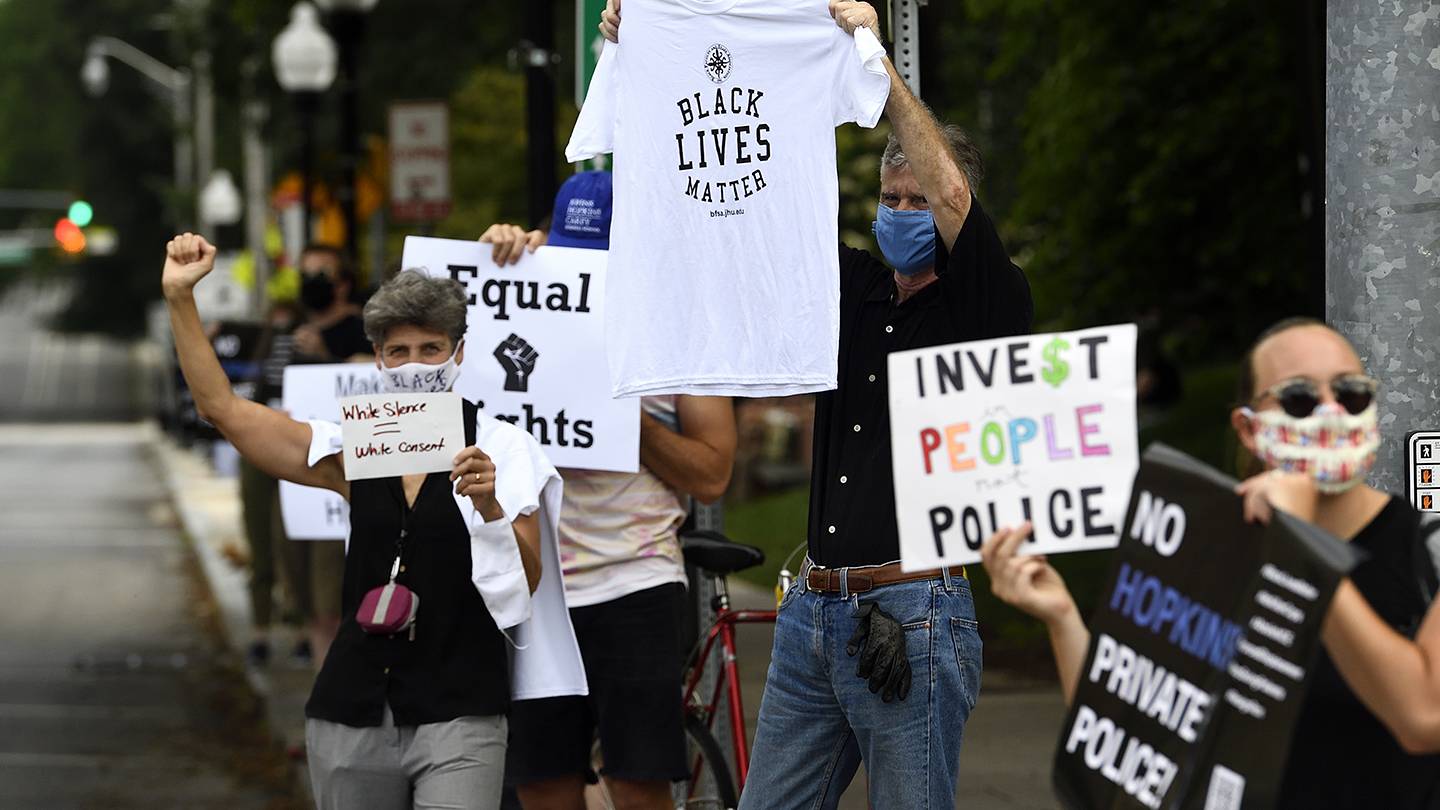 Retired staff member Lynnise Norris said she came to support her colleagues and friends. A former president of the BFSA, Norris has firsthand experience advocating for change at the university.
"Hopkins is like a big, slow-cranking wheel. It moves extremely slowly. But it's time," Norris said. "I'm hopeful—not for me, but maybe for the next generation of people of color who come through Hopkins—that it will be a better place to work."
The event attracted a large number of students, which surprised Clifton Shambry, assistant director of the Life Design Lab at Johns Hopkins. He's worked directly with Hopkins students since joining the university in 2014, and although the student body is actively engaged in social justice causes, he said he hadn't expected such a large student presence during a summer protest.
But he was heartened to see it, he said.
"If you look around, this is a diverse group of people from across the institution and community, and that's just really great to see," Shambry said.
For many, demonstrating against institutionalized racism also required a conversation about the proposed Johns Hopkins Police Department, which was approved by the Maryland legislature in 2019 but has been paused for at least two years.
"Postponing [the police department] isn't good enough," said Tim Reeder, a third-year graduate student in the Department of Physics and Astronomy. "It needs to be canceled if we are serious about making Johns Hopkins an equitable place for people of color."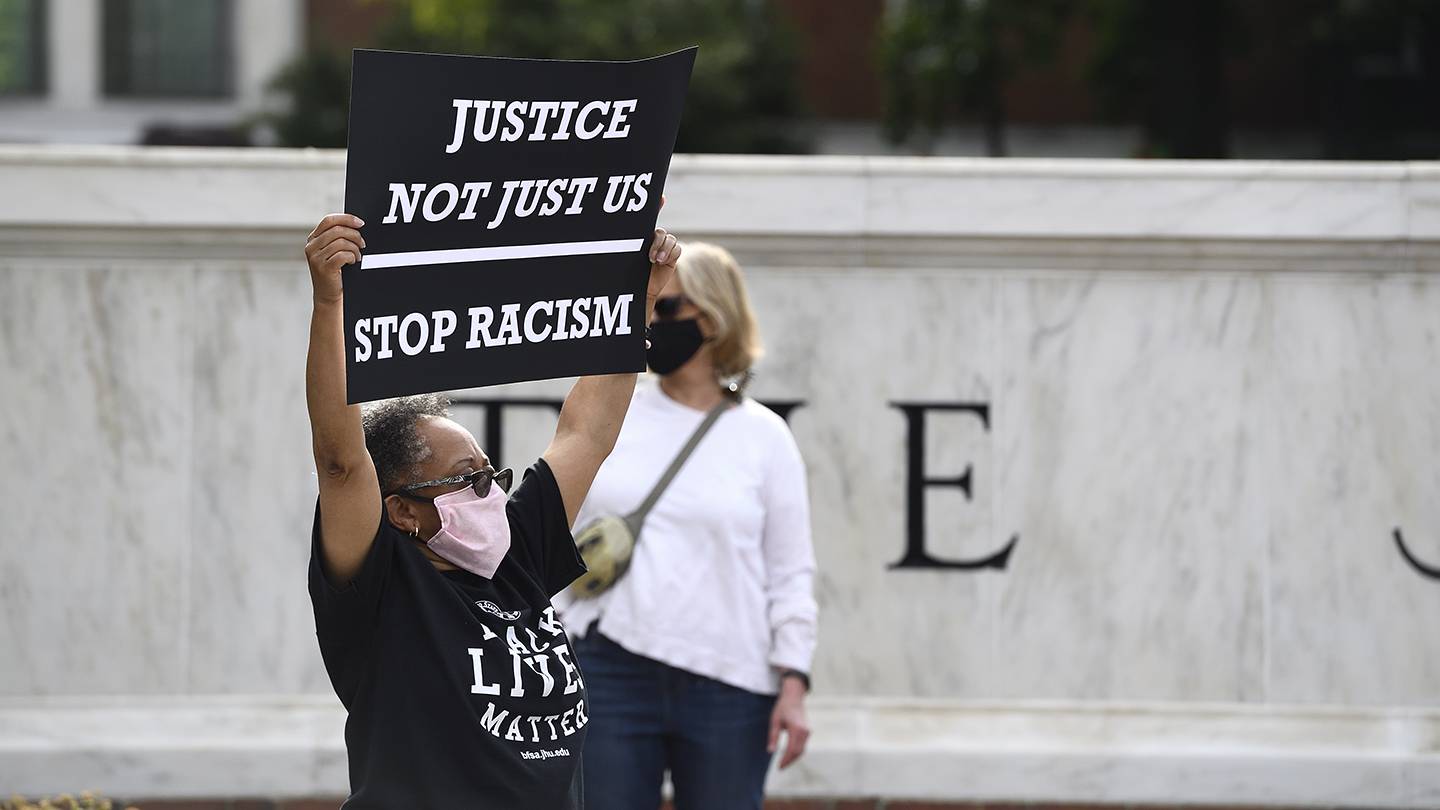 Throughout the demonstration, protesters practiced social distancing when possible, and BFSA organizers encouraged people to stand at least six feet apart, causing the line of participants to flank both sidewalks and the median on Charles Street, stretching from 33rd Street to the university's Interfaith Center.
Also attending was Stuart Ray, vice chair of medicine for data integrity and analytics and a professor of medicine who is leading the university's investigation of the genome of SARS-CoV-2, the virus that causes COVID-19. The coronavirus is like smoke, he explained, not radioactivity, so the risks of spreading disease are lower at an outdoor event. The son of a Civil Rights activist, Ray said he's been practicing medicine in Baltimore for 30 years and has seen how systemic racism contributes to health disparities for people of color.
"This is an opportunity for everyone to come together to address those disparities by changing the structures in our society that institutionalize racism," Ray said.
James Calvin, a member of the Hopkins faculty for more than 20 years, said the university has an opportunity to set a positive example for the rest of the country and the world as a place that is inclusive and equitable for people of color. A professor of management and organization at the Carey Business School and the interim director of the Center for Africana Studies, Calvin said he's proud of the strides Hopkins has made so far, but that there is still work to do.
"Universities play a key role in society, and if we can't do here the things we ask society to do, then what's our value?" he said. "As a preeminent institution that seeks to create knowledge, we have the opportunity—through our students, staff, and faculty, and through what I like to call the far-flung Hopkins empire—to truly to make change possible."
The university will close at noon today to mark Juneteenth. A list of programs and events marking the 155th celebration of Juneteenth, including from the BFSA, is available on the Hub.