Six Johns Hopkins experts convened on Capitol Hill today for a discussion of the ongoing coronavirus outbreak that has spread throughout the world since early January, infecting more than 101,000 and killing 3,300 people.
Speaking to an audience of reporters and congressional staffers in the Rayburn Office Building in Washington, D.C., the experts shared the latest insights and evidence about how the COVID-19 virus is transmitted, how it is being tracked, and how governments, institutions, and individuals can prevent its spread. The panel discussion was moderated by Lauren Sauer, director of operations for the Johns Hopkins Office of Critical Event Preparedness and Response.
Tom Inglesby, director of the Johns Hopkins Center for Health Security and an expert in pandemics and public health preparedness, began the discussion with a presentation of the latest information about the outbreak. Most people who contract COVID-19 develop a cough and fever and do not require hospitalization, he said. In severe cases, patients can develop viral pneumonia or a dangerous condition called Acute Respiratory Distress Syndrome.
The United States has the seventh-highest number of cases, he continued, with 215 confirmed cases and 14 deaths. Notably, 78 of those U.S. cases have no known link to other confirmed coronavirus cases, indicating the presence of community transmission within the United States.
It's difficult to estimate an accurate count for the number of COVID-19 cases worldwide because of the vastly different approaches to diagnostic testing being used, Inglesby said. The inability to adequately test for coronavirus also leads to problems in determining how deadly the disease is.
"We find severe cases first because they're the most obvious and they're [the people] in the hospital, so that is going to skew case mortality rates upward," Inglesby said. "The more we diagnose mild cases, the more that will drive down the overall case mortality rate."
In South Korea, for example, where an ambitious and expansive testing strategy has resulted in more than 140,000 people tested for the disease, only about .6% of cases have resulted in death—much lower than the fatality rates seen in China and Italy, where testing efforts were more limited, Inglesby said.
Currently, 45 out of 50 U.S. states have the ability to administer coronavirus tests. That's simply not enough, said Lisa Maragakis, a senior director of infection prevention for the Johns Hopkins Health System and an epidemiologist.
"Testing capacity is not currently adequate and we need more," she said. "We need this as soon as we can have it."
Increased testing will raise the number of confirmed cases, experts said, but it may also be accompanied by an unexpected upside—less public alarm about the disease.
According to Jason Farley, a nurse practitioner and professor at the Johns Hopkins University School of Nursing, when South Korea rolled out its broad testing strategy, public fear declined significantly.
"This is a [case] in which having more appropriate testing will lead to more public calm," Farley said.
Test kits have been distributed by the U.S. Centers for Disease Control and Prevention to state health labs, and many local and commercial labs are working to provide testing and develop new testing capacities, Farley said.
As the number of cases of coronavirus rises across the U.S., the experts said they expect to see a greater emphasis on social distancing measures—precautions that increase the physical space between people during an epidemic. These measures typically include business and school closures and the cancellation of social gatherings—such as the popular Texas music and media festival South by Southwest, which was canceled today due to coronavirus concerns. About 300 million students are currently out of school across the world as a result of shutdowns related to the virus, Inglesby said.
For those who can't work remotely, there are a number of straightforward ways they can protect themselves as coronavirus spreads, Farley said. The most important way to prevent the spread of illness is to practice good personal hygiene by washing your hands frequently and coughing and sneezing into your elbow or a tissue.
Experts did not recommend that individuals purchase or wear medical-grade masks. These masks must be worn a specific way in order to be effective, said Andy Pekosz, co-director of the Johns Hopkins Center of Excellence in Influenza Research and Surveillance and a professor at the Johns Hopkins Bloomberg School of Public Health, and most of the general public is not trained on how to properly wear them. What's more, he said, the public stockpiling of masks makes them unavailable to the front-line health care workers who need them.
Maragakis discussed the emergency preparedness measures taking shape at large institutions across the U.S., especially health care providers, including the Johns Hopkins Health System.
"Every institution has some manner of pandemic respiratory virus planning," she said. "We need to … dust off those plans and think about the nitty gritty of what it would take to operationalize and implement those plans."
The disease primarily spreads through droplets from the mouth and nose, and Pekosz said when those droplets land on surfaces, they can be a source of virus that can infect others.
According to Maragakis, taking precautions that limit airborne spread provides a greater level of protection against possible exposure. Institutions should consider adapting their response plans to include airborne precautions. In health systems, that may include increasing the number of rooms or facilities with air handling processes specifically designed for treating people with airborne diseases.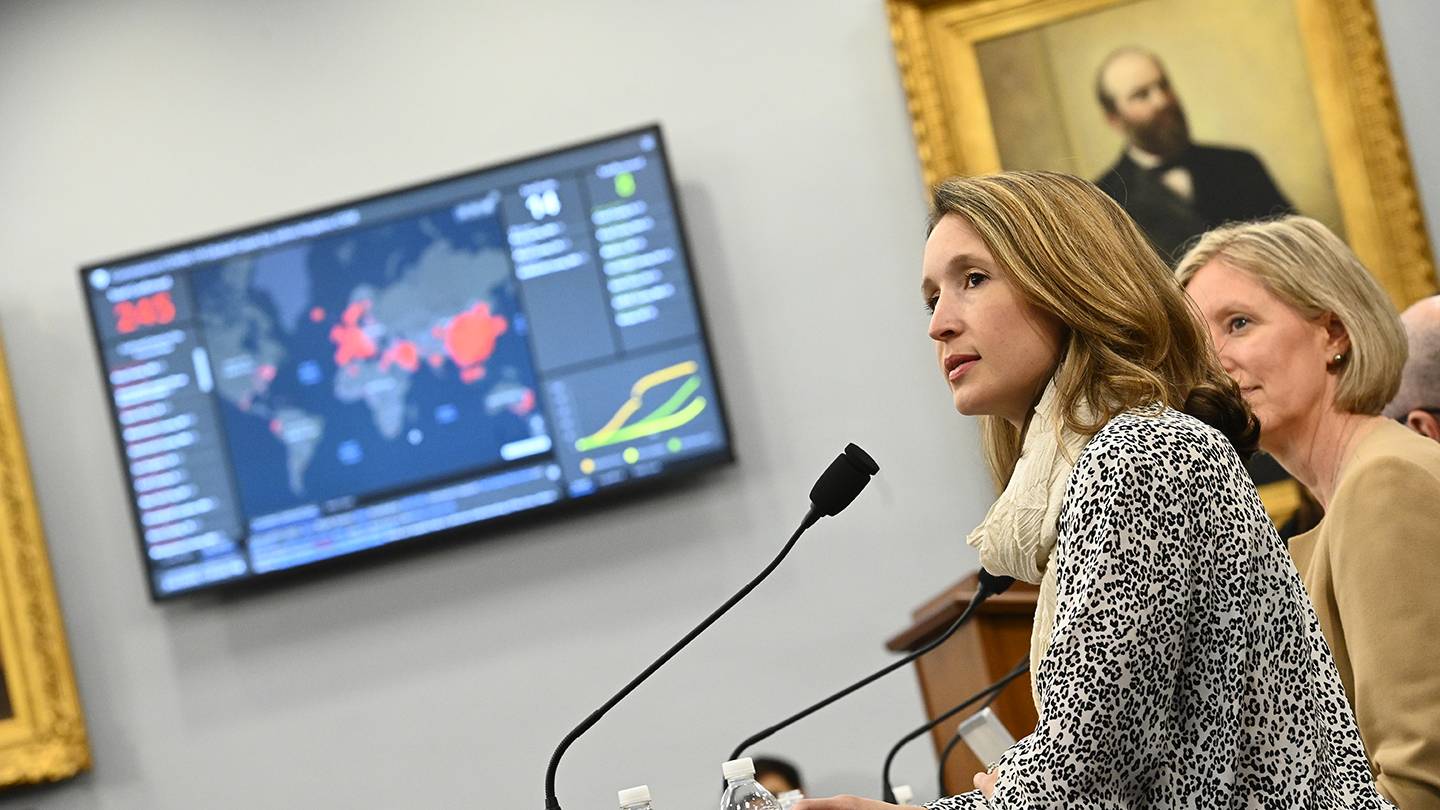 Pekosz pointed to ongoing questions for experts to resolve. For example, it's critical to understand how COVID-19 differs from the genetically similar SARS virus, which was eventually contained and eliminated, he said. Additionally, age, gender, and preexisting conditions are known to influence severity of the virus, but more information and research is needed to understand why that is. "Understanding how disease in these populations compares to the milder disease seen in other age groups may inform better treatment regimes," Pekosz said.
Added Maragakis: "One spot of bright news for this virus is that the youngest children don't seem to be the most vulnerable. That's a blessing in this case."
Lauren Gardner, co-director of the Johns Hopkins Center for Systems Science and Engineering, provided an overview of how to use the coronavirus tracking map she and members of her laboratory developed to monitor confirmed cases of coronavirus worldwide. The map, launched on January 22, receives an average of 1.2 billion interactions a day, Gardner said.
"In terms of [which countries are] using this dashboard, as far I can tell it's pretty much everybody," Gardner said. "It's gone viral on every social media channel that exists. … I think that this really speaks to this huge demand for reliable, trustworthy, objective information, especially around situations like these."
Correction: An earlier version of this article mischaracterized statements made by experts about the virus transmission pathways. It is spread through droplets. The Hub regrets the error.