Johns Hopkins Medicine is co-managing daily operations of a COVID-19 field hospital at the Baltimore Convention Center, which is prepared to begin accepting patients today to offset an expected surge in hospitalizations attributed to the disease.
The plan to establish the field hospital was announced by Maryland Gov. Larry Hogan in late March as part of a state preparedness plan. With 250 beds and 50 bed packages supplied by the Federal Emergency Management Agency, the hospital will be managed by leaders from Johns Hopkins Medicine and the University of Maryland Medical System.
The facility is directed by James Ficke, director of orthopaedic surgery at The Johns Hopkins Hospital and a former colonel in the U.S. Army. His deputy director is Chuck Callahan, vice president of population health at the University of Maryland Medical Center, and the facility's chief and deputy chief medical officers are, respectively, Eric Howell, director of the hospital medicine division at Johns Hopkins Bayview, and Melinda Kantsiper, associate director of the clinical information management system at Howard County General Hospital. The chief operating officer of the field hospital is Jennifer Nickoles, the vice president for operations and system integration of the Johns Hopkins Health System, and Laura Wortman, director of strategic initiatives for the Department of Healthcare Transformation and Strategic Planning for the Johns Hopkins Health System is overseeing quality and safety at the facility.
The field hospital will be staffed by medical professionals "who want to help out in this really unusual situation," said Sharon Smyth, senior director of emergency medicine nursing at The Johns Hopkins Hospital and Johns Hopkins Bayview Medical Center, during an interview with Johns Hopkins Medicine. "Few of us have ever done this type of work, and these people have risen to a challenge." Recruitment for these staff positions is underway.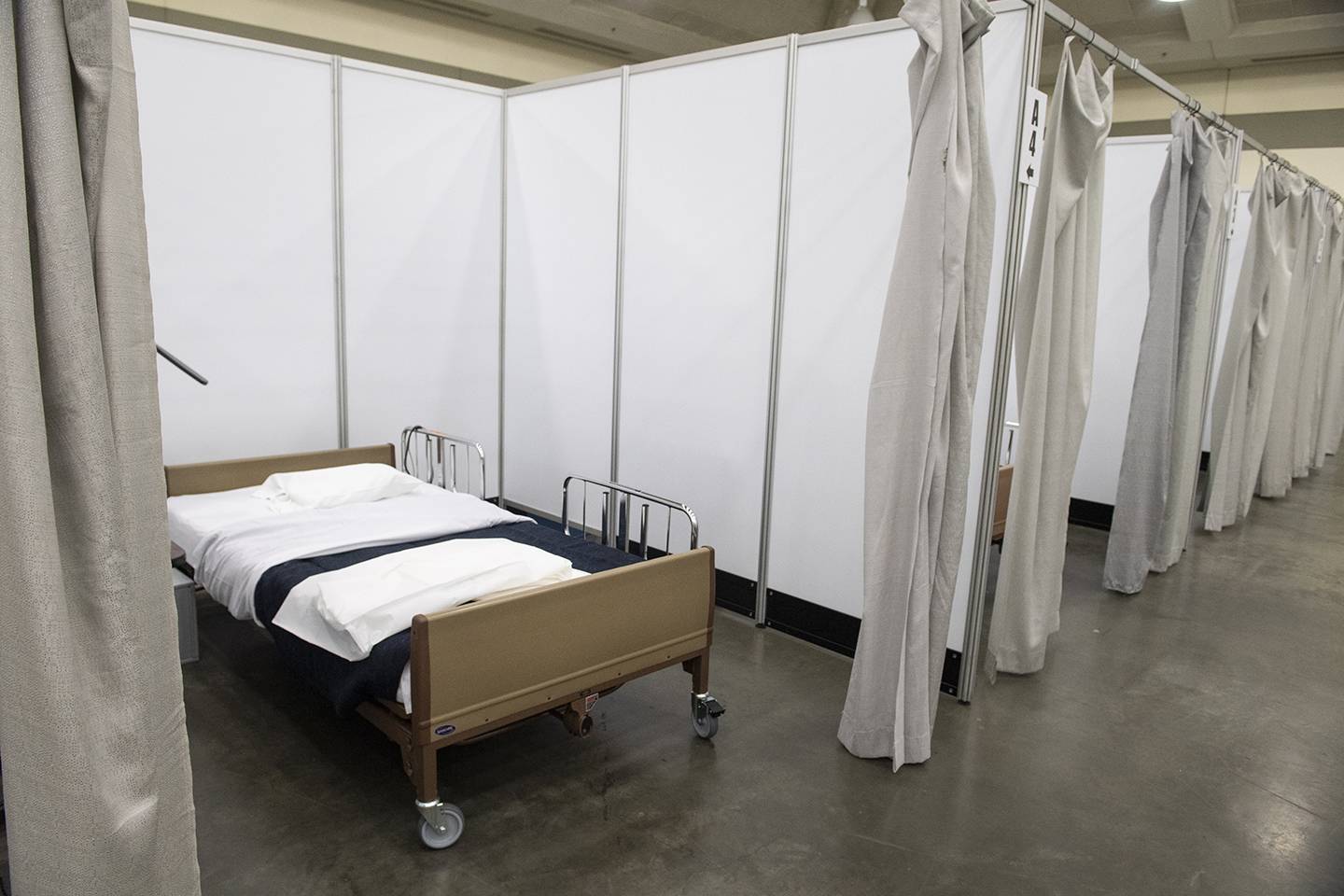 The 10-foot-by-10-foot patient bed area contains a medical cot, a chair, a bedside table, and a small footlocker for patient belongings. The space is also equipped with four electrical outlets that patients and physicians can use.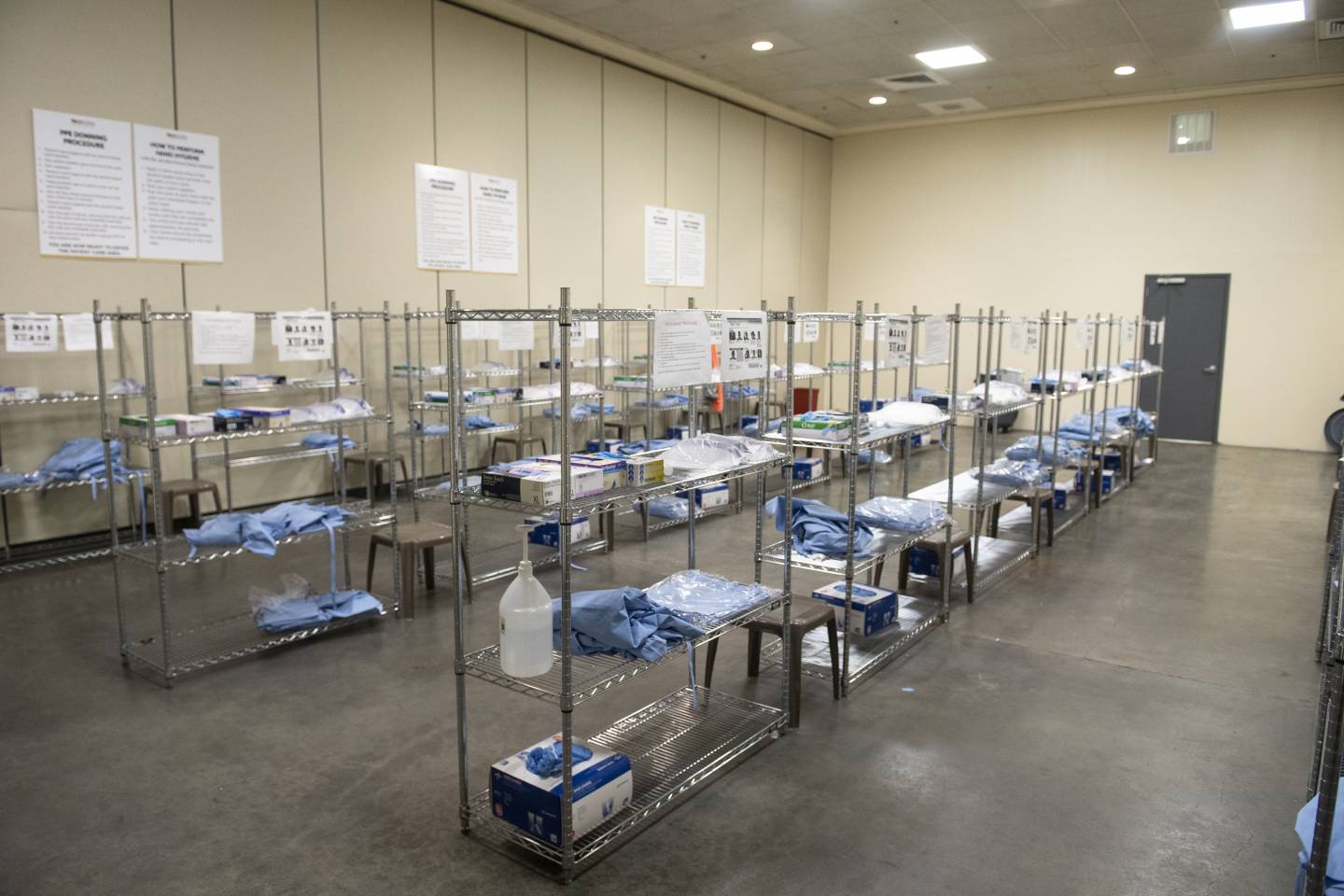 The field hospital contains specified rooms for health care providers to don and remove personal protective equipment, or PPE. The donning room, pictured above, contains the necessary PPE and related supplies.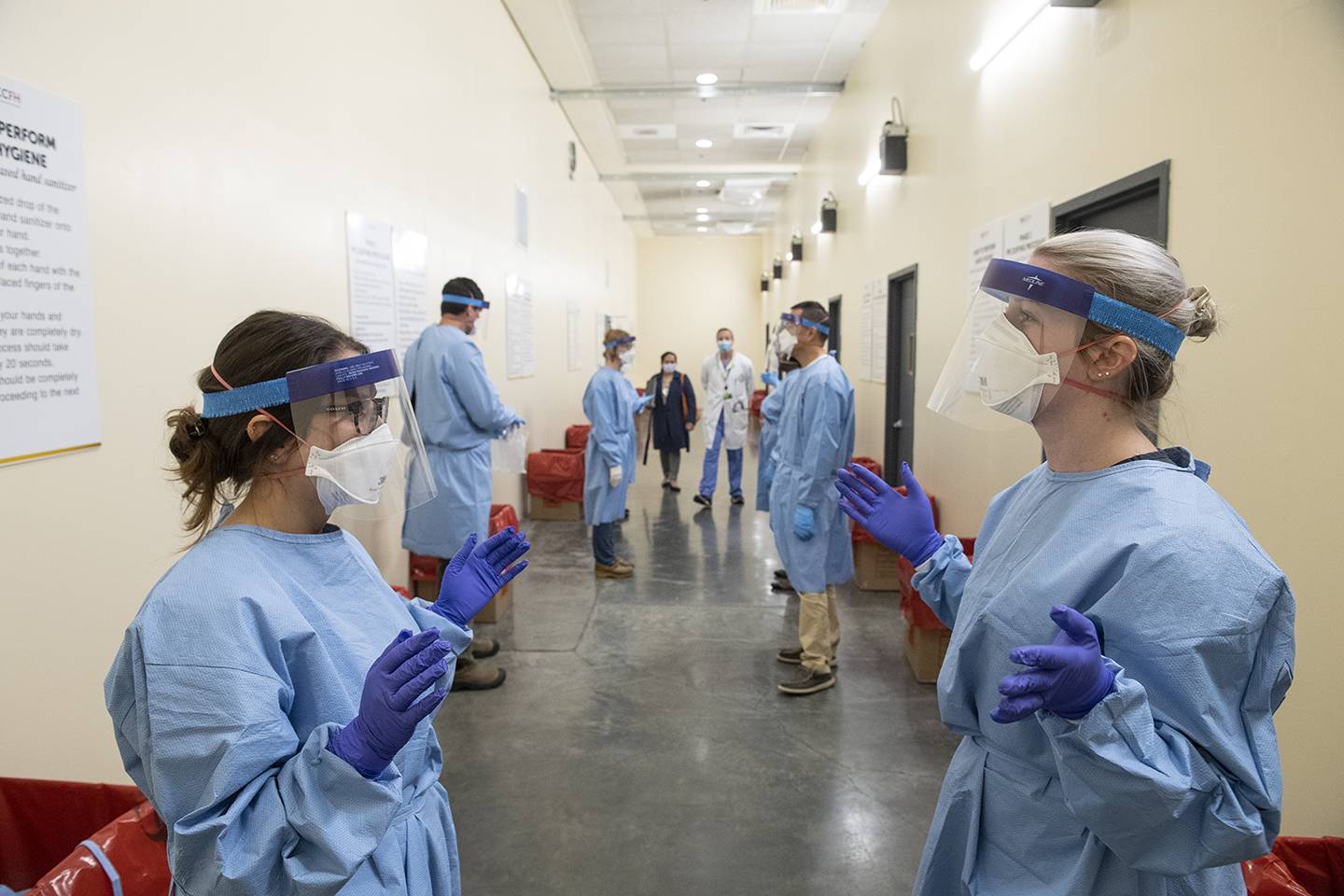 The dedicated disrobing area helps cut down on cross-contamination. The facility also contains dedicated shower facilities for health care workers who have ended their shifts.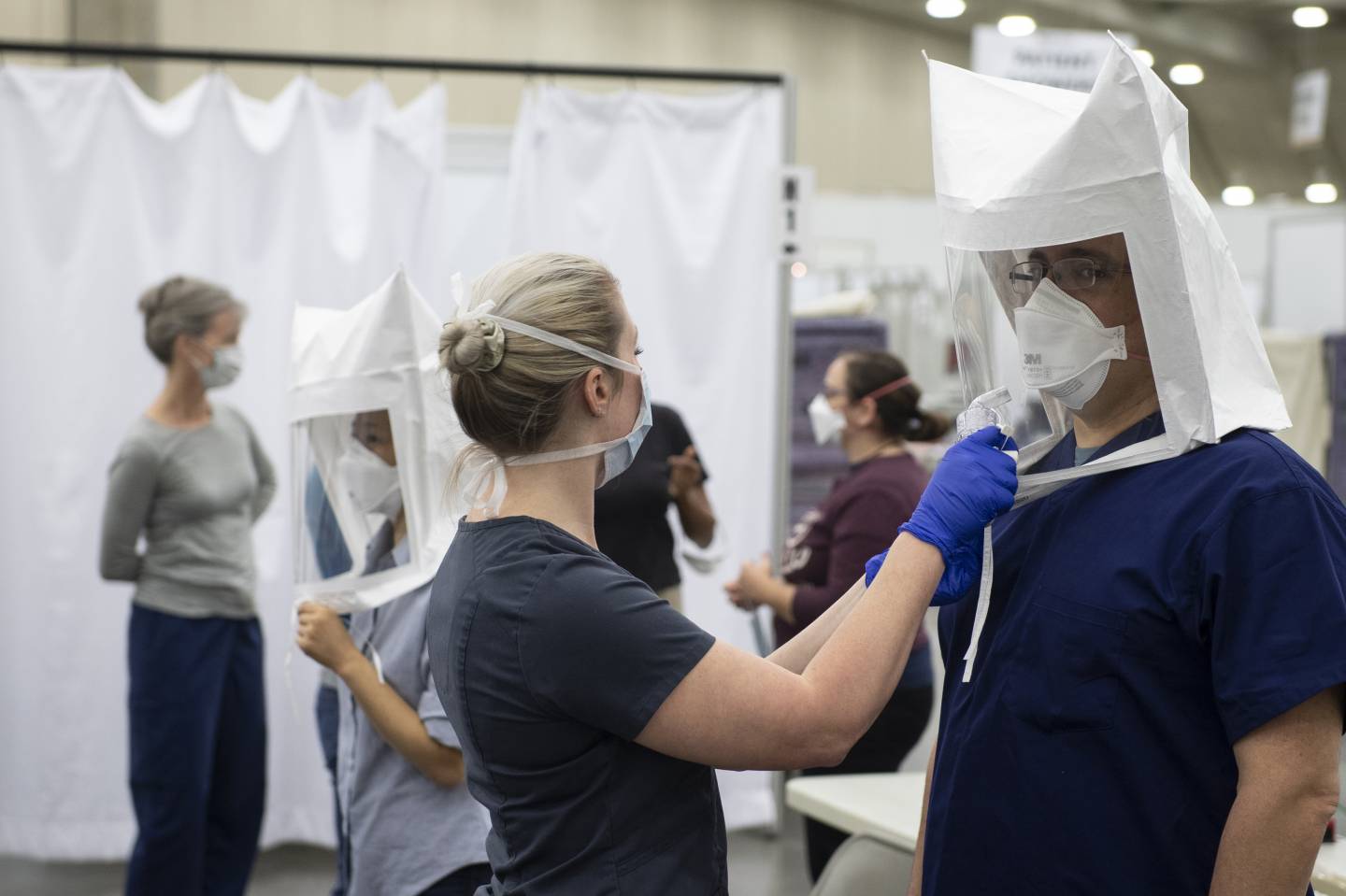 During a fit test conducted for training purposes earlier this month, participants donned face masks and a specialized testing headpiece. A partner then sprayed a sweetened mist into the headpiece. Mask-wearers who smell or taste the spray must adjust their masks for a tighter fit.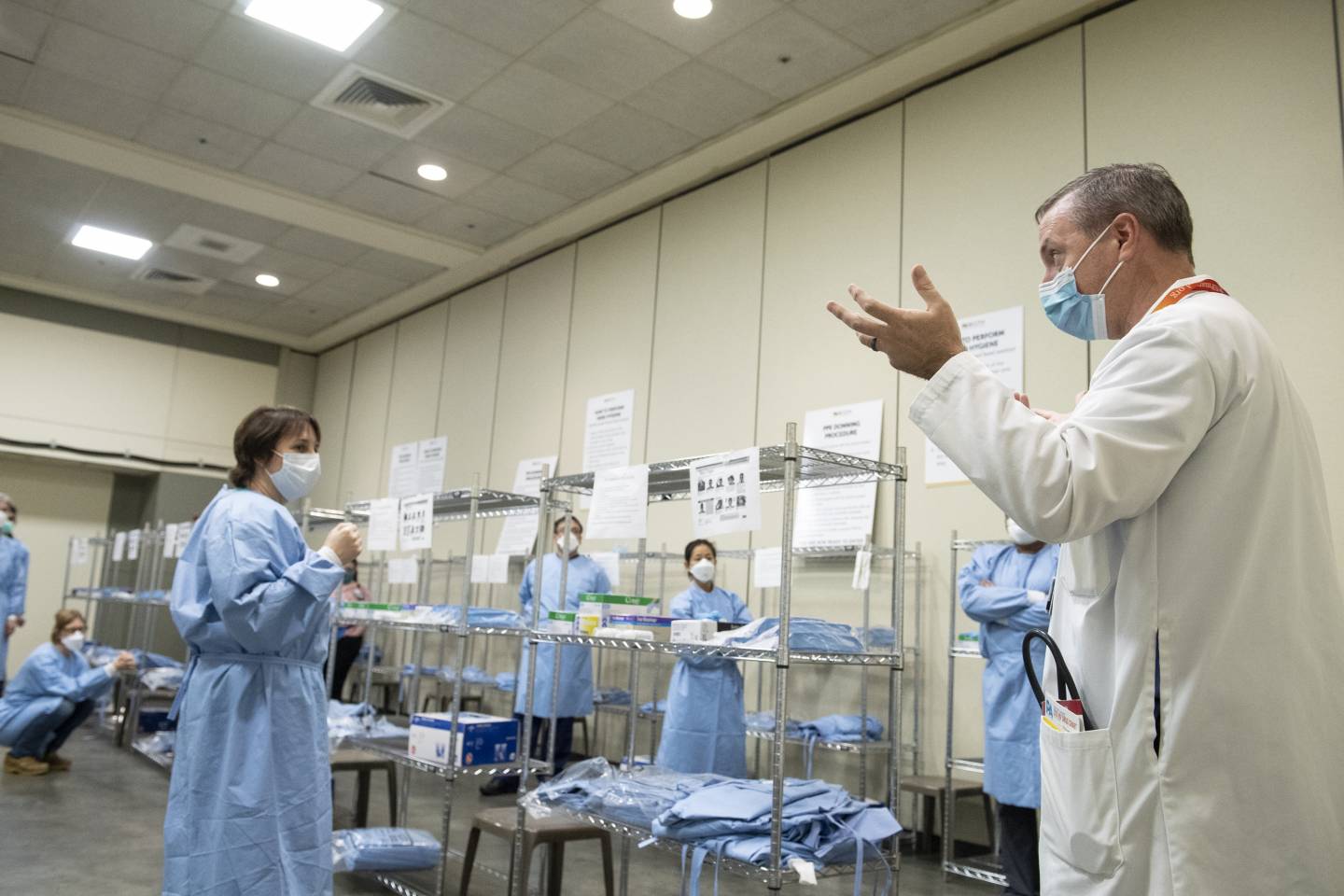 Jason Farley, an infectious disease-trained nurse epidemiologist from the Johns Hopkins School of Nursing, helped lead health care workers through the process of safely donning PPE. When the hospital is operational, health care workers will don their protective gear simultaneously at the start of each shift, limiting cross contamination and ensuring every worker has a partner to test the fit.