Fred Lazarus promised his family they'd stay in Baltimore just five years when he accepted the position of president of the Maryland Institute College of Art in 1978. Thirty-five years later, Lazarus is retiring from his post this spring after helping to transform MICA into one of the country's foremost art colleges.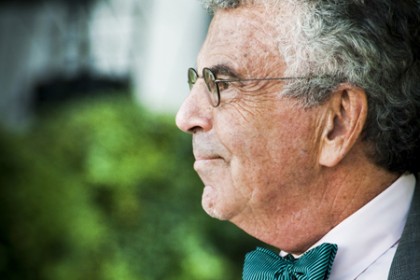 Under his leadership, MICA's enrollment has more than doubled; the size of the campus has increased tenfold; the endowment has grown by more than 25 times; and the institution has established three research centers and added 17 undergraduate and graduate academic programs.
During his tenure, Lazarus, who is known for his distinctive bow-ties, has emphasized the importance of college-community relationships as well as the role of academic institutions as engines for economic change.
He helped launch Baltimore's annual Artscape festival, which is now the largest free arts festival in the country. Located on and around MICA's campus, Artscape annually draws more than 350,000 visitors to the city and has a powerful economic impact on Maryland. Likewise, his leadership in opening MICA's Graduate Studio Center on a neglected stretch of Baltimore's North Avenue triggered the revitalization of that entire area and its subsequent designation as Maryland's first official Arts and Entertainment District. MICA and Johns Hopkins University have since become strong partners in what is now known as Station North, a growing haven for individuals seeking creative pursuits. He also co-founded the newly opened Baltimore Design School, a local non-performing arts middle/high school that offers young people a place to nurture their talents.
Lazarus never expected to become the longest-serving president in MICA's 188-year history when he arrived 35 years ago. When Lazarus announced his retirement last year, MICA Provost Ray Allen told The Baltimore Sun, "I think the board would have been happy if Fred had stayed on forever."
This article profiles one of seven Johns Hopkins University 2014 honorary degree recipients. The honorary degrees will be conferred at the universitywide commencement ceremony on May 22 at Homewood Field.