Edith Windsor never thought she'd one day become a hero for the gay rights movement. But when her spouse—Thea Spyer, whom she had married legally in Canada—died, Windsor sued the U.S. government in 2010 for $363,053, the amount she had to pay in estate taxes after Spyer's death. Under the 1996 Defense of Marriage Act, which defined marriage as a union between a man and a woman, Windsor was not entitled to the federal estate tax exemption for surviving spouses.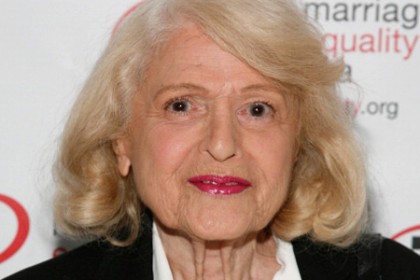 When the Supreme Court decided 5-4 in Windsor's favor last June, it declared that DOMA violated the U.S. Constitution by barring legally married, same-sex couples from enjoying the benefits of marriage conferred under federal law. The decision marked the first time the United States recognized marriage between partners of the same sex.
After the decision was announced, President Obama hailed the ruling as a "victory for American democracy," and Windsor, at the age of 84, became a symbol of the gay-rights movement.
Windsor had blazed trails before. In the late 1950s, at a time when women were underrepresented in science and math careers, she earned a master's degree in mathematics from New York University and was hired by IBM, where she rose to the position of senior systems programmer and was one of the very few women at the heart of the programming revolution.
But it would be another several decades before Windsor would become known for her boldest action.
"If you have to outlive a great love," she told The New Yorker in September, "I can't think of a better way to do it than being everybody's hero."
This article profiles one of seven Johns Hopkins University 2014 honorary degree recipients. The honorary degrees will be conferred at the universitywide commencement ceremony on May 22 at Homewood Field.