Annual traditions, campus renovations, advances in research, and community partnerships—2017 was a memorable year at Johns Hopkins University.
The Hub's first Year in Photos looks back at some of the unforgettable images that caught our eye and captured our imagination.
January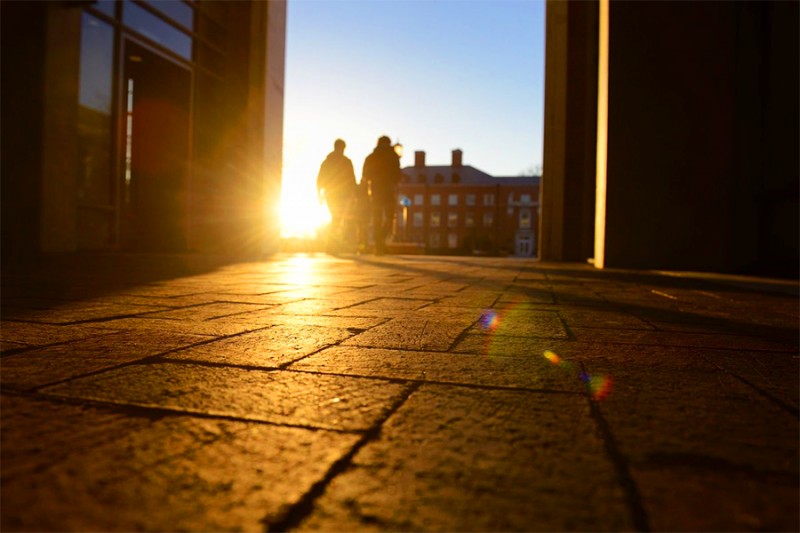 Photo by Will Kirk, Homewood Photography
February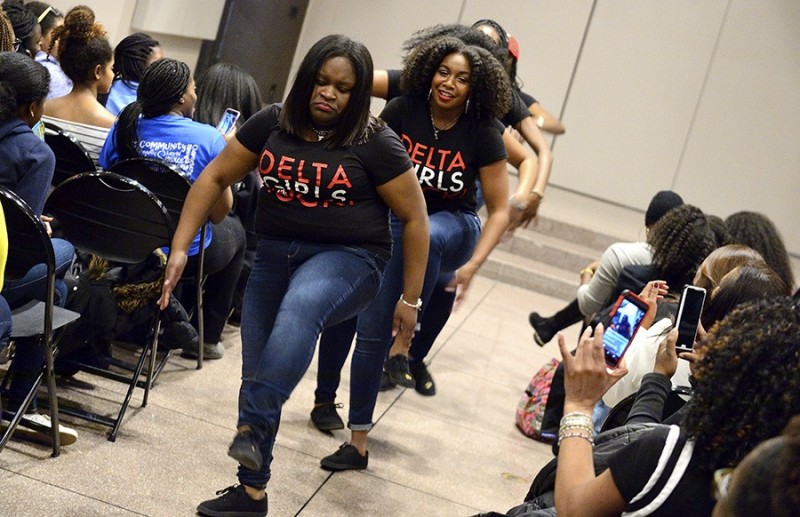 Photo by Will Kirk, Homewood Photography
The Johns Hopkins University Intercultural Greek Council hosted a Back-to-School Block Show on the Homewood campus. Hundreds of JHU community members and students from neighboring universities came to watch step and stroll performances and to learn about the historically multicultural and historically black sororities and fraternities at JHU.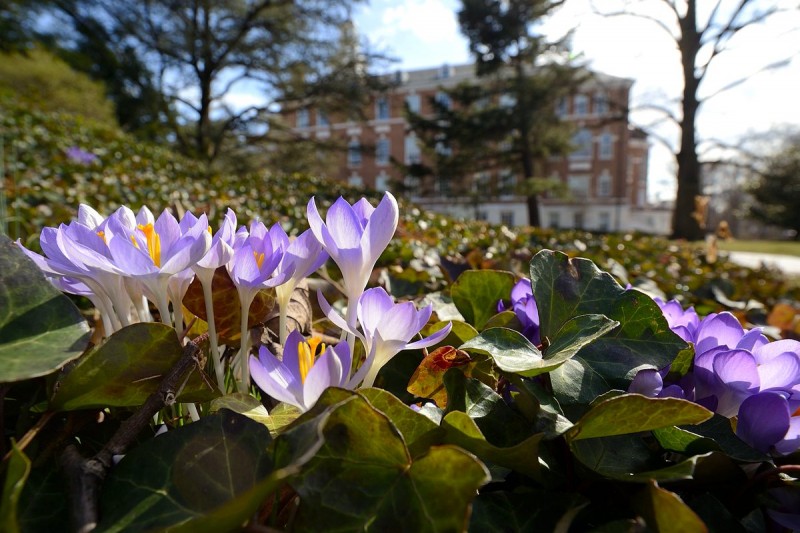 Photo by Will Kirk, Homewood Photography
March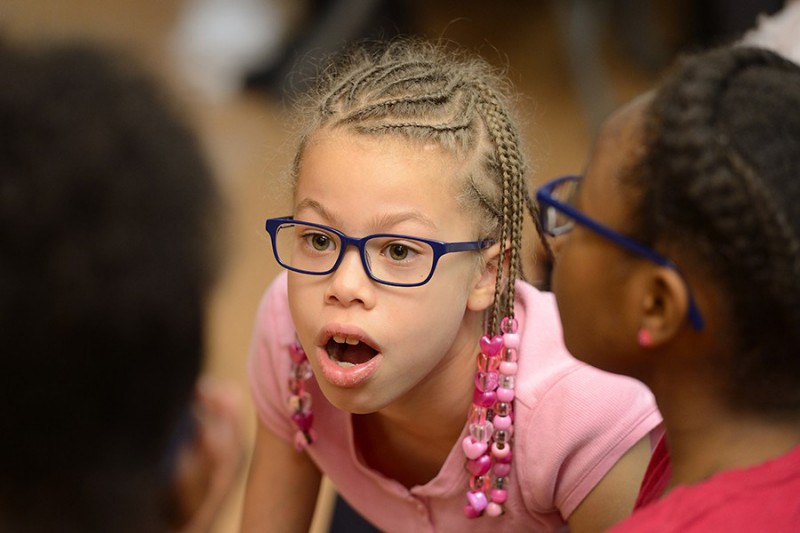 Photo by Will Kirk, Homewood Photography
At an early March event at Dr. Bernard Harris Sr. Elementary School in Baltimore, JHU President Ronald J. Daniels and others gathered to celebrate a milestone moment for Vision for Baltimore. The citywide program, which provides free eye exams and glasses to students who need them, distributed more than 1,000 pairs of glasses to Baltimore students in its first 10 months. The program is based on Johns Hopkins research showing that classroom achievement can be boosted significantly when students who need eyeglasses have access to them.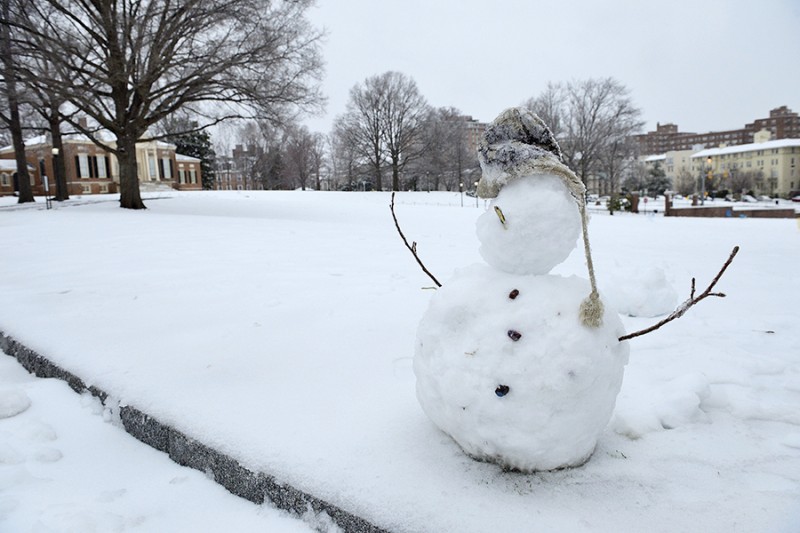 Photo by Will Kirk, Homewood Photography
About four inches of snow fell on the Homewood campus and across the Baltimore region on March 14—far fewer than the 12-inch-plus snow totals that some forecasts had predicted, but more than enough for Johns Hopkins to declare a late-winter snow day and for students to build a snowman or two.
April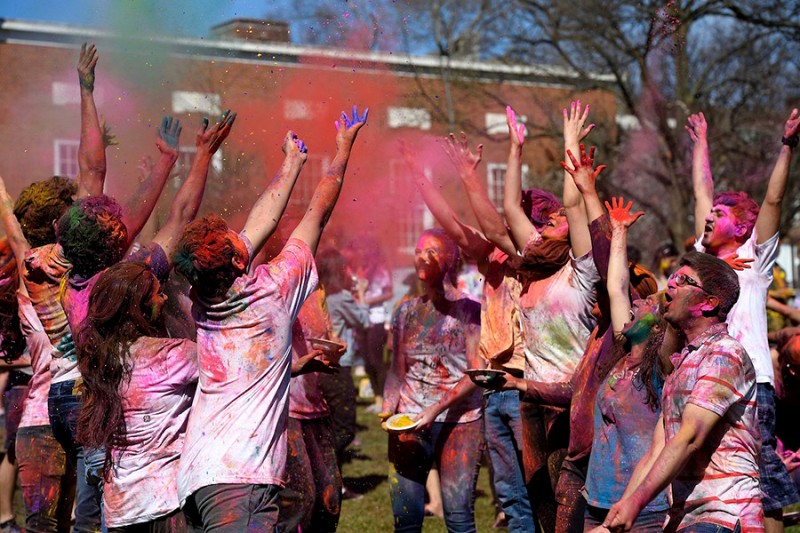 Photo by Will Kirk, Homewood Photography
Across The Beach, refrains of "Happy Holi" rang out as more than 150 students gathered around tables of dyed powders to load up plates of pigments to smear, sprinkle, and toss at each other. More than 400 pounds of Holi color was used at this annual spring event sponsored by the Johns Hopkins Association for India's Development and the Hindu Students Council. The festival has religious and cultural significance: it ushers in spring at the close of the harvest season in India and celebrates the triumph of the Hindu god Vishnu over the demon goddess Holika.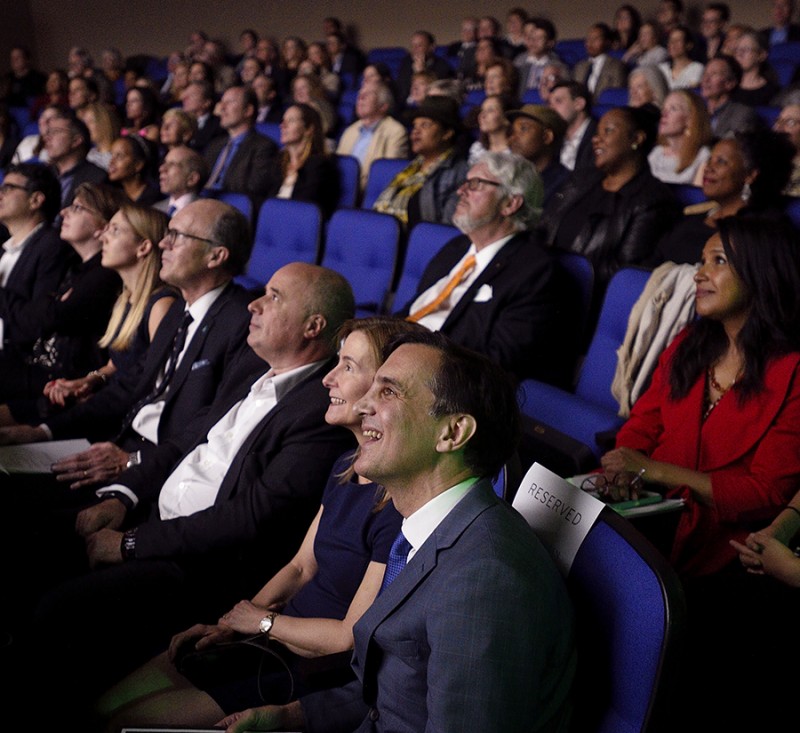 Photo by Will Kirk, Homewood Photography
Baltimore's film community turned out in mid-April—as did President Daniels and his wife, Joanne Rosen—to light up a long-dark historic movie palace, the 102-year-old Parkway Theatre, known now as the Stavros Niarchos Foundation Parkway. With a renewed two-tier, 414-seat main auditorium; two new 84-seat screening rooms; and state-of-the-art projection and sound, the Parkway will be the home of the Maryland Film Festival each May.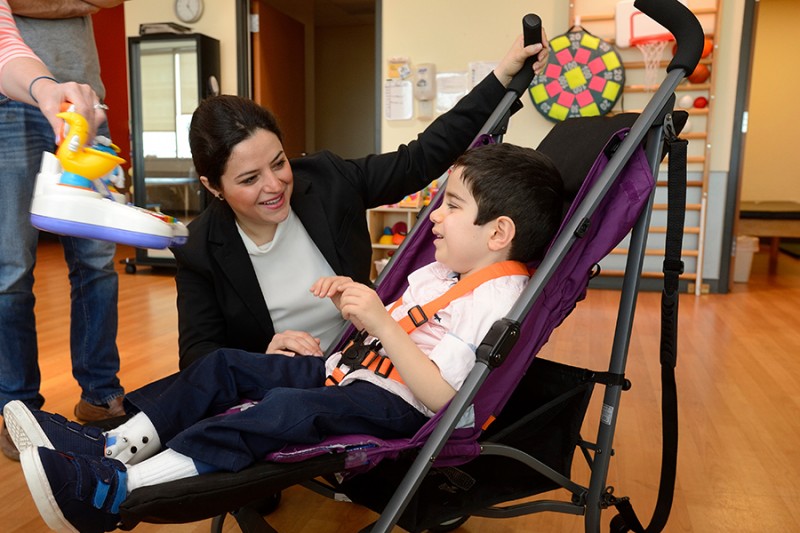 Photo by Will Kirk, Homewood Photography
Karam Tarazai and his mother can now spend warm afternoons outside enjoying nature after the 6-year-old, who has a rare progressive genetic disease, received a specially designed, lightweight stroller built by a team of student engineers. "The new stroller is just wonderful," said Karam's mother. "It is very lightweight, so I can get it in and out of the car easily, and it is very comfortable for Karam—much better than his heavy wheelchair, which was almost impossible for me to manage alone."
May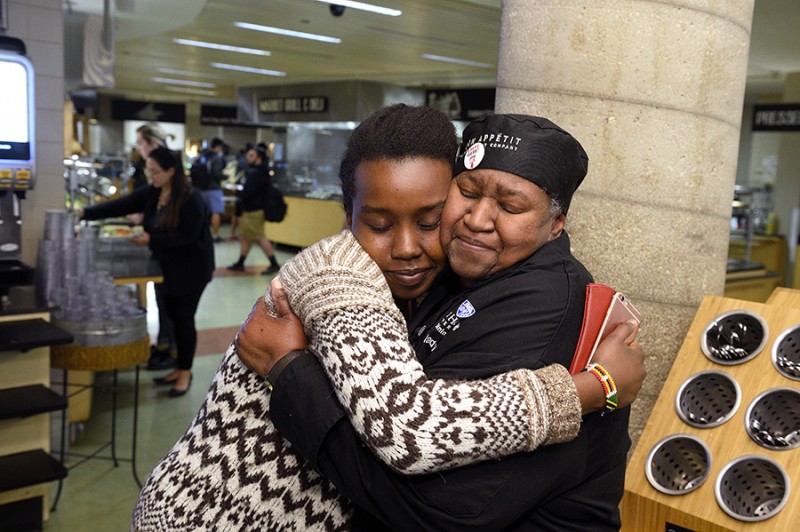 Photo by Will Kirk, Homewood Photography
The university celebrated the retirement of former dining worker Gladys Burrell, known to Homewood students and staff as Mrs. Gladys. Mrs. Gladys had worked in a number of Hopkins dining locations during her 47-year tenure. Over time she grew close to many students; some of those who had graduated came back to see her off. One student said, "All [three] of my siblings and I attended Hopkins, so we all formed special relationships with Mrs. Gladys. She affected all of us."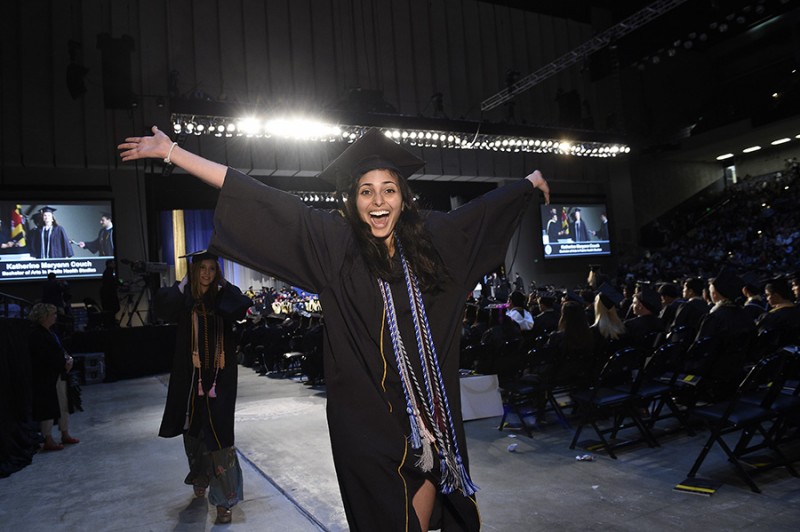 Photo by Will Kirk, Homewood Photography
About 1,500 students claimed their degrees at the universitywide spring commencement ceremony at the Royal Farms Arena. Johns Hopkins also awarded six individuals honorary degrees: Frank Bruni, a New York Times columnist who also delivered the commencement speech; renowned political scientist and bioethicist Amy Gutmann; Carla Hayden, the first woman and the first African-American to lead the Library of Congress; Katherine C. Johnson, the NASA physicist and mathematician portrayed in the film Hidden Figures; philanthropist and JHU alum Ralph S. O'Connor; and Harold Varmus, a Nobel Prize-winning scientist.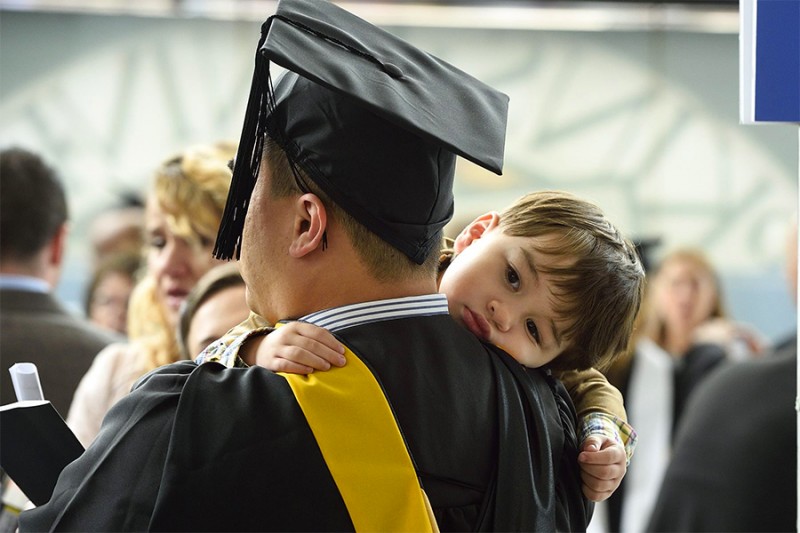 Photo by Will Kirk, Homewood Photography
June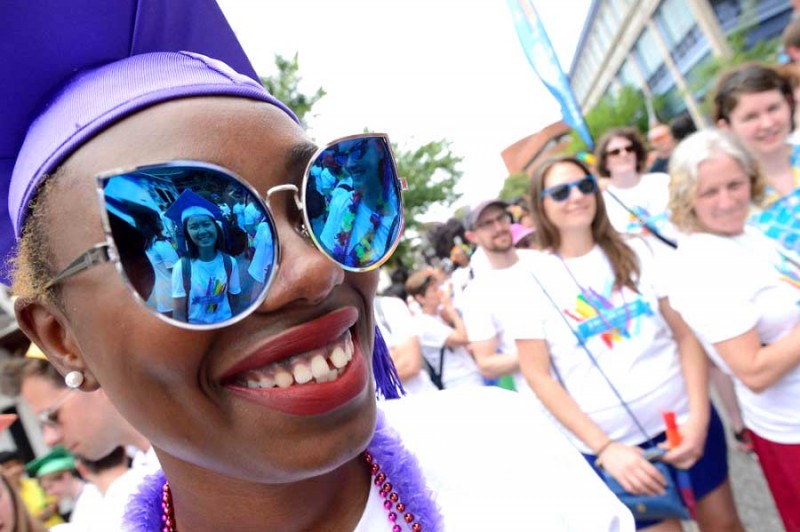 Photo by Will Kirk, Homewood Photography
About 200 Johns Hopkins faculty, staff, students, and their families waved flags, carried signs, blew kisses, donned flower crowns and leis, and in one case captained a recumbent tricycle complete with a trailing sidecar in honor of Baltimore Pride.
July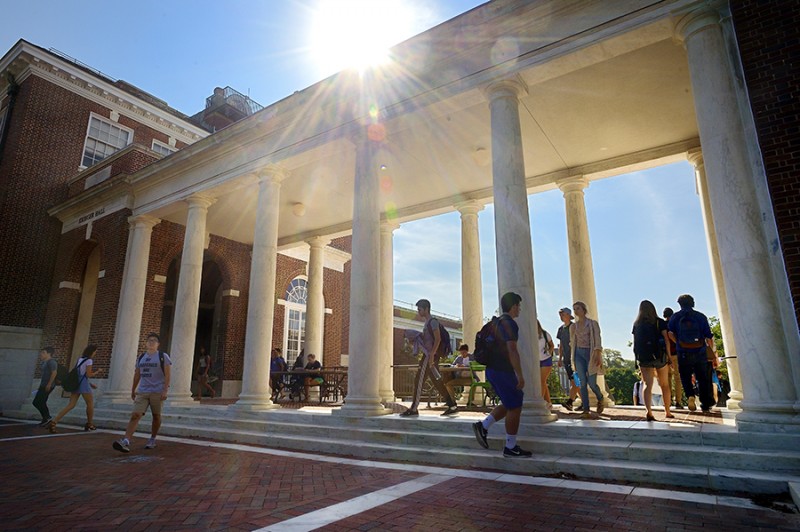 Photo by Will Kirk, Homewood Photography
After the 14-month Krieger Waterproofing and Colonnade Restoration Project, the Breezeway, along with entrances to Krieger and Ames halls, reopened. The major renovation project began in May 2016 because Krieger Hall, one of the oldest buildings on the Homewood campus, had water infiltrating the floors below ground level. The adjacent colonnade also had water damage. With the reopening, student groups finally could table in the high-traffic space again.
August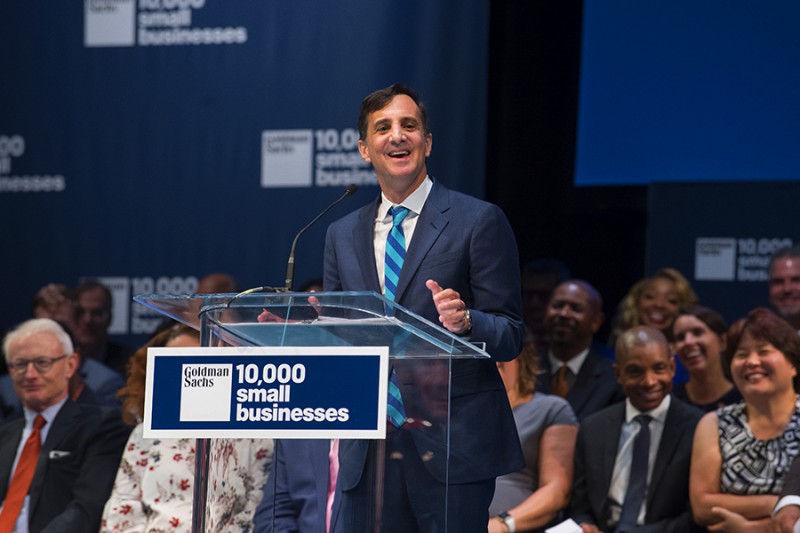 Photo by Will Kirk, Homewood Photography
In early August, Goldman Sachs and Bloomberg Philanthropies announced a five-year, $10 million commitment to continue Goldman Sachs 10,000 Small Businesses program in Baltimore and named JHU the host site. The program aims to increase economic opportunities by giving entrepreneurs a practical business education, support services, and access to capital. To date, more than 6,300 small business owners have participated in the program at 14 sites across the U.S. Johns Hopkins hosted two special sessions of a 10,000 Small Businesses pilot program earlier in the year.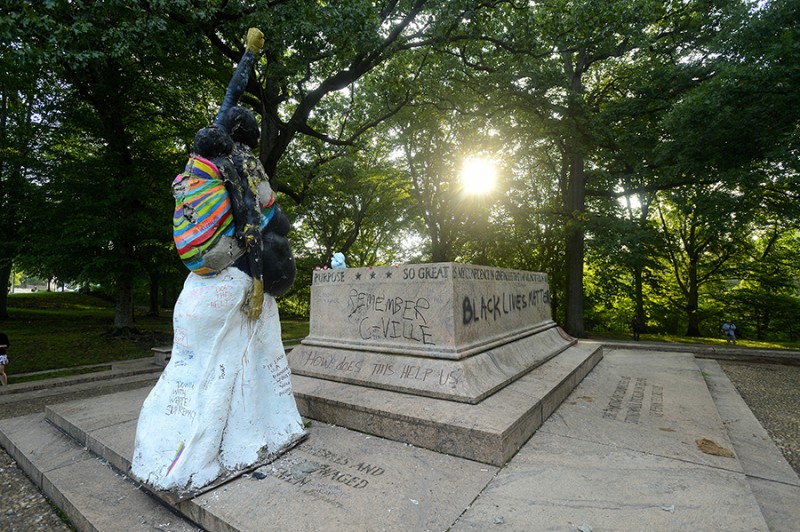 Photo by Will Kirk, Homewood Photography
Before sunrise across Baltimore City, statues commemorating Confederate figures were removed from their plinths following an order by Mayor Catherine Pugh in mid-August. Among the statues removed was the Robert E. Lee-Stonewall Jackson monument—formerly located in Wyman Park Dell near JHU's Homewood campus—which was replaced briefly by local artist Pablo Machioli's statue, 'Madre Luz' (pictured). In a statement commending Pugh's order, Hopkins President Ronald J. Daniels said, "We share the belief that [Confederate] statues and what they represent have no place in our city and applaud this action as a way to affirm the values of diversity, equity, and inclusion that strengthen our university, our city, and our nation."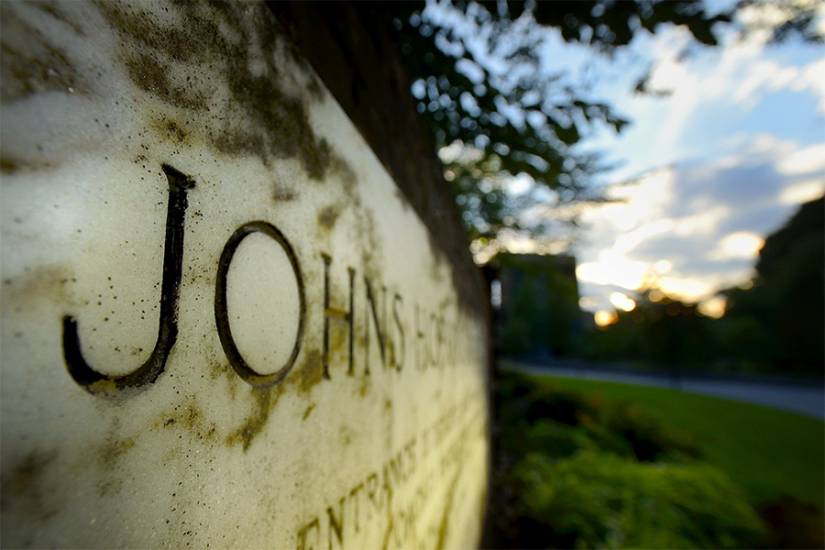 Photo by Will Kirk, Homewood Photography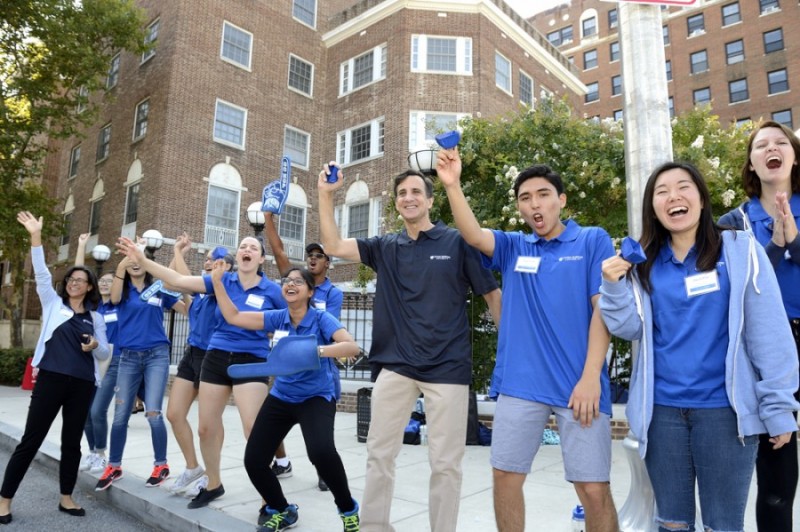 Photo by Will Kirk, Homewood Photography
On move-in weekend, more than 1,300 first-year students began their Hopkins journeys. Residence Life staff cheered on new students and their families as they arrived to JHU. The Class of 2021 includes students who came from as close as two miles from campus and from as far as more than 9,000 miles away. New Blue Jays arrived from 35 states and Washington, D.C., as well as 33 countries.
Photo by Will Kirk, Homewood Photography
September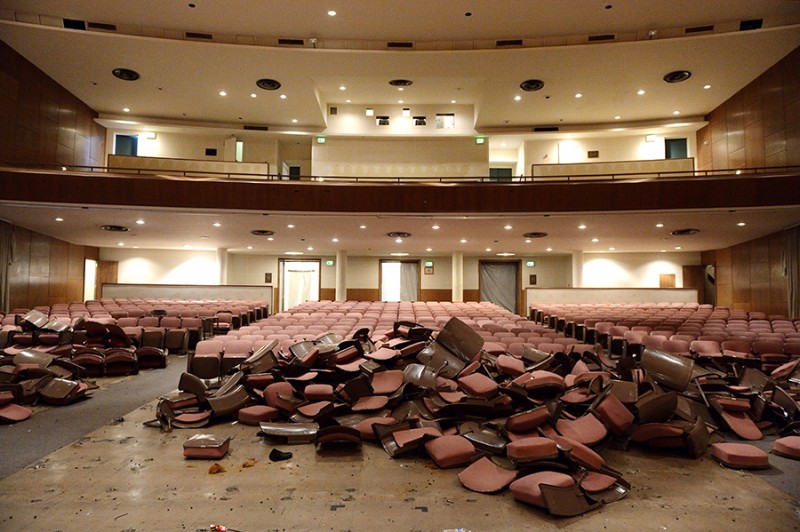 Photo by Will Kirk, Homewood Photography
Shriver Hall, which first opened in 1954, closed during the fall semester for installation of new lighting and seats as part of a large and complex renovation project.
October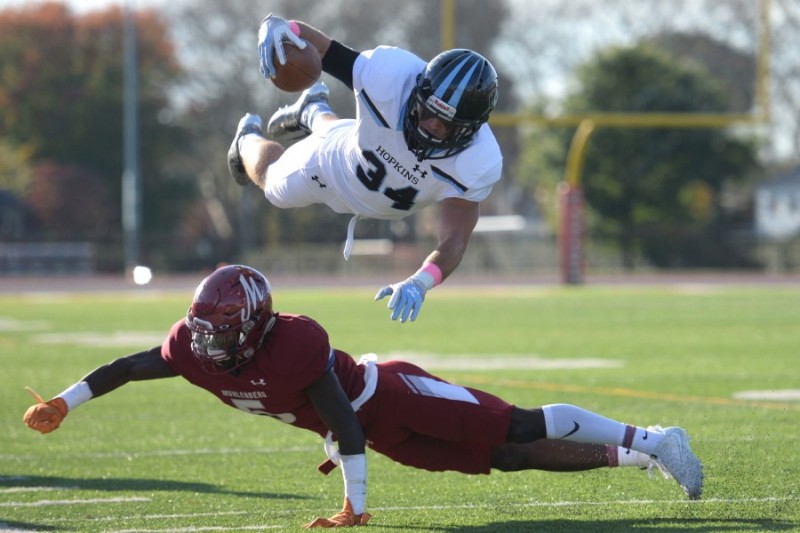 Photo courtesy of Paul Duncan, Muhlenberg Athletics
Johns Hopkins freshman Zac Fernandez took to the air for a key first down late in the fourth quarter of a critical late October game at Muhlenberg. Fernandez's 21-yard catch and run took the ball to the 1-yard line, and the Blue Jays scored on the next play to secure a 31-24 victory. The win helped Hopkins clinch its ninth consecutive Centennial Conference title.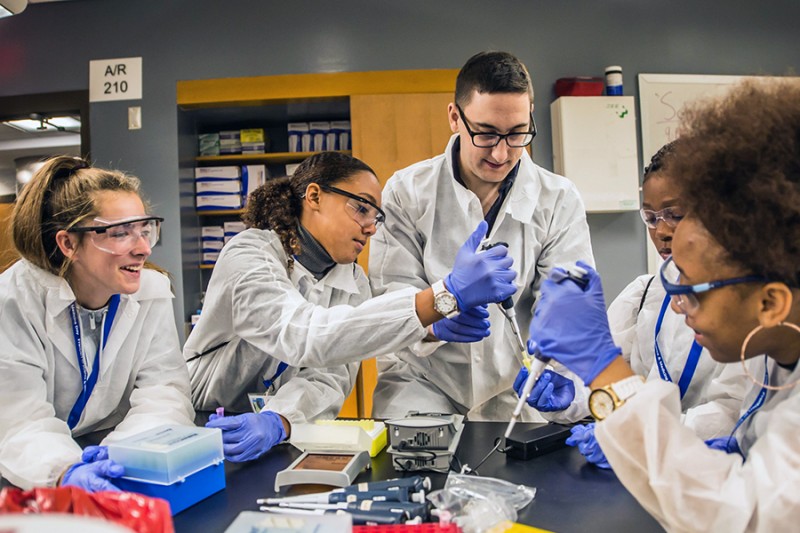 Photo courtesy of Rob Riddle
Montgomery County seventh-graders piped liquids into a test tube during one of the interactive tours of the labs at JHU's Montgomery County Campus. The annual Frontiers in Science and Medicine Day taught students about careers in STEM fields—some donned hazmat suits to learn about epidemiology, some peered at a brain specimen under a microscope to learn about Alzheimer's disease, and some learned about the relationship between mosquitoes and malaria, or about the role of robotics in medicine, or about the intersection of technology and pharmaceuticals.
November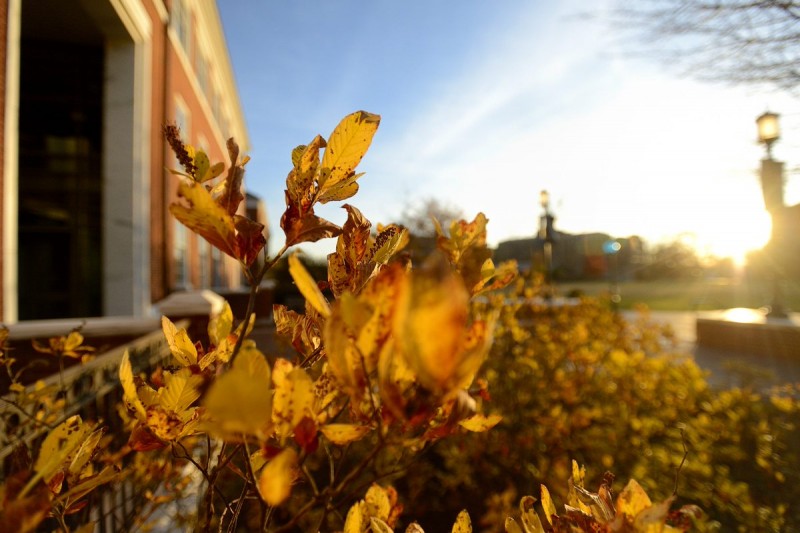 Photo by Will Kirk, Homewood Photography
December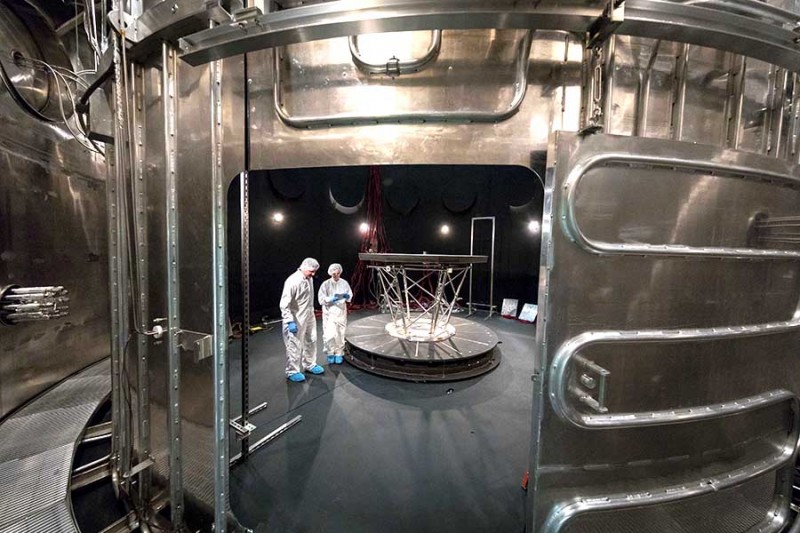 Photo courtesy of NASA/Johns Hopkins APL/Ed Whitman
The thermal protection system for the Parker Solar Probe—the first-ever spacecraft to touch the sun's corona—is lowered into the thermal vacuum chamber at NASA's Goddard Space Flight Center. This key piece of engineering that will permit the spacecraft to perform two dozen close flybys of the sun was developed by APL and the Whiting School of Engineering. The solar probe, launching next year, has been relocated from APL to the Space Flight Center for environmental testing.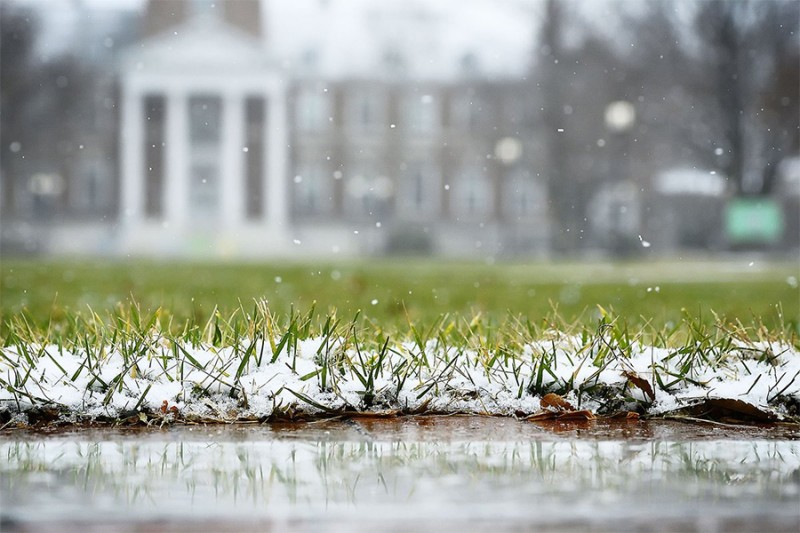 Photo by Will Kirk, Homewood Photography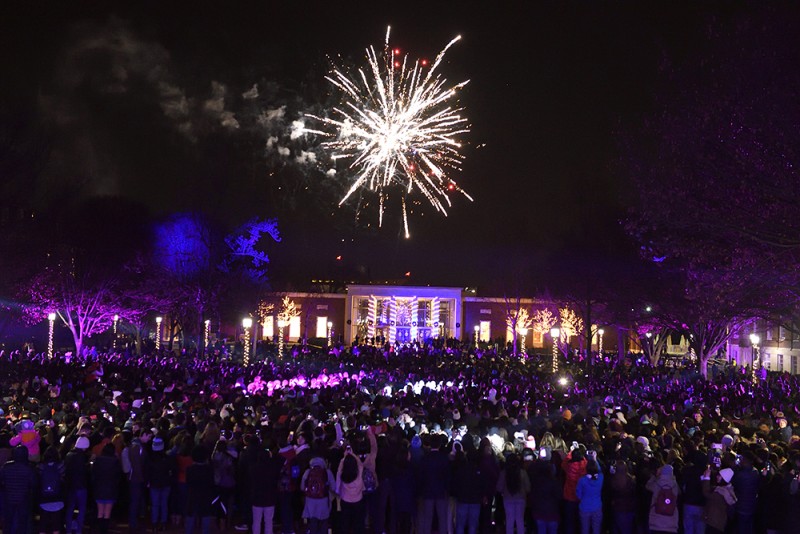 Photo by Will Kirk, Homewood Photography
The colorful celebration and Hopkins tradition, Lighting of the Quads, took place after two postponements. Fireworks, art installations, hot cocoa, and an iceless skate rink were just a few of the featured attractions that made the event well worth the wait.