Johns Hopkins engineering team honored at student design competition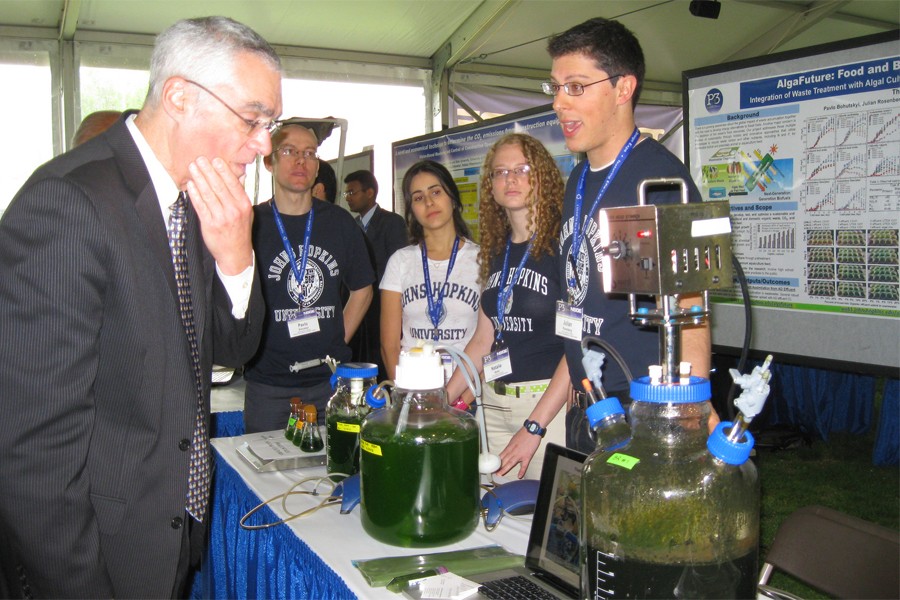 AlgaFuture, a project that aims to link wastewater treatment to algae cultivation for the production of biofuels and food for sustainable aquaculture, won the $1,000 American Institute of Chemical Engineers, Youth Council on Sustainable Science and Technology (YCOSST) Award last week at the 2013 National Sustainable Design Expo.
AlgaFuture was one of two Johns Hopkins student teams that traveled to the National Mall in Washington to show off their "green" ideas at the event, which was sponsored by the U.S. Environmental Protection Agency. As part of a program named P3: People, Prosperity and Planet Student Design Competition for Sustainability, the EPA provided $15,000 initial grants to each of the Johns Hopkins teams and to more than 40 other students groups from across the nation. The best student designs will receive an additional $90,000 in funding from EPA to advance their designs and bring them to the marketplace. The EPA will announce the winners of the additional P3 funding next month.
You might also like
Trending