Jeffrey Decoster ("When the Abuser Is a Child, Too," illustration) has created art for The New Yorker, The New York Times, and Rolling Stone, among others. His work often centers around serious editorial subjects, including war and mental illness.
Alise Fisher ("Spencer Grace's Last Gift") works in science communications in Washington, D.C. She is a graduate student in the Johns Hopkins Science Writing master's program.
Emily Flake ("Persistence of Vision," illustration) is the author of Mama Tried: Dispatches from the Seamy Underbelly of Modern Parenting. She lives in Brooklyn, New York, with her husband, daughter, and cat.
Tim Kreider ("Persistence of Vision"), A&S '88, is an essayist and cartoonist. His most recent book, I Wrote This Book Because I Love You, came out in February.
Eric Nyquist ("Physicist Walks Into a Cancer Lab," illustration) makes drawings, paintings, and collages that bring together the organic and the industrial. Past clients include The Atlantic, NASA's Jet Propulsion Laboratory, and Penguin Classics.
Paul Pegher ("Computer, P.I.") is a writer and editor from Boston's South Shore.
On the cover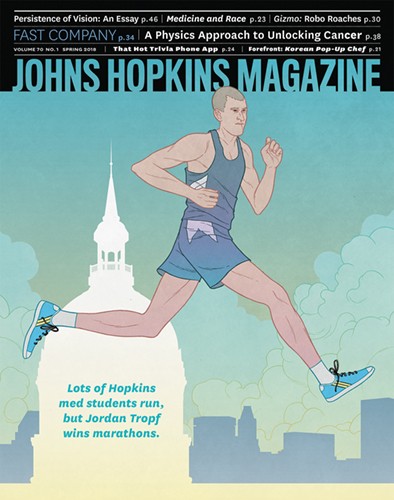 This issue, fourth-year Johns Hopkins medical student Jordan Tropf gets the comic book treatment. Tropf, who won the 17th annual Baltimore Marathon last fall, manages to squeeze in 3:30 a.m. runs before his busy days of surgical rounds, classes, and wedding planning. See the full story, written by Greg Rienzi and illustrated by Jon Adams (who has worked with Disney, Marvel, and Lucasfilm).