It has been two years since the World Health Organization first used the word "pandemic" to describe the global spread of COVID-19.
Today, the Hub reflects on how Johns Hopkins University and its people have responded to the pandemic, recognizing their admirable resilience, ingenuity, and dedication in the face of tremendous loss of life around the world, uncertainty, and adversity.
From the earliest days of COVID-19's detection and spread in January 2020, Johns Hopkins has played a critical role both globally and locally, as a trusted and indispensable source of reliable data and public health expertise.
An online dashboard created by two Hopkins engineers that tracked the virus's spread quickly grew into the de facto global source for COVID-19 data. By early March 2020, the map's tiny red dots denoting coronavirus cases had morphed into bright-red masses and the website was attracting millions of visitors per day. Lauren Gardner, the associate professor of civil and systems engineering who created and oversaw the map, changed the map's default view from a zoomed into overview of China to a view of the entire world.
Regardless of what language the WHO was using, the implication was clear.
"I put it off for a while because I knew as soon as we did that we were telling the world this is now a pandemic," Gardner told Johns Hopkins Magazine in April 2020 of the ubiquitous map that would eventually grow into the Johns Hopkins Coronavirus Resource Center. "I knew that when people refreshed their screen and all of a sudden they see the globe and not just a country, they were going to interpret that differently."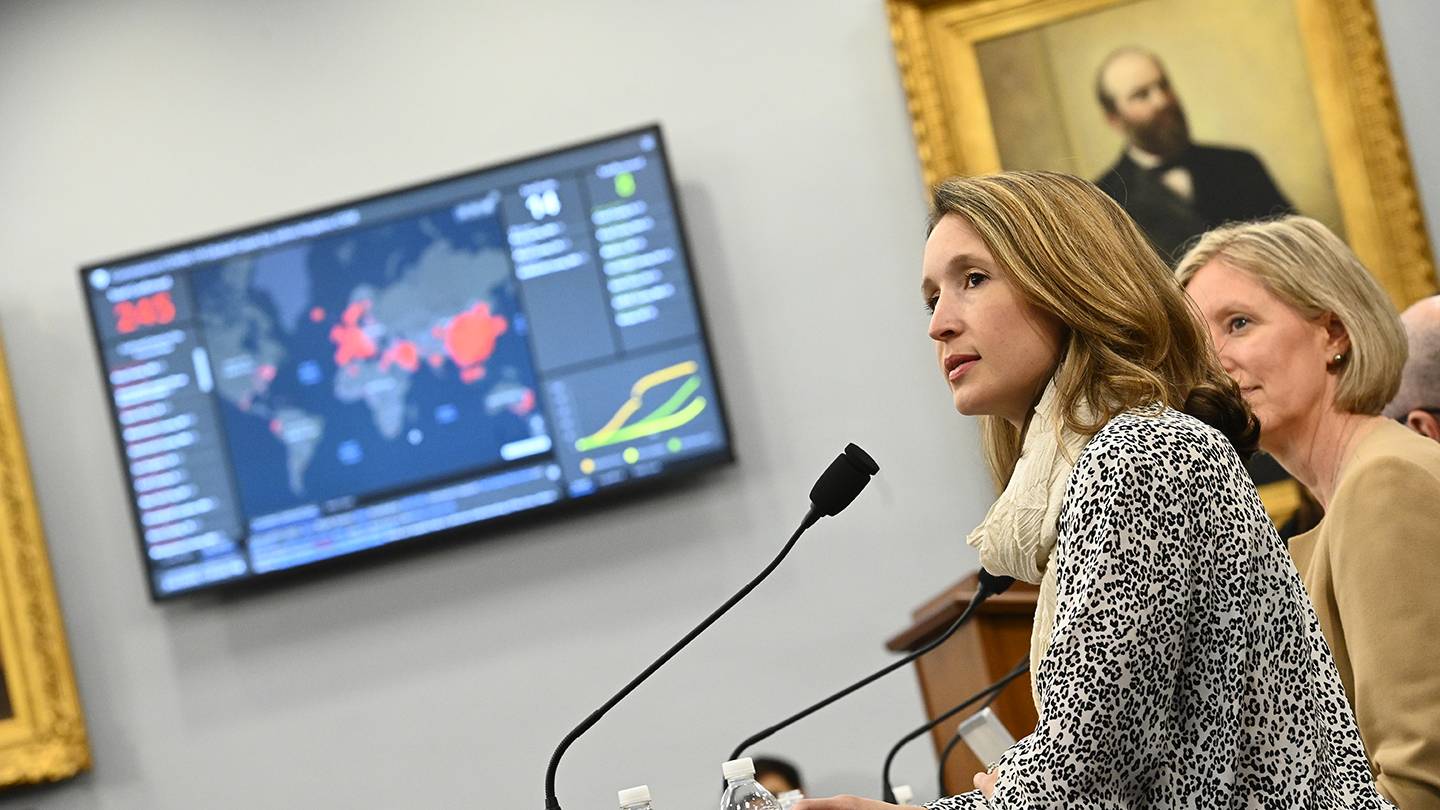 In those early days as the university transitioned its operations to respond to the spreading pandemic, Johns Hopkins University President Ron Daniels wrote in a message to the community:
"As we face the challenges posed by a fluid and rapidly evolving epidemic together, I remain profoundly grateful to each of you—our students, our clinical care providers, our faculty and graduate teaching colleagues, our staff across our campuses—who have and will continue to work tirelessly to adapt to these new circumstances in the furtherance of our core academic mission."

"I want to express particular appreciation to the many colleagues who have shared their expertise and insight in public health, engineering systems, infectious disease, and emergency preparedness with us, government officials here and around the world, and the public at large. You are honoring the best of our tradition and giving powerful expression to our core value of knowledge for, and service to, humanity."
In addition to lending expertise to conversations and news coverage of a mysterious, fast-spreading, and deadly virus, Johns Hopkins also responded closer to home—health care workers put themselves in harm's way and endured shortages in PPE and other vital supplies to care for patients as COVID case counts grew exponentially, and Hopkins volunteers rushed to address emerging needs in the community.
Among the first such commitments was the East Baltimore Food Access Initiative, an ambitious effort to provide emergency food support to thousands of Baltimore families affected by the COVID-19 pandemic. Each week, more than 7,000 Baltimore residents received boxes of groceries and fresh produce via the initiative. All told, more than 6.4 million meals were distributed, buoyed by the support of the initiative's volunteers and community partners, including Saval Foodservice, Hungry Harvest, and 20 faith-based and community organizations.
"Even during a pandemic, people still need shelter, they still need food, they still need help," said Alicia Wilson, vice president of economic development for JHU and the Johns Hopkins Health System. "We wanted to fill in the gap, and we wanted to work in the places where others would not. And in a moment when we were being told to disconnect, we needed to draw closer to our community and meet a need, whatever it might be."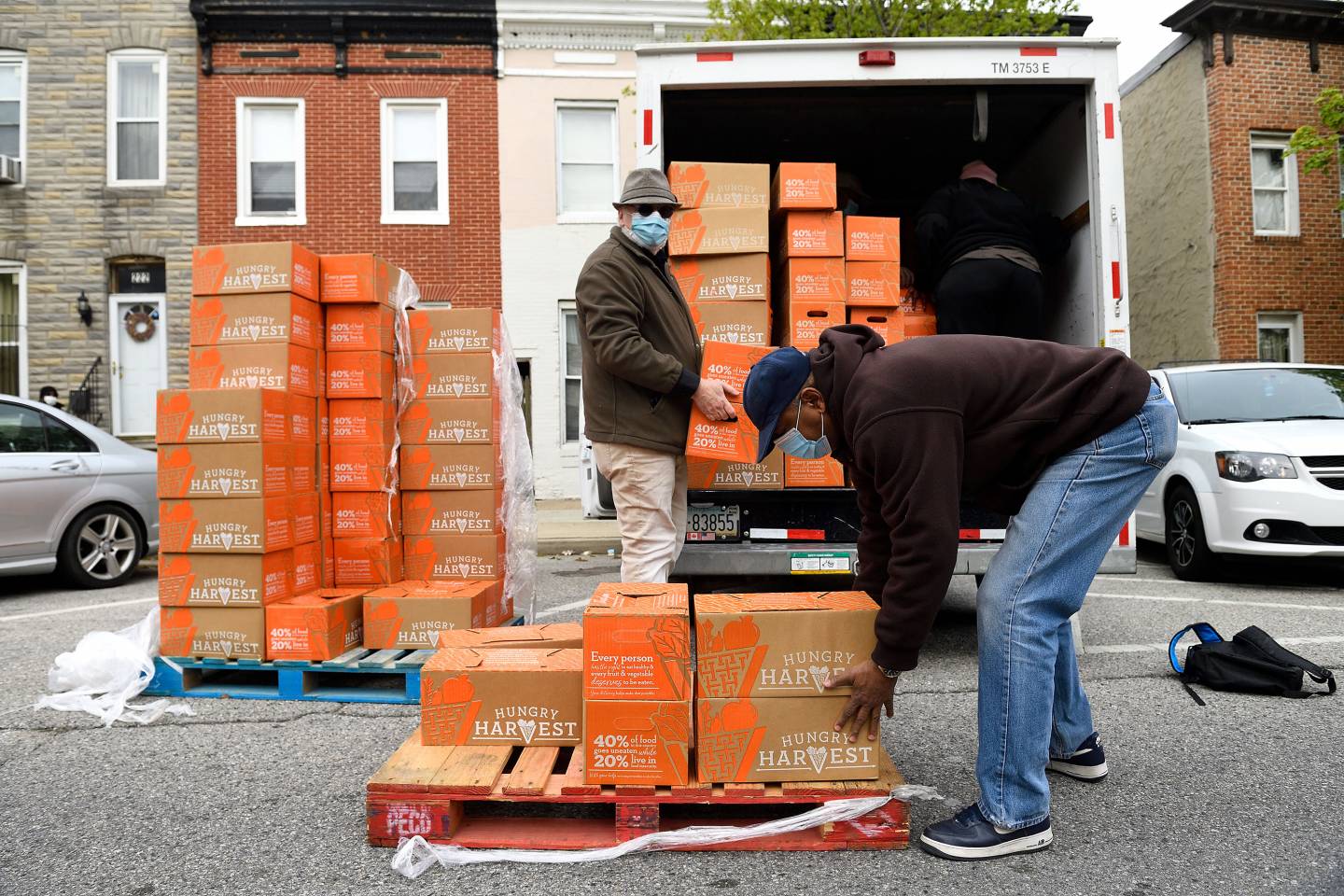 As the early days of the pandemic turned into weeks, then months, then years, Johns Hopkins employees and volunteers have continued efforts to meet community needs, by distributing critical public health information, ensuring access to COVID-19 vaccinations and boosters, and distributing masks and test kits. Students and employees have adjusted to new ways of learning and working, embracing new tools and technologies while navigating the pandemic's unpredictable ups and downs.
And health care workers have continued to care compassionately for the sick and dying on the front lines of an unrelenting virus, enduring variant-induced waves that strained hospital capacity.
In a recent message to the Hopkins Medicine community, Paul B. Rothman, who has spent the past decade as dean of the medical faculty for JHU's School of Medicine and CEO of Johns Hopkins Medicine, praised the health system's employees for their actions over the past two years.
"We have accomplished so much together, yet I am proudest of the way we responded to the pandemic," Rothman wrote. "I have watched JHM lead the world's response to this crisis with compassion, bravery, fortitude, and expertise. From day one, we delivered on our promise to our patients and our community, and have cared for thousands of patients in our hospitals and clinics under extremely trying circumstances. We can all look forward to coming out of this pandemic with a renewed appreciation of what we mean to the world and to each other. And while challenges remain as we emerge from the depths of the pandemic, they are no match for the optimism and resolve of the extraordinary people of JHM. You represent the very best that mankind has to offer."