Two-hundred forty Johns Hopkins students volunteered to help the Maryland Department of Health administer COVID-19 vaccines this past spring and summer, collectively contributing more than 4,000 hours of their time to a massive effort to help minimize the spread of the coronavirus and make communities in Baltimore and across Maryland safer.
On Sunday morning, 11 students leaders from that group met with JHU President Ron Daniels, who personally thanked them for their service.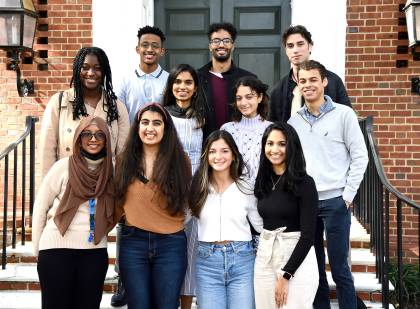 The students who met with Daniels served as shift leaders and coordinators with the Vaccine Volunteer Project, organized by the university to help the state meet the significant demand for vaccines during the spring and summer months. With more than 6,000 people signing up daily to be vaccinated at M&T Bank Stadium, for example, these non-clinical volunteers played vital roles. All told, the 240 Johns Hopkins students volunteered for a total of 4,052 hours at clinics across Baltimore as part of the project. Student volunteers from all JHU campuses were trained and coordinated through the Hopkins Engage platform.
One of the students, sophomore Tanvi Kosuri, served as volunteer coordinator for the program, assisting with administration and marketing. The other 10 students—sophomore Aanya Shahani, sophomore Damilola Kilanin , senior Alejandro Guerrero, sophomore Eyad Ali, junior Sadie Abboud, sophomore Mazin Elshareif, sophomore Manal Moid, sophomore Sonia Sarju, senior Miso Rashed, and junior Carter Swaby—served as shift leaders, contacting volunteers to ensure a full complement on-site, managing on-site expectations, and communicating with university and health department representatives.