"All in" is not just a phrase Avi Rubin throws around during poker games. It's a way of life.
Whether it's photography, boating, or his specialty field of applied cryptography, the Johns Hopkins computer science professor "never does anything halfway," says his wife, Ann.
Rubin's poker prowess outside the classroom has been well documented over the past 15 years since his younger brother, Yaacov, a senior finance official at Hopkins, introduced him to it.
But during January's Intersession, the 52-year-old professor had the opportunity to bring his passion into the classroom by teaching "Introduction to the Theory and Practice of Poker." His commitment to the course was evident: he had trophies made for various competitions he organized, he bought a domain name for the class—hopkinspokercourse.com, which houses all of his filmed lectures and course materials—he set up a students-only PokerStars.com page, and he hosted a tournament at his house.
"It was like a dream come true for him," his wife says.
Rubin wasn't the only one excited about the course, which did not involve gambling real money. Nearly 250 students registered for the class, including his daughter Elana, a junior Writing Seminars major. That made it the most popular Intersession course by far, representing 10% of the nearly 2,500 students who signed up for January classes.
"It's been amazing," Rubin says.
The poker professor was not so optimistic last year when he first started the process of getting the class approved. When two departments declined to sponsor the course, Rubin did it himself as technical director of the JHU Information Security Institute.
"I've been thinking about it and planning it in the back of my mind for years," says Rubin, who is also director of the Health and Medical Security Lab at Hopkins and a computer security consultant.
He spent months devising 783 PowerPoint slides, but could only fit 491 into the two-week course. Over the holiday break in December, with about a week left before the course began, Rubin tweaked the lectures on his laptop while on a cruise to Mexico with his wife and three children.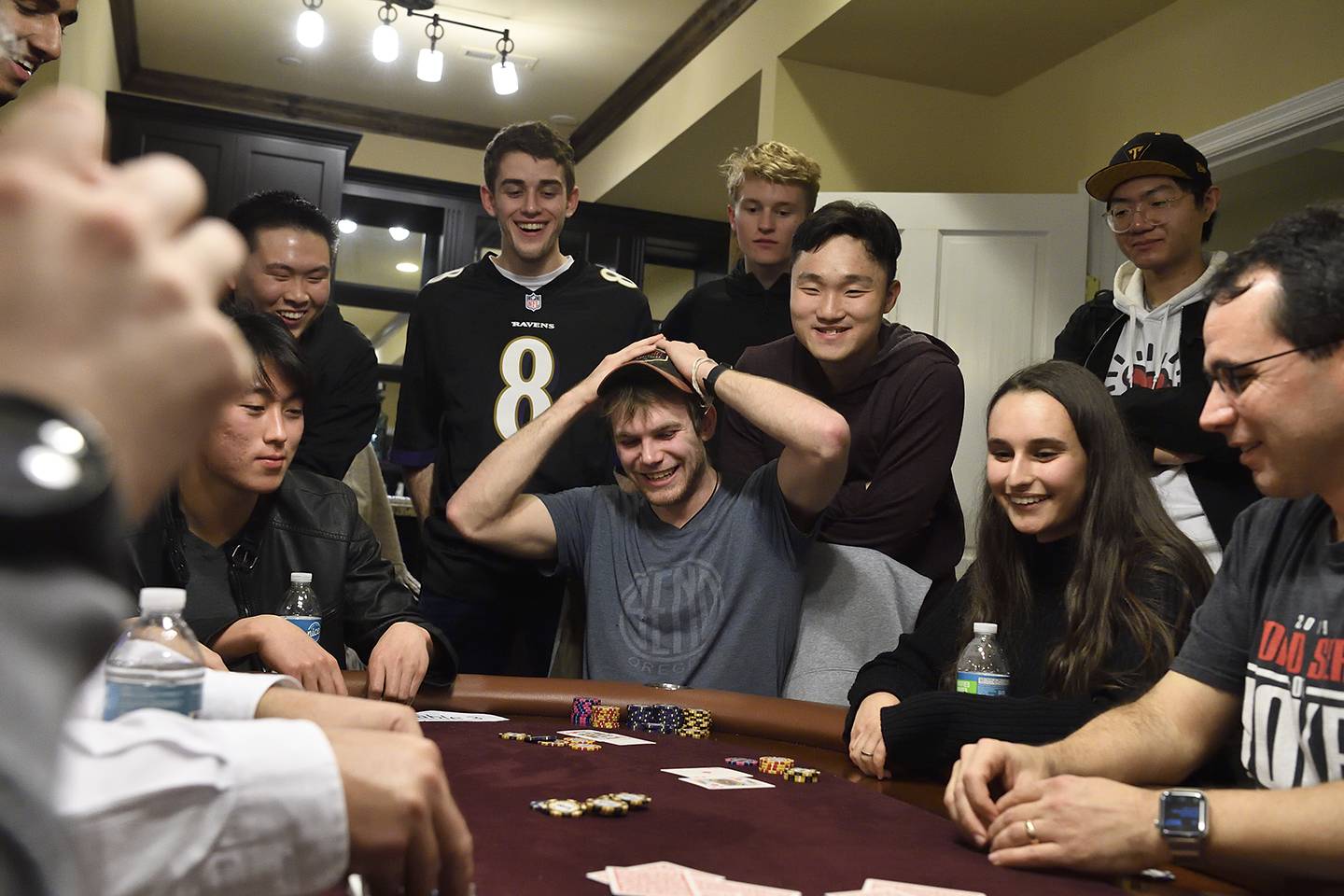 "I wanted the students to get an appreciation for the depth of the rigor that goes into poker," he said. "There is a lot of math and science to it. It's not just luck. It's a game of skill."
He hosted a final tournament for 52 students, most of whom earned their seats for performing well in the class' PokerStars.com tournaments. Hosting that many students on a Thursday night for pizza was no problem for Rubin: his Baltimore County house was built with a 950-square-foot poker room that he uses for monthly games with friends. It features three flat screen televisions mounted on the walls and five burgundy poker tables positioned across a gleaming mahogany floor.
Rubin paid for gift cards and glass trophies for the winners of various competitions, including a "professor bounty chip" for the student who could knock him out of his own tournament.
That's where Amber Hamelin, a 20-year-old sophomore from Pickerington, Ohio, comes in. Hamelin got the rare opportunity most students would covet—or dread: a chance to best her professor at his expertise.
While Hamelin had played poker before in high school, Rubin's course made it clear to her that she had no idea what she was doing.
But that didn't stop her from earning her way into the live tournament by solving a poker riddle before anyone else—a riddle that even Rubin wasn't able to solve when he first heard it.
That should have been a warning when he came face to face with Hamelin as a dozen students and Rubin's wife and three children crammed around the table to watch if she could beat the professor. With a dominant hand—a pair of queens—Rubin went all in. If he lost, he was out and Hamelin would win the professor bounty chip.
"I told myself that if I have a chance to go head to head with Professor Rubin to knock him out that I was going to take it no matter how bad my hand," said Hamelin, who studies applied math and statistics.
True to her word, Hamelin called with terrible cards: an eight of hearts and a nine of clubs.
But then she hit a winning five-card flush, giving Rubin what's called a "bad beat."
His goal was to offer an exhaustive curriculum that aimed "to take students from novices who may know nothing about poker to above average players, in two weeks," according to the course description. The class delivered on that promise for senior Andrew King, a physics and applied math major who won the live tournament.
"I never played a hand of Texas Hold 'Em poker before," said King, 21, of Towson, Maryland. "It's so random that at a certain point you can't really think about winning until you're the top three."
Shehryar Haris, 22, of Dubai, learned a similar lesson about luck's big swings. The senior international studies major earned a trophy by winning one of the class's two online poker tournaments. But he was the first player knocked out of the live tournament.
He was amazed at how much math and statistics went into winning poker. "It taught me how to do math on the fly," Haris said.
In addition to a guest lecture from Maryland poker great Steve Dannenmann, students learned just as much math as Machiavellian maneuvers. Lectures focused on calculating odds, how to "exploit passive players," and "deception."
Even before his class, however, Rubin was instructing students interested in poker when a group started the Johns Hopkins Poker Club last spring. The group meets on Wednesday nights at Levering Hall and, like Rubin's class, uses only fake money.
Siddharth Arun, president of the Hopkins Chess Club, said he took Rubin's course to learn about poker's psychological elements and to learn how to make the best decisions with limited information.
"A lot of the game revolves around psychological advantage and how well you can control your mental acumen during the game," said the senior biomedical engineering major. "Understanding strategy is helpful for decision making and having a logical train of thought. As an engineer that's how you break down problems."