Describing the vision of the Stavros Niarchos Foundation Agora Institute, political scientist Hahrie Han invoked its direct inspiration: the agora of ancient Athens, a public gathering space where the ideals of modern democracy first took shape several centuries ago.
The agora was "a place where people came together—people who were different—to learn how to disagree with each other," said Han, who was named the SNF Agora Institute's inaugural director this spring.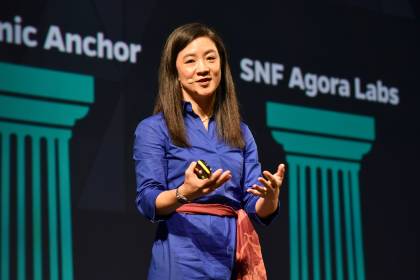 "As humans, we are not born with the capacities for what it takes to engage in democratic society, but instead those capacities are cultivated," she said. "And that's why these [spaces] like the agora are so important to us."
Han spoke these words, appropriately, in Athens, where the SNF Agora Institute at Johns Hopkins University hosted a workshop yesterday, titled "Talking (and Listening) Across Divides," part of the Summer Nostos Festival, an international festival organized by the Stavros Niarchos Foundation as part of its monthly DIALOGUES series.
Founded in 2017 with a $150 million gift from the foundation, the SNF Agora Institute is devoted to strengthening democracy and examining the causes of polarization through dialogue, civic engagement, and the open exchange of ideas. For Han, a Stanford- and Harvard-educated political scientist, it was a chance to speak publicly as the institute's new director and to describe the institute's guiding principles.
As scholars and citizens confront today's threats to democracy across the globe, Han said the SNF Agora Institute will dive into critical questions: What choices can be made in the 21st century to realize democracy's promise? How do agoralike spaces and institutions make possible the democracy that we want?
"I hope that through this work we're able to push the boundaries of creativity to their limits, knowing that we might take risks, but that those risks are the kind of risks that we need to take to engage the world we have right now, that we're able to break down the silos that traditionally divide us, [and] that we're able to integrate research and practice and bring data to bear on some of the most complex questions that we have before us," she said.
"What choices can we make now in the 21st century to realize democracy's promise?"
#SNFAgora Institute Director @HahrieHan describes the power people and organizations have to cultivate civil engagement across the political spectrum. #SNFDialogues pic.twitter.com/TXicT7vtPF

— Johns Hopkins U. (@JohnsHopkins) June 26, 2019
The conference brought together a diverse group of scholars and practitioners to examine different questions of bridging political and ideological divides. Panels explored lessons from the end of Apartheid in South Africa and the nation's truth and reconciliation commission, as well as perspectives on refugee integration and the topic of coalition building.
That latter panel featured Johns Hopkins historian Martha Jones in conversation with Marc Morial, president and CEO of the National Urban League and former mayor of New Orleans.
Embarking on their discussion of race, politics, and personal histories, Jones, who teaches in the Department of History in the Krieger School of Arts and Sciences, shared a quote from the abolitionist Frances Ellen Watkins Harper: "We're all bound up in one great bundle of humanity."
It's "the idea, when we come to rooms big and small, we begin with this deep assumption that we are all bound up together," Jones said.
Added Morial: "I fundamentally believe that one of the most important things we can do is to create environments where young people have an opportunity to build cross-racial, cross-cultural, and cross-national friendships. I think that if we do not instill a sensibility in young people—a sensibility and an understanding to get to know people beyond stereotypes, beyond perceptions, beyond predispositions, beyond learning—then is it so much more difficult later on to do."
The United States, he said, is pluralistic and multicultural. "It becomes a mixture, it becomes a gumbo, it becomes a mosaic—and within all of that, you're trying to build a country where people feel they have a seat at the table, a say in what goes on, an opportunity for meaningful prosperity. And that's the goal, that's the challenge of 21st-century America."
To view the full video of "[Talking (and Listening) Across Divides," visit the Johns Hopkins University YouTube.