A few years ago, J.J. Reidy applied to business schools selling a somewhat grandiose vision: an urban farming system that could disrupt an entire city's food supply chain. Instead of shipping in produce from out-of-state or even local farms, cities could grow it on their own. Not in quaint corner plots or community gardens but on a commercial scale. On rooftops. Without dirt.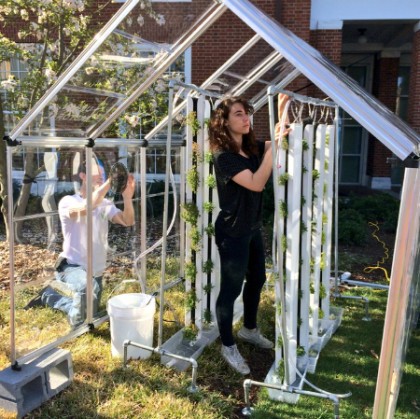 Reidy had seen the so-called "vertical farming" systems succeed in places like Montreal and New York City. He wanted to join this new wave of food entrepreneurs "tapping into a global, growing movement that's changing the way we're designing our cities," he says.
Reidy set his sights on the Johns Hopkins Carey Business School and the city of Baltimore. But before starting the program, he took a summer detour, moving to an organic farm commune in Vermont.
"I thought, if I want to be a farmer of the future … I first have to be a farmer of 10,000 years ago," Reidy says.
At Earth Sky Time Community Farm, he tended chickens, rode tractors, and worked in greenhouses. He also managed farmers markets that ran on old-fashioned bartering rather than money. The farm owners joked that he wouldn't need business school after that.
But Reidy did pursue his MBA, which he received last month. And now he's busy launching his startup, Urban Pastoral, in Baltimore along with team members Julie Buisson and Mark Verdecia. The team is starting out with partnerships with food services contractor Bon Appétit (and by extension, Johns Hopkins) as well as the Baltimore Food Hub, an ambitious, $16 million campus for local food entrepreneurs planned for East Baltimore. Last week, Urban Pastoral and other Food Hub partners participated in the first "Made in Baltimore" vendor fair at Lexington Market.
Ultimately, Reidy intends to fulfill his original vision for a commercial-scale urban farming facility that he says could produce more than 300,000 pounds of greens and herbs in Baltimore each year—"enough to feed an entire school system, or an entire hospital."
To do this, the team will need a rooftop with more than 20,000 square feet to build upon. Urban Pastoral is currently exploring two options: the old Hoen Lithograph factory in East Baltimore, and the former Gwynns Falls Park Junior High School building in West Baltimore, which the Green Street Academy charter school is expected to move into this fall.
The farming system will rely on hydroponics, which delivers nutrients to plants via water, requires no soil, and produces no waste. The guiding principle is that of "vertical farming," ideal for urban environments. A controlled climate also makes it functional year-round. Investors are paying attention as more entrepreneurs explore this concept worldwide—through profit-making ventures like Brooklyn-based Gotham Greens, which supplies to dozens of retailers including Whole Foods.
Reidy—who also envisions retail partners in the future, along with possible work with government agencies—believes this could be a game-changer for Baltimore. Like most places in the U.S., the city ships in the majority of its produce from other states, primarily California. That state's current severe drought demonstrates one of the glaring flaws of this supply chain.
The firm has already signed a letter of intent with Bon Appétit Management Co., a major food service provider for not only Johns Hopkins University but also other groups in Maryland, including Goucher College and St. John's College. The agreement lays out Bon Appétit's commitment to purchase food from Urban Pastoral, replacing some of its current providers, according to the company's resident district manager, Norman Zwagil. This arrangement could possibly involve the Baltimore Food Hub.
In the meantime, Urban Pastoral is also working on smaller-scale goals. The first visible step of progress will be a greenhouse designed from a shipping container, intended to supply food to local restaurateurs as well as Bon Appétit. Reidy's currently working out a location with the nonprofit Humanin in East Baltimore. He hopes for the greenhouse to be up and running by the end of summer.
Eventually the goal is to move that greenhouse to the campus of the Baltimore Food Hub, which after years of delays is slated to see construction progress soon.
One future step for Urban Pastoral will be to hire a greenhouse engineer to add to the current small team of Verdecia, a scientist who's pursuing his MBA at Hopkins, and Buisson, who earned her master's and MBA through the Design Leadership Program run jointly by Hopkins and the Maryland Institute College of Art.
The team is currently working to drum up funding. It received about $10,000 by participating in Johns Hopkins' Social Innovation Lab, and Buisson just scored another $10,000 by winning a LAB (Launch Artists in Baltimore) Award at MICA for her greenhouse design.
There could be more greenhouses in the future for Urban Pastoral, and Reidy hopes to launch a rooftop facility by the end of 2016.
For skeptics who tell him, "You can't feed a city with urban agriculture," Reidy has a retort ready: "There's no other option."