Christopher Beer is interested in trash. The collection the young curator pulled together for Synergy—the art exhibit now on display in Gallery Q at the Milton S. Eisenhower Library—creates new expressions for discarded junk. Fish sculptures are crafted from rusted old bike frames, shovel heads, and toaster parts. Retired garden hoses coil around one another in the shape of a large egg. In one photo, an octopus drapes over a dismantled camera.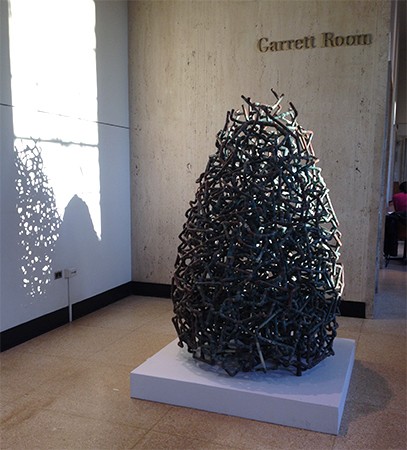 For Earth Day on Wednesday, the art will extend outdoors. From 8 a.m. to 1 p.m., thousands of empty bottles and cans will sprawl like a river across the Beach at the university's Homewood campus. Beer calls it a "community-built sculpture."
Beer, a master of fine arts student at the Maryland Institute College of Art, is working with a team of partners to orchestrate the temporary installation. He's hoping the scene will catch attention from drivers and pedestrians on Charles Street. At the end of it, he says, "we're going to take a lot of photos and then we're going to clean it up and recycle it" at Johns Hopkins.
Eight Baltimore City public schools and the Baltimore Lab School are pitching in to donate recyclables. The event also functions as a bottle-and-can exchange, giving 5 cents per container.
The "River of Recyclables" concept comes from local designer and activist Bridget Parlato, who heads the Baltimore Trash Talk initiative. Parlato has staged two similar events in the past, in the city's Patterson Park, as a visual response to littering problems in her neighborhood. Beer sought her out for that reason, wanting to add an interactive element to his exhibit. "We want to bring this spectacle to a new crowd," he says.
Beer displayed a few of Parlato's posters for Synergy. The exhibit, which runs through May 22, also features the work of three other local artists. Sculptor Brent Crothers is responsible for the conspicuous egg-like pieces at the center of the hallway, made from reclaimed industrial materials. Along the wall is a series of photos by Max Shuster, merging marine life with toxic e-waste. And displayed fish-market style, as slabs along a table, are the imaginative sculptures of "master tinkerer" Leonard Streckfus. The art is accompanied by essays on environmental issues by two Hopkins students, sophomore Hannah Farkas and senior Justin Falcone.
Synergy is Beer's thesis project at MICA, as he prepares to graduate in May with a master's in curatorial practice. When talking about his exhibit, he refers to interests in consumption, sustainability, water conservation, and local activism. He also cites as inspiration the 2007 animated documentary The Story of Our Stuff, which follows the life cycle of material goods.
Beer says he chose the Hopkins site because the MICA partnership was already there: MICA student Xiaotian Yang helped develop the Gallery Q exhibition space last year.
For the "River of Recyclables" installation on Wednesday, Beer and his partners are encouraging people to post pictures of themselves sorting recyclables, with the hashtag #recyclerun. The event is supported by the JHU Office of Sustainability. A full list of Earth Week activities is available online.