After he was hired in April 2020, Pete Milliman waited eight months to take his first steps onto Homewood Field, primarily out of deference to a team that he had yet to meet in person. If his players couldn't be on the Blue Jays' home turf—and they hadn't since the 2020 season ended prematurely in March owing to the COVID-19 pandemic—Milliman wouldn't set foot on it either, not even for a ceremonial minute to recognize his new life as the Johns Hopkins men's lacrosse head coach. "I wanted to be respectful," he says, "and wait for the guys."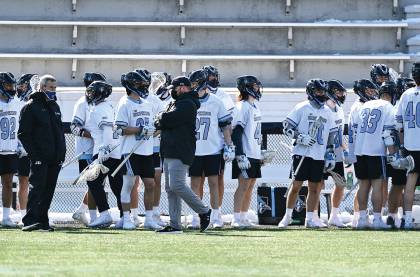 As Milliman and I talk just after New Year's Day, he can't seem to get off the field. The 57 members of the team are back early from winter break on a mostly deserted campus, and have been cleared to practice under pandemic protocols that lengthen everyone's days. What would be a single 90-minute practice with the entire roster in any other year has been minced into several hourlong sessions involving groups of only 10 and noncontact drills. Per Big Ten rules, a COVID-19 antigen test is given each day before team members practice. Players at all times wear masks beneath helmets, and there are strict limits on how long, and how many, people can be in the locker room, with shifts staggered and allocated to the minute. "Am I good?" is a common question at the entryway.
The result is that, for the first weeks of practices, Milliman, with offensive coordinator John Grant Jr. and defensive coordinator Jamison Koesterer, was on the field for roughly six uninterrupted hours daily. "It's almost like summer camp in a way, you're just coaching all day," Milliman says, referencing the sunrise to sundown slogs typically young lacrosse coaches endure. "But it's been so long since we've been on the field, I'll take it."
Milliman's previous hesitancy to step on the turf for months also speaks to his reverence for his new role. Coaching on iconic Homewood Field in the shadow of the $10 million Cordish Lacrosse Center is far from the relative anonymity of his first head coaching job a decade ago, at tiny Pfeiffer University in rural North Carolina. Around the Homewood campus and in alumni circles, the men's lacrosse coach might possibly be the most visible person outside the university president, though, for now, few would recognize Milliman's 41-year-old, black-bearded face, given that it hasn't yet appeared in front of a home crowd. In the sport, his job is arguably the most coveted. He's one of only 23 to hold the team's head coaching title, a lineage that started in 1883 and includes names that many of college lacrosse's individual awards are named for, like Bill Schmeisser (defensive player of the year) and Howdy Myers (man of the year). In roughly 130 years of team history, the Blue Jays have won 44 national championships, produced 184 first-team All-Americans and 72 Lacrosse Hall of Fame inductees, and accumulated a vast catalog of historic moments.
"I want to be the leader of Johns Hopkins lacrosse, but the guys coming out of the locker room are the ones that are driving it. This is their team. I'm just steering it."
Pete Milliman
On April 27, 2020, which feels like a lifetime ago, the Johns Hopkins Athletics Department released a statement that Milliman—then head coach at Cornell—would replace former Blue Jays coach and legendary defenseman Dave Pietramala, who had agreed to a "mutual parting of ways" with athletic director Jennifer S. Baker a month earlier after 20 years leading his alma mater, a run that included a program record 207 wins and two national titles. But the last of those national championships was in 2007, and the last title game appearance in 2008, too long ago in the eyes of some for the celebrated program.
"I have to state the obvious," Baker says. "Hopkins has a long-standing tradition of winning national championships, and we haven't competed for one in quite some time. Pete's got a strong track record of being able to build success at Cornell, another high academic institution, with a long storied tradition of lacrosse, and I have no doubt that he can be successful at Hopkins. I'm looking for a program that's culturally built the right way, that creates the kind of sustained success we're known for. It is precisely that simple and precisely that challenging all at the same time."
There's a certain scrutiny that comes with high expectations, with which Milliman is familiar given his experience at Cornell, a perennial Ivy League championship contender with three NCAA titles. In three years as Cornell's head coach, Milliman tallied a 28-10 record, including a 13-5 mark and an NCAA quarterfinal appearance in 2018. In 2020, the team was 5-0 and ranked second nationally before the season was abruptly canceled. Today, Milliman not only faces the task of building a consistent national contender in a growing, more competitive lacrosse world but has the added challenge of being the first Blue Jays head coach since Tony Seaman back in 1998 without a direct connection to the university or lacrosse program.
"It was clearly a break from tradition," says Quint Kessenich, ESPN's longtime lead lacrosse analyst and former All-American Johns Hopkins goalie. "This is a fresh start. This is somebody who will show up at an alumni event and not know 90% of the room. The Hopkins supporters have to learn coach, and coach has to learn the Hopkins culture."
Milliman says he wants to respect Hopkins' heritage, not just the culture of winning physically represented by the trophies and photographs that fill the Cordish Center lobby, but the spirit infused by the passionate alumni and the traditions, like throwing bananas to standout players after each game and the band chanting "We want more!" after each goal. (When fans return, that is.)
"I don't think this is an entirely different program from where I just was, but it's different enough where I can't just bring that structure here and put it in place," he says. "I got to get to know this one a little better."
Before he was hired, Milliman had only been to Homewood Field twice, once on the opposing sideline as an assistant coach with Princeton and before that as a fan in the stands. That first time was back in 2004, when fresh out of college he traveled from his native western New York to watch a former Gettysburg College teammate play goalie for Maryland in the 100th meeting of the Blue Jays' historic rivalry with the Terps. The 118th renewal of "The Rivalry" will be held this year on March 6 at UMD's Capital One Field at Maryland Stadium. Johns Hopkins, Maryland, and most Division I programs will begin the season with no fans in attendance out of an abundance of caution for health and safety. In another sign of these times, the Blue Jays season opener, set for Feb. 20 at home versus Ohio State, was announced only the week before, with the second half of the schedule TBA. Cheering crowds or not, before Milliman leads his team out onto the field, he realizes there's a lot of work to do, and respect must be earned.
"I'm not one of those guys who walks in and slaps up all the locker room signs and hands out the directive of who I am," he says. "I don't feel like this is my team. There's times where I have to motivate guys, there's times where I have to make tough decisions. I want to be the leader of Johns Hopkins lacrosse, but the guys coming out of the locker room are the ones that are driving it. This is their team. I'm just steering it."
After just a few days of in-person practices, team leaders like senior midfielder Cole Williams and junior attackman Joey Epstein were already repeating a few of Milliman's guiding principles. In separate conversations, they mentioned their new coach is looking for "efficiency," which isn't as stuffy as it sounds. "You're typically not coached to shoot sidearm," Williams says, "but if it's the most efficient way to put the ball in the back of the net, we can do it. It's not like one way or the highway."
That approach was apparent from the very start of Milliman's first official on-field business. On a chilly Monday afternoon, Milliman tossed a few rubber lacrosse balls at senior goalie Ryan Darby, to warm him up. A few minutes later, Milliman looked across the field to see Grant—an assistant he lured from the Air Force Academy and a former teammate with Major League Lacrosse's Rochester Rattlers—teaching a group of 10 players the nuances of his trademark behind-the-back shots you can find in YouTube highlights from Grant's playing days. Milliman, appreciating the moment in full, paused to take it in, and let the showboating continue. "I don't even know if I should say this," he says and laughs, "but that's the thing. Should they have been doing 'behind-the-backs' five minutes into practice? I don't know, but that doesn't jam me up. The guys are working hard at something. I don't script out a whole season of practice. If it's right, it's right. If it's wrong, I'll hopefully learn that and find a better way to do it."
The book of Pete" is how Milliman's wife, Megan, refers to her husband's journey thus far. It starts with growing up the son of a single working mother in Rochester, New York, and includes the sudden death of his estranged father two weeks before Milliman was offered the Hopkins job. The two had bonded mainly over his father's career as a chef, the only occupation, other than lacrosse coach, Milliman seriously considered pursuing. Milliman hadn't seen his father since his wedding four years ago and can only surmise the cause of his death, a history of respiratory problems. Couple all this with having two young kids (ages 3 and 1) and relocating to Baltimore during a pandemic, and Milliman takes a deep breath when he thinks about it all, interrupting his usual straightforward, unflinching speaking style. "These last eight months have been a blur," he says.
Milliman picked up lacrosse in ninth grade as a way to stay in shape for high school football and fell in love with simply holding the stick, something he still likes to do as coach. He also embraced the sport's indigenous roots, which favor a free-flowing approach to the game. He first learned of lacrosse's Native American origin story at a summer camp taught by former Bucknell coach Sid Jamieson of the nearby Cayuga Nation and the only Native American head coach in the history of Division I lacrosse. Jamieson described the game as one of healing, or medicine, and it captured Milliman's attention.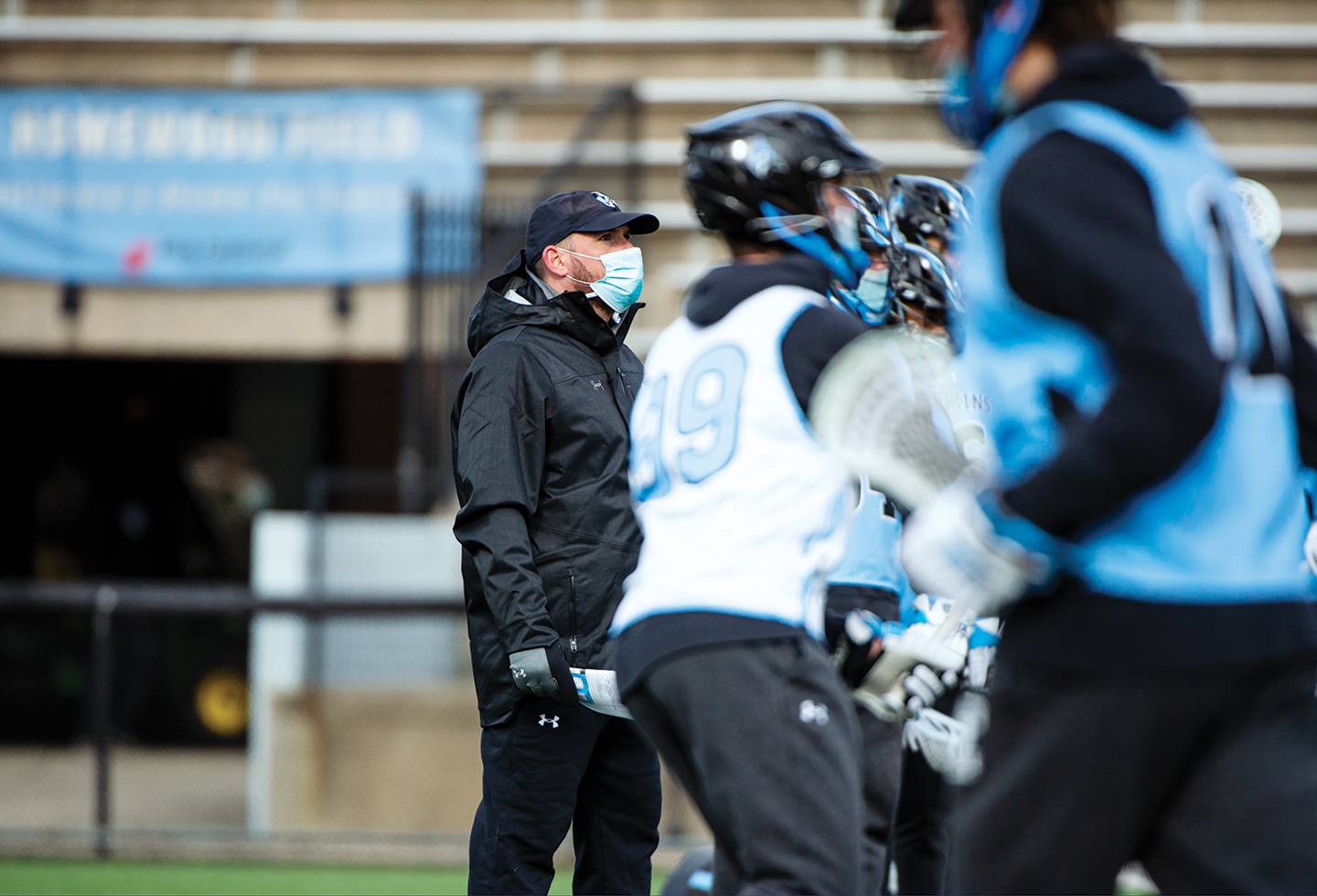 "It makes you feel like if you have a clear head and a clear heart, you're playing it the right way," he says. "That's something that I've always explained to my guys as I'm coaching them. I'm always going to teach you how to be successful on this field. And we're always going to play to win, but that's not why we're doing it. We're doing this because it fulfills us, because it makes us feel better."
Legendary Gettysburg College coach Hank Janczyk recruited Milliman after spotting him playing for McQuaid Jesuit high school in Rochester as a long-stick defenseman with great stick skills, and converted him to an attackman at Gettysburg after Milliman filled in on an offensive drill one day and "scored like 11 goals," Janczyk says. "His stick rarely failed him. It was so natural. It was part of his arm." Milliman left the school ranked second in program history in points (232) and was a three-time Division III All-American.
Maybe more important, though, during the recruiting process and Milliman's time at school, he and Janczyk bonded over their similar childhoods, growing up in Rochester with single moms. They remain close today. "I always felt we were kindred spirits," says Janczyk, who ranks second in wins in NCAA men's lacrosse history. "I loved his personality. He just loved lacrosse, and I loved the way he cared, and the way he handled himself. I felt pretty strongly about the kid when I first got to know him."
While Milliman starred on the field, he says he struggled with classes. He took a few semesters off over four years and left Gettysburg with no more athletic eligibility but a few credits short of graduating, something he still speaks about with regret. "I should've just stayed there, finished my degree, and then tried coaching," Milliman says. "But I couldn't afford it at that point, I didn't do well with finances, and I just didn't want to be in school anymore. I wasn't a disciplined kid. I was probably in my 30s before I would say I was, like, moderately disciplined."
View this post on Instagram
After his collegiate playing career, Milliman spent a few post-college wandering years tending bar and working in restaurants in upstate New York, while always keeping lacrosse a part of his life. He played four seasons with his hometown professional club, the Rattlers, winning a title in 2008, and started coaching as an unpaid volunteer at Rochester Institute of Technology working for his former JV lacrosse coach. He also came back to school in the summers to coach Janczyk's youth camps. If the coaching staff wanted to kill some time on a hot day, they'd tell Milliman to entertain the middle-schoolers with his electric wall-ball skills that he honed during his days throwing balls against his Rochester apartment complex. At night, Milliman talked shop with the older coaches.
In 2009, Milliman took the head coaching job at little-known Division II Pfeiffer University. The college, in small-town Misenheimer, North Carolina (population some 700), was once a high school and still had the resources of one. Notably, the Pfeiffer lacrosse team's practice field was slow to drain water. "I'd go steal some shovels from the maintenance shed, and we'd start digging a trench," he says. "We were literally digging ditches so we could play."
At Pfeiffer, Milliman lived alone on campus and rarely left while obsessing over his coaching directives: 1) keep players out of trouble; 2) recruit enough to field a team; and 3) then win. In addition to game planning, he drove the team bus his first year. He also mowed the grass, painted lines on the field on game days, and did the team laundry, all thankless tasks that he took pride in. From 2009 to 2012, Milliman's teams went 37-26. In his final season, they won a program-record 12 games and reached the Conference Carolinas title game, losing to eventual Division II national runner-up Limestone College (now Limestone University).
More relevant to this story than mere lines on a résumé, however, is that this one-man show forged Milliman's coaching identity. "It's about as hard as it gets for coaching, and it changed my life," Milliman says. "We needed to get better, but I didn't want to just get better players. I wanted to get a healthy environment. I wanted to be happy with what I was doing. That really is what has driven me since then."
Milliman eventually completed his undergraduate degree at SUNY Empire State College in 2012. And once he felt like he had guided Pfeiffer as far as he could, Milliman took a calculated risk, and a pay cut, to be a volunteer assistant coach at Princeton—at age 30—to jump-start his Division I coaching ambitions. The gambit worked. He was offered a paid job the next year at Ivy League rival Cornell.
"We needed to get better, but I didn't want to just get better players. I wanted to get a healthy environment. I wanted to be happy with what I was doing. That really is what has driven me since then."
Pete Milliman
Around the same time, he also met his future wife. After being introduced through a mutual friend, a former teammate at Gettysburg, Milliman asked her to go with him to a friend's wedding in Philadelphia. "He's a gutsy guy," she says. "To this day, he still says I still don't see what's wrong with that." She declined, but Milliman persisted and said on his drive back from Cornell he would go out of his way to meet her at Frostburg State in Western Maryland, where she was the women's lacrosse coach.
In his first season at Cornell, Milliman crossed paths with Jen Baker, who was working as an associate athletic director in charge of the Big Red Leadership Institute, Cornell's student-athlete leadership development program. Milliman made a good impression, she says, during a time when the department was navigating the fallout from an alleged hazing scandal in the fall of 2013 that cost Big Red head coach Ben DeLuca his job. Milliman and Baker were in the same department for four years before she left for Baltimore.
"He and I had numerous conversations around leadership challenges he would have on his team," Baker says. "I got some good insight into how he really thinks about developing student-athletes. He really wanted [them] to grow for themselves."
Milliman got his big coaching break in 2017 when his boss, Matt Kerwick, resigned after a 5-8 season. After leading Cornell to the NCAA tournament, Milliman got the full-time job, and started to build a reputation for teams with high-scoring offenses and aggressive defenses. In the pandemic-shortened 2020 season, Cornell averaged 18.4 goals per game, second nationally, and scored on 40% of its shots, tops in the country. And, as important, Milliman grew a reputation as a personable recruiter and a "player's coach," one who designs offenses to fit the strengths of players like Jeff Teat, one of Cornell's transcendent talents over the past four years. When Teat was the top target of his high school class, Milliman recruited him to Ithaca with a simple yet relatable message.
"I get the question, What's your style of offense?" Milliman says. "We want to score goals. I want the ball to go in the net as many times as we can. That's my style of offense." Teat liked what he heard. That said, the approach is not a shooting free-for-all. Like any coach, Milliman has a few non-negotiables, like unselfishness, an "immovable component" of his recruiting philosophy. "I'm not going to compromise the quality of the young men we get because of their ability on the lacrosse field," he says.
In March, after parting ways with Pietramala, Baker reached out to Milliman. "I didn't know if he would be interested or not, but I thought it would have been irresponsible of me not to at least ask the question," she says. He was, and Milliman beat out 10 candidates through three rounds of interviews with Athletic Department staff, a selection committee of alumni and stakeholders, and Baker, done exclusively over Zoom. Despite explicit instructions that it wasn't necessary, Milliman wore a full suit on camera for his final interview with Baker, though behind the scenes he propped up his laptop on packages of diapers.
"What came to light for me in the interview process was really his ability to articulate how each and every one of the experiences he's had along the way has put him on the path that he's on. And how he's grown as a coach, and where he still hopes to grow," says Baker, who also liked his approach to recruiting. "He understands that there are lots and lots of talented lacrosse players in any given year, but not everyone is the right fit for the program and what you want to build."
After he got the job, the Millimans dubbed the family basement Blue Jay Cave, and Pete started working remotely, recruiting his staff. In his introductory press conference, held remotely, Milliman spoke about the disappointment that he was unable to talk to his Cornell team in person to tell them the news of his hire. He also mentioned the excitement of meeting his new team through a Zoom call, during which he shared his vision for the season and years ahead, which thrilled the players—none of whom he had recruited to Johns Hopkins.
"He said, 'I'm going to the mecca of college lacrosse, and I'm ready to step in and be a winner right away,'" Williams says. "He wants to take us back to the times when Hopkins was in the Final Four every season. We were pretty excited. Like, this guy is ready to go."
They all hoped to practice on the field in the fall like normal, but those plans were scuttled because of the pandemic. The first practice, back in January, wasn't exactly climactic in a cinematic sense, given that only a fraction of the roster was there and it was on this nondescript back field, but it was meaningful. "It was Day One," Milliman says, "and it was really exciting to get going."