A Pumpless Ventilator
A team of Johns Hopkins engineers has developed a prototype for a pumpless ventilator that can run for 24 hours on a single 12-volt battery. Designed to operate on pressurized air and oxygen lines already available in hospitals or from simple pressurized air and gas sources in the field, the device has fewer moving parts than traditional ventilators and can be manufactured quickly and relatively inexpensively—factors especially crucial during the current pandemic.
The 3D-printed prototype includes three actively controlled valves, two sensors, and two mechanical safety valves for backup to keep the patient safe in case the main valves fail. The rest of the design depends on a control algorithm that ensures all critical requirements for medical ventilation are met. The team is also developing software to monitor multiple ventilators from a central location, such as a nurses' station. Linda McLean
Ventilator Splitter
A 3D-printed splitter developed by Johns Hopkins engineers will allow a single ventilator to treat multiple patients. Though medical professionals have expressed concerns about the safety and effectiveness of sharing ventilators, the team designed this tool to address those concerns.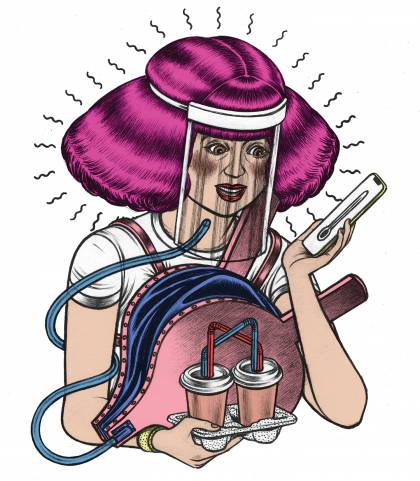 The new design includes an airflow controller and flow meters, allowing clinicians to monitor and adjust airflow for each patient. The air volume controller is a key addition because each intubated patient requires different flow control. The team is also adding a filter designed to prevent cross-contamination between patients—important because early reports suggest that those exposed to multiple infected people experience worse outcomes. Catherine Graham
Face Shields
To stave off a shortage of critical personal protective equipment, an army of volunteers is working nearly around the clock to assemble thousands of face shields a day for use by clinicians at Johns Hopkins. Michelle Azotea, Johns Hopkins Medicine's director of project management and implementation, built a prototype for the DIY face shield on her coffee table at home. Once the design was approved by Hopkins infection control clinicians, a daily rotation of volunteers began meeting in mid-March to cut, hot glue, and staple together the design. Each shield is composed of a rectangle of flexible clear plastic, a strip of foam that presses against the wearer's forehead, and an elastic band going around the head to hold it in place. Brennen Jensen
Temperature Tracking App
Engineers, epidemiologists, and physicians from across Johns Hopkins launched a new smartphone app that analyzes users' body temperatures in a study to predict geographical areas at risk for outbreaks of the novel coronavirus, giving public health experts and government officials critical information to inform decisions on mitigation, resource allocation, and deconfinement. The COVID Control app, available for Apple and Android phones, asks users to record their body temperature and other symptoms daily. Wick Eisenberg
Dialysate on Demand
In response to a request from New York–based hospitals, a team of nephrologists, nurses, and technicians from the Division of Nephrology and students from the Department of Biomedical Engineering developed a method to produce in-demand dialysate fluid for the type of dialysis used in intensive care. Dialysate has been in short supply because of the increase in acute kidney injuries among COVID-19 patients.
The nephrologists, who manipulated a conventional dialysis machine for the task, called on the expertise of the nurses and technicians from the Division of Nephrology to learn the ins and outs of the machine and how to make adjustments to override alarms. Sterile bags used for intravenous nutrition at the hospital were chosen to collect the dialysate, and a plastic piece 3D printed by students in Biomedical Engineering allowed the collection bag to be attached to the modified dialysis machine. Lisa Eddy