For most Johns Hopkins undergraduates, the college experience is filled with a long list of firsts—including the first election in which they are eligible to vote. With that in mind, JHU held its third annual Democracy Day on Saturday, offering students an introduction to the democratic process and the ways they can engage with it.
Much of this year's programming focused on the problems facing democracy, a theme JHU President Ron Daniels echoed in his opening remarks.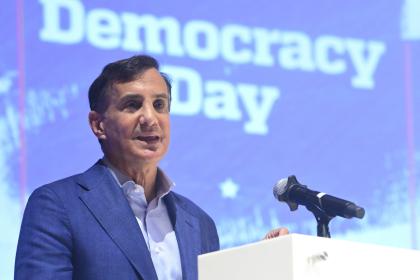 "Liberal democracy ... is not a self-executing endeavor," he said. "We have seen time and time again throughout history that it can be derailed through apathy and indifference on the one hand, and nativism and fear on the other. For democracy to survive and to thrive, it must always be re-examined, re-energized, and renewed by lawyers, historians, philosophers, elected officials, and organizers. By scholars and practitioners like those at our SNF Agora Institute and the Center for Social Concern. By the protestors who are in and outside of this room ... . And, critically, of course, by people like you. All of us have this role to play in helping liberal democracy achieve justice for all people."
Daniels also shared his family's personal experience with democracy and fascism, explaining how his Jewish father emigrated from Poland to Canada just six months before Hitler invaded in the late summer of 1939, narrowly escaping the Holocaust.
"I care, like so many of you, deeply about the health of liberal democracy," Daniels said. "Because of it, my father and his siblings were able to build lives of meaning and purpose, free from the specter of fascism. And yet their story very clearly also exposes the autocratic and illiberal strains that continue to lurk within even well-established liberal democracies."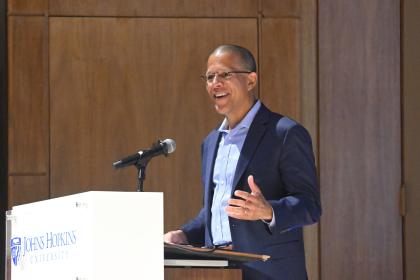 After his remarks, Daniels introduced Maryland Attorney General Anthony G. Brown, who previously served as the state's lieutenant governor and as a U.S. Congressman representing Maryland's 4th Congressional District. Brown stressed that democracy depends on more than just individual participation.
"The cornerstone of our democracy is inclusion," Brown said. "If our democracy is to live up to its ideals of true equality, then our democracy must reflect who we are. That requires not only your participation. That requires that you welcome and invite and even demand the inclusion of others."
Attendees also heard from SNF Agora Director Hahrie Han and faculty member Andy Perrin, whose research focuses on what people need to to practice democratic citizenship, and how institutions can foster those behaviors.
After the day's opening remarks, students dispersed to attend in-person pop-up seminars with SNF Agora and JHU faculty members. Each seminar was centered around a "leading problem" in modern democracy, such as corruption, issues in education, and the threat of fascism.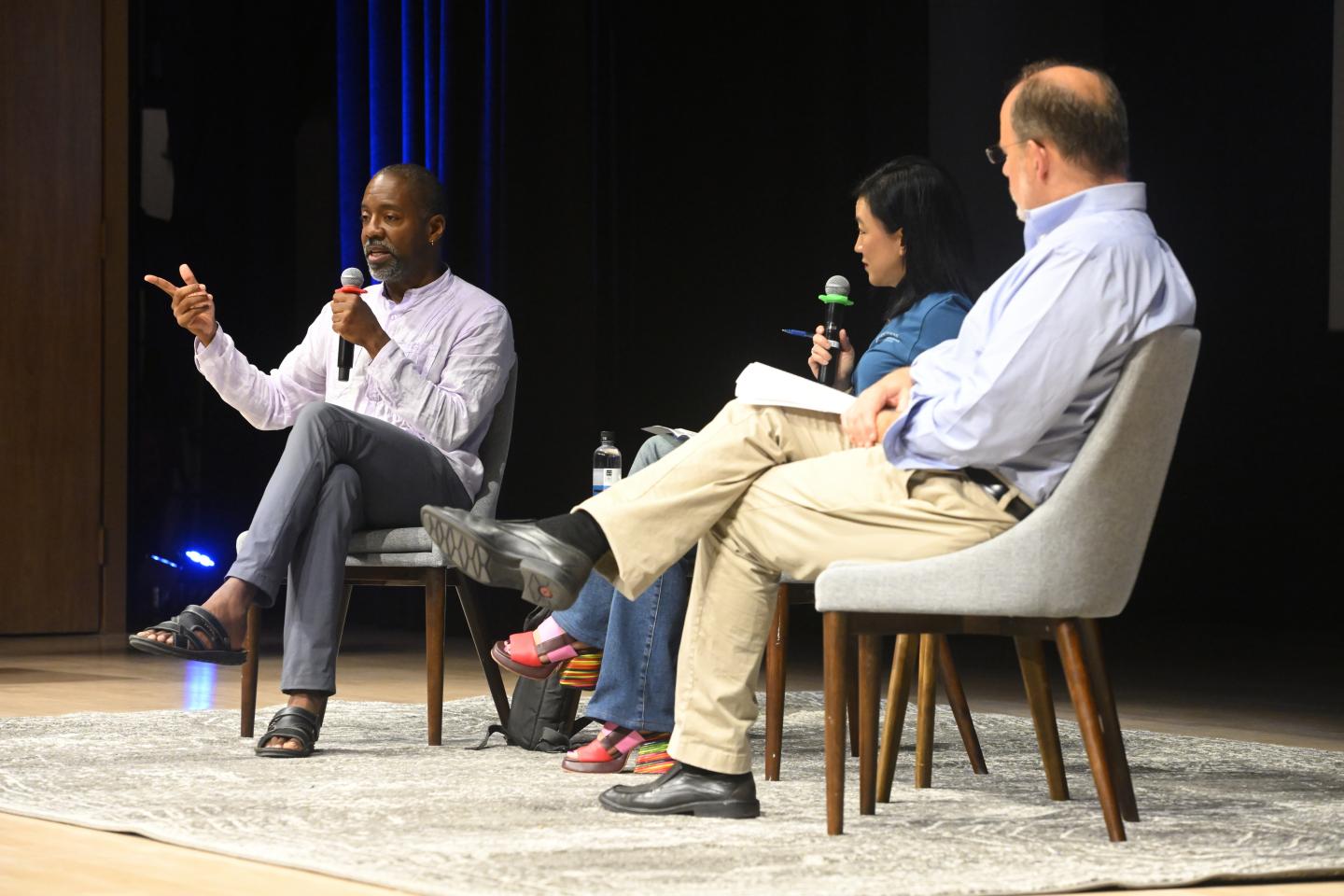 Alongside these seminars was Democracy Day's first-ever debate, held between political science professors Steve Teles and Lester Spence. The pair discussed whether higher education should be free, offering students a chance to hear from both sides of an issue.
First-year student Michael Newbold, who attended the debate, thought it was a great addition to the Democracy Day line-up.
"Personally, I have never seen something of this magnitude … play out at my high school or any venues I have been to before," he said. "This is an important event for all people, even if you're not necessarily into democratic studies."
First-year student Hussein Ismail agreed, stressing how vital it is for universities to promote open dialogues.
"The fact that [Johns Hopkins] has debates in general, open and accessible, allows us to strengthen freedom of speech and freedom of expression," he said. "It allows us to be more open to new ideas."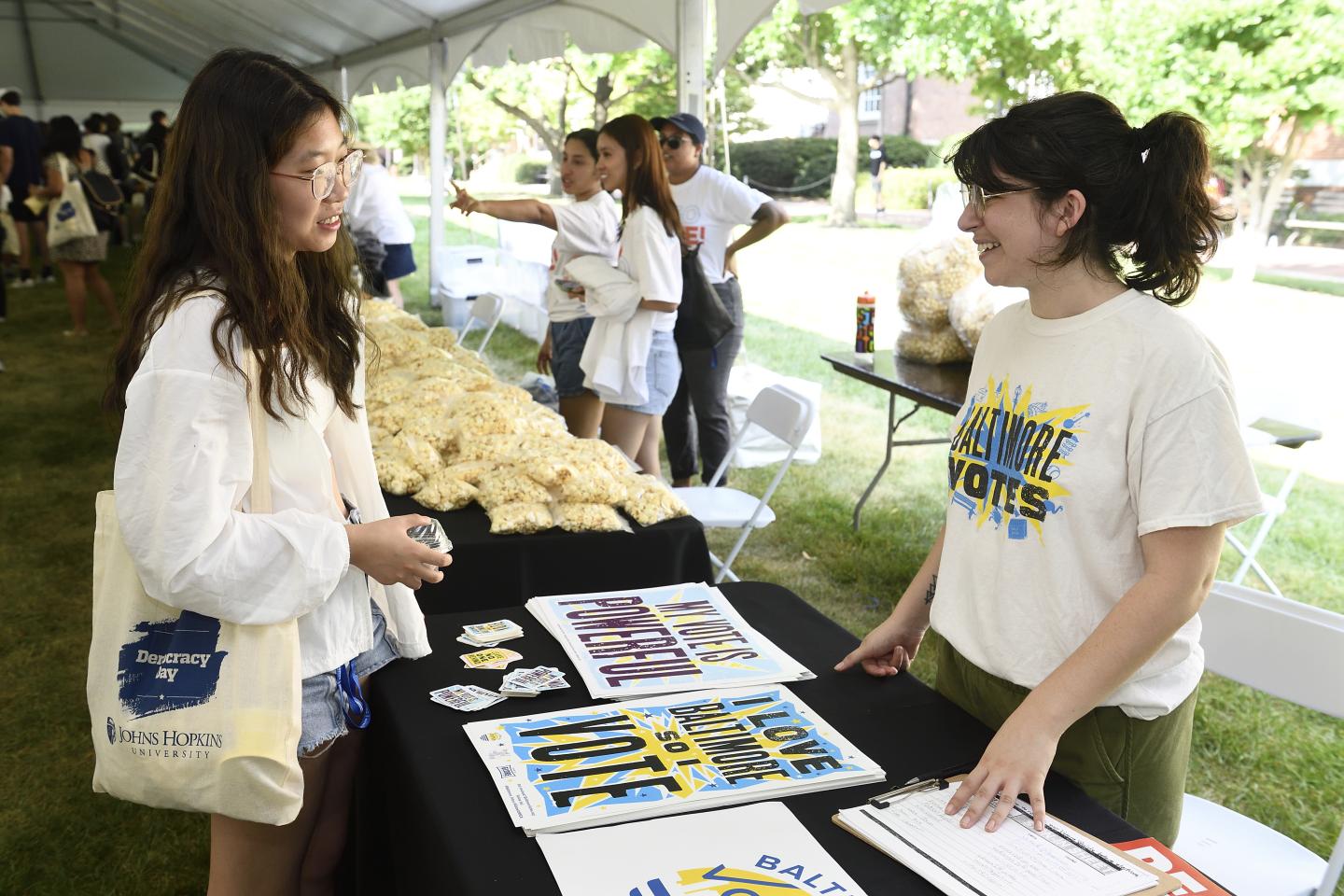 After the seminars and debate, Democracy Day concluded with its Community Engagement Fair on Wyman Quad. Here, students were able to register to vote in their home states with help from Hopkins Votes. The fair also featured booths from various local organizations and student groups, as well as a meet-and-greet with current JHU and SNF Agora faculty and fellows.
The Community Engagement Fair was meant to demonstrate different ways that students could get involved with democracy during their time at Hopkins, said Catherine Pierre, SNF Agora's director of communications.
"Democracy isn't just for political scientists," she said. "If there are students who are coming here thinking, 'Well, I'm just going to be a musician or an artist or a scientist or a doctor, so this democracy stuff isn't for me,' this is our opportunity to introduce them to the idea that there are a lot of ways that you can engage with democracy."