Stuck at home during the early months of the pandemic, Florence-Olivia Genesse and her sister Emma decided to start a TikTok channel as a kind of supplement to their graduate studies, which were now happening completely online.
"We wanted to find a way to share our research with as many people as possible," says Genesse, a student from Montreal who is studying legal philosophy at Johns Hopkins while her sister pursues a master's in feminist philosophy at a Canadian university. They called their channel the.sisofficial and began posting videos that combined catchy dance routines with feminist messages. Before long, the channel had more than 347,000 followers.
@the.sisofficial Please share to end domestic violence! This can save lives. #domesticviolenceawareness #endviolence #feminism #violenceathome ♬ Six Forty Seven - Instupendo
In late 2020, between videos about sexist school dress codes, the gender wage gap, and rape culture, the sisters posted a brief tutorial on the "Signal for Help," a gesture created by the Canadian Woman's Foundation that can be used when women need to communicate danger or distress discreetly. In the video, Genesse is on a FaceTime call with her sister, casually talking about her day while performing the signal—pointing her open palm toward the camera, tucking in her thumb and "trapping" it with her other four fingers. This video and a similar one posted a month later have collectively been viewed more than 11.5 million times. Below each one is a caption with a simple message: "This can save lives."
One year later, it may have done just that. In November 2021, a 16-year-old girl in Kentucky flashed the signal from the backseat of her abductor's car to a nearby motorist, who recognized the gesture and called 911. Local police were dispatched and the girl—who had been reported missing days earlier by her parents in North Carolina—was rescued. In news articles about the incident, the Genesses' video was included as one that helped the hand signal go viral.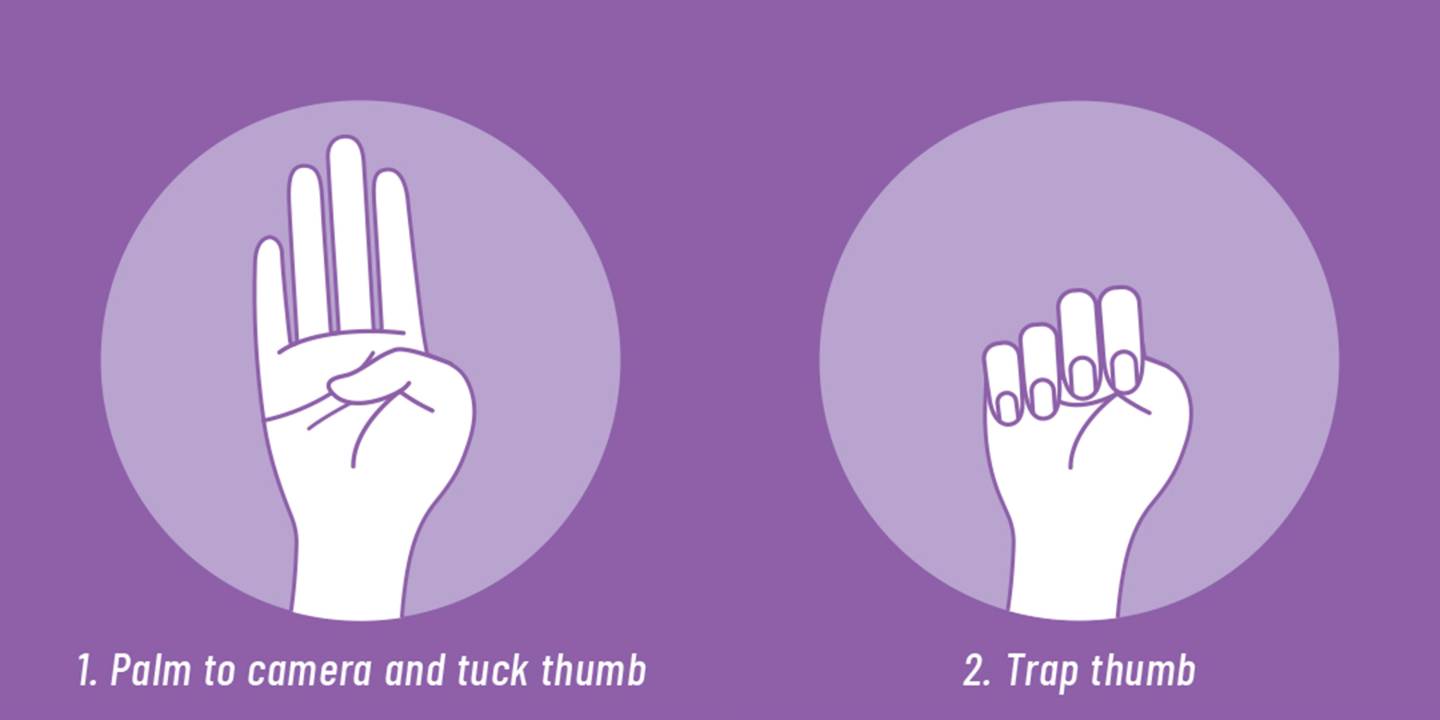 Genesse says that she was "in shock to see that it truly had an impact in someone's real life." The ensuing media coverage reminded the sisters that "what is important … is not the millions of views but rather the millions of lived experiences of individuals that we can have an impact on."
This reach and real-world advocacy is a major part of TikTok's appeal for teachers and mentors at Johns Hopkins, who have created popular channels on issues dedicated to mental health and homework tips. Genesse says her own studies have taught her the importance of "the democratization of research," not just for fellow academics, "but also those who don't have access to higher education or are not in this field of study." In addition to explainers on gender-based violence in countries like Poland, Mexico, and India, the.sisofficial also shares videos that break down feminist theory into entertaining and easy-to-understand morsels.
"It is extremely important for us to remember why we are doing this in the first place: ameliorating the lives of women and girls around the world."
Florence-Olivia Genesse
"The academic realm can be a little bit elitist sometimes," Genesse admits. "It is extremely important for us to remember why we are doing this in the first place: ameliorating the lives of women and girls around the world."
In addition to the "Signal for Help," the Genesse sisters have posted videos to assist women facing immediate danger. Designed to be played from the backseat of rideshare, one video features an older man reciting dialogue to recreate a phone call home. "We'll be waiting for you," he says, loud enough for the driver to hear. Another instructs women who are being harassed in a bar or club to ask the bartender for "an angel shot," a code that communicates the need for immediate assistance.
Genesse says that she and her sister often hear from followers thanking them for their educational posts—and that not all the messages come from women.
"We receive messages from men saying they did not know they could be a feminist, and that we have helped them see that the word 'feminist' is not a bad word."
Also see
Genesse is currently applying for doctoral programs in law and philosophy but plans to continue posting on the.sisofficial, despite the significant time commitment it requires. Genesse says she and her sister try to upload four to five videos a week, each of which requires days to write, practice, and perform. In addition to scheduling challenges, the subject matter can also take its toll on Genesse.
"It's extremely hard to work on these issues every day, but when we see the abuse still happening around the world, we return to our books and return to our work on [TikTok]," she says, adding that she and her sister consider them both a means to the same end. "What we want, through our academic research and our activism, is to advance women's rights."