Johns Hopkins University hosted its first ever Democracy Day on Saturday, Aug. 28, an event designed to prompt students—first- and second-year students in particular—to think critically about the political world they inhabit and their own rights and responsibilities as citizens and democratic actors.
JHU President Ron Daniels kicked off the day with remarks on the role of a university in a democracy, and the university values—like free inquiry and dissemination of facts—that are so critical to helping democracies thrive.
"Today is an opportunity for all of you to begin exploring some of the problems facing democracies alongside your professors and to ask the hard questions of what must happen for democracies to thrive in the years and decades ahead."
Ron Daniels
President, Johns Hopkins University
"Today is an opportunity for all of you to begin exploring some of the problems facing democracies alongside your professors and to ask the hard questions of what must happen for democracies to thrive in the years and decades ahead," Daniels said. "There is truly no better place to ask these questions than a university, because it is here that we approach questions with an attitude that is open to dissent, eager to exchange ideas with those who may think differently, and committed to arriving at truth. We are a place apart, a place where new ideas are born and refined through contestation, experimentation, and debate."
Following the kickoff portion of the event, more than 550 students participated in 20-minute pop-up seminars with leading Hopkins scholars on threats that imperil democracies—including disinformation and polarization, money's corrosive effect on politics, the shortcomings of civic education in the U.S., lack of access for marginalized communities, and the allure of authoritarianism.
The event—co-organized by JHU's Center for Social Concern, Orientation team, and the Stavros Niarchos Foundation Agora Institute at Johns Hopkins—also helped participants appreciate why democracy and civic participation should matter to them, no matter their country of origin or field of study, and taught them how they can be constructive participants in it.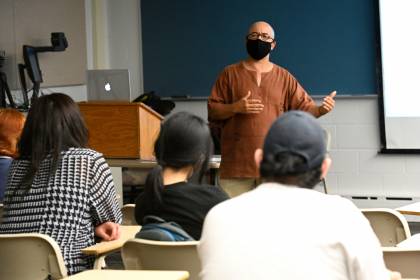 "On your way into college, I bet some of you have been thinking that democracy is in real trouble," Andy Perrin, an expert on issues of democratic citizenship and engagement who recently joined the SNF Agora Institute as a professor of sociology, told the assembled students. "Some of you probably think it's doing all right. Some of you were born or grew up in places that have less democracy than here in the United States or, let's face it, more. And I'm betting a lot of you just think the fate of democracy isn't your concern. Maybe you're interested in something else: art, architecture, medicine, music, science, robotics. You're content to leave democracy to the poli sci majors.
"Sorry, but you can't. No matter who you are, no matter what you do or where you want to go in life, the fate of democracy will matter to you. A vibrant artistic culture depends on a free society, not to mention public support; the arts also help all of us imagine a society that might be different. Designing buildings, neighborhoods, and cities affects how people interact with one another and with their environment. Who has access to the best medicine, and how the government invests in health care, science and innovation—these are all core questions of democracy."
Hopkins Votes ambassadors were on hand to help students register to vote and speak with them about the importance of casting a ballot in every election. More than 400 students logged into TurboVote to register to vote, check their registration status, or access educational materials. Representatives of student organizations focused on civic engagement and near-campus community associations were also in attendance as part of a democratic and civic engagement fair on Wyman Quad.
"One of the big hypotheses underlying the creation of the SNF Agora Institute is the idea that the agora—the spaces where everyday people like you and me come together to engage with each other—are fundamental to making democracy work," said Hahrie Han, director of the SNF Agora Institute and a scholar of grassroots political organizing. "That's why we are called the Agora Institute—because democracy should not be something that only happens every four years when there is a presidential election. Instead, it is about the way you engage with your classmates who might disagree with you, about the way you all participate and come together in student organizations to solve problems with each other, about all the ways in which each of us can try to make our communities and our world a better place. Democracy is like a garden—it has to be nurtured and cultivated—and all of us are the gardeners."