Johns Hopkins historian Martha S. Jones has been named to The Los Angeles Times' 41st annual Book Prizes list. Her book Vanguard: How Black Women Broke Barriers, Won the Vote, and Insisted on Equality for All (Basic Books, 2020) was recognized in the History category.
A critically acclaimed retelling of the history of suffrage in America, Vanguard is a profoundly researched examination of the racism and sexism Black women endured in their pursuit of political participation and power. It also closely examines how Black women used that power to secure equality and representation for others, arguing that Black women have been wrongfully overlooked as forebears of democratic ideals in America.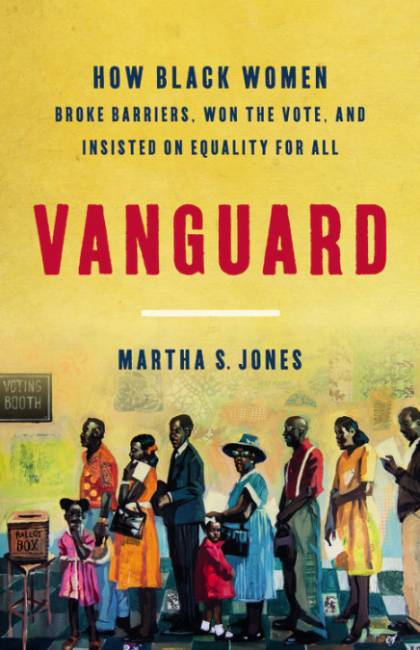 The New York Times called the book "an elegant and expansive history," while the National Book Review called it "forceful and compelling." National Book Award–winning author Ibram X. Kendi said, "Martha Jones is the political historian of African American women. And this book is the commanding history of the remarkable struggle of African American women for political power."
"Vanguard was the book I needed to read in 2020," Jones says. "We were going to mark the 100th anniversary of the women's suffrage amendment, and I knew that Black women's contributions to the struggle for voting rights might be overlooked amidst commemorations and celebrations. I think the book has succeeded in establishing Black women as among the architects of American democracy."
The book also emerged as an essential primer for the 2020 election cycle, Jones says.
"All Americans got a lesson on how Black women have established themselves in the political sphere when then-Senator Kamala Harris accepted the Democratic nomination for vice president, invoking six women on whose shoulders she stands: Mary Church Terrell, Mary McLeod Bethune, Fannie Lou Hamer, Diane Nash, Constance Baker Motley, and Shirley Chisholm. These are the women of Vanguard. And Vice President Harris embodies a challenge to all Americans: It is time to know Black women's political history. It is American history."
The Los Angeles Times Book Prize aims to support new voices and celebrate the highest quality writing. The awards ceremony was streamed virtually April 16 and kicked off The Los Angeles Times Festival of Books, which features dozens of events taking place April 17 to 23.
"[Reading] is solitary but of course it's communal, too, because in reading we communicate with socially-distanced writers and all their characters, real or invented," said Times book editor Boris Kachka. "We may isolate, but as long as we have books we are never isolated."
The history category for the prize was judged by historian Natalia Molina, winner of a 2020 MacArthur Fellowship, commonly called a genius grant.