A transparent mask designed and created by a team of Johns Hopkins students and alumni is making a difference worldwide in the wake of the coronavirus pandemic. Eleven million of these masks have been sold to date, including to the United Kingdom National Health Service, which purchased 250,000 for frontline workers and social workers to better care for patients who use lip reading and facial expressions to communicate, such as those with hearing loss. Employees at Apple, Fortune 500 companies, and at state, local, national, and international governments are also using the masks.
The first fully see-through surgical mask cleared by the FDA, ClearMask was co-founded in 2016 by Allysa Dittmar, A&S '14, SPH '17, who is profoundly deaf. The inspiration for the design came after she experienced confusion and fear before a surgical procedure. She could not read the lips or see the facial expressions of the doctors, nurses, or anesthesiologists administering her care because the typical surgical masks were covering their faces.
Recognizing that many patients must experience the same situation, she and Aaron Hsu, A&S '14, SPH '15, spent the next several months coming up with a solution. When they found no alternative options on the market, they took matters into their own hands, researching market size and what was needed to develop a prototype of a transparent mask. Inez Lam, a doctoral student in biomedical engineering, and Elyse Heob, SPH '18, Carey '18, joined them as part of a Medical Entrepreneurship course at Johns Hopkins.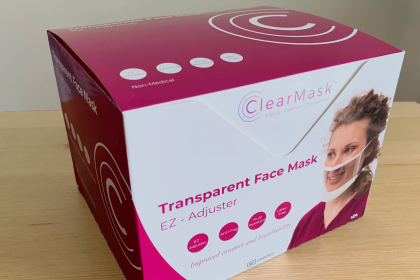 "Aaron pitched the idea to the class as a term-long project, and Elyse and I were both immediately drawn by Allysa's compelling story and the potential impact of a transparent mask," Lam said. "We believed in the idea and wanted to help it come to fruition."
Lam and Heob continued working on the project after the class ended, and the four-person team was solidified. The mask continued to evolve as the team made adjustments to account for comfort, fit, protection, and usability. After testing hundreds of different materials and ideas, the startup settled on a design. Since then, the ClearMask has gone through extensive vetting, including studies and third-party lab testing, and it remains the only fully transparent, anti-fogging mask on the market with FDA clearance.
Because it was established long before the COVID-19 pandemic struck, ClearMask quickly became a go-to solution in many health care and emergency management settings during the pandemic. Although the mask is not airtight and does not provide a seal around the face the way N95 respirators do, tests have shown the mask blocks aerosols, fluids, and sprays and meets ASTM level 3 standards—the maximum barrier protection against aerosols and sprays.
"When the limited supply of polypropylene fiber used to create standard masks caused widespread shortages of N95 masks and other critical PPE, ClearMask was able to avoid the supply chain bottleneck since our design is made with completely different materials," Lam said. "We were able to mass-produce transparent masks to help many communities while not disrupting the existing mask supply chain."
With such a novel and safe alternative available, states turned to ClearMask to help supply their emergency PPE stockpile, Lam said.
Months into the COVID-19 pandemic, Apple reached out about purchasing the ClearMask to distribute to its employees. "Apple is a leader in superior product design, so it was very validating when they contacted us," Lam said. "We are honored that a company like Apple wants to use our product."
The original team of four has grown to more than 250 staff on the manufacturing and fulfillment side, with the co-founders still owning 100% of the Baltimore-based company. They have expanded to an international scale, working with distributors and governments to bring visual communication to all who need it.
Editor's note: The ClearMask is open at the sides to allow for ventilation and may not provide complete protection against the transmission of airborne diseases, including COVID-19.