Name

Jill Rosen

Email

Office phone

443-997-9906

Cell phone

443-547-8805

Twitter
Marking the largest commitment to solar energy in Maryland and one of the most significant pledges to greenhouse gas reduction in higher education, Johns Hopkins University has entered into a long-term agreement to supply its campuses with more than 250,000 megawatt-hours of solar power per year.
The 15-year agreement with the Baltimore-based energy company Constellation, a subsidiary of Exelon, commences in 2021 and will allow Johns Hopkins to meet roughly two-thirds of the university's overall electricity needs with solar power.
The agreement will help Johns Hopkins make a significant step toward its goal of reducing carbon emissions by 51 percent by 2025, reaffirm the university's dedication to environmental stewardship, and position the university as a leader in meaningful sustainability efforts.
"When we pledged to more than halve our carbon emissions by 2025, we knew it would require rethinking how we power and operate our university," Johns Hopkins University President Ronald J. Daniels said. "This agreement demonstrates the seriousness of our commitment to sustainability for the good of our university and our planet."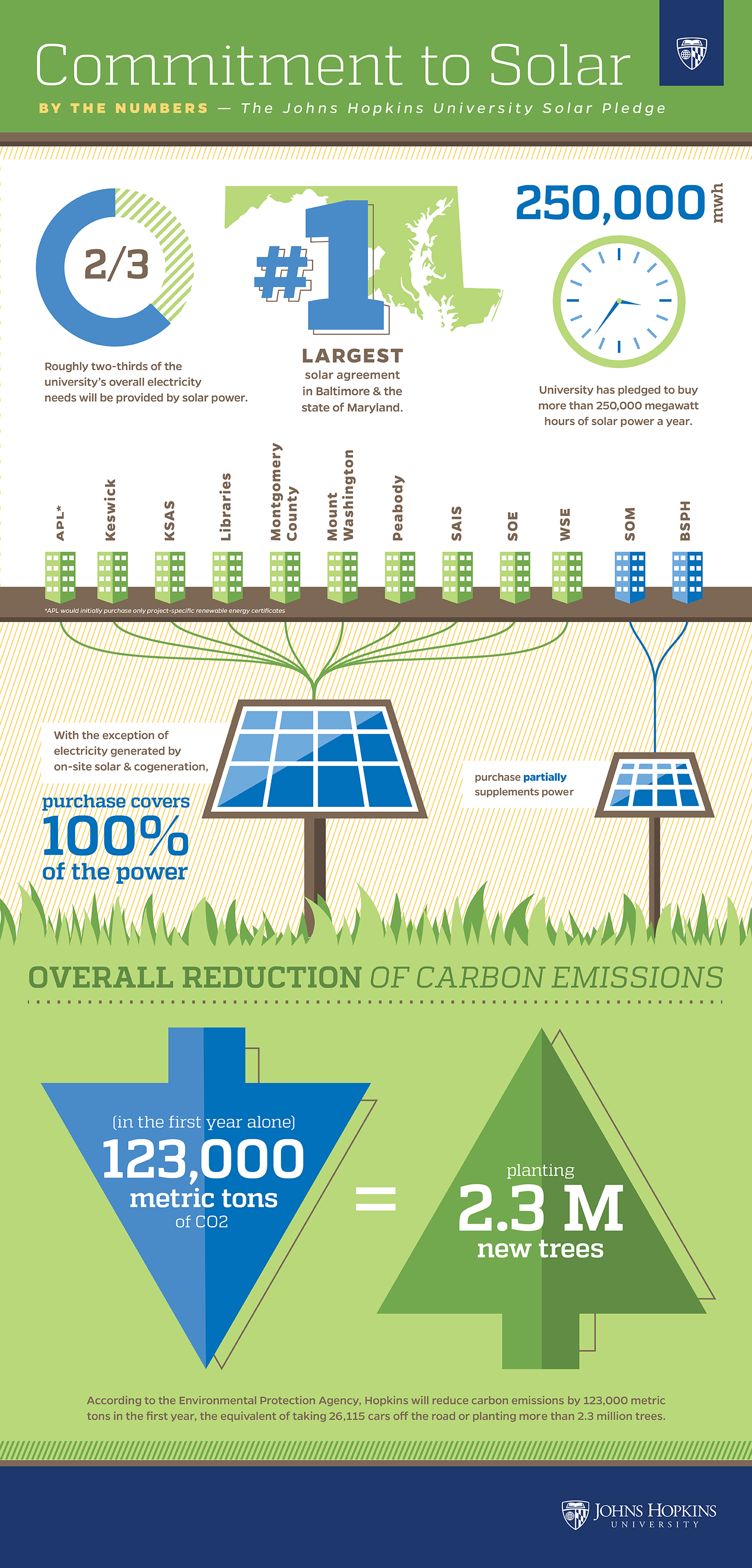 Through the agreement, Constellation will buy energy and renewable energy certificates, or RECs, from a new 175-megawatt solar plant being developed in Virginia and will sell the power and project-specific RECs to Johns Hopkins.
With the exception of electricity generated by on-site solar and cogeneration, Johns Hopkins campuses in Maryland and the District of Columbia that will receive solar energy through this deal include Homewood, Peabody Institute, Montgomery County, the School of Advanced International Studies, the Applied Physics Laboratory (which would initially purchase only project-specific RECs), Keswick, and Mount Washington. The electricity needs of the School of Medicine and the Bloomberg School of Public Health will be partially covered through this agreement.
In all, the plan is expected to help Johns Hopkins reduce carbon emissions by 123,000 metric tons in the first year, the equivalent of taking 26,115 cars off the road or planting more than 2.3 million trees, according to the Environmental Protection Agency.
"With this agreement, Johns Hopkins University is taking an important and proactive step toward reducing its carbon footprint," Constellation CEO Jim McHugh said. "Constellation is committed to developing clean energy solutions for our customers, and we're pleased that our simple, cost-effective CORe product is helping such an influential institution achieve its sustainability goals."
The move is part of a larger sustainability initiative at Johns Hopkins that includes:
Investing more than $80 million in energy-conserving infrastructure
Hiring a new director of sustainability and university energy manager
Creating a Sustainability Leadership Council charged with ensuring that the university's environmental educational, research, and operating programs continue to lead locally and globally
"This movement to renewable energy is an incredibly exciting commitment by the university and a significant step forward in meeting our carbon reduction goals," said Robert McLean, the university's vice president for facilities and real estate. "There is of course much more to do, and I hope this agreement, along with new staffing and establishing the Sustainability Leadership Council, will be a catalyst for reviewing and rethinking our sustainability programs."
The university's 2008 Climate Action Plan established a mission to pursue carbon neutrality, with a specific goal of reducing carbon emissions by 51 percent from projected 2025 levels. While Johns Hopkins is taking a significant step toward meeting that goal, as the university grows, it will need to continue its focus on demand reduction, offset any new energy demands, and continue to explore innovative ways to reduce its carbon footprint.
"This is a terrifically exciting announcement, which moves Johns Hopkins towards joining leading universities in promoting sustainability," said Ben Hobbs, director of the university's Environment, Energy, Sustainability and Health Institute and a professor in the Department of Environmental Health and Engineering. "The university's Climate Action Plan committed us to reducing our greenhouse gas emissions drastically, developing academic programs that would train tomorrow's leaders and scientists, and creating the technologies and policies the world needs. The solar power purchases, re-staffing of the Office of Sustainability, and creation of a Sustainability Leadership Council are huge steps in the right direction."