Director of Photography Bradford Young became the first African-American nominated for an Academy Award for Best Cinematography in 2017 for his work on director Denis Villeneuve's Arrival.
Young's sumptuous photography—which favors natural light and compositions that complement a scene's emotional narrative—brought distinctive moods to Ava DuVernay's Selma, Tina Mabry's Mississippi Damned, Dee Rees' Pariah, and David Lowery's Ain't Them Bodies Saints.
He shot Solo: A Star Wars Story, the most recent entry in Disney's reboot of the franchise. Most recently he worked on When They See Us, DuVernay's series about the five young men wrongly convicted in the 1989 Central Park jogger case, dubbed the Central Park Five, which is coming to Netflix in May.
Young visited Johns Hopkins for the better part of a week in late February to mentor and engage with students as part of the Program in Film and Media Studies 2018-19 Visiting Artist Series, sponsored by the Saul Zaentz Charitable Foundation. His visit concluded with a free and public talk at the Stavros Niarchos Foundation Parkway Theatre on Feb. 22, moderated by artist, curator, producer, and writer Elissa Blount-Moorhead.
Blount-Moorhead set the tone for the evening as the pair sat down, noting that they're friends, so their conversation was probably going to be like one of their usual evenings in her living room, only with a few more people in the room. What followed was a loose, discursive chat between two African-American artists and thinkers who know each other's lives and work well.
The talk became a deeply personal and serious discussion about the racial and class politics of creative labor.
"There isn't an even economic exchange on a film set," Young said, acknowledging that while a director of photography is responsible for "ushering the image into existence," it's still a for-hire position, as blue collar as the technical and creative crews of film production.
"People are not fairly compensated for their sweat labor, and they're definitely not fairly compensated for their intellectual labor," he said. "That's part of the system that I struggle with the most."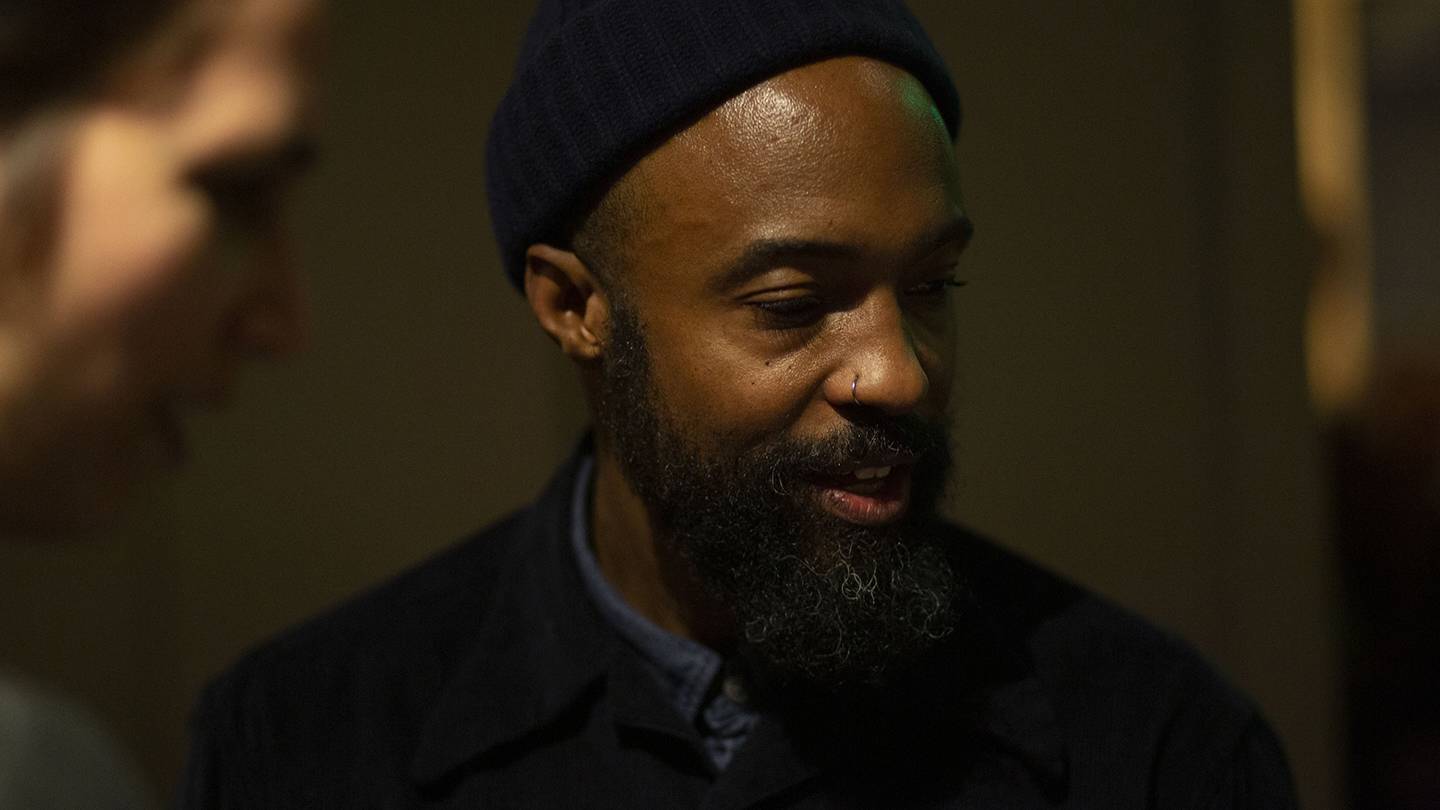 Blount-Moorhead asked Young about navigating Solo, a film that's part of one of the largest franchises in history as a person of color. His response took the conversation in a more introspective direction.
"I always ask myself, Who was Oscar Micheaux's cameraperson?" he said, referring to the pioneering independent African-American writer, producer, and director whose career spanned the late 1910s into the late '40s. Young wasn't asking merely because he wanted to know a name, but as a way to think about the people on set responsible for making what we see on-screen happen.
That prompted Young to reflect on his own life and the people and images that shaped him. He grew up in a family of morticians in Louisville, Kentucky, and for a long time, he said, he felt like he was running from 120 years of the family business. But lately, he added, he's been trying to get back to it. He noted how the labor that goes into setting up a viewing in a funeral home—the placement and elevation of the casket, the coordination of flowers—isn't all that different from set decoration or lining up a film shot.
"Like my grandfather, I'm providing a service, and I want to provide that service with dignity," he said.
By drawing a line connecting his career to personal history, Young opened a door for discussing how to recognize the creative laborers whose roles in shapes emerging artists' ideas often get overlooked.
Young attended Howard University, which, as The Washington Post noted, is the "only historically black college with a graduate film program". As he has picked up awards and nominations over his career, he's always been quick to name cinematographers and Howard alumni—Arthur Jafa, Ernest Dickerson, Malik Sayeed—who paved the way for him with their own visionary work.
"You can't talk about 21st-century cinematography without talking about Malik," Young said, adding that Sayeed 's landmark work in Spike Lee's Clockers and Hype Williams Belly in the 1990s left an indelible mark on cinematography. Young talked about Charles "Teenie" Harris, the black Pittsburgh photojournalist and still photographer whose images struck Young for the sense of place and time they evoked.
Also see
Young brought this same thoughtful sensitivity to the intensive three-day workshop he led with students in the Film and Media Studies program. He spoke to them about lineage and finding their own perspectives as filmmakers, offering feedback on the projects they're working on.
"I honestly felt deeply inspired after every single session we had with Bradford," says Vanessa Richards, a senior Film and Media Studies and English major. "He gave great insight as to what it means to really dig into who you are as an individual and using that to develop your own creative voice. It was really moving to me to see just how clearly Bradford's own sources of inspiration translate into his work and it encouraged me to think about my own inspirations and how they manifest in the work I create."
Added Adela Chelminski, a visiting exchange student: "Bradford is absolutely incredible. ... I was thrilled by the conversation they had about the need for more diversity in the industry, and more globally about the systems in place in the industry/country that disadvantage a lot of people that are not upper-class white men, which needs to be challenged. It was also great to hear about Bradford's early life and how that shaped his work today, and made me reflect on my own experiences and how they tie into what I want to do."
For Young, thinking critically about his work aesthetically and politically is crucial to telling stories as a person of color.
"When you look at your story through other people's optics, it's not your story," Young said of filmmaking specifically and art in general. "We must think about this differently."
The Johns Hopkins Films and Media Studies Program's 2018-19 Visiting Artist Series next brings Christine Vachon—the maverick film producer whose Killer Films production company has produced some of the finest independent American cinema of the past 30 years—to the Parkway on April 12 at 7 p.m. The talk is free and open to the public.