Brush up on your Jacques Tati, Demy, and Tourneur, because the annual Tournées Film Festival returns to Johns Hopkins this week.
This free and public festival highlights the best of current and classic French cinema, with six selections played over two weeks in locations around campus. Suzanne Roos, a lecturer in the university's Program in Film and Media Studies, said this year's film features a focus on French social realities.
The Tournées Film Festival is a program of the FACE Foundation, in partnership with the Cultural Services of the French Embassy, which aims to bring French cinema to American colleges and university campuses.
Four of the six selected films this year are documentaries. These documentaries depict life from the '50s to the present and take place in locations like downtown Paris, the Republic of Congo, and Niger. This will be the Baltimore debut for many of these films, Roos said.
Roos has also offered up some classic options that aren't on the film festival schedule for those in need of a a crash course French film. Each of her recommendations are available for free with the streaming service Kanopy, offered through the Sheridan Libraries.
BPM (Beats per Minute)
Tuesday, Feb. 26 at 7 p.m. | Hodson 110
Winner of the 2017 Cannes Grand Prize Jury award, BPM is a dramatized account of the lives of activists in France's HIV advocacy group Act-Up during the 1980s. The film tells of their struggle to push the French government and pharmaceutical companies into responding to the AIDS crisis. Nicholas Papageorge, assistant professor in JHU's Department of Economics, gives an introduction to the film.
12 Days
Wednesday, Feb. 27 at 7 p.m. | Maryland 110
Documentarian Raymond Depardon takes on the French legal system requirement that each person involuntarily committed to a psychiatric hospital meet face-to-face with a judge 12 days after admission. The judge determines whether the patient will remain in the hospital or be released. An introduction to the film will be delivered by Zvezdana Ostojic.
Jaguar Sunday, March 3 at 3 p.m. | Gilman 50
Director Jean Rouch's films were known for their blending of documentary and fiction elements, creating a realistic but compelling mixture of the two forms. Jaguar is a 1967 film that follows three men from Niger traveling to Accra during the last years of colonial presence. Rutgers University professor of African languages Ousseina Alidou introduces the film.
Metamorphoses Tuesday, March 5 at 7 p.m. | Hodson 110
The classic poem by Ovid is reimagined for the 21st century in director Christophe Honoré's film. Metamorphoses retains the poem's depictions of mythology, magic, and gods, placing them into a modern context. Shane Butler, professor and chair of JHU's Department of Classics, introduces the film.
Makala Wednesday, March 6 at 7 p.m. | Hodson 110
Emmanuel Gras directs this immersive look at the struggles of a charcoal salesman trying to make a living in the constantly shifting landscape of the Democratic Republic of Congo. It is both a compelling narrative of one man's plight and a lucid account of account of the economic reality of the country. Johns Hopkins History Professor Pier Larson introduces the film.
Faces Places Thursday, March 7 at 7 p.m. | Hodson 110
Agnès Varda is one of French cinema's most-acclaimed directors. This documentary follows her journey through rural France alongside photographer JR, who co-directed the film. Along their journey, the two create large portraits of residents to transform into neighborhood murals. Molly Warnock, assistant professor in the Department of the History of Art, introduces the film.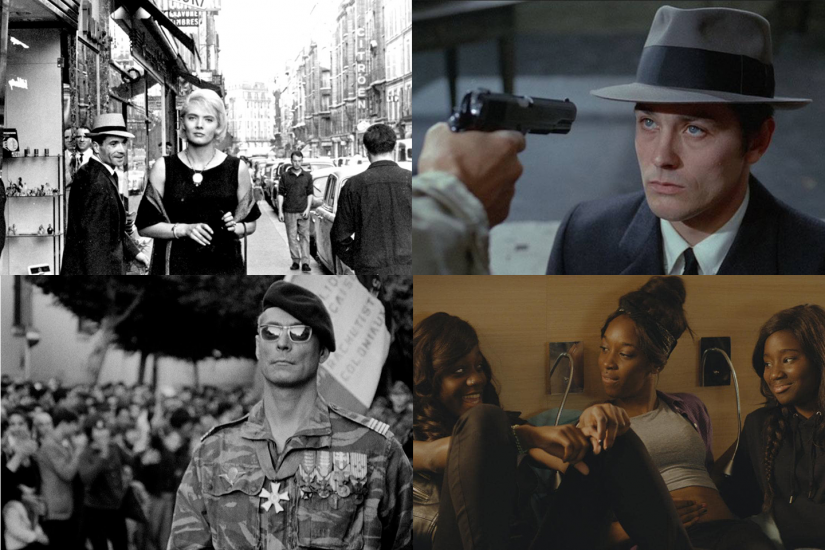 French classics to watch next
Cléo from 5 to 7
Faces Places director Agnès Varda has a career that stretches back nearly 70 years. Cléo from 5 to 7 is one of her earliest and most acclaimed works, following a singer waiting to hear the results of a medical test that may confirm a diagnosis of cancer.
Le Samouraï
Jean-Pierre Melville's Le Samouraï is one of the most famous and stylish thrillers of the '60s. The film has been cited as an influence on Walter Hill's The Driver, John Woo's The Killer, and Nicholas Winding-Refn's Drive.
Battle of Algiers
Roos says this film is arguably the greatest political film ever made. Directed by Gillo Pontecorvo, the film takes a realistic pseudo-documentary approach to depicting the Algerian War, focusing equally on the Algerian and French perspectives.
Girlhood
One of the most popular entries in last year's foreign film festival, Girlhood is a coming-of-age tale about an African-French teenager's 16th year. The film was directed by Céline Sciamma and nominated for a number of European film awards.