On a recent afternoon, Johns Hopkins University mechanical engineering students crowded into the Senior Design space to put the finishing touches on their designs, filling with the space with the sound of conversation, laughter, and a few "Oh no's!"
Some students adjusted tension rings, previously constructed out of fencing wire. Others inserted tuning pegs into pegheads. Stefanie Shirley decorated a resonator with artwork.
"I just used a few Sharpies and got creative," the third-year mechanical engineering major said of her groovy fuchsia-and-black design featuring a treble clef, a lush blossom, and the words "Engineering Design Process" in flowery script.
Students in the Engineering Design Process class regularly come away from the experience with drill saw and laser cutter skills, as well as better understanding of how to develop ideas into workable, feasible, affordable designs. But those enrolled in the Department of Mechanical Engineering course this spring will also come away with something more unexpected: handcrafted wooden banjos.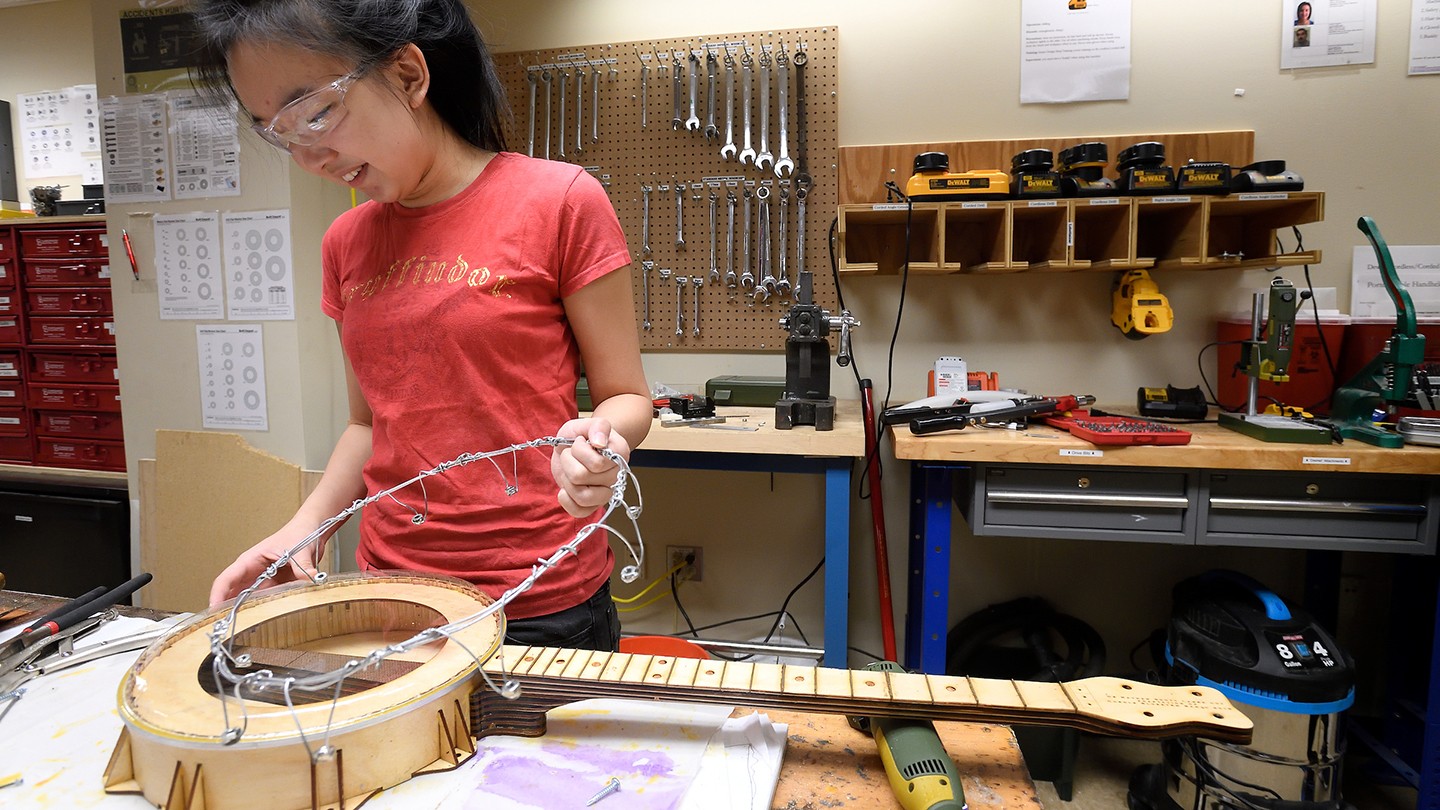 "When I looked at the class syllabus and saw the word 'banjo,' I couldn't believe it," said Alex Doran, a third-year mechanical engineering major. "But it's true: We're making our own banjos!"
Though many students found ways to customize their instruments, all worked from a single pattern provided by Nathan Scott, associate teaching professor at the Whiting School and the course instructor. Scott believes his tweaked "Rockefeller Banjo" design—which he made himself over the winter term in a trial run—is the ideal project for teaching important basic mechanical engineering design skills.
"This project works beautifully in a few different ways, from getting students acquainted with our Senior Design space and helping them discover where tools are to grounding them in basic prototyping methods," Scott said. "These are all skills they are going to need going forward when they tackle their senior design course."
Brian Prats, a third-year mechanical engineering major, agrees.
"We've had to utilize the laser cutter, drill presses, band saws, sanding equipment, a router, soldering, and various hand tools as we followed the template," Pats said. "But I also learned what to do when things go wrong. For instance, I stripped these tiny screws we were supposed to use, so I had to figure something else out. I found some nails, cut them in half, sharpened them and then used another tool to place them where the screws were supposed to go. Hopefully my banjo will still sound good—I just started learning to play the ukulele last summer, so maybe I can play this."
Scott hopes he will.
"They don't get extra credit in this class for learning to play the banjo, but I do hope very much that this will be the start of a musical journey for each one of them," he said. "I want them each to keep it for their whole lives—to hang it on the wall, and take it down from time to time to play it and remember how they used $35 worth of wire, Masonite, and birch plywood to make this beautiful instrument."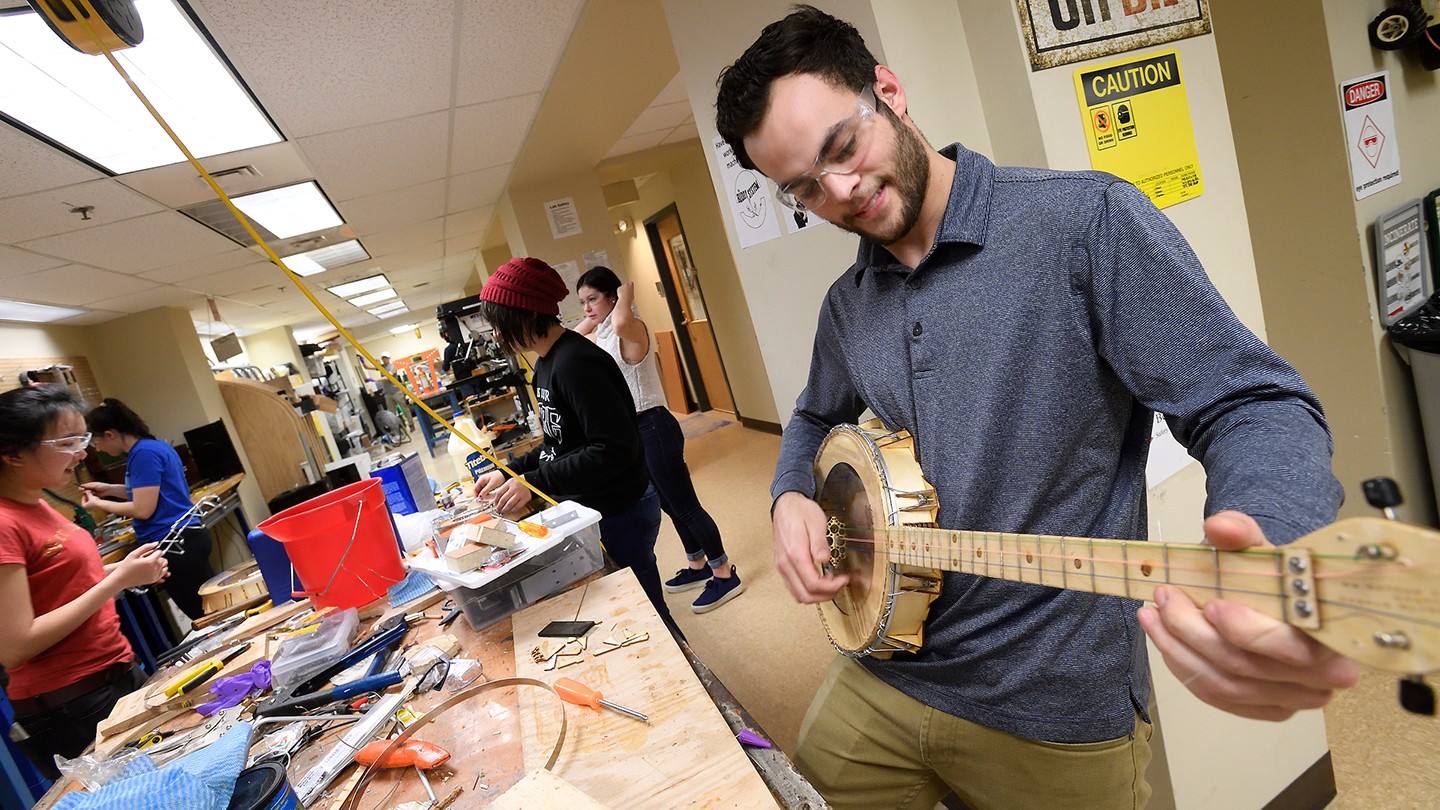 A firm believer in the importance of cross-disciplinary work that exposes students to different knowledge, skillsets, experiences, and points of view, Scott recently assisted colleagues at the Peabody Institute in setting up a maker-space there, where 30 student musicians currently are creating banjos of their own.
"We are trying to start something at the intersection of engineering and music, so the students make different connections," he explained. "I'm very keen on educational experiences that deliberately cross boundaries—and not just the obvious ones of going across two or more academic disciplines. I also want to give students experiences that cross over into their lives."