Santa's helpers made a visit to a Maryland family this week, delivering a gift that promises to make their holiday season especially happy and bright: A walker custom-designed and constructed by a group of Johns Hopkins University engineering students for the family's smallest member.
RoseLynn Lidy was born with Cornelia de Lange Syndrome, a very rare genetic disorder that causes a range of physical, cognitive, and medical challenges. At the age of 2, she is 24 inches tall and weighs just over 11 pounds—far too small and slight to sit properly supported in commercially available walkers. So when Rosie's physical therapist recommended that the child spend time in a walker to practice bearing weight on her legs to prepare for eventually learning to walk, parents Annetta and Don Lidy reached out to V-LINC, a Baltimore nonprofit that matches people who have special challenges caused by disease or disability with volunteers who can design and build custom solutions for them.
"It was clear to me right away that this was something our wonderful volunteer engineers could help the Lidys with," said Angela Tyler, V-LINC's volunteer services manager.
After V-LINC's volunteers reviewed the request, completed a home visit to evaluate and assess Rosie's needs, and determined that there were no commercial solutions available, Tyler reached out to Niel Leon, a Johns Hopkins senior staff engineer and V-LINC volunteer. Leon set up the project for the student chapter of the American Society of Mechanical Engineers at the university's Whiting School of Engineering.
"I knew that our students could design and create something that would fit Rosie, and that they could do it in time for Christmas," Leon said. Working through V-LINC's "Designing Our Future" program, the students had access to $500 for the parts and supplies they needed to create the custom walker. V-LINC donors covered those costs.
Led by Caterina Esposito, a sophomore mechanical engineering major from Westwood, Massachusetts, the five-member team welcomed the challenge. They traveled to Port Deposit in Cecil County to meet Rosie and her family—including Rosie's twin, Georgia, and twin 9-year-old sisters Emma and Lilly—and take measurements. Then they returned to Hopkins and got to work.
First, they purchased an off-the-shelf baby bouncy chair and culled its brightly colored canvas seat for Rosie's new walker. Its leg openings were far too wide—Rosie would have slipped right through them—so a V-LINC volunteer who is a professional seamstress came to the rescue with alterations.
With Leon's help, the students spent a morning using a water-jet cutter in the university's machine shop to cut the walker's component pieces out of quarter-inch sheets of ABS, a lightweight but strong plastic. Wheels, brackets, braces, and a mechanism that allows the device to fold up for easy storage and transport in a car were added in the Whiting School's MakerSpace before sending it off to teammate Charlotte Quinn for painting in bright green, yellow, and red. The final product has Rosie's name in curly white script on the base.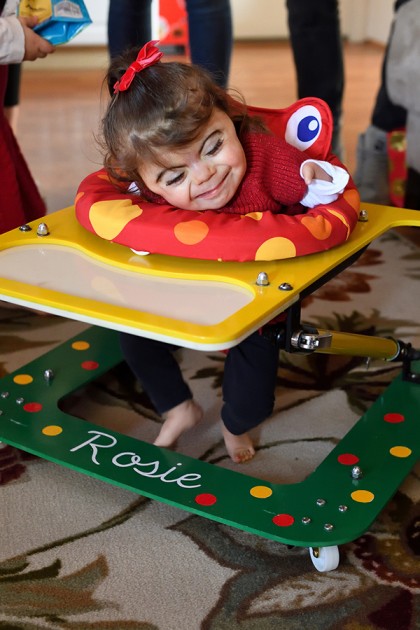 "I don't think you all know how much this means to us and to our daughter," said Annetta Lidy, eyes brimming with happy tears, as the student team (wearing red Santa hats) unfolded and set up the walker near a glowing Christmas tree in the family's living room. "Since Rosie was born, we've been hearing what kids with this syndrome can't do. But we've chosen to concentrate on what our daughter can do. With this walker, we believe Rosie can learn to walk."
Esposito said that having the chance to meet Rosie and her family before tackling the project inspired the team members to get the walker "just right."
"Meeting Rosie and her family was an exceptional experience, because it really brought home how important the work we were doing was," she said. "Honestly, at times, it was a little frightening knowing the weight of effect this project would have on this child and family. In the end, it inspired us to do the best job possible so that Rosie can live her best life."
In fact, it was the chance to make an impact on lives such as Rosie's that drew Esposito to mechanical engineering.
"Projects like this are very close to my heart, because I have a cousin who was born with a condition that means he has to use a prosthetic leg," she said. "I have seen firsthand what a positive difference the right device can make, and I'm passionate about being part of making that kind of difference to people like my cousin and Rosie."
The ASME team also included Cole Clampffer of Hudson, Ohio; Emily Maheras of Bernardsville, New Jersey; Franz O'Meally of Pompano Beach, Florida; and Charlotte Quinn of San Francisco, California.