Deidra Crews has become a national leader in the study of chronic kidney disease by examining not just its medical causes and effects, but also the socioeconomic factors that can explain profound racial disparities in who has the condition and how well it is managed.
Today, Johns Hopkins University President Ronald J. Daniels; Provost Sunil Kumar; and Paul Rothman, dean of the School of Medicine, presented Crews with the $250,000 President's Frontier Award, which, Daniels told her, "is to be used in your research, education, and clinical work and to allow you to dream."
Crews, an associate professor of medicine in the Division of Nephrology, said she was "tremendously honored" by the award. She was also quite surprised to arrive at what she thought was an early morning meeting with Bloomberg Distinguished Professor Lisa Cooper and find a room full of university leaders, colleagues, mentees, and guests ready to celebrate her achievement.
The award "will certainly go a long way to help support the work I am doing with the help of my collaborators," Crews said. Her recent work focuses on how disparities among those with chronic kidney disease are affected by access to healthy foods and dietary patterns. Last year she was part of the Johns Hopkins Medicine Dean's Symposium on Improving Minority Health and Achieving Health Equity, where she spoke about her work on a "virtual supermarket." The program could deliver healthy food and potentially improve outcomes for African-Americans with hypertension and kidney disease in areas with limited food choices.
Crews said she could use the award to expand current studies, increase the size of her research team, and travel to share the work nationally and around the world.
"Deidra is a truly gifted and creative physician-scientist who has expanded the study of racial and socioeconomic disparities in kidney disease and, as important, tested interventions," Daniels said. "Her work is already transforming the care of disadvantaged populations with this condition."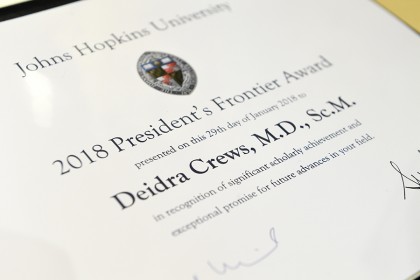 In addition to her research and teaching, Crews serves as associate vice chair for diversity and inclusion for Johns Hopkins' Department of Medicine. She is active with the American Society of Nephrology and will join that organization's executive committee in 2018. She is also a mentor to numerous undergraduates and junior faculty and received the Frederick L. Brancati Excellence in Mentoring Award from her department last year.
The Frontier Award, created with a donation from university trustee Louis J. Forster and alumna Kathleen M. Pike, recognizes one faculty member each year for five years, focusing on those who are poised to break new ground and be leaders in their fields. Previous recipients are Sharon Gerecht, a professor in the Department of Chemical and Biomolecular Engineering in the Whiting School of Engineering; Scott Bailey, an associate professor in the Bloomberg School of Public Health's Department of Biochemistry and Molecular Biology; and Michael Hersch, chair of the Composition Department at the Peabody Institute.
This year, Takanari Inoue, an associate professor of cell biology at the School of Medicine, is also being recognized as an outstanding finalist with a presidential monetary gift of $50,000 to support his research and academic pursuits.