Johns Hopkins Technology Ventures and the Ralph S. O'Connor Undergraduate Entrepreneurship Fund has provided funding for six student startups to develop and launch their tech platforms.
This year, the program received 40 student applications, nearly double the applications submitted last year.
"It was difficult to whittle the field down to six," says Kasim Ahmad, JHTV's student venture coordinator. "But we believe the teams selected for this year's cohort have the greatest opportunity to benefit from the program as they work to solve challenging problems."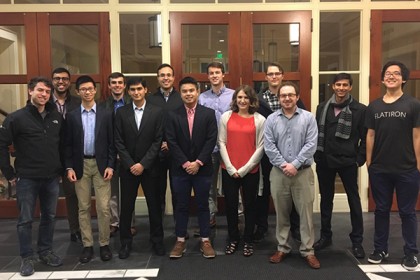 The 2017 cohort includes:
Foragerone: A platform for streamlining and standardizing how students look for university-affiliated research opportunities. The team includes two sophomores in the School of Arts and Sciences, Ansh Bhammer and Yash Jain.

Fractal Tech: This scalable mobile app provides security for enterprise applications. The team includes senior James Charles and junior Alex Sharata, both of the School of Engineering.

Gaius: An online tool that utilizes college networks to source top technical talent for startups. The team includes School of Engineering seniors Ron Boger and Alex Owens.

Kaleyedos: This telemedicine solution provides screening for the retinal diseases. The four-person team from the School of Engineering includes juniors Seony Han and Sami Messai, and seniors Rebecca Miller and Erica Schwarz.

Squadz: A social activity platform for finding and reserving space for pickup sports and events, the Squadz team is Nikhil Panu, a senior in the School of Engineering, and John Stanton, a senior in the School of Arts and Sciences.

Tearn: This app for college students who want to find peers who can provide tutoring services is designed by School of Engineering sophomores Brian Cueto, Pava LePere, and Andrew Wong. Brian Cueto, Whiting School of Engineering, Sophomore
Founded by Johns Hopkins alum Ralph O'Connor and his wife, Becky, the O'Connor Fund program provides each cohort member a $5,000 non-dilutive grant with an opportunity to earn $5,000 more for reaching certain milestones. Johns Hopkins Technology Ventures resources are available to the student teams, as well as mentorship from entrepreneurs and investors.