Five Johns Hopkins University graduate students embarked this summer on a trip to Kenya and Uganda—with a collection of infant-sized medical manikins in tow.
The team, all students in the yearlong master's program in bioengineering innovation and design, spent three weeks field-testing a medical device that could save the lives of newborns by monitoring vital signs during the first week of life—that precarious window of time during which, the World Health Organization estimates, nearly three million infants die each year.
Neonatal deaths often are caused by preventable conditions such as sepsis, pneumonia, hypothermia, and complications from a preterm birth, said team members Rachel An, Andrew Jann, Matthew Lerner, Polly Ma, and Mohit Singhala. Their yet-unnamed, belt-like device—which improves on research and design work conducted last year by a Johns Hopkins team that traveled to Bangladesh—allows mothers to track a newborn's vital signs and identify early signs of these life-threatening issues.
"Before this trip, the project was [to me] just a monitoring device that would help mothers detect severe illnesses in neonates," An said. "Now, I see the project as something that can empower mothers and community health workers. True impact is not made from savvy new technology, but from elegantly designed solutions that are sustainable, culturally appropriate, and able to integrate into the established health care system."
Part of this team's goal was to consult with community health volunteer workers and new mothers to assess the needs of the population. In a blog chronicling their trip, they explained the importance of the input from the community.
"An individual [community health volunteer] can be responsible for overseeing over 100 households, or as many as 500-600 people, and generally takes about a month to cover this population," Lerner wrote in a blog entry. "Equipped with nothing more than their own knowledge and experience to assist them in their duties due to limited resources, these individuals must trek across a variety of terrains and distance to reach the homes in their community. In some instances, individuals had to travel as far as [five kilometers] to reach a single home."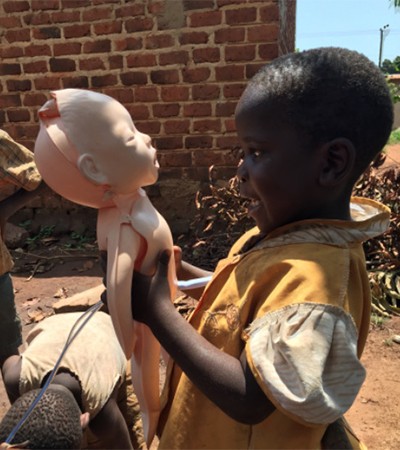 In another blog entry, Jann recalled the "aha" moment when he demonstrated to community health volunteers how the team's monitor works.
"We start explaining what we've made and how it works on the baby, and their apathy transforms into excitement," he wrote. "When we ask questions now, they answer enthusiastically, with eyes locked on every motion and movement, even actively participating in placing the device on the [manikin]. Their curiosity piques and they begin asking questions and having comments of their own. Yes, we would use this. This type of device would make our jobs easier. Can the band be stretchier? Can there be light indicators?"
The team has returned to the U.S. and plans to continue efforts to move the device to market by testing the monitor on babies in neonatal intensive care at The Johns Hopkins Hospital. They hope to return to Kenya, Uganda, or Bangladesh in January to conduct a usability study.
This project is sponsored by the Center for Global Health within JHU's Bloomberg School of Public Health, with advisors Alain Labrique of the Bloomberg School and Azadeh Farzin of the School of Medicine. The master's program is overseen by JHU's Center for Biomedical Innovation and Design.
Since 2009, CBID has challenged students to design medical devices to solve clinical problems in both the U.S. and in some of the world's lowest-resource areas. After their global immersion trips, the students spend the remainder of the yearlong program working with Johns Hopkins science and clinical faculty, as well as outside industry sponsors, to design and develop viable products for U.S. and global markets.
In addition to this team, 17 other students traveled abroad this summer testing potentially life-saving innovations. One team visited Rwanda and Ethiopia to conduct ground research on a tool for repairing broken medical equipment. Another team visited India to examine barriers to health care for individuals who need endoscopic treatments. And the fourth group traveled to China—the first time China has been included in CBID global immersion trips—to understand the market for pacemakers in Sichuan, Yunan, and Guangdong provinces.
The trips are part of CBID's global immersion requirement, supported by Jhpiego, an international non-profit health organization affiliated with Johns Hopkins. The experience aims to expose students to the health care needs of people around the world—not just in industrialized countries.
"In some of the world's lowest resource settings, people face a poverty of information about health and proper care," said Youseph Yazdi, CBID's executive director. "That's unacceptable when an ocean of information is as near as your mobile device. We aim to expose students to this reality and then give them the resources and mentorship to create real solutions."
CBID operates within the Johns Hopkins Department of Biomedical Engineering, which is shared by the university's School of Medicine and its Whiting School of Engineering. To date, 120 students have graduated from this innovative program. Singhala said he was drawn to the program in part because of the advantages a shared department can provide.
"The fact that CBID is centered on collaborative relationships between scholars from the Whiting School of Engineering and physicians from the Johns Hopkins School of Medicine reflects both the breadth and the depth of the learning experience Hopkins has to offer," Singhala said. "The unconventional structure of the design program and the promise of working on systems that are not destined to be just sketches on a paper or models on a desk primarily drove me to apply."