Cieara Adams walked into the Baltimore Youth Film Arts program this summer hoping to make a film about the city's drug epidemic. But when she was assigned to work on the film project with two of her peers, the group had to step back to find a shared focus.
"We had to find a common denominator in our personal stories. We're all from different walks of life," the 26-year-old Adams says of her fellow participants in the film essay workshop. "That was one of the most challenging but really rewarding elements about this class."
Her group created a documentary highlighting the divisions—visible and invisible—between Baltimore's Station North and Mount Royal neighborhoods, through images and interviews.
"The underlying question we're trying to pose is, basically, is this type of gentrification healthy? Is it beneficial to the community or not?" Adams says.
The short film is one of several debuting Saturday as part of the BYFA's exhibition and screening event at Johns Hopkins University's Homewood campus. The event marks the close of the second session of the workshops, which Johns Hopkins launched this spring with the help of a grant from the Andrew W. Mellon Foundation.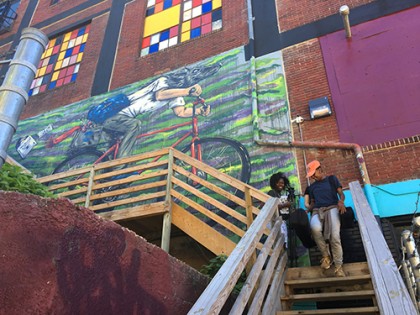 The program brings together faculty and teaching assistants from Johns Hopkins, Morgan State University, and the Maryland Institute College of Art, along with other area filmmakers and artists, to guide workshops designed for Baltimoreans ages 16 to 29 in filmmaking, photography, creative writing, graphic design, and even stand-up comedy. Upcoming offerings will include a video diary workshop for children of incarcerated parents and a storytelling class highlighting the Baltimore Latino immigrant community. Student fellows who are selected to participate receive a stipend for their projects along with access to equipment and software.
The works usually contain common threads such as "personal expressiveness, collaborative creativity, and professional discipline," says Lucy Bucknell, the principal investigator for the project and a senior lecturer in JHU's Film and Media Studies program.
This summer, Baltimore-based comedian Marc Unger led the Comedic Storytelling class, which culminated in individual performances in front of a live audience. Sabrina Bouarour, a PhD candidate at La Sorbonne-Nouvelle in Paris, has overseen the personal essay film class while simultaneously working on her documentary in Baltimore on the aftermath of the April 2015 unrest.
For his own digital storytelling workshop this summer, local filmmaker and journalist Charles Cohen made music the focus. He brought in DJ Jason "J" Gray, who's also a multimedia specialist at JHU's Bloomberg School of Public Health.
"He stepped in and laid down his beats, and everybody was locked on," Cohen says. "We're trying to show how music and sound influence the mood—and even the whole story—of the movie."
The fellows in Cohen's workshop will present a range of short films Saturday. One casts images of past uprisings, pulled from the Maryland Historical Society, against self-produced music and narration.
Another fellow went from being the filmmaker to being the subject, Cohen says. After interviewing the owner of a Baltimore music store, the young man started taking piano lessons there and documenting his experience.
For a generation so familiar with seeing news stories accompanied by smartphone-captured videos, "they realize they can actually add a voice," Cohen says of the value of the workshops.
Through another BYFA workshop this spring on social documentary photography, fellow Alisha Coates wandered with her classmates along North Avenue, each trying to find their own way to interpret the area.
Coates, 18, was struck by the various forms of artwork she saw on the street—graffiti, murals, signs. Capturing the pieces on camera, she says, is a way to give deference to "these different artists trying to tell their own story."
Now a rising freshman at Morgan State, Coates sees photography as part of her future.
"The more I've learned, the more I really do enjoy this and the way pictures capture the moment," she says.
Adams, after her personal essay film class, says she wants to move forward with her original idea to put together a documentary on Baltimore's drug problems, a subject she knows personally through her parents' work in rehabilitation counseling. Her teacher, Bouarour, encouraged her to tackle that larger project after first finishing the short film with BFYA.
"My passion to do this project is on a high," Adams says.
The BYFA's screening and exhibitions for its summer workshops take place from 5 to 8:30 p.m. Saturday, July 30, at Shriver Hall on JHU's Homewood campus.