"Growing your own food is the best way to know what you like," says Jon Carroll, the green-thumbed farm and bar manager at Gertrude's restaurant.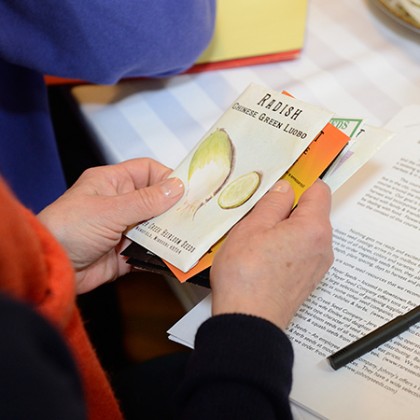 At the head of Evergreen Museum & Library's recently restored kitchen, he shares gardening hacks, tips, and tricks with a group of novice and expert growers, all eager to embark on the Chesapeake region garden season after a snow-laden winter.
This is Carroll's fifth year teaching at Evergreen beside Gertrude's chef and owner John Shields, who dubs Carroll "a man of many hats and many seasons." Together, the two lead Edible Evergreen, a five-part kitchen garden course that spans three growing seasons from March through October.
Participants crowd into the historic kitchen, with its 19th-century lighting fixtures and Minton ceramic tile, escaping the last snowfall of March. Carroll talks seed starting as 23 participants hover around the central table, a 1920s relic set with carafes of coffee and tea.
Meyer Seeds in downtown Baltimore is a favorite for arugula, mustard greens, radishes, and herbs. Plants with similar germination times stay together, and an ideal soil temperature is 80 degrees, Carroll says. Students share their own savvy suggestions, too—like using a heating blanket to keep the seedlings warm.
Evergreen is much more than a period home. The museum's lavish 48 rooms house a trove of wonders, bequeathed to Johns Hopkins University in 1942 by former ambassador and JHU trustee John Work Garrett. Once the site of grand dinners for period celebrities, Evergreen now frequently hosts community activities, like concert and speaker series.
The museum's 26 acres include a 1,000-square-foot vegetable garden that supplies Gertrude's produce, located within the ruins of a glass house. Here, students help plan, plant, and harvest the vegetables. Sage, perennial seeds, and chives sprout up in the otherwise bare garden, defying the flurries that fell on this spring day.
Shields, a master of Chesapeake Bay cuisine, takes over for a light cooking demo. First, shaved Brussels sprouts with spring onions, oranges, and almonds. A strawberry rhubarb shortcake follows to "clean and cleanse the blood after a stagnant winter." Shields brings the biscuits, though, because no flames are permitted on the original 1925 six-burner Vulcan range.
"If you can't grow it, you can't cook it," he says, preaching the importance of using local, seasonal foods. Both Shields and Carroll hope to reclaim the dismantled food economy and move away from factory farming.
The course, in its fifth year, follows three seasons of gardening, culminating in a harvest luncheon at Gertrude's in October. All proceeds benefit Evergreen Museum & Library's ongoing preservation efforts.
"Evergreen is a solace for me," says Kay Fischer, a participant since Edible Evergreen's inception. "The class is a wonderful combination of all the things I love—a beautiful setting, good food, and gardening. John Shields is delightful, and I always leave with some tidbit of new knowledge."