The contemporary sneaker looks like an ancient relic. Sure, in shape, details, and brand markings it looks like the kind of Nike athletic shoe seen on the feet of people walking around malls, working out in gyms, and dancing in nightclubs across the country. But this particular sneaker, one of the nearly 100 shoes and roughly 25 flip-back caps fabricated by French artist Thomas Teurlai for his Foot Locker exhibition, is both familiar and surreal.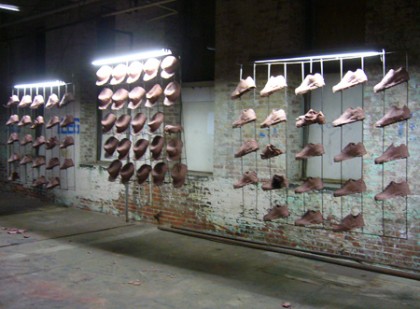 The shoe itself is a hollow sculpture of unfired clay, made from a cast of one of Teurlai's own sneakers. And sometimes the clay comes out of the cast reluctantly, resulting in an irregular product, the kind typically shuttered off to discount stores or third-world markets. The shoe's shape is distorted—a sidewall has ripped, all the surfaces rough and gnarly. And yet there it is among the other clay shoes and caps, proudly displayed on ceiling-mounted shelving as if in a mall sneaker store—though it looks like it was pulled from an archeological dig.
The trenchant tension of retrofitting old with new, mixing mass production with found object, juxtaposing dominant cultures with downstream economies, runs throughout Foot Locker, Teurlai's American solo debut, which will be on view today and Saturday from 4-7 p.m., at the Copycat Building at 1501 Guilford Ave., in Baltimore's Station North Arts and Entertainment District.
The show was curated and organized by Johns Hopkins senior Joseph Shaikewitz, a History of Art major and Program in Museums & Society minor who spent his junior year in Paris, where he first saw Teurlai's work at the Palais de Tokyo. That exhibition include a mixed-media piece called "Gong," a large square of laminated sheet glass that had been cracked suspended from the ceiling with a low-frequency transducer mounted in the center of it. The effect, as documented in this video, is something like an industrial accident waiting to happen: a large glass pane that looks like it may splinter at any moment. Shaikewitz told the News-Letter that he saw parallels between Teurlai's site-specific work and the creative sensibility of Baltimore artists, and with the support of an Andrew W. Mellon Arts Innovation Grant and the Johns Hopkins University Program in Museums & Society, he was able to invite Teurlai to Baltimore.
Teurlai appears to have a knack for subversive innovation, creating functionally aware installations crafted from scavenged or affordably recycled/repurposed parts and which acknowledge the spaces in which they're installed. Baltimore gallery/artist hub Area 405 provided Shaikewitz and Teurlai with workspace, and during a studio visit a week prior to the March 6 opening, Teurlai said that he wanted to respond to the Copycat building's origins (it was built in 1897 as the manufacturing complex for the Crown Cork & Seal Company, which made bottle caps) and incorporate some clay techniques and observations he made during a project in Africa. What he came up with turns the old factory's belly into a sneaker store where the improvised manufacturing process is revealed.
For the installation, five hanging racks of shoes and caps form three-quarters of a rectangle in the space. Each rack looks like a five-rows-by-five-columns retail display, lit from above by a fluorescent light. Slightly off center from this display area is plastic-lined bucket, into which a continuous stream of clay-red water rushes. The area immediately surrounding it is littered with cap and shoe carcasses, a graveyard of failed products. And a few long strides away from that bucket is a metal barrel transformed into a ceramic oven, with a few broken caps and shoes littering the area around it. When lit, this oven is both impressive and a little intimidating.
The overall impression is that of an artisan's home studio showroom, like that of a potter who keeps a few wares on hand to show potential clients. And Foot Locker's wares are what give the show its sneaky bite. Teurlai uses his do-it-yourself production model to make ludicrous fashion accessories. Neither these sneakers nor caps could actually be worn, but they're still instantly recognizable as the kinds of items that have risen from streetwear to high fashion—so much so that the Brooklyn Museum of Art will host an exhibit called The Rise of Sneaker Culture this summer. Like the striking work of First Nations artist Brian Jungen, who has wittily repurposed sneakers and athletic gear, using these objects as part of a visual vocabulary harnesses the global sprawl of their chain as commodities: cheap overseas labor mass produces products for American brands to sell worldwide.
Teurlai highjacks that process: he's made an impractical iteration of that commodity chain. And it's the rack of baseball caps that spotlight this impish streak. The hat cast for Foot Locker is one for the Dallas Cowboys, aka "America's Team." It's a cruelly cheeky comment on how American corporate brands export their products the world over, and how people hither and yon remake, remix, and transforms those products with whatever tools and materials they have on hand.
Foot Locker is Shaikewitz's senior capstone project, though not his first attempt at putting his still-forming ideas about art exhibition into a practice. He put together an art book collection about displaying contemporary art that netted him second place in the annual Betty and Edgar Sweren Student Book Collecting Contest. Through a summer curatorial internship at the Phillips Collection in Washington D.C., he was able to work on Shaping A Modern Identity: Portraits From The Joseph And Charlotte Lichtenberg Collection. He co-curated the group show Stranger Self at Gallery CA in the spring of 2013. And now he's shepherded Foot Locker, which he documented on his Oh, the Humanities! blog. The show ends this weekend, and it's worth checking out.