With spring now fully in the air at Johns Hopkins, it's time again for a seasonal tradition&mdas;the Barnstormers spring musical. This year the student theater troupe is putting on Stephen Sondheim's Tony Award-winning musical Sweeney Todd: the Demon Barber of Fleet Street, which opens tonight.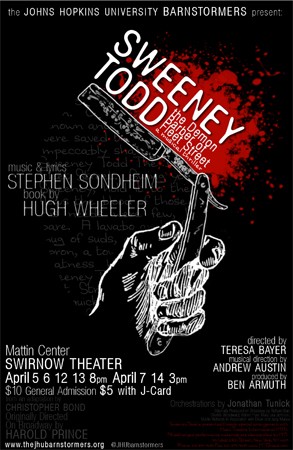 The Barnstormers are all hands on deck in preparation for the show's two-week run. Costumes are sewn to be "edgy, with a personal touch," says costume designer Grace Mumby, a sophomore physics major. Cast members learn to use their props—"Look! The lamp turns on, you can turn it really bright, or really dim, and then turn it off!"
If you walk across the Homewood campus or through Charles Village, you're sure to see appropriately bloody posters and paintings promoting the production. Why so much blood?
"It's a thriller," says Andrew Austin, the show's music director and a graduate student at the Johns Hopkins Peabody Institute. "It's an exciting and thrilling show about murder and love and relationships and morality. It covers almost every human emotion and the seven deadly sins and corruption and greed and all that stuff is rolled up into one melodramatic thriller."
This play wraps up a busy year for the Barnstormers. In February, they performed The Complete Works of William Shakespeare (Abridged), and their fall mainstage production was the courtroom drama Twelve Angry Jurors (typically an all-male production, the Barnstormers' adaptation incorporated the group's female performers). They also staged The Coming World during orientation and recruited freshmen to the troupe through a series of short plays called the "Freshmen One-Acts."
The Barnstormers are the oldest theater troupe on campus, established in 1919. Although the players come from diverse academic backgrounds, some alumni go on to pursue careers in theater. Most notable is John Astin, who joined the group in 1949, went on to play Gomez Addams in TV's The Addams Family, then returned to Johns Hopkins to set up a minor program in theater.
Sweeney Todd, like many Barnstormers productions, features undergraduates from the Homewood campus and Peabody. It is directed by Teresa Bayer, an acting MFA student at the University of Maryland, College Park (for their mainstage productions, the Barnstormers hire outside professional directors).
In the final days before the show opens, the atmosphere in rehearsals is hectic but excited. The hauntingly beautiful notes of songs like "Johanna" and "The Worst Pies in London" echo through the Swirnow Theater again and again, the director always has "a million notes," Bayer says, and the occasional cry of "Line!" rings out as actors fine-tune their performances. Also, they practice getting their throats slit.
The production will be staged at the Mattin Center's Swirnow Theater at 8 p.m. on April 5, 6, 12, and 13, and at 3 p.m. on April 7 and 14. General admission tickets are $10, or $5 with a J-card.