Katy Wilner first noticed the troubling memes when she returned to Los Angeles after the university closed campus in March owing to the COVID-19 outbreak. One of the assistant news and features editors of the undergraduate-run Johns Hopkins News-Letter weekly newspaper, the junior English major "noticed people saying, 'Stuck inside for 14 days, time to be an alcoholic,'" she told me during a phone interview in late March. "I thought, Well that's destructive." Wilner figured some people might be posting such things for the LOLs, but she also knew that moving back home, sheltering in place, and a pandemic can be, well, a lot.
She also knew it was a story.
"If I were on campus, I'd ask a group of people if anybody is willing to talk about their drug and alcohol use," she says, something she couldn't do over Zoom from Southern California. Instead, she created a mental health questionnaire in Google Docs and emailed it to students, anonymously asking about drug or alcohol use and mental health. She also asked respondents if they'd be willing to speak to her on the record for the paper. When I spoke to Wilner in late March, she had already received 140 responses and heard from eight people willing to talk. By the time the News-Letter published her feature about how the university is supporting students' mental health during COVID-19 on April 2, she had received 353 student responses. Of those, 81.8% reported social distancing was affecting their mental health in some way. "One student answered that the inability to have regular meetings with a therapist has made it difficult to cope with anxiety," she wrote.
The coronavirus outbreak has changed media production from cable and network television production and major dailies all the way down to the student press.
For the last half of the spring 2020 semester, the News-Letter staff adapted to living through what one editor told me was this "news-rich environment because nobody knows what's going on." Socially distanced reporting became the norm. Weekend editor Jesse Wu reached out to his contacts in the local food and beverage community to report on how the state's shelter-in-place order was affecting restaurant workers and the ways some places transitioned to curbside pickup and delivery. Sports editor Brandon Wolfe wrote about senior athletes on Hopkins' lacrosse, baseball, tennis, and track teams missing their final seasons.
"There aren't that many places telling the stories of college students and college campuses," Amelia Isaacs, one of the co-editors-in-chief, told me during an interview, alluding to why News-Letter journalists have invested considerable time and attention in this noncredit extracurricular activity without the guidance of a formal journalism department. Wanting to understand what stories students believe rise to the level of news is what drew me to start following the staff during the 2019–20 academic year. In 2015, the paper was one of 12 college newspapers given a Pacemaker Award by the Associated Collegiate Press, a national organization for student news organizations, citing its coverage of the unrest following Freddie Gray's death due to injuries sustained while in police custody. It was the sixth time the News-Letter had been so honored since 1995.
Since that 2015 award, the News-Letter has consistently produced long-form features looking at national topics through a student lens and supplemented that coverage with first-person columns, editorials, and student op-ed responses. It's produced thoughtful stories exploring sexual assault and abuse on campus, how such sexual violence is investigated, adjudicated, and covered, and delicately shared the stories of eight survivors of sexual assault during the #MeToo movement. The paper commendably wrestled with the student activism and protests that arose alongside #BlackLivesMatter, the 2015 Baltimore uprising, and ongoing discussions of what campus law enforcement could and should be. These are issues that daily newspapers are still figuring out how to handle appropriately and ethically, and regularly ignite polarized debates.
Most recently, the paper's been a vital resource for exploring student concerns during the coronavirus pandemic. And like their fellow college newspapers around the country, they've been publishing in the same unforgiving economic climate that has squeezed the budgets and staffs of all media, though the closing or elimination of print editions by college newspapers doesn't get the same level of media attention.
I started following the News-Letter in the fall, sitting in on various weekly meetings and interviewing staff. I've also spent considerable time at the Gatehouse, the stone building on the edge of the Homewood campus that's served as the paper's headquarters since 1967, during Wednesday's production nights. In interviews, co-chiefs Isaacs and Sarah Y. Kim shared with me a few of their plans for their one-year tenure, addressing concerns that are familiar to everybody working in publishing today. They wanted to bolster the broadsheet's rack appeal by making the front pages more visually dynamic. They wanted to reinvigorate the News-Letter's social media activity to drive more traffic to the website, which also needed a revamp. And they wanted to improve engagement with readers through a new public editor position.
Of course, all of that took place in another time and place, on what feels like another planet. The coronavirus outbreak has changed media production from cable and network television production and major dailies all the way down to the student press. The university's suspension of classes for the duration of spring 2020 scattered News-Letter staff members around the country and globe. Isaacs returned to London. Some staff stayed in Baltimore for a variety of reasons—apprehension about foreign travel bans, unsafe home situations, parents taking care of immunocompromised relatives back home.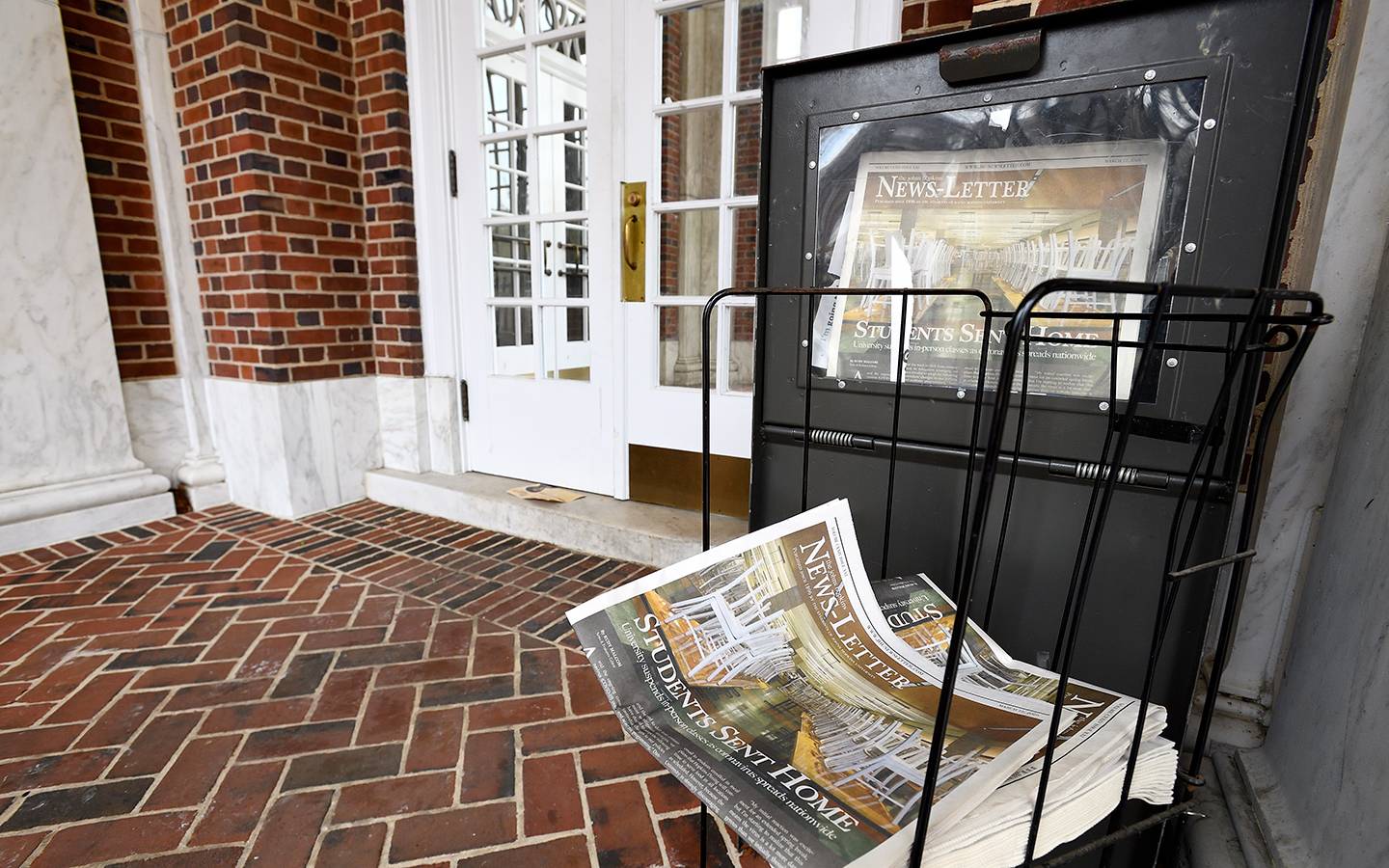 On March 12, the News-Letter put out its last print edition for the semester and began reinventing its production process to publish online. Meetings migrated to Zoom and Google Hangouts. Copy editor Sophia Lola read drafts in Brooklyn every day. Social media manager Claire Goudreau scheduled her daily posts from her home in northern New Jersey. And Matthew Ritchie, one of the three sports editors and an infielder on the Hopkins baseball team, brainstormed story ideas from home in Ashburn, Virginia, now that nobody was playing, well, anything.
Quite suddenly, these 18- to 21-year-olds were living through a global news event, and their response not only reflected what they think news is right now but why newspapers, particularly student newspapers, matter. "Now more than ever we are indeed writing a first draft of history," Jake Lefkovitz, an assistant news and features editor, tells me from his home outside Chicago. "What people are suffering from right now, I think, is a real and destabilizing uncertainty, so anything we can do to help people build a sense of what it is they're living through is how we serve our community."
Lefkovitz is a sophomore history major, and he spent his academic year learning about his discipline's methodologies and practices. "One of the approaches that we're taught is that history is not the past, it's the story we tell to make sense of the past," he says. "What we're aiming to do with a lot of our stories right now is sit down and say: We're living through this great upheaval. What stories can we tell to give that meaning? One story may give meaning to a part of this. Another story does that for a different part of it. And by creating an interpretation of this moment, we're helping to give it some sense of order."
In interviews with more than 20 current News-Letter staff members and a few recent alumni, this notion of the paper as history's first draft comes up time and time again. It's an existential concern that speaks to their relationship with news in public discourse. "The News-Letter is a way for students who are going through things like we are right now to feel like they're being heard, and to immortalize their experiences," says Rudy Malcom, a news and features editor. "Now we're online only, so it's a bit sad that we no longer have the physical paper as a tangible historical record. There is, however, more flexibility in publishing online only. So I think this period is going to have a major impact on how we think about our coverage, publication, and production process in the future."
Will Edmonds, one of the three news and features editors, closes his laptop and asks, "Does anybody have something that's waiting for edit?" He's sitting on one of two sofas that look older than any of his colleagues inside the Gatehouse. It's approaching 10 p.m. on a Wednesday in October, production night, and the staff has about seven hours to finish writing, editing, copy editing, laying out, and detailing the News-Letter's 24-page, two-section broadsheet before sending it off to the printer in Delaware by their 5 a.m. deadline. From somewhere in the compact, four-room building, Steely Dan's 1972 nugget about a wistful Boomer breakup can be heard at low volume, and miraculously one of the students quietly sings along: "Are you reelin' in the years?"
Edmonds' colleagues Malcom and Sabrina Abrams say they'll send him pieces in Google Docs shortly; Lefkovitz adds that he's almost done transcribing an interview. Managing editors Emily McDonald and Katie Tam work on pages in InDesign. A dry-erase board mounted on a wall tracks pages as they make their way through the copy-flow process. The closed door to the editors-in-chief's office swings open, and Isaacs, a junior English major whom everyone calls Milly, steps out and says, "Just checking on what everyone's doing and the state of everything."
Also see
The Gatehouse's productive quiet and general decor will be familiar to anybody who's worked at an underresourced and understaffed newspaper or magazine in the past 20 years. The desktop Mac computers were new a number of years back; the furniture a decade or two older. Back issues are stacked hither and yon on the floor and shelves. Occasionally, Isaacs and Kim, a senior Writing Seminars major who grew up in South Korea, call a group of editors into their office to discuss a story.
The Gatehouse is a reminder of both the News-Letter's enduring legacy and how antiquated a print-first, digital-second publication can feel in 2020. Before I was ever invited inside, Isaacs and Kim laid down a few ground rules. Staff members value the paper's editorial independence and were initially a little worried any glimpse behind the curtain might make them look inexperienced. They needn't have worried. While any seasoned editor might read the News-Letter and see places where they want to trim stories and tighten transitions, the seriousness with which they take their jobs is obvious in every aspect of their editorial process. Their ages are only apparent in those brief moments of youthful self-consciousness: requesting Juul use to be off the record, a quick glance in my direction after cussing.
Hopkins undergrads started the News-Letter in 1896, though in 1898 they had to petition the university's academic council to keep the paper operational after the board of trustees prohibited a student publication without its written approval, according to a 1996 feature in Johns Hopkins Magazine on the occasion of the paper's centennial. That article mentions a long line of alumni who cut their journalist teeth at Homewood—National Book Award winner Murray Kempton, A&S '39; two-time Pulitzer Prize winner Russell Baker, A&S '47; former Village Voice publisher David Schneiderman, A&S '69, SAIS '70 (MA); investigative journalist Richard Ben Cramer, A&S '71; Baltimore City Paper founders Russ Smith, A&S '78, and Alan Hirsch, A&S '77; and music critic J.D. Considine, A&S '79—and is infused with the spirit of watchdog journalism, putting the paper's young staff fundamentally at odds with university leadership.
Newspapers' culture and economics from the mid-to-late 20th century are dramatically different from what today's undergraduates experience. For one, the News-Letter staff now is more diverse in terms of gender, race, ethnicity, sexual orientation, and socioeconomic background, a reflection of the changes in the Hopkins undergraduate population from the 1970s to the present—and a number of staff members told me they wished it was even more diverse. These are not young people who grew up emboldened by New Journalism's literary aspirations, the investigative doggedness of Carl Bernstein and Bob Woodward, or the impudent snark and adversarial advocacy of alternative weeklies. When asked, by and large they cite two 2008 events—the election of Barack Obama and the Great Recession—as their earliest memories of news events that have taken place during their lives. They're digital natives who may have seen or read a print newspaper at home but easily acclimated to smartphones as their primary point of media consumption, when, as one student explained, "news just started coming to me."
They cite two 2008 events—the election of Barack Obama and the Great Recession—as their earliest memories of news events that have taken place during their lives.
They've grown up during a time when more journalists and scholars have made use of digital archives and understand the role political and institutional power play in the ability to document history. Between 2008 and 2019, as noted in an April 2020 report by the Pew Research Center, American news organizations have shed 23% of their workforces, a period that overlaps with the rise of digital "content" whose legitimacy can be dubious.
The different times and perspectives cultivated a wider range of columns, stories, and perspectives in the News-Letter's and student newspapers' pages in general. In the late 1990s and early 2000s, as explored by journalism professor Daniel Reimold in his book Sex and the University: Celebrity, Controversy, and a Student Journalism Revolution (Rutgers University Press, 2010), sex advice columns written by women started appearing in college newspapers around the country. Jessica Beaton, A&S '06, started her "Orgasmic Chemistry" column for the News-Letter in 2003, which led to a stint as a columnist for CosmoGirl.
That a plurality of voices and perspectives is, in and of itself, a necessary component for a publication is taken as a given by the paper's staff. The News-Letter prides itself on being open to all students who feel like they have a story to tell. Over the past two years, Sam Farrar, a junior political science major, has written about his experiences as a first-generation, limited-income, or FLI, student. He joined the paper because he wanted nonfiction writing experience and he's written about the challenges of ethical consumption on a modest income, his inability to explore academic opportunities such as study abroad programs. "Through the column, I've met a larger community of FLI students," he says. "I know a few administrators who read it because whenever it comes out they want to talk to me. That's given me the confidence to write and discuss issues that I'm not so sure I was willing to approach before."
A number of current staffers mention initially seeking out the News-Letter because they wanted to write, and through writing learn more about the university, Baltimore, and the university's relationship to the city. Jesse Wu, a junior biomedical engineering major, thinks of the paper as a catalyst for student improvement. "You get legitimate feedback on work you did very quickly and you get to engage with the world outside Hopkins," he says, emphasizing the importance of the latter. "A lot of people have a negative opinion of Baltimore, thinking the city is an unsafe place. The only way that we can get people to care about and work on improving the amazing communities we have here is to be in them, surrounded by people who care about their neighborhoods, and talking one-on-one with them."
Every current section editor and writer I spoke with mentioned the News-Letter's community, and defined it as a fuzzy space where Hopkins overlaps with the city in which it resides. While the News-Letter is written by and mainly for their student peers, the staff recognize the university and their time here are intimately intertwined with the city. As undergraduates, they're moving to a city whose history they probably don't know that well, and graduate school or career opportunities will probably take them someplace else in four years. As such, it's incumbent on them to educate themselves about Baltimore—which involves getting off campus, talking to strangers, and listening to what they have to say.
"The struggle that I and others grapple with the most has been that question of how do we relate to and serve our community," says Lefkovitz. "It's an issue that we raise time and time again in the newsroom."
In April, the News-Letter was named one of the 10 recipients of the College Media Project grant by the Poynter Institute for Media Studies, the nonprofit journalism school/research organization based in Florida. The award includes $1,500 to spend on a reporting project, as well as Poynter-led workshops for staffs. It's a recognition of the News-Letter's work—most of the other nine grantees have formal journalism or mass communications departments—and the funding infusion allows the staff to think about a feature project that ordinarily might be out of its reach.
The News-Letter is not technically a registered student organization and doesn't receive an annual budget from the Student Government Association. The university fronts printing costs that the paper repays through its print and web ad revenue. And over recent years, the paper has slipped into the red. The co-chiefs and their small business team handle the accounting sides of the operation; over 2019–20, the paper made a modest profit.
Isaacs and Kim wanted to address the paper's financial challenges because "we'd feel really terrible at the end of the year if we hadn't set a plan that shows how we're going to tackle the deficit," Kim says. "It's not realistic to try and do it all in one year, but it's not responsible of us to pass it off onto the next few years without going, Here's the building blocks for doing this."
Over the years previous chiefs have found ways to cut costs. The paper switched printers in 2017, lowering costs and getting better color reproduction in the process. The staff started publishing a commencement magazine at the end of the academic year, creating a new revenue stream from parents who place ads for their graduating seniors. Isaacs and Kim started a series of fundraisers through the year, including a big push in early 2020 that raised more than $16,000 for the paper to cover printing costs, reducing what the paper takes on from the university.
For the moment, Rudy Malcom and Katy Wilner, who were voted the co-editors-in-chief for 2020–21 by the staff, plan on making the fundraiser an annual event. "A lot of our revenue does come from print advertising, but we're trying to find new ways to incorporate online advertising," Wilner says, adding that the paper's recent adoption of rolling online publishing without a print edition is encouraging them to think about publishing over the summer and monetizing their weekly email newsletter.
Besides, in May they're unsure what's going to happen in the fall, and they need to figure out how to bring in some money if they didn't have a print edition. "I think the silver lining in this whole pandemic can be that there's a transition to improve the way that we operate our newsroom," Malcom says. "This period has been a referendum on our traditional processes in the sense that we're seeing that maybe we don't necessarily need to do things the way we've done them in the past. We see the benefit of publishing quickly. We can engage more of the public more regularly and frequently, and it gives us more opportunities to focus on things like graphics or how we can collaborate between sections. At least, I hope that is the case. That sounds kind of optimistic, but we'll see what we can do."