Kate Dwyer ("Her Story Is Set in Stone"), A&S '16, is a writer based in Brooklyn. Her work has appeared in The New York Times, The New York Times Magazine, The Cut, Fortune, Marie Claire, and elsewhere.
Edmund Fountain ("All This Is Hers," photography) is a New Orleans photojournalist. In 2010, he was named a finalist for the Pulitzer Prize for his work on a St. Petersburg Times series about a century of abuse at a Florida reform school.
Michael Kirkham ("Mighty Power in a Petite Invention," illustration) works internationally for clients such as The New Yorker, The Guardian, and Google. He lives with his wife and two children in Edinburgh, Scotland.
Ramona Ring ("Another Reason to Meditate," illustration) is a freelance illustrator based in Hamburg, Germany. In 2017, she graduated from the University of Applied Sciences in Hamburg with a master's degree in illustration, and she has been working in the fields of editorial, advertising, and children's books since 2012.
Jeanne Schinto ("No Two Alike"), A&S '81, has been a reporter for Maine Antique Digest for the last 16 years, writing about auctions, museum exhibitions, and trends in the trade. She is also the author of three books, including Huddle Fever: Living in the Immigrant City.
Boyce Upholt ("All This Is Hers") is a freelance writer based in New Orleans. He was the recipient of a 2019 James Beard Award in investigative journalism.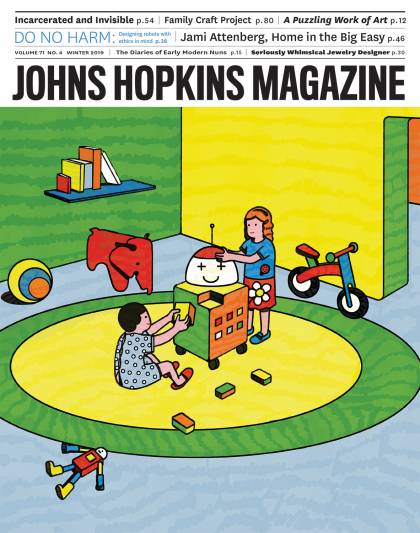 On the cover
Visual artist Klaus Kremmerz ("Plays Well With Humans) is a self-described lover of sci-fi. On this issue's cover, he channels the imagination of Star Wars and Pixar's Wall-E to portray a world where robots play, help, and interact with children in the pediatric wards of hospitals. Kremmerz's work has also appeared in The New Yorker, The New York Times, Vanity Fair, Esquire, and more.