Yvonne Albinowski ("Community Table," photography) is an award-winning photographer based in New York City. She is a regular contributor to publications such as Adirondack Life magazine, the Observer, and Edible Manhattan/Brooklyn/ Long Island.
Judy Berman ("Film's Warrior Queen"), A&S '05, is the television critic at Time. She lives in Brooklyn, New York.
Geeta Dayal ("This Artwork is Alive") is a Los Angeles–based journalist who writes about technology and the arts. Her work has appeared in numerous publications, including The Guardian, Rolling Stone, and Wired.
Thomas Hedger ("Aesthetically Speaking," illustration) is an artist living in London. Past clients include Nike, Apple, Urban Outfitters, and The New York Times.
Matt Roth ("The Outspoken One," photography) is an editorial and commercial photographer based in Baltimore, where he lives with his wife and two children. Clients of note are The New York Times, The Wall Street Journal, The Washington Post Magazine, and Baltimore magazine.
Emily E. Smith ("How Best to Behead a Mosquito") is a freelance writer based in Montana. She has written for The Guardian, Smithsonian, Atlas Obscura, and others.
On the cover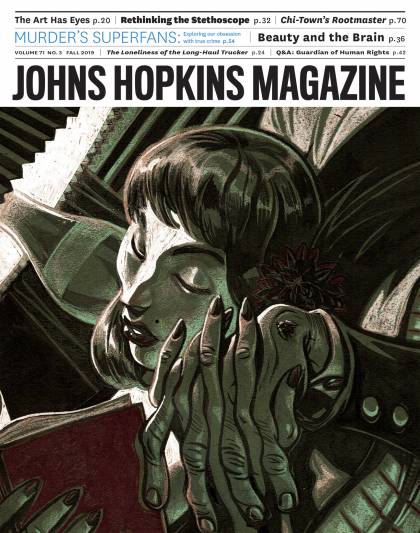 Artist Chris Visions explores our fascination—and sometimes obsession—with true crime in this macabre illustration, an accompaniment to Bret McCabe's story, "Crime on Her Mind". "It points to the bait of aesthetics, charm, and passion, loomed over by the shadow of peril," Visions explains. The image offers "a glimpse at the snare that awaits the voyeur if they get too close, and a reminder that evil lurks closely in unexpected and alluring people."