Days before the most challenging shoot of Devika Bhise's career was slated to wrap, disaster struck. The director of The Warrior Queen of Jhansi, the independent film in which Bhise was playing the title role, had fallen suddenly, gravely ill. After being rushed from the set in Morocco to an ICU in New York, the woman who was supposed to be masterminding the climactic battle sequence would instead spend months in the hospital with a life-threatening respiratory ailment. Left with no other viable option, Bhise took the director's chair for the last 48 hours of the shoot.
Those final scenes included a difficult two-part stunt in which Bhise had to jump off a 40-foot rampart. "I was bossing around hundreds of stunt people and doing my own stunts at the same time, then sprinting to the monitor to watch my take and [saying], 'I'm going to do it one more time,'" Bhise, A&S '13, recalls. All the while, she had to contain her concern for the director—who also happened to be her co-writer, producer, and mother, Swati Bhise. "It was very scary," Bhise says. "But everything was happening so fast that there wasn't even time to be as scared as I should've been."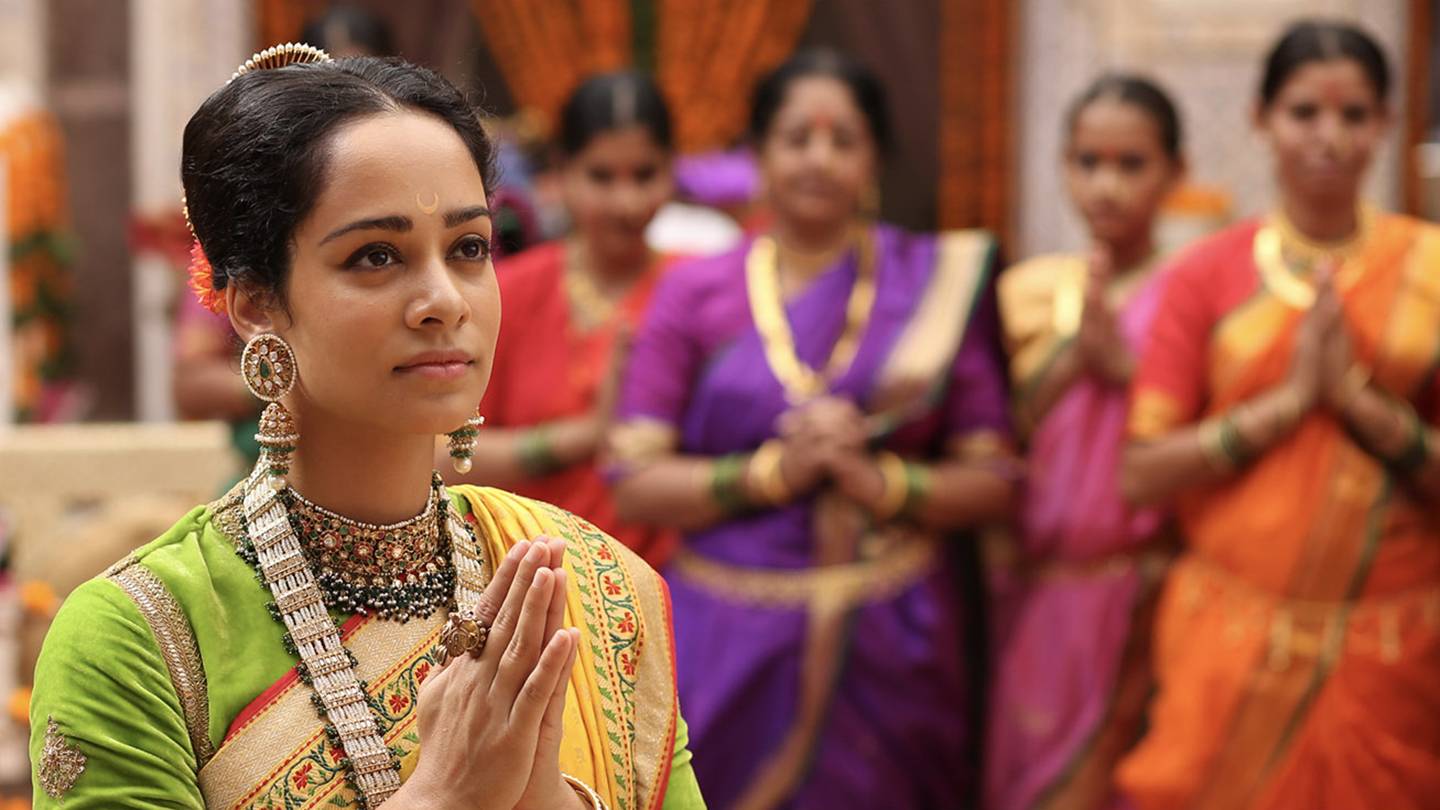 In a feat worthy of her onscreen character, Bhise not only nailed the action sequence but also—alongside her somewhat recovered mother—finished the film and screened it on the festival circuit. The film will be distributed via Roadside Attractions and is set for a fall release in theaters. A 19th-century Indian rani (or queen) whom Bhise likens to Joan of Arc, title character Lakshmibai is known for her intelligence, courage, and mastery of traditional male skills such as archery and horsemanship. After the death of her husband and the colonial government's refusal to recognize her adopted son as his heir, she fought valiantly for her kingdom's sovereignty during the Indian Rebellion of 1857, a major uprising against the British East India Company. Though it ultimately failed, the rebellion helped set the stage for the 20th-century Indian independence movement.
The rani isn't just a historical figure; in Indian culture, she's an archetype. Bhise, who was born and raised in Manhattan but has spent plenty of time in her family's homeland, explains that when adults compare a little girl to Lakshmibai, "they mean you're fiery, feisty, determined, and a little bit outside the box." The description fits Swati Bhise—who felt such a kinship to the rani that she wrote a student thesis on her before launching a diverse career in the arts—as well as her daughter, an accomplished actor, singer, and dancer who is best known for starring opposite Dev Patel in 2015's The Man Who Knew Infinity, a British biopic about the Indian mathematician Srinivasa Ramanujan.
That audacity served the mother-daughter team well as they worked to bring the rani's story to the screen after another production company's plan for a biopic, in which Bhise was up for the lead role, fell apart. "What if we just do it? What if we write the script together?" her mother proposed. "I thought she was out of her mind," Bhise says, "but I said OK, and I thought it would be a cute little project we would do together."
In the end, there was nothing little about the project. Warrior Queen is a BBC-style period epic, complete with lavish sets and costumes, tightly choreographed fights, and a heavy-hitting cast that includes Rupert Everett, Jodhi May, and Derek Jacobi. Through shrewd budgeting and negotiation, the novice film producers managed to give the final product the polish of a far more expensive production. "We had to micromanage every part of the process to make sure we could complete such an ambitious endeavor in the time and budget allotted," says Bhise, who adds that her awareness of the cost of each take pushed her to give her all every time the cameras started rolling.
View this post on Instagram
The opportunity to expose a Western audience obsessed with fictional women warriors like Daenerys Targaryen and Katniss Everdeen to the true story of an extraordinary Indian heroine made all the stress worthwhile. As Bhise, who majored in art history at Johns Hopkins while training as an actor under the mentorship of John Astin, notes: "It's so common that powerful women just make the footnotes of history-book chapters."
Yet she had a second, more practical reason for pursuing this particular project. Though she's a self-described "rom-com buff" who'd love to write a boy-meets-girl story, Bhise knew that if she'd sold that kind of script, investors would have cast an Emma Stone or a Jennifer Lawrence as the lead. With Warrior Queen, however, she could tell them, "If you can find an Indian actress who speaks Hindi and Marathi, rides horseback, and is trained in martial arts—absolutely, hire her. But here's an option: I'll do it." It's a lesson she picked up from women of color in Hollywood like Mindy Kaling, who wrote herself into an acting career. "The industry is controlled by a very small group of people," Bhise reflects. As an outsider, "you absolutely have to make it on your own."