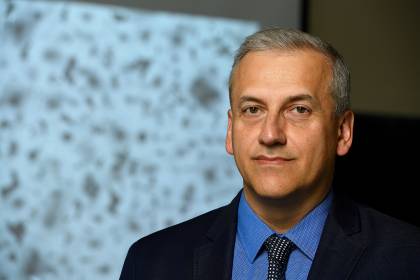 Michael Tsapatsis, a chemical engineer and materials scientist, joined Johns Hopkins in September as a Bloomberg Distinguished Professor. The 36th BDP named since the professorships were created in 2013, Tsapatsis has appointments in the Whiting School of Engineering's Department of Chemical and Biomolecular Engineering and the Applied Physics Laboratory's Research and Exploratory Development Department. Prior to his Johns Hopkins appointment, he was a professor in the Department of Chemical Engineering and Materials Science at the University of Minnesota. He is an expert on materials that have pores of molecular size, which function as molecular sieves. In 2015 he was elected a member of the National Academy of Engineering.
Johns Hopkins University moved up a spot, to No. 12, in the Times Higher Education World University Rankings, an annual measure that compares global research-intensive institutions across their core missions: teaching, research, knowledge transfer, and international outlook. Hopkins shares the No. 12 ranking—as well as the eighth spot among U.S. universities—with the University of Pennsylvania.
In another ranking, of the best colleges and universities in the country, U.S. News & World Report put Johns Hopkins in the top 10 for the third time in the past four years. The university is tied with Northwestern University for the No. 10 spot. The publication recognizes Johns Hopkins for excellence in undergraduate engineering education—where it ranks No. 1 among undergraduate programs in biomedical engineering—and for its reputation among high school guidance counselors.
Michela Gallagher, a professor of psychology and neuroscience in the Krieger School of Arts and Sciences and the School of Medicine, has been awarded the 2018 Melvin R. Goodes Prize for Excellence in Alzheimer's Drug Discovery, by the Alzheimer's Drug Discovery Foundation. Her research in cognitive neuroscience has focused on age-related decline in memory and attention. She heads the Neurogenetics and Behavior Center at Johns Hopkins and is the founder of AgeneBio Inc., a pharmaceutical development company. The Goodes Prize includes a $150,000 award and will support Gallagher's therapeutic development of AGB-101, the first and only treatment to target hyperactivity in the hippocampus, a condition characteristic of the amnestic mild cognitive impairment stage of Alzheimer's disease.
The Johns Hopkins Applied Physics Laboratory and IT@JH were named Best Places to Work in IT 2018 by IDG's Computerworld. APL is No. 16 on the list, and IT@JH—cited for its service to Johns Hopkins Medicine—is No. 30.
Muyinatu "Bisi" Bell, an assistant professor in the Whiting School's Department of Electrical and Computer Engineering, has been selected to receive the National Institutes of Health's Trailblazer Award. She is director of the Photoacoustic and Ultrasonic Systems Engineering Lab, known as PULSE, and a member of the Malone Center for Engineering in Healthcare. Bell and her team will use the three-year, $624,000 award to conduct pioneering research that integrates deep learning with ultra-sound image formation to provide interventional radiologists with a new (and clearer) type of ultrasound image.
Six faculty members were recently elected to the National Academy of Medicine, considered one of the highest honors in health and medicine. They are James Berger, professor of biophysics and biophysical medicine in the School of Medicine; Jennifer Elisseeff, the Morton F. Goldberg Professor in Ophthalmology and a professor of biomedical engineering in the School of Medicine; Ellen MacKenzie, dean of the Bloomberg School of Public Health and a Bloomberg Distinguished Professor; Martin Makary, a professor of surgery in the School of Medicine; Xiaobin Wang, Zanvyl Krieger Professor in Children's Health and a professor in the Department of Population, Family and Reproductive Health in the Bloomberg School; and King-Wai Yau, a professor of neuroscience and ophthalmology in the School of Medicine.
Peabody faculty artist Oscar Bettison, Composition, has received a 2018 Fromm Commission from the Fromm Music Foundation at Harvard University. The commissions are one of the principal ways that the foundation seeks to strengthen composition and bring contemporary concert music to the public.
Kathleen Sutcliffe, a Bloomberg Distinguished Professor, was elected to the Fellows Group of the Academy of Management at its 78th annual meeting, held in August in Chicago. AOM is the leading professional association for scholars of management and organization. Sutcliffe has appointments in the Carey Business School, School of Medicine, and School of Nursing. She is an expert in high-reliability organizing, managing risk and uncertainty, resilience, and organizational change.
Janice Evans, a professor in the Department of Biochemistry and Molecular Biology in the Bloomberg School of Public Health, was elected president of the Society for the Study of Reproduction. Her yearlong term began in July. Evans' research focuses on fundamental cell biological processes related to the oocyte's progression through meiosis.
Johns Hopkins University was honored with one of the Maryland Green Registry Leadership Awards presented annually to five organizations that have shown a strong commitment to sustainable practices. Homewood Recycling reports that it has increased its recycling rate from 26 percent to 44 percent since 2013.
David Yousem, a professor in the Department of Radiology and Radiological Science in the School of Medicine, has been named the Radiological Society of North America's Outstanding Educator for 2018. Yousem is one of only 20 radiologists who have received this honor from the group, which has 54,000 members worldwide.
Five Johns Hopkins engineering students were named Siebel Scholars for 2019: Ehsan Azimi, Luke Osborn, John Hickey, Javad Fotouhi, and Farshid Alambeigi. The award recognizes nearly 100 of the top graduate students from universities across the nation who are studying in the fields of business, bioengineering, computer science, and energy science. Siebel Scholars receive a $35,000 award toward their final year of studies.
Mary Armanios, a professor of oncology and genetic medicine in the School of Medicine, has received the 2018 Sachiko Kuno Award for Applied Science for her research to advance the care of idiopathic pulmonary fibrosis. The Kuno Award supports the translation of scientific research to a practical and real-world solution and carries funding of $100,000.
Cynda Rushton, the Anne and George L. Bunting Professor of Clinical Ethics in the Berman Institute of Bioethics and the School of Nursing, has been chosen to serve on a newly formed National Academies of Sciences, Engineering, and Medicine committee to develop recommendations for systemic solutions to combat clinician burnout. Rushton was one of two nurses selected for the committee.