Jeffrey Irtenkauf, Ed '15 (MS) ("Throngs of Himself"), is a consultant with Ball Aerospace & Technologies, where he advises the U.S. government on issues related to national security and technology. He lives in Baltimore with his greyhound, Vesper.
Ashley Stimpson ("Throngs of Himself") is a Baltimore-based writer whose articles, essays, and poems most often explore issues of nature and identity. She is an adjunct professor of writing and is collaborating on a memoir about familial identity theft.
Stephen Eric Thomas ("Throngs of Himself," illustration) was born in the U.K., lived in Israel for a time, and is now a full-time New Yorker. His art is an amalgam of old-school painting techniques, photomontage, and digital illustration.
Brian Tietz ("Farmworkers to Table," photography) is a Florida-based portrait and lifestyle photographer. He previously worked as a correspondent for news outlets including the Associated Press, USA Today, and The New York Times.
Toma Vagner ("Snapping to Better Vision," illustration) is a NYC-based illustrator inspired by Japanese bubble gum wrappers and technical manuals. She grew up in Russia.
Alice Walton ("Careful Wording") is a health, science, and psychology journalist. She has a doctorate in biopsychology and behavioral neuroscience from the Graduate Center of the City University of New York.
On the cover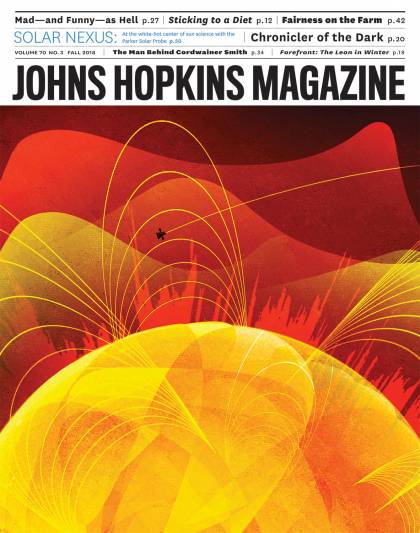 As illustrator Brian Stauffer worked on the art to accompany this issue's feature on the Parker Solar Probe, he thought about what it must be like to place your hands on an object that will one day make its way into space. "For the vast majority of us who spend our lives looking downward, the universe is almost as mythical and unreal as distant fictions," he says. "How fascinating it must be to build a device that will survive and send signals back from such a massive source of energy." Stauffer lives in the San Francisco Bay area and has contributed to The New York Times, Esquire, GQ, and Rolling Stone, among others.