Richard Borge ("Smart Bait," illustration) has created art and animation for clients including Time, Fast Company, Coca-Cola, and Reebok. He lives in Brooklyn, New York.
Sue De Pasquale ("Firebrand With a Pince-Nez"), the editor of Hopkins Medicine magazine, serves as a consulting editor and contributing writer to several college and university magazines. She was the editor of Johns Hopkins Magazine from 1994 to 2006.
Jasu Hu ("The Nurse Will See You Now," illustration) is a freelance illustrator and a graduate of Maryland Institute College of Art. Her work has appeared in The New York Times, The Washington Post, Nautilus, and more.
Rosemary Hutzler Raun ("The Nurse Will See You Now"), A&S '97 (MA), is a writer and editor in Baltimore City. The grandmother for whom she is named was a nurse, as is her aunt.
Belinda Lanks ("Safe Slumber") is a former editor at such publications as WIRED, Bloomberg Businessweek, and Fast Company. She first learned about baby boxes while on a press trip to Finland.
Chris Visions ("The Lonely Crusader") is a graphic designer, game designer, and illustrator who has worked with clients including Cartoon Network, the NBA, and Amazon Publishing. He's also drawn for comic books such as Spider-Gwen (Marvel) and Constantine (DC).
On the cover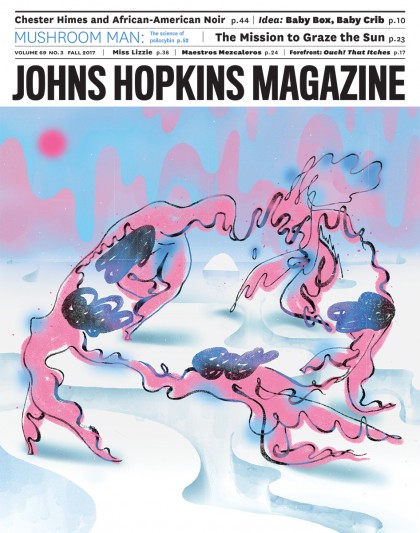 Qieer Wang is a Brooklyn-based illustrator, animation filmmaker, designer, and occasional tattoo artist. This issue's cover art accompanies "Crash Course in the Nature of Mind," about researcher Roland Griffiths' experiments with psilocybin, the psychedelic compound found in certain mushrooms. Wang, inspired by Griffiths' look into the nature of consciousness, sought to convey the spiritual connections among humans.