Before she became a nurse, Reiko Asano was a bond trader for a Tokyo investment bank. The work was fun and fast-paced and she was good at it. But her undergraduate Jesuit university had taught not just the value of competency but "men and women for others," and that last thing was missing from her job. Then, two hours into a flight back to Tokyo from Michigan, she watched as another passenger fell into a diabetic coma and was resuscitated by a doctor on the flight. That was a turning point. "I realized that you could actually save someone's life with your own two hands," Asano, Nurs '14, says. "That's when I decided to quit my job."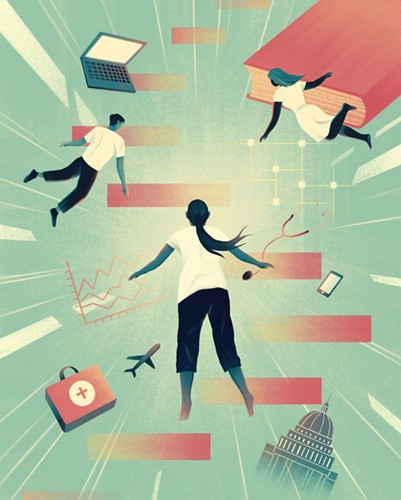 She concluded that becoming a nurse practitioner was her best option. But that role did not exist in Japan, so at age 33, Asano came halfway around the world to enroll as a graduate student at the Johns Hopkins School of Nursing. As she worked her way through the program, Asano was employed as an RN in a cardiac surgery ICU. Many of the patients she cared for there were still in their 40s and 50s but sick with heart disease, morbidly obese, and depressed. She began to think more about prevention. "Maybe they became depressed first and started to become emotional eaters and got cardiac disease," she says. "Maybe they don't have family or friends. We don't know what it is, but I could see a cycle and started to think, how can I prevent this? Before they become depressed, or before they start having cardiac issues, how can we promote exercise and healthy diet, and provide community support?"
This newfound interest in prevention led Asano to stay at Hopkins in a PhD program. "In the ICU you only take care of one or two patients every day. With research, you can impact hundreds and millions of people in the world." Now a mother of twins, Asano expects to graduate with her doctorate in 2019. After that, she hopes to teach and do research. She is also thinking of pursuing psychiatric nurse practitioner credentials, to be involved with patients with psychiatric issues or perhaps be a researcher with psychiatric expertise. These days, for a nurse, there are many possibilities.
For several years now, more men and women have been going into nursing as the profession's role and opportunities for nurses have been expanding. A nearly decade-long effort by the Institute of Medicine (now renamed the Health and Medicine Division of the National Academies of Sciences, Engineering, and Medicine), with funding from the Robert Wood Johnson Foundation and AARP, has sought to amplify nursing and enlist it to heal what ails the American health system. More than 3 million strong, nurses account for 80 percent of health care workers and constitute one of the largest occupations in the United States. They are also the most trusted, according to Gallup's Honesty and Ethical Standards in Professions poll, and have been every year but one since 1998. (The exception was when firefighters placed first following 9/11.) The IOM's 2010 report, The Future of Nursing: Leading Change, Advancing Health, recommended that nurses attain higher levels of education and training through an improved education system, practice to the full extent of their education and training, and be full partners with physicians and other health care professionals in redesigning health care in the United States. It also called for improved use of data to address the critical workforce shortages looming on the horizon of the baby boomers' old age.
Nurses are answering a call to help contain costs and improve care by getting better at what they already did well.
Sarah Szanton, Nurs '93, '07 (PhD), is a nurse researcher and a leader in health care for the elderly. Like Asano, she did not begin her professional life as a nurse. In 1988, fresh out of Harvard with a bachelor's degree in African-American studies, she decided that her angle on changing the world would be to work toward universal health care through public policy. She became a lobbyist, helping nurses and nurse practitioners frame stories about their work for an audience on Capitol Hill.
She also began volunteering in a D.C. women's clinic, where she fell in love with helping people in need. From talking with the nurses as a lobbyist, she concluded that their jobs were more fun than hers and generated better stories than those she could tell as a lobbyist. Time for her own midcourse correction. After becoming an RN, she is now a professor and PhD program director at the School of Nursing as well as associate director for policy at the Center for Innovative Care in Aging. She has a joint appointment with the Bloomberg School of Public Health. Nursing has provided Szanton with fulfilling work and a platform for influencing policy, but when she changed careers people said, "You went to Harvard and you want to be a nurse?"
The year Szanton graduated from Harvard, Pamela Maraldo, then executive director of the National League for Nursing, published "The Economics of Women's Health Care" in the journal Nursing Economic$. Maraldo diagnosed several grave maladies of the American health care system. One was a dwindling supply of nurses, which she attributed to negative attitudes in society toward the profession. Another was the health system's inefficacy in addressing chronic illnesses and the lifestyle limitations that arise from them: "Chronic illness will not succumb to a medical model; by definition, it has no cure. As we know, the treatment of choice for chronic illness is nursing care. An acute care system built on a model of diagnosis and cure will not only be ineffective in dealing with the majority of patients ... but will also be intolerably expensive."
Maraldo argued for public insurers such as Medicare to begin direct reimbursement for nursing services, which would allow nurses to manage chronic care in various settings. An obstacle was the failure of society and the health care system—and the women's movement—to place sufficient value on what Maraldo called "women's work." "Leading feminists at the height of the women's movement were often quoted as saying: 'Don't be a nurse, be a doctor,'" she wrote. "Today, nursing is suffering dramatically from declining enrollments because little girls don't want to grow up and be nurses anymore."
Szanton believes the perception of nursing has improved since then as more nurses have become leaders in policy, practice, and research. (For her part, she gives the women's movement a lot of credit for those advances.) Yet popular images of nursing still lag behind reality, with respect to the knowledge and skills required at the bedside, as well as to the profession's full dimensions. In addition to providing direct care, nurses today run research studies, manage complex health systems, design new interventions, develop technology, influence health care policy, and practice abroad and out in the community.
They are also part of the reshaping of the American health care system. As high costs, poor outcomes, workforce shortages, access disparities, and other problems have prompted re-evaluation of the current model, nurses are answering a call to help contain costs and improve care by getting better at what they already did well. They are advancing further in their educations, gaining professional autonomy in greater numbers, and ascending to positions of influence in primary care, research, management, information science, and public policy. In the process, the profession's distinct approach to care—holistic, practical, patient-centered, preventive, educational—is poised to play a major role in improving health care throughout the country
The IOM's recommendations place a premium on education. Nurses can be licensed in most states as RNs with a two-year associate degree, and in some with only a diploma from a hospital training program. But research has demonstrated better outcomes in hospitals that employ nurses with a baccalaureate or higher. Those nurses have had more training in the critical thinking and leadership skills required to manage the care of patients who are living longer with chronic and complex conditions, and to design and implement cost-saving improvements. The IOM report called for 80 percent of practicing RNs to hold bachelor's degrees by 2020, and for doubling the number of doctorally prepared nurses. The American Association of Colleges of Nursing estimates 55 percent of nurses had earned a BSN by 2013, up from 35 percent in 2008; Doctor of Nursing Practice (DNP) graduates increased from 1,516 in 2011 to 4,006 five years later. There was also a modest five-year increase in nursing PhDs.
The School of Nursing recently upgraded its entry-level program from a bachelor's to a master's degree. Along the same lines, the school has shifted its advanced practice nursing courses (for nurse practitioners and others) from a master's program to a DNP as of this fall. To address a chronic industrywide shortage of teaching faculty, the school has allocated more resources to its PhD program and doubled its enrollment, and in July announced the creation of a five-year combined DNP/PhD program. (In many schools, the DNP is a teaching credential, too.) Collaborative degree programs with the Bloomberg School of Public Health and the Carey Business School have been revived, as well.
Part of the impetus behind the DNP program has been to advance career progression for clinical nurses and promote excellence in patient care. Patricia Davidson, dean of the School of Nursing, readily lists Johns Hopkins DNP graduates in hospital executive positions. Laura Wood, Nurs '12 (DNP), is senior vice president for patient care services and chief nursing officer at Boston Children's Hospital. Susan Doran Finlayson, Nurs '09 (DNP), is senior vice president of operations for Mercy Medical Center in Baltimore. Closer to home, Deborah Baker, Nurs '92, '97 (MSN), '11 (DNP), serves concurrently as the vice president of nursing and patient care services for Johns Hopkins Hospital and as senior vice president for nursing for the Johns Hopkins Health System—the latter a newly created position to which she was appointed in May 2016 and the highest Johns Hopkins Health System executive position yet held by a nurse.
Davidson cites a study showing that a nurse researcher on staff can save hospitals large sums ($8 million over four years in a 500-bed hospital) by translating clinical evidence into cost-saving measures, and by training direct-care nurses in their implementation. "As nurses have higher levels of education," says Davidson, "there's an increasing demand for nurses in management, research, and policy. With the aging of the population and increasing chronic care needs, there is an increased need for nurses who are credentialed and competent, who understand the health care system, to be able to forecast what the future needs."
Peg Daw received her Hopkins DNP in 2015. When she enrolled, she was already Nurse Support Program II grant administrator for the Maryland Higher Education Commission. The commission oversees state funding to nursing schools for programs aimed at ensuring an adequate and optimally prepared nurse and nursing faculty workforce. (Maryland is one of 16 states projected by the U.S. Health Resources and Services Administration to have a shortfall by 2025.) A 10-year evaluation for continued funding of the program was coming due, and Daw conducted that evaluation as her doctoral capstone project. The outcome was a five-year, $75 million renewal of the commission's funding, as well as a series of scholarly publications in Nursing Economic$ detailing the process. Additionally, Daw says, many other states are now considering implementing their own version of Maryland's nursing workforce development strategy.
For Szanton, becoming a PhD researcher has meant synthesizing her commitments to nursing and advocacy. Her nursing experience guides her in designing care for her patients, while her policy acumen allows her to conduct research that produces information for policymakers.
As a nurse practitioner, Szanton has always worked with patients for whom housing is an issue: migrant fruit pickers living in shanties in rural Pennsylvania; homeless adults in Baltimore; and homebound low-income elders. Seeing how their environments caused or aggravated her patients' health problems and made them harder to treat, she came to believe that help in improving their living conditions should be included in caring for their health. Soon after completing her PhD, Szanton invented an approach to helping patients with health and housing at the same time. With a $4 million grant from NIH, she developed and piloted a program called Community Aging in Place, Advancing Better Living for Elders, with sociologist Laura Gitlin, whose earlier ABLE program was a model. CAPABLE helps elders stay out of nursing homes—a huge cost savings for insurers as well as a benefit to the patients' quality of life—by bringing together a nurse practitioner, an occupational therapist, and a handyman to assist patients over a four-month period. As a team they work to improve what is known as the "person-environment fit," guided by the patient's own concerns. Based on the strength of the pilot study, CAPABLE has received funding from NIH and from the Centers for Medicare and Medicaid Services Innovation Center, which was established by the Affordable Care Act to test approaches that could save money and improve care at the same time.
Szanton tells the story of one homebound elderly woman who was too weak to make it to the bathroom on her own. While her son, who was her caregiver, worked a 12-hour day shift, she was forced to remain on a portable commode. CAPABLE helped address her situation through a combination of railings and chairs placed along the hallway and a strengthening regimen to restore some of her mobility. Nancy Glass, SPH '96 (MPH), Nurs '96 (MS), Szanton's colleague at Johns Hopkins, describes that particular intervention as "quintessential nursing." The brilliance, she says, is in the simplicity. Helping an elderly patient build strength can take a lot of time, she acknowledges, but "that's quality of life. There's no medication that can fix that. Some people would say, 'It's not hard science, it's common sense.' Yeah, it's common sense, but the majority of people who are homebound don't have access to the basics. Nursing and what we do can be very practical."
Szanton cites research in places like Camden, New Jersey, that found a tiny proportion of "super-utilizers" absorb a huge percentage of health care budgets. "A lot of that is preventable," Szanton argues. "If you look at who is likely to be in that top 5 percent, they have chronic conditions, which is what the medical system typically focuses on, but on top of that, they also have functional difficulty or dependence: it's hard to take a bath, it's hard to eat, it's hard to get dressed, it's hard to sleep in your own bed, so you're sleeping on the couch downstairs. Those things are what drive health care spending, but we don't address them in regular medical care. There's this perfect opportunity to use health care dollars—because you're going to get health care savings—to address some of those functional attributes."
She adds, "The 'secret sauce' in CAPABLE is addressing both the person and the environment—actually fixing the environment, rather than just recommending 'it would be good if you fixed this hole in your floor'—and designing the clinical expertise around eliciting what the person wanted to be able to do. That motivation drives the improvements. So that's how it's different from regular medical care. We're not asking, 'Are you taking your medication? Are you getting exercise? Are you doing what we are thinking you're supposed to be doing?' We're asking, 'What would you like to do?' and then we use our clinical expertise and reasoning to help them figure out a plan to see what can work."
Christina Godack joined the School of Nursing as its head of marketing and communications in 2014. In October 2016, the school launched a social media campaign titled "The New Script of Nursing / #WeGotThis." Godack conceived the campaign as a celebration of nurses and a gift to the profession.
In the campaign's central video, two women and two men identified only as "Real Nurses" appear in black-and-white close-up. They are students Fernando Mena-Carrasco and Françoise Mbaka; alumnus and adjunct faculty member Scott Newton, Nurs '14 (DNP); and Glass, who is a nursing professor and associate dean for research. (The group's ethnic and gender ratios reflect an aspiration rather than reality, as non-white nurses currently account for 19 percent of RNs, and men's representation hovers around 10 percent.) The nurses deliver a pithy rhyming text that encapsulates many of the unexpected aspects of contemporary nursing: research, advocacy, prevention, international aid, information science, tech development: "I turn data to breakthroughs / I chart a new course / When there's earthquake or outbreak, I fly to the source / Aid giver / App maker / Risk taker..." A companion video features the same nurses candidly discussing what they do, and additional vignettes of eminent nurse specialists illustrate nurses' leadership in patient care, research, innovation, administration, education, and advocacy.
The video has been shared with nursing schools and associations worldwide. Other schools have used it as a recruiting tool or to inspire incoming students. Godack speaks with passion about the campaign's motivation: "Health care is changing in our country. If you're looking for more access, and more cost-effective, coordinated care, nurses will be the drivers. In response to the needs of the health care industry, there's an opportunity to get in the game and be at the big boy table. We need to take advantage of this window of opportunity."
Images have consequences. A nonprofit organization called The Truth About Nursing, founded by five School of Nursing graduate students, catalogs persistent stereotypes of nurses in its book Saving Lives: Why the Media's Portrayal of Nursing Puts Us All at Risk: handmaiden, naughty nurse, angel, battle-axe, advanced practice nurse as cut-rate physician substitute. The authors connect the dots to a 20-year nursing shortage, and from shortages to increased rates of negative health outcomes for patients, everything from catheter infections to death. Through letter-writing campaigns, the organization's members have extracted apologies and retractions from the likes of Dr. Phil, who spoke of "cute little nurses" looking to marry doctors so they can quit nursing; New York Times columnist Paul Krugman, who called nursing "menial"; and many others. The federal Health Resources and Services Administration predicts a nurse shortfall of 1 million by 2020. In a recent talk at the Chautauqua Institution, School of Nursing Dean Emerita Martha Hill, Nurs '66, SPH '86 (PhD), pointed out that even the most conservative estimates put the coming shortage at twice the size of the largest shortage since the mid-1960s. (The Bureau of Labor Statistics has projected that from 2014 to 2024, the number of nursing job openings, due to growth in demand and the need to replace retiring nurses, will reach 1.09 million.)
Nancy Glass is one of the app makers referred to in the "New Script." MyPlan, the free app she developed, grew out of an effort to create a decision aid for someone in an abusive relationship, similar to medical health decision aids used by patients and practitioners to weigh the options in treatment of illness. Rooted in a career's worth of research on intimate partner violence and tested over five years, the app helps a user evaluate her situation for danger, connect with resources, and make a safety plan based on a realistic assessment of her current circumstances, without fear of being judged for her decisions. Glass says there are many reasons why a woman stays in an abusive relationship, including not having a job or economic resources to support herself and her children as a single parent. Moreover, if she is planning to leave, she needs to make a plan to do so safely, as the evidence clearly shows that leaving can be a trigger for severe or lethal violence by the abusive partner. Thus, MyPlan's focus is on the question, What are the decisions you are trying to make to keep yourself safe and keep your children safe?
Glass also works in Africa, co-founding in the Democratic Republic of Congo two livestock microfinance programs called Pigs for Peace and Rabbits for Resilience. "It's a way men and women can raise their economic status and rebuild their family," she explains. By reducing the stress of trying to meet the basic needs of their families, the programs help with their mental and physical health. "If they have some supplemental income from selling and breeding livestock, that makes a world of difference."
Glass admits, "I would never have thought, doing my PhD and my nursing degree, that I would be a pig farmer in Africa. But it makes a very practical, culturally appropriate intervention, and that comes from my nursing training of going and listening to the community about what their priorities are, rather than what my priorities are."
The most controversial of the Institute of Medicine's recommendations sounds innocuous enough: "Nurses should practice to the full extent of their education and training." Advanced practice RNs include nurse practitioners, clinical nurse specialists, nurse anesthetists, and nurse midwives. They hold master's or doctoral degrees and are licensed to diagnose illness, prescribe medication, and see patients without physician oversight. But state laws have historically restricted their practice, and the IOM explicitly called for reform at the national level, prompting the Federal Trade Commission and the Antitrust Division of the Justice Department to review state legislation and urge amendment of any restrictions on advanced nursing practice deemed to have "anti-competitive effects without contributing to the health and safety of the public."
"Discharge planning, follow-up care, educating the patient about their illness, educating the family—people think that's social work, but really, it's a very key component of nursing practice."
Nancy Glass
School of Nursing professor
Debate over scope of practice has played out in statehouses across the country and absorbed untold lobbying dollars from doctors' and nurses' professional organizations. Currently 22 states, the District of Columbia, and the Veterans Administration have granted full practice authority to some or all advanced practice registered nurses. The VA decision, instituted in December 2016, applied wherever the VA operates, regardless of state law. Scope of practice expansion has been celebrated by nurses' organizations as victories for patients' care, and criticized by physicians' organizations as the opposite.
Davidson says the controversy reflects "centuries of guild behavior, rather than focusing on the needs of patients, families, and communities." She emphasizes that all good care is a product of teamwork. The facts on the ground, write Thomas Bodenheimer and Laurie Bauer in the September 2016 issue of The New England Journal of Medicine, are that "in the primary care practice of the future, the physician's role will increasingly be played by nurse practitioners." Over 58 million people in the U.S. already live in areas or populations experiencing shortages of primary care providers, according to the Health Resources and Services Administration. By 2020, the shortage of doctors in primary care is expected to reach 20,240. Nurse practitioners fill gaps in underserved areas, and Bodenheimer and Bauer cite an extensive body of research showing that nurse practitioners in primary care deliver care that is at least as high quality as what physicians offer, with equivalent patient satisfaction and lower cost. Additionally, "the 150 million adults with one or more chronic conditions will receive some of their care from registered nurses functioning as care managers." They note, as Maraldo did in 1988, that RNs' inability to bill Medicare directly for their services poses a challenge to the latter scenario, but they suggest that new payment models may soon erode this barrier.
Glass offers a perspective on the quality claim: "I think part of that is how nurses are trained, with a more comprehensive approach to care: not just disease-specific but bringing in the social determinants of health, such as poor housing, environmental factors, poverty, and really thinking about those factors. If you live in an area of Baltimore City where it's a food desert, meaning there's no access to fresh vegetables, and you don't have access to transportation, how are you going to manage your diabetes? It's really a more comprehensive approach to health care. I'm not saying that physicians don't have that, but it's really ingrained in our education to think about how do we do that, and think about prevention as well as intervention. When that person is discharged, what are they going home to? Discharge planning, follow-up care, educating the patient about their illness, educating the family—people think that's social work, but really, it's a very key component of nursing practice."
Historical antecedents to the current expansions in scope of practice, writes Arlene Keeling in The Online Journal of Issues in Nursing, offer lessons for improving access to care across the population. Keeling is a professor of nursing at the University of Virginia School of Nursing, associate director of the Eleanor Crowder Bjoring Center for Nursing Historical Inquiry, and author of Nursing and the Privilege of Prescription. She writes that when visiting nurses ministered to the immigrant poor on Manhattan's Lower East Side in the late 19th century, and when the Frontier Nursing Service established clinics in Appalachia in the early 20th, they dispensed medication under a variety of arrangements, such as standing orders. Limitations on nurses' privileges to diagnose and prescribe came about through a series of legislative acts over the course of the 20th century, as the federal government sought to control drugs, and as doctors, nurses, and pharmacists sought to define their disciplinary boundaries.
"You can't oversimplify the trajectory nursing has been on over the last 400 years, and more specifically over the last 150, since they've gained professional status," Keeling says. "They have had achievements and then restrictions on their scope of practice." She said many nurses mistakenly think that in the past, nurses were only at the bedside and were the physician's handmaiden, and that the change from that is recent. Instead, the historical record shows that nurses have conducted research and altered practice based on expert opinion in the past. "They could recycle solutions from the past if they had an understanding of what nurses had already been doing."
Hill concurs: "For centuries, nurses have had roles that were responsive to the immediate needs of the patients where they were. If you go back to the Civil War, you didn't have nurses waiting to get a diagnosis to say that you could clean this wound and put on a dressing. They just went ahead and did it, because that's what the immediate need required. Florence Nightingale didn't wait for doctor's orders telling her that she could look at the way that health care was being delivered and that it was necessary to do interventions, such as basic hygiene to save lives. What is new is an appreciation and a recognition of the critical centrality of what nurses do to improving the way that care is delivered and improving the lives of patients."
Szanton and her colleague Jessica Gill have developed a theory that considers the resilience of populations. They call it "society to cells." To illustrate, she mentions the devastation wrought by Hurricane Katrina in New Orleans. "If that had happened in a city with a lot less inequality and more access for people to resources, fewer people would have died—and dying is the ultimate physiological act."
A resilient society makes wise use of its resources. Nurses surely are one of those.