Six days after Hurricane Katrina ravaged the Gulf Coast, two families that stayed behind in New Orleans crossed the city's Danziger Bridge on foot. Lance Madison, 49, remained because his brother Ronald, a mentally disabled 40-year-old, refused to leave without his dogs. The other, Susan Bartholomew and her large family, didn't leave because they all wouldn't fit in their lone van. And around 9 a.m. on the morning of September 4, 2005, the Madisons were heading east, and six members of the Bartholomews—Susan, her husband Leonard Sr., her 17-year-old daughter Lesha, her 14-year-old son Leonard, her 19-year-old nephew Jose Holmes, and Holmes' 17-year-old friend James Brissette—were heading west toward Winn-Dixie when a speeding Budget rental van rushed toward the bridge. When it came to a halt, a group of heavily armed men began filing out of the back. And they started shooting.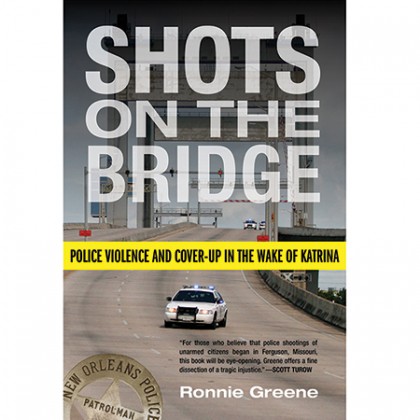 Associated Press investigative reporter Ronnie Greene, A&S '13 (MA), doesn't simply re-create the calamitous seconds that follow in Shots on the Bridge (Beacon Press). He performs a patient feat of forensic journalism by following the incident's devastating aftermath. Those armed men were members of the New Orleans Police Department responding to an officer-in-danger radio call. They were armed with police-issued Glocks and personal AK-47s, shotguns, and an M4 assault rifle. They didn't identify themselves as law enforcement. And after they finished firing, they realized the civilians weren't armed. Ronald Madison and Brissette were dead. Six were seriously injured. And the officers on the bridge, and a few of their supervisors, immediately started covering up the massacre.
Subtitled Police Violence and Cover-Up in the Wake of Katrina, Greene's Shots is a poignant excavation of this case. Greene sifted through nearly 6,000 pages of trial transcripts, federal case trials, police reports, Senate reports on Katrina, previous NOPD brutality and corruption cases, and his own reporting and interviews to deliver a harrowingly taut 228-page book that bracingly covers what happened before, during, and after the shooting—such as local indictments against the officers and a dismissal and a federal investigation, trial, and jury conviction vacated by the presiding judge (the case remains unresolved)—to illustrate how difficult it is for victims of police malfeasance to seek justice.