Angrier birds, same football team. The No. 14-ranked Blue Jays will debut a new helmet design when the 2014 season kicks off on Saturday, Sept. 6, vs. Randolph-Macon College at Homewood Field.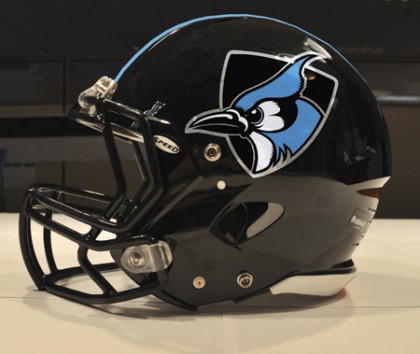 The helmet, which bears the new JHU Athletics logo, features a more-aggressive-looking Blue Jay head on each side and two blue vertical stripes on the crown, a design detail similar to that used by the NFL's Baltimore Ravens and Tennessee Titans. During the coming months, Johns Hopkins Athletics will phase in the new Blue Jay logo on other varsity uniforms.
The football team enters 2014 with the highest pre-season ranking since D3football.com debuted its weekly poll in 2003.
Johns Hopkins posted a 10-1 record last season and claimed a fifth-straight Centennial Conference title. The Blue Jays also made their fourth trip to the NCAA Playoffs in the last five years, losing in the first round to Wesley College by a score of 29-24. Johns Hopkins is 29-1 in the regular season since the start of the 2011 season, and 30-4 overall in the last three years.
Head coach Jim Margraff welcomes back 13 starters from last year's team, which spent the entire season ranked in the top 15 in the nation and averaged a school-record 40.5 points per game. The Blue Jays have been ranked for 30 consecutive weeks, dating back to the first poll of the 2011 season.
Headlining Margraff's returning starters are nine on defense, including co-captains and First Team All-Centennial Conference selections Michael Longo (DE) and Ryan Rice (DB). The other returning First Team All-Centennial selection from Johns Hopkins is junior Brandon Cherry (RB). Cherry makes up half of one of the top returning running-back tandems in the nation, as he and sophomore Stuart Walters combined to rush for 1,649 yards and 13 touchdowns a year ago.