Stats and details on the new home for Johns Hopkins University's baseball team, Babb Field at Stromberg Stadium: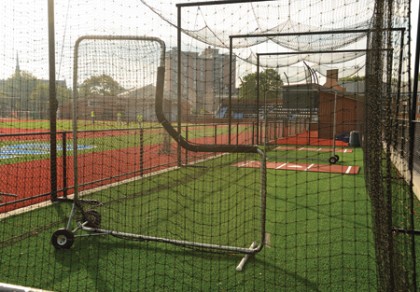 Sign atop press box will read "Johns Hopkins."

Exterior of stadium will feature sign for Babb Field at Stromberg Stadium and a donors wall.

Outfield dimensions: 307' left field line, 340' left center, 396' center, 320' right center, 295' right field line.

Outfield windscreen/banners will display conference championships, and NCAA Tournament and NCAA World Series appearances.

New 20-foot net extends above right-field fence to "catch" balls before they hit University Parkway.

Infield and outfield are one uniform baseball-specific synthetic surface called Double Play Classic. Combination of turf's fiber height and a unique sand/rubber infill creates a surface with natural feel. Same turf used by the Texas, Louisville, and Oregon collegiate baseball programs.

All-weather turf has sublayer of crushed stone, drainage pipes, and sand filters to rapidly soak up rainwater.

Pitcher's mound: only "real" soil used on playing surface.

To lay the turf, construction crews added soil cement to existing dirt for best possible surface.

ADA-accessible grandstand will seat 260. Stadium also has several standing-room-only locations, and plans are to allow seating outside the right-field wall.

New dugouts have copper roofs and interior graphics. Home team will have "Blue Jays" on theirs, and visiting team's will have cropped version of the Blue Jay head. Each dugout will have professional-style double-tiered benches, and a bat-rack unit and helmet cubby system.

Press box equipped with cameras for live-streaming games and controls for state-of-the-art PA system, with speakers mounted throughout the grandstand and in both dugouts.

New identical batting cages down each base line.

Home bullpen features three pitching mounds; visitor's pen has two.

Outside plaza area will have tables and chairs, and a restroom facility.