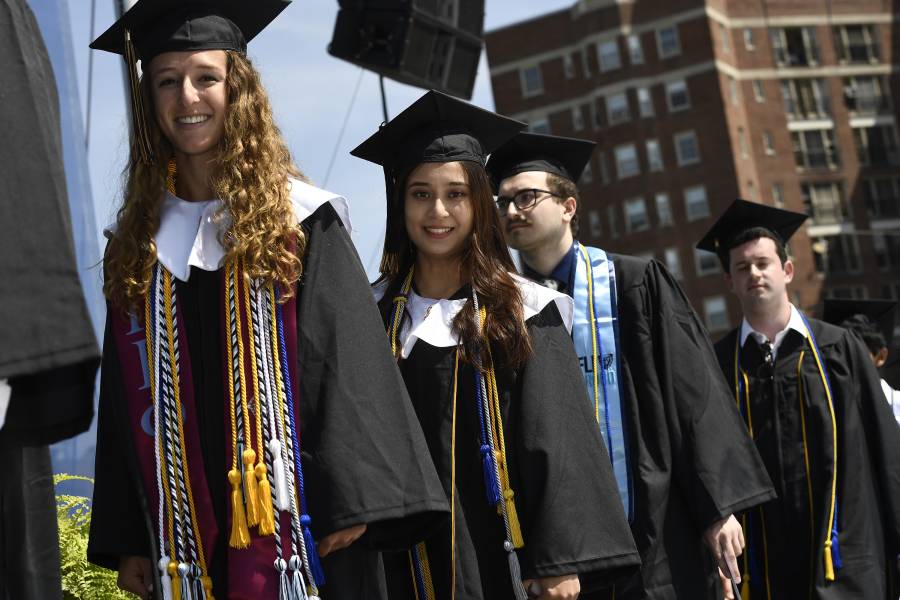 Celebrating the Class of 2022
After a rain delay pushes Commencement to Monday morning, Johns Hopkins graduates get their day in the sun
By Hub staff report
/
Published
May 23, 2022
After a rain delay, the universitywide Commencement ceremony took place today at 9 a.m. on Homewood Field, where more than 1,500 Johns Hopkins University undergraduates claimed their degrees. In total, about 10,500 degrees, certificates, and diplomas were awarded during divisional ceremonies that will continue this week.
Samantha Power, administrator of the U.S. Agency for International Development, former U.S. ambassador to the United Nations, and Pulitzer Prize-winning author, addressed the class during the ceremony. Power is a leading international voice for principled American engagement in the world. She leads the world's premier international development agency and its global staff of over 10,000 people working in 100 countries to drive progress on issues including food security, education, women's empowerment, and global health. She is the first USAID administrator to be a member of the National Security Council.
She spoke to the graduates of the value and importance of finding not a career path, but a calling, something that can serve as a compass as they navigate life's unexpected but inevitable zigs and zags.
"Life is a series of impetuous improvisations—the unpredictable, luminous joys, the sudden bolts of inspiration, even the unforeseen, unmooring woes," she said. "These are the moments that change us and in their way, steer us. What we do with our lives is not a composed sympathy; it's free jazz. It's not repertory theater; it's improv. … But honestly, as terrifying as that uncertainty might feel, it is through embracing uncertainty that one discovers life's most rewarding gifts."
Power was among seven individuals to receive honorary degrees during the ceremony.
In his remarks to the graduates, JHU President Ron Daniels related a personal story about the generosity and quiet heroism of a travel agent who in 1939 helped members of Daniels' family—including his then 7-year-old father—secure safe passage to Canada from Europe and escape the Nazi Holocaust—"living proof that heroism does not always have to be larger than life," he said.
"If the last several years are any indication, the world will not cease from throwing in your path challenges requiring you to stand up for your most cherished values, beliefs, principles, and dreams," Daniels later added. "My hope—and the hope of so many of us here at Johns Hopkins—is that you will remember in those moments that heroism takes many forms. ... Our world needs all kinds of heroes. And it needs every single one of you."
In his speech, senior class president Nathan Mudrak urged his classmates to reconsider what is "normal" as the pandemic wanes and COVID-19 enters an endemic phase.
"Normal wasn't perfect," Mudrak said. "Normal was 356 million children living in extreme poverty. Normal was studying in the country No. 1 in mass incarceration, with a disproportionate impact on people of color. Normal still is these things. But we now know, we've now experienced, that we can change what is 'normal.' So knowing this, what will we continue to accept?"
He concluded: "When I first spoke to you at our first-year banquet, I told you that this is a class of history-makers. I'd like to add an addendum: This is a class of history-makers, so go make us a history to be proud of."