Since the 1970s, blue catfish have run rampant in the Chesapeake Bay. Without a natural predator to keep their population in check, the invasive species has wreaked havoc on native bass, crab, and oyster populations, damaging local ecosystems.
But last spring, hundreds of blue catfish found themselves out of the Chesapeake Bay and onto the plates of hungry Johns Hopkins students.
"We ordered about 1,000 pounds," recalled Graham Browning, the sustainability manager for Hopkins Dining. "And that was just for lunch."
The meal came out of a partnership between Hopkins Dining and Strong Roots 9, a self-described "lifestyle and wellness omnibrand" that promotes sustainable agriculture through reconnecting with America's natural heritage. The two co-founders, husband and wife Matthew and Tia Raiford, share both an expertise and a passion when it comes to food, running a 50-acre farm in Brunswick, Georgia.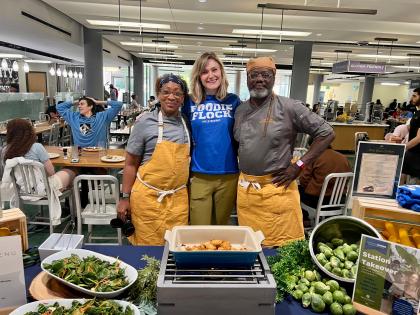 The Raifords first met in their 20s during their time as students at The Culinary Institute of America. After going their separate ways, the pair reunited during the pandemic, creating a shared life on the farmland that has sustained Matthew's family for seven generations. When they're not busy raising chickens, cultivating spices, and harvesting native crops, the Raifords take a trip up to Baltimore, full of new ideas for the staff at Hopkins Dining.
"The partnership is really about bringing that knowledge from the people who are practicing this on a daily basis," Browning said. "We have culinarians on campus, but they haven't worked in the fields, necessarily. They haven't had that relationship with the soil or nurtured the land to get that food. I think that unique aspect was a big selling point for Hopkins to bring on Strong Roots 9."
The consumption of food is inextricably linked to the environment. Obtaining new farmland can lead to deforestation and decreased biodiversity. Non-sustainable farming practices can degrade soil and cause water scarcity. Packaging and transporting food can create more trash and pollution. And that's before the food even makes it to grocery stores and consumers' kitchens, where much of it is thrown away without ever being eaten.
That's where the Raifords come in. By getting creative with ingredients and recipes, Strong Roots 9 can serve delicious, well-balanced meals that also further Hopkins Dining's sustainability goals. Serving blue catfish, for example, strengthens local ecosystems. Making chocolate mousse out of aquafaba (the excess liquid in a can of beans) cuts down on food waste. And all the while, students get the chance to consider what's actually on their plates.
"Sustainability is not just something that happens today and once we do it today we're good. It has to be something that we're doing constantly."
Matthew Raiford
Co-founder, Strong Roots 9
According to Matthew Raiford, college is a prime time to introduce people to sustainable living. Since undergraduates are just starting their adult lives, any new habits they pick up have a good chance of sticking.
"Sustainability is not just something that happens today and once we do it today we're good. It has to be something that we're doing constantly," he said. "Once you get into doing it, it becomes a lifestyle."
Tia Raiford agreed with her husband, praising Hopkins for creating conversations about sustainability within its student body.
"There's a lot of colleges and universities that want to just coast. [They think] 'you're 18 to 22. All you eat is burgers and pizzas anyway. Doesn't matter where it comes from,'" she said. "And then you have programs like Hopkins, where they're really taking the dining experience and incorporating it with the educational experience. This is not just about food. This is not about us coming in and writing recipes. This is a bigger thought process."
Although most people don't consider the environmental impacts of the foods they buy, Tia Raiford said she was optimistic when it came to changing students' outlooks. After all, she pointed out, recycling went from rare to commonplace in just a few decades.
Hopkins Dining's partnership with Strong Roots 9 is part of a larger push to increase sustainable practices across the university. The recently released draft of JHU's Climate Action and Sustainability plan outlines goals and actions to improve the university's impact on the environment, including ways to make dining zero-waste pre-consumer.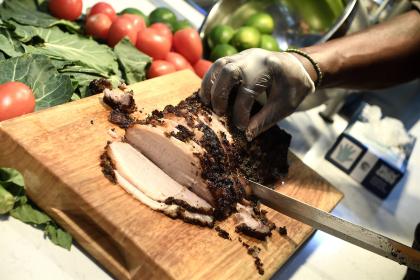 But when it comes to making meals more sustainable, the farmers who create the food are often overlooked. Last year, when Matthew Raiford was speaking at the Culinary Institute of America's "Menus of Change" conference, this fact became abundantly clear to him.
"I said, 'How many farmers are in this room by a show of hands, outside of myself?' Only one person in the back out of almost 300 people raised their hand," he recalled. "I said, 'Without farmers at the table, who's going to grow the food that you're saying you want to change?'"
Hamilton Goss, JHU's director of culinary innovation, was one of the audience members in that room. Less than a year later, the Raifords were writing recipes for Hopkins Dining.
According to Tia Raiford, the partnership between Hopkins and Strong Roots 9 is still in its infancy—but that just means there's plenty of room to grow.
"We are going through the proof of concept right now. We're determining what the needs are, where we can find the opportunities, and where we can explore," she said. "It has to be a long, sustained process. Gradual. Not linear."
Browning agreed, expressing enthusiasm on behalf of Hopkins Dining.
"I'm really excited to see how it develops," Browning said, "Now is really where the innovation can begin."