The concert halls of the Peabody Institute are always busy, featuring hundreds of performances each year that are the heartbeat of the Peabody community. But on Friday, March 10, a vibrant concert took place in an unlikely location: Peabody's cafeteria. Students across Peabody departments gathered to share their work and support their peers in a performance that celebrated togetherness, gratitude, and connection while commemorating a COVID-19 milestone.
Three years before, a similar concert took place under drastically different circumstances. On March 10, 2020, Johns Hopkins University announced that the school would temporarily move classes online due to COVID-19. Students were sent home early for spring break with the plan to return on April 12; the gravity of what would quickly become a global pandemic was starting to hit home in Baltimore.
The announcement that Peabody was moving online also meant the cancellation of the Peabody Opera's performance of Puccini's La Rondine and the Peabody Symphony Orchestra's performance of Tchaikovsky's Symphony No. 5. Dealing with the uncertainty of the moment, students rallied to create a celebratory evening of community and support hours after the announcement. The opera department turned their first run-through into opening night, inviting friends and colleagues to attend. And horn player Layan Atieh organized an orchestral performance of Tchaikovsky's Symphony No. 5 in, of all places, the Peabody cafeteria.
That night, students, faculty, and staff showed up to celebrate the work of the Peabody community and be together one last time before leaving for what, at the time, they thought would be a few weeks. Current Peabody General Assembly president and dance student Zoë Brielle Payne remembers going to the concert in the cafeteria as a first-year student. "It was a testament to the will of performers at Peabody. It was really us supporting each other. It was amazing to see what that space could become."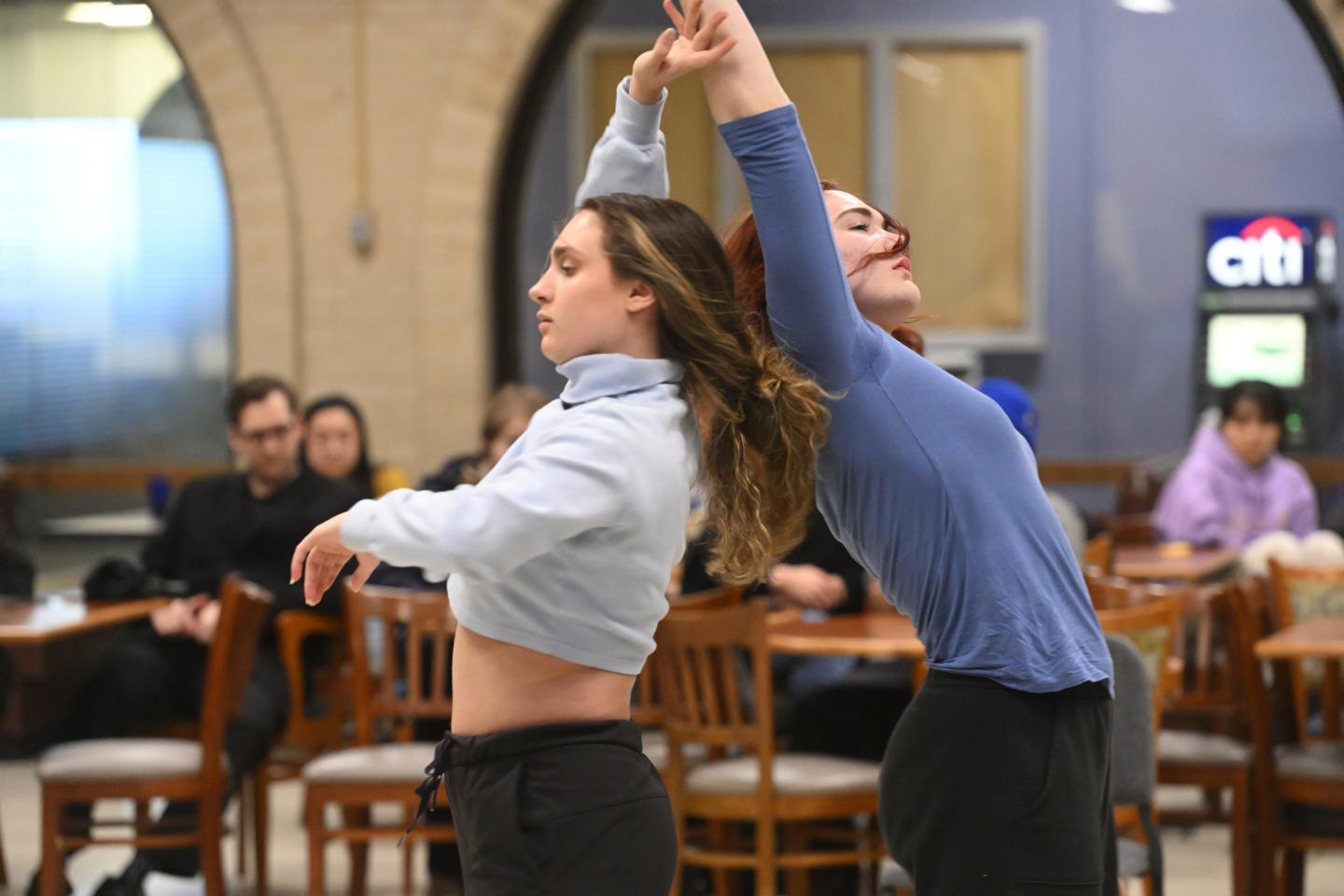 After experiencing the concert in 2020, Payne knew that culture of support was something the Peabody community would continue to need. Three years later, she brought a new tradition to life. On the third-year anniversary of that night, she and other students presented another concert in the cafeteria.
"Concerts are where we find community, so bringing that to our common place is something that I wanted to do during my last year at Peabody," Payne says.
The concert featured a wide range of performances, including an interdisciplinary collaboration with dancers and musicians, a jazz combo, a solo guitar piece, a rock band, an improv group, and a new piece for voice and piano. The Warren Wang Band captivated the crowd with their original songs. After the first, an audience member shouted, "One more!" When Wang asked, "Another one?" he was met with cheers from the audience.
Julian Quall and Xuanqi Lau from the Peabody Improvisers Collective began their performance as a duo before being joined by improvisers planted in the audience. Eventually, most onlookers were participating in the group improvisation with their voices or objects within reach, making the audience performers themselves.
Soprano Elisheva Pront and pianist Max Eidinoff performed a piece by student composer William Martin, who was in the audience. Pront was not yet a student at Peabody in March 2020, but says she has heard about what happened that night. While live performance is now part of everyday life again, the long span when creating and experiencing live art together was impossible is a very recent memory, and the impact on performers' livelihoods is still real.
Pront says this year's concert is commemorating the moment when "we realized we weren't going to get to do this anymore. [It's about] not losing the specialness of this, dropping away from all the busyness and the rushing, and dropping into gratitude for getting to do this in front of and with other people. There's just no substitute for that."
This was the first concert commemorating that moment in 2020, but students are hopeful it is just one of many more to come. Of the future of this tradition, Payne says, "Passing it on: that's the goal. I'd love for it to become a space where people really look forward to presenting their work, something that can grow an audience, and a reminder every spring to get back to our roots at Peabody."