Hopkins Symphony Orchestra violinist Laurie White shares her favorite piece of performance advice from longtime HSO conductor Jed Gaylin: "Play this music like you're the dog in the car with his head out the window."
It's a colorful metaphor for Gaylin's maxim that art is what makes life worth living. The HSO will celebrate Gaylin, who is marking his 30th year as its music director, with a concert on Saturday, March 4, in Shriver Hall Auditorium. He'll perform a piano solo in Mozart's Piano Concerto No. 12 and conduct the orchestra for contemporary composer Amanda Harberg's On Rousseau and Manuel de Falla's Three-Cornered Hat suites and Ritual Fire Dance.
"I want each person on stage to feel that that stage is an opportunity for them to be their fullest creative, artistic self."
Jed Gaylin
Music director, Hopkins Symphony Orchestra
While this year marks Gaylin's 30th with Hopkins Symphony Orchestra, he has also recently reached milestones at the two other orchestras where he serves as music director: 25 years with southern New Jersey's Bay Atlantic Symphony, and 10 years with West Virginia's Two Rivers Chamber Orchestra.
For Gaylin, the work of conducting always feels new. There's a seemingly inexhaustible vitality to the music the orchestra performs, whether it's a score written 300 years ago or one day ago. But this endless freshness is also tied to the dynamic roster of a university/community orchestra like the HSO, which comprises Hopkins students, alumni, staff, and faculty, supplemented by community musicians. In its striving to perform with rigor and artistic skill, the HSO houses two ensembles: a symphony orchestra of 80 to 100 musicians, directed by Gaylin, and a smaller concert orchestra of about 40 to 50 musicians, currently directed by Juliano Aniceto.
Considering the past 30 years, Gaylin says there are both career highlights and musical ones. With more time spent with each orchestra, his excitement for them only grows. His role at Hopkins has allowed him to be nimble, to travel and conduct orchestras across the world, in Italy, Spain, China, Russia, and Romania, among others. All told, countless individual concerts have felt particularly powerful for the conductor and ensemble. "We felt like everyone was giving their all and the audience seemed moved or affected by it. You see tears in people's eyes afterwards. You just don't forget," Gaylin says. "I have sort of a composite of so many of those experiences."
White, who has played with the HSO since 1988, says that Gaylin's approach to conducting an orchestra is rare. She watched him take the baton in 1992, and in her estimation, Gaylin hasn't changed much since his early days, only matured. "He's grown up with us," White says. "Jed approaches the group as super passionate about the music, but he's also really conscious of making us better people for playing the music." Particularly for students in the orchestra, White notices that Gaylin offers more than just technical guidance, but something much deeper. "They're so busy with their brains, that he's trying to get their hearts to kind of open up," White says.
"Jed approaches the group as super passionate about the music, but he's also really conscious of making us better people for playing the music."
Laurie White
Violinist, Hopkins Symphony Orchestra
Not only has Gaylin made a career in music, but essentially all of his 59 years have been intertwined with it. The third of four children growing up in the Washington, D.C., area, his inclinations were clear almost from birth. As a toddler, he sang with his mother at bedtime. "I'd say to her, 'Let's sing a song.' And she'd say OK. Then she'd fall asleep, and I'd be just singing away," he says. Around age 5, Gaylin absorbed a knack for the recorder simply by watching his dad teach himself the instrument. "I was just staring at him, and he said, 'What, do you want to try this?' And apparently I'd watched him enough that I could do it."
At age 8, he began taking piano lessons. At a 1970 Young People's Concert at the Kennedy Center, he watched an orchestra perform American composer Charles Ives' The Unanswered Question, an experience that left Gaylin in awe of "that sound and that space and what music could be."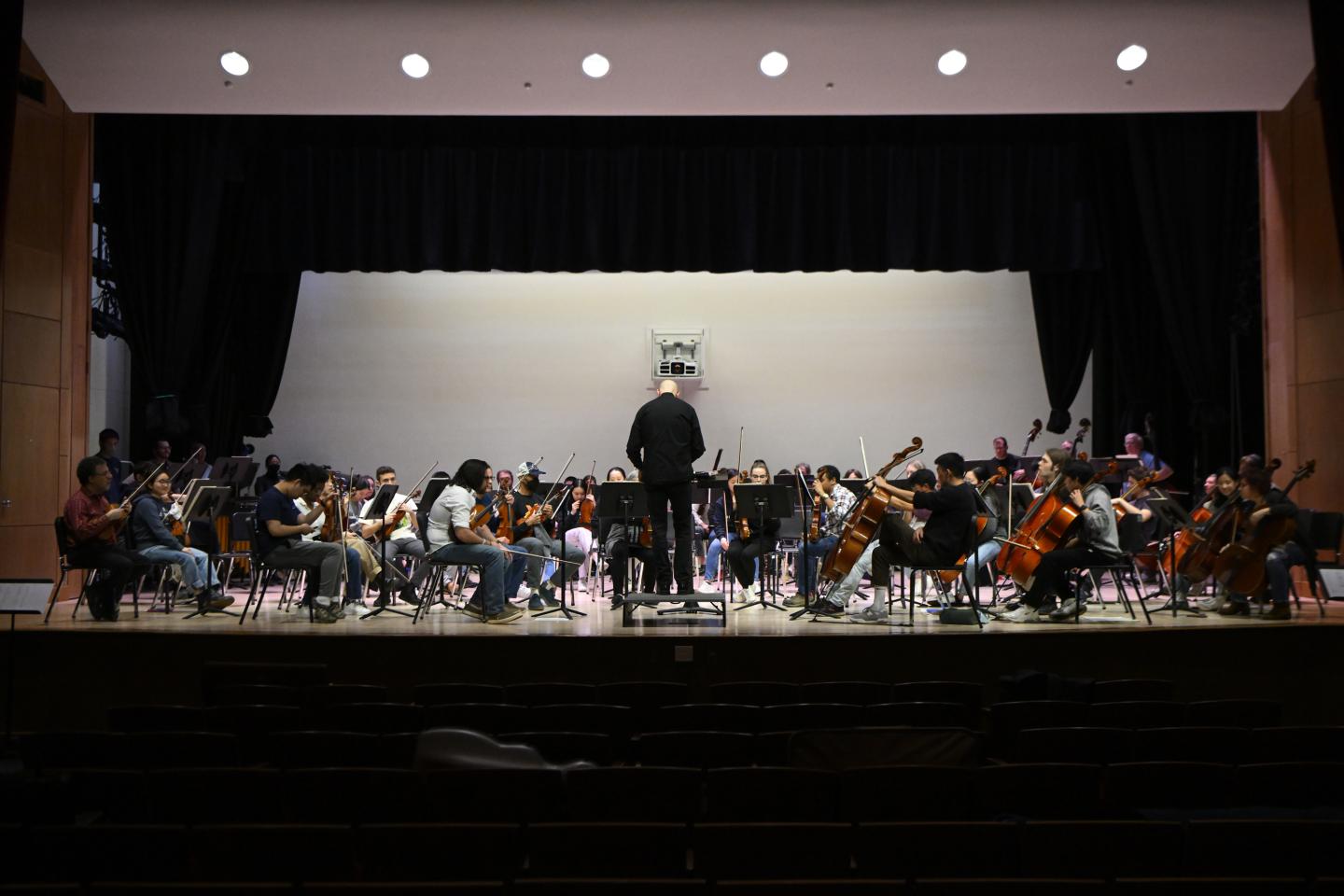 He continued playing piano, but it wasn't until college—at Oberlin College and Conservatory, where he began a dual-degree program as a physics and piano major—that the possibility of conducting came to him. "I thought, oh, I just want to try conducting a Beethoven symphony. So I put together an orchestra and I just couldn't help myself," he laughs. "I just kept going."
After earning a bachelor of music degree in piano from Oberlin, he pursued a master's in conducting at the same institution, eventually earning a doctor of musical arts degree in conducting at the Peabody Conservatory in 1995. In 1992, when his colleague Fernando Jimenez left the post of assistant conductor at the HSO, the institution hired Gaylin as a replacement. Gaylin led rehearsals, managed some of the admin work, and conducted an increasing number of concerts assisting then music director Robert Black, before taking on that role himself in 1993. "It was what I thought was going to be a temporary job, but in the end, it morphed into this beautiful thing," Gaylin says.
For all the beauty, intrigue, and story within a piece of music to resonate with an audience, Gaylin tries to connect with it and assess what's vibrant in the work today. "If it's a piece that I've done many times and I'm revisiting it, it's because I feel like there's so many latent possibilities," he says.
Canonical works remain staples of a repertoire, he says, because they reveal new things upon every encounter. "Great symphonies are layered, so you will always find more in them if you're open to them," he says. "I remember my first time hearing the Brahms First Symphony ... and I remember thinking, 'Wow, I don't know what that was, but I know it's a lot bigger than me.'"
Alongside the canon, the study of contemporary and lesser-known works has always been important to Gaylin, who sums up his ethos as an opportunity "to explore repertoire by the breadth of the conversation in this country," he says. "Every couple generations, there's a new influx of people whose art is just becoming known because we didn't pay attention to it [previously]."
To that end, Gaylin has recognized the HSO as a forum for collaboration and exchange, involving the orchestra with groups such as JHU's Digital Media Center, Baltimore School for the Arts, and even NASA. "That cross-pollination between the arts is so generative. We steal each other's words—in visual arts, you're talking about harmony; we talk about shape," he says. "Sometimes the easiest way for us to get to the essence of what we do is to make a metaphor out of it from another art form."
As an example of an intriguing combination, he offers up the 2018 performance in which Baltimore beatboxer Shodekeh joined the HSO for a performance of pieces from Bedřich Smetana's The Bartered Bride, a work that Gaylin describes as a folk-inspired piece with gradual tempo changes. "I wanted to find the piece that would be able to sustain the beatbox and not be diminished by it, and be enhanced by it, and also give Shodekeh something that I thought would push him a little bit," Gaylin says. "I wanted him to be able to experience that and to find something where both arts were elucidated by the other."
Just as the composer's role is attuned to the nuances of a composition and, in the most basic terms, "[helping] the musicians figure out how and when to play," Gaylin finds himself adjusting to the flow and process of working with players from orchestra to orchestra. Since the Bay Atlantic Symphony and the Two Rivers Chamber Orchestra are both composed entirely of professional per-service musicians, there's less rehearsal time. Communications are more efficient and technical. Whereas with HSO's seven or eight rehearsals before a concert, there's more room for experimentation and metaphors among the musicspeak.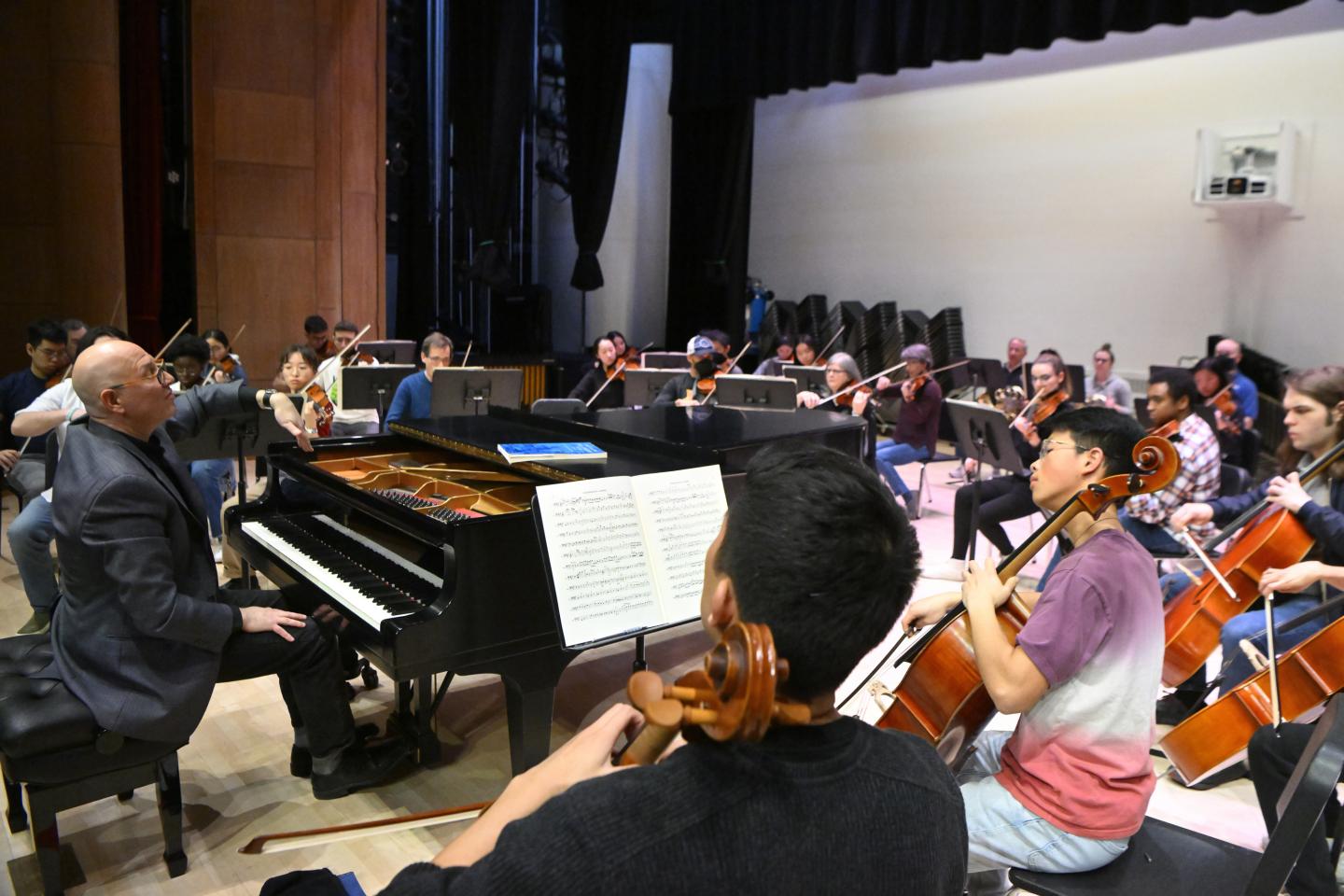 To prepare for the upcoming March 4 concert, Gaylin shared with the Hopkins orchestra Federico Garcia Lorca's writing on the elusive Andalusian quality of duende: an immaterial but palpable element within a work of art, exceeding any estimation of skill or style. It is, rather, a kind of holy, life-giving force that "has to be roused from the furthest habitations of the blood," Lorca writes. Duende can emerge through all art forms, but performance is "where it naturally creates most space," and so "the living flesh is needed to interpret them, since they have forms that are born and die, perpetually, and raise their contours above the precise present."
There's something fiery about duende, and there's a warmth that radiates from Gaylin when he talks about music, performance, and his gratitude for having made a life in art. "I want each person on stage to feel that that stage is an opportunity for them to be their fullest creative, artistic self," Gaylin says. There's tension between that and "[guiding] each individual's reflections toward a story that we all tell together."
The community component is critical to the whole operation, White, the violinist, says. "It's really important especially as an orchestra because when you're actually working, you're working together," she says. "If you don't feel like a community, you're just going to be a bunch of parts trying to do something."
Making art that the public interacts with can generate a lot of internal noise—the many-headed challenge of managing personalities and styles, expectations, and outcomes. The conductor's job is to turn these things into an interesting aural shape, to make them sing. "I really try to constantly go back to the material," Gaylin says. "What is this piece asking me to ask of them so that it, as its ultra-organic being, thrives?"
Tickets for the performance on March 4 are $12 for JHU faculty and staff and senior citizens, $14 for the general public, and free for JHU students. For more information and to purchase tickets, visit this website