The idea for the Cordish Lacrosse Center's new Memorial Wall began as many great projects have, says Andrew Coté—scribbled on a bar napkin.
"There wasn't necessarily a flashpoint," says Coté, a 2012 Hopkins graduate and former men's lacrosse player who went on to serve as a Marine Corps officer and later in the Department of Defense.
But it was mid-August 2021, and Coté was in Washington, D.C., in the midst of what he remembers as an awful few weeks. After 20 years of war in Afghanistan, U.S. troops were coming home for good. But the final withdrawal was going poorly—thousands of Afghan citizens converged and camped outside Kabul Airport, begging to board flights out of the country before the Taliban seized total control.
"What I wanted to capture and honor appropriately was those who wore the Hopkins lacrosse uniform and were killed in action. ... I wanted everyone to understand the amazing sacrifices these men made."
Andrew Coté
2012 JHU graduate and former Marine
As the chaotic and heartbreaking scenes unfolded, Coté, having recently left his Pentagon job for private life, did what he felt he could from afar. Through text messages and WhatsApp chats, through Instagram posts to raise awareness of what was going on, Coté connected U.S. personnel he knew on the ground at the airport with desperate Afghan interpreters and their families outside the gates.
It was around the same time, sitting in a D.C. bar with time to think, that Coté put pen to napkin. With a bloody, decades-long conflict in Afghanistan coming to an end, he thought about honoring the 11 former Johns Hopkins men's lacrosse players who served in the U.S. military and were killed in action in the nation's major wars.
He envisioned a mural in the Cordish Lacrosse Center on the university's Homewood campus. He saw their names, the seals of the branches of the military, plus police, fire, and special operations badges that other lacrosse alums have earned. He pictured gold stars and a folded American flag in a triangular shadow box, a tribute to those men who made the ultimate sacrifice.
"What I wanted to capture and honor appropriately was those who wore the Hopkins lacrosse uniform and were killed in action. I just wanted to get it done," Coté, 32, said recently from his home office in Washington. "I wanted everyone to understand the amazing sacrifices these men made."
Inspired to serve
Coté majored in international relations as an undergrad, and even the most devoted Hopkins lacrosse fans probably don't recognize the name. He played sparingly for the Blue Jays as a reserve defenseman from 2009 to 2012. He's been intimately involved in military operations almost ever since in a largely behind-the-scenes capacity.
A Michigan native, he has Navy lineage in his family and was compelled to join the military after witnessing the 9/11 terrorist attacks as a teenager. After graduating from Johns Hopkins, Coté spent seven years as a Marine Corps officer, including in White House roles from 2016 to 2019. He worked two more years as a civilian in the Pentagon, leading planning related to top-secret U.S. special operations and "irregular warfare," typically working round-the-clock days in a windowless room or briefing policymakers on Capitol Hill.
Early in 2021, Coté left the Pentagon and began working at BRINC Drones, a startup that recently supplied equipment to assist Ukrainian troops in their war against Russia. Coté has always been a passionate advocate for veterans. Now he "had more time," he says.
Coté messaged a picture of his initial napkin sketch to Brian Lukacz, A&S '92, another former Marine and Blue Jay who flew attack helicopters in two tours in Iraq. The next day he shared a more detailed vision, drawn in pencil on printer paper, with a larger group that included Navy SEAL David Spaulding, A&S '10, and Alex Brown, '01, who fought in Afghanistan with the Army's special forces.
"We're doing this," Coté told them. The sketches closely resemble what artist Lee Anderson Barnett meticulously painted over several months on a roughly 8-foot section of wall near the Blue Jays locker room in the Cordish Lacrosse center. He also added two key items that weren't in the original plan.
A solemn tradition
For more than 100 years, before the Blue Jays' home-opener each season, the captains of the men's lacrosse team have pinned two small red and white flags with gold stars to each goal at Homewood Field. The tradition began in April 1919, when former coach Bill Schmeisser handed one of the silk service flags to captain Herb Baxley, whose brother was killed a year earlier in France during World War I.
To this day, the tiny flags are tagged to the nets during every home game, but few may know their significance. Each gold star represents one of the 11 former Blue Jays killed in World War I, World War II, or the Vietnam War.
One flag has three stars representing Theodore Prince, W. Brown Baxley, and Warren B. Hunting, three men killed in World War I. Seven stars on the other flag honor World War II casualties Frank Cone, John I. Turnbull, Peter Reynolds, George D. Penniman III, Edward A. Marshall, Walter J. Fahrenholz, and David H.W. Houck. One star is for Charles E. Aronhalt, who died in Vietnam.
Two men were in the Bataan Death March in World War II. One was executed by the Japanese. Aronhalt was awarded the distinguished service cross posthumously for extraordinary heroism in 1967. "His award citation brings tears to your eyes," Coté says. The platoon Aronhalt was leading was pinned down by the Viet Cong and, after pulling wounded men out of crossfire, he determined the only way to buy time for a retreat and save as many American lives as he could was to charge into the enemy gunfire.
Coté brought the idea to assistant coach Jamison Koesterer and Blue Jays head coach Peter Milliman, who took it to athletic director Jen Baker, a former Navy pilot. Approval came almost immediately.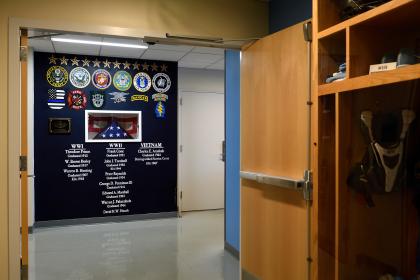 "My father and sister are Navy vets," Milliman says. "I was 100% in, and we had the space for it."
One of Coté's goals, along with increasing veterans' presence on campus in general—he will speak Friday at the university's Veterans Day Commemoration event on the Homewood campus—was to make the traditional service flags more visible. He doesn't know if it will happen, but he has suggested they be pinned to the goals at Homewood Field before every game instead of just once, then returned to their lock-and-key case beside the folded American flag in the mural.
"It's inspiring and motivating," says Blue Jays senior attackman Ian Krampf, a sociology major and history minor who intends to enroll in Army officer candidate school at Fort Benning, Georgia, after graduating in May 2023. "Being here every day and seeing the flags and the names definitely serves as a reminder of those who have come before you."
In addition to the new memorial wall in the Cordish Center, updates are underway to the veterans memorial in Gilman Hall, where a memorial plaque honoring alumni who died in the Gulf War, Desert Storm, and Afghanistan, will be installed alongside the existing honors for those who died in WWI, WWII, and the Korean and Vietnam wars.
Roughly 14 months after the initial idea came to him, Coté helped dedicate the mural in October during a lacrosse alumni weekend ceremony outside the Cordish Center. He thanked the men on the wall, and those who got it done, appropriately timed just before Veterans Day.
"Seeing it in person in all its glory," he says, "I was very proud that those men have a fitting resting home now. And it was pretty damn close to what I drew."